This website uses cookies to ensure you get the best experience while browsing it. By clicking 'Got It' you're accepting these terms.
Neil Young's New Album EARTH Breaks All the Rules
Apr. 29, 2016 10:14AM EST
Animals
Neil Young has announced his new, full-length album EARTH. The 98-minute record, out June 17, features an unusual set of collaborators: live animals.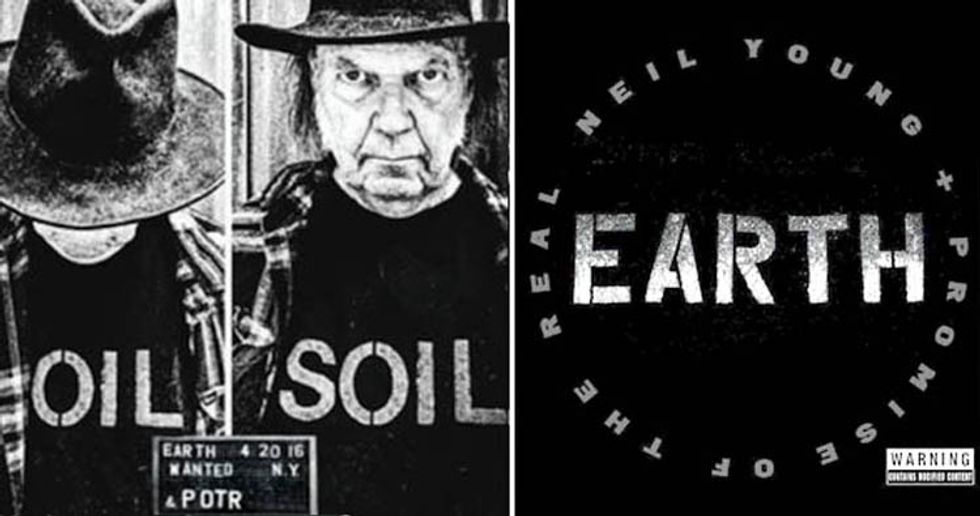 Young described his latest project on social media:
We made a live record and every creature on the planet seemed to show up. Suddenly all the living things of Earth were in the audience going crazy. Then they took over the stage, letting their wild sounds mingle with the Vanilla Singers perfect corporate harmony. Earth's creatures let loose, there were Bee breakdowns, Bird breakdowns and yes, even Wall Street breakdowns, jamming with me and Promise of the Real! The show was non stop bliss for 98 minutes, no breaks. EARTH does not fit on iTunes. It breaks all their rules (and couldn't all really be heard that way anyway) No one who was there will ever forget the love, wonder and beautiful madness of EARTH. I know I won't. Neil
EARTH consists of recordings from Young's tour last year with the band Promise Of The Real for his preceding album, The Monsanto Years. AlterNet described Young's 36th studio album, as a "concept-based criticism" of Monsanto, the world's biggest seed company, and also a condemnation of other multinational agriculture giants like Syngenta, Dow, Dupont and Bayer that have also, like Monsanto, "garnered control of global seed production."
Promise Of The Real guitarist Lukas Nelson lauded the new LP. "I just listened to our new record EARTH with Neil Young ... One of the single greatest audio experiences I've ever had," he wrote on Instagram.
The world premiere of EARTH will be hosted by the Natural History Museum in Los Angeles on May 6. And, according to an announcement about the event, it's sure to be spectacular:
Against the backdrop of the Museum's blossoming outdoor Nature Gardens, musician and icon Neil Young will present the first public playback of his upcoming release, EARTH, in its entirety in Pono high definition fidelity audio, before its June 17 release. The album features "After the Gold Rush," "Vampire Blues," and an explosive 29-minute version of "Love & Only Love," and includes some unexpected accompaniment—the sounds of many different kinds of wildlife.
The Grammy Award-winning artist and environmental crusader said in a press release that EARTH "flows as a collection of 13 songs from throughout my life, songs I have written about living here on our planet together. Our animal kingdom is well represented in the audience as well, and the animals, insects, birds, and mammals actually take over the performances of the songs at times."
Young also told Rolling Stone last year that EARTH is "like nothing that I've done. It's more like a giant radio show."
"It has no stops," he continued. "The songs are too long for iTunes, thank God, so they won't be on iTunes. I'm making it available in the formats that can handle it ... Imagine it's a live show where the audience is full of every living thing on Earth. And also they overtake the music once in a while and play the instruments. It's not conventional, but it is based on live performance."
On Tuesday, Young kicked off his 2016 world tour with Promise Of The Real in New Braunfels, Texas with guest star and legendary rocker Willie Nelson.
The tour then stopped by Nashville, Texas's Ascend Amphitheater yesterday. The concert received rave reviews from local publication, The Tennesseean:
At 70 years old, the rock icon hasn't lost a step. His voice is still in fine form, and the audience sang along reverently to every word of classics like "Heart of Gold" and "Long May You Run." After an opening set from singer-songwriter Steve Earle (whose debut album "Guitar Town" turned 30 this year) and half a dozen of his own solo songs, Young brought out his backing band Promise of the Real: Five rootsy rockers including Willie Nelson's sons, Lukas and Micah Nelson—and played another 90 minutes.
Here is EARTH's track listing:
1. "People Want to Hear About Love" (from The Monsanto Years)
2. "Big Box" (from The Monsanto Years)
3. "Mother Earth" (from Ragged Glory)
4. "The Monsanto Years" (from The Monsanto Years)
5. "I Won't Quit" (previously unreleased)
6. "Western Hero" (from Sleeps With Angels)
7. "Vampire Blues" (from On The Beach)
8. "Hippie Dream" (from Landing On Water)
9. "After The Gold Rush" (from After The Gold Rush)
10. "Wolf Moon" (from The Monsanto Years)
11. "Love & Only Love" (from Ragged Glory)
YOU MIGHT ALSO LIKE
EcoWatch Daily Newsletter
Get ready for double the cuteness! Red pandas, the crimson-colored, bushy-tailed forest dwellers who gave Firefox its name, actually consist of two different species.
A view of a washed out road near Utuado, Puerto Rico, after a Coast Guard Air Station Borinquen MH-65 Dolphin helicopter crew dropped relief supplies to residents Tuesday, Oct. 3, 2017. The locals were stranded after Hurricane Maria by washed out roads and mudslides. U.S. Coast Guard photo by Petty Officer 3rd Class Eric D. Woodall /
CC BY-NC-ND 2.0
By Coral Natalie Negrón Almodóvar
The Earth began to shake as Tamar Hernández drove to visit her mother in Yauco, Puerto Rico, on Dec. 28, 2019. She did not feel that first tremor — she felt only the ensuing aftershocks — but she worried because her mother had an ankle injury and could not walk. Then Hernández thought, "What if something worse is coming our way?"
Flooded battery park tunnel is seen after Hurricane Sandy in 2012.
CC BY 2.0
President Trump has long touted the efficacy of walls, funneling billions of Defense Department dollars to build a wall on the southern border. However, when the U.S. Army Corps of Engineers (USACE) released a study that included plans for a sea wall to protect New Yorkers from sea-level rise and catastrophic storms like Hurricane Sandy, Trump mocked it as ineffective and unsightly.
A general view of fire damaged country in the The Greater Blue Mountains World Heritage Area near the town of Blackheath on Feb. 21, 2020 in Blackheath, Australia. Brook Mitchell / Getty Images
In a post-mortem of the Australian bushfires, which raged for five months, scientists have concluded that their intensity and duration far surpassed what climate models had predicted, according to a study published yesterday in Nature Climate Change.