This website uses cookies to ensure you get the best experience while browsing it. By clicking 'Got It' you're accepting these terms.
Neil Young's New Album EARTH Breaks All the Rules
Apr. 29, 2016 10:14AM EST
Animals
Neil Young has announced his new, full-length album EARTH. The 98-minute record, out June 17, features an unusual set of collaborators: live animals.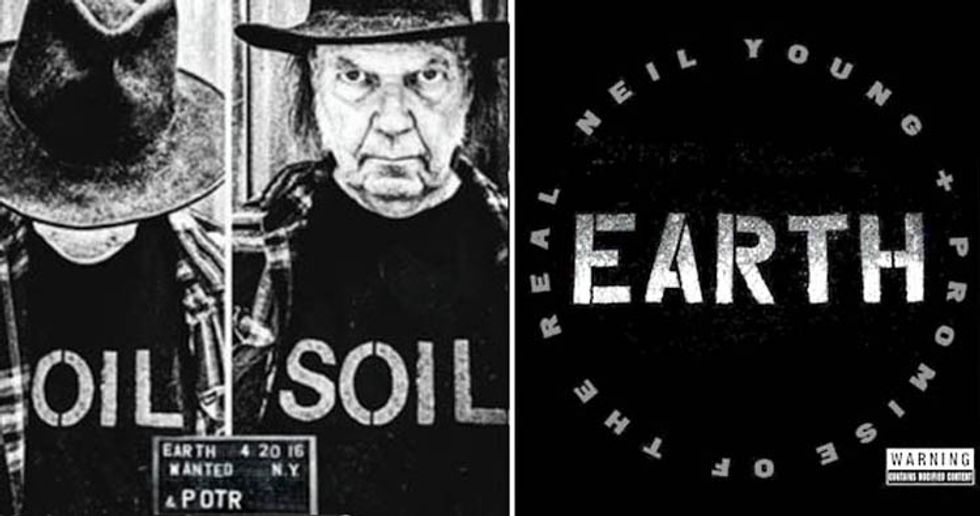 Young described his latest project on social media:
We made a live record and every creature on the planet seemed to show up. Suddenly all the living things of Earth were in the audience going crazy. Then they took over the stage, letting their wild sounds mingle with the Vanilla Singers perfect corporate harmony. Earth's creatures let loose, there were Bee breakdowns, Bird breakdowns and yes, even Wall Street breakdowns, jamming with me and Promise of the Real! The show was non stop bliss for 98 minutes, no breaks. EARTH does not fit on iTunes. It breaks all their rules (and couldn't all really be heard that way anyway) No one who was there will ever forget the love, wonder and beautiful madness of EARTH. I know I won't. Neil
EARTH consists of recordings from Young's tour last year with the band Promise Of The Real for his preceding album, The Monsanto Years. AlterNet described Young's 36th studio album, as a "concept-based criticism" of Monsanto, the world's biggest seed company, and also a condemnation of other multinational agriculture giants like Syngenta, Dow, Dupont and Bayer that have also, like Monsanto, "garnered control of global seed production."
Promise Of The Real guitarist Lukas Nelson lauded the new LP. "I just listened to our new record EARTH with Neil Young ... One of the single greatest audio experiences I've ever had," he wrote on Instagram.
The world premiere of EARTH will be hosted by the Natural History Museum in Los Angeles on May 6. And, according to an announcement about the event, it's sure to be spectacular:
Against the backdrop of the Museum's blossoming outdoor Nature Gardens, musician and icon Neil Young will present the first public playback of his upcoming release, EARTH, in its entirety in Pono high definition fidelity audio, before its June 17 release. The album features "After the Gold Rush," "Vampire Blues," and an explosive 29-minute version of "Love & Only Love," and includes some unexpected accompaniment—the sounds of many different kinds of wildlife.
The Grammy Award-winning artist and environmental crusader said in a press release that EARTH "flows as a collection of 13 songs from throughout my life, songs I have written about living here on our planet together. Our animal kingdom is well represented in the audience as well, and the animals, insects, birds, and mammals actually take over the performances of the songs at times."
Young also told Rolling Stone last year that EARTH is "like nothing that I've done. It's more like a giant radio show."
"It has no stops," he continued. "The songs are too long for iTunes, thank God, so they won't be on iTunes. I'm making it available in the formats that can handle it ... Imagine it's a live show where the audience is full of every living thing on Earth. And also they overtake the music once in a while and play the instruments. It's not conventional, but it is based on live performance."
On Tuesday, Young kicked off his 2016 world tour with Promise Of The Real in New Braunfels, Texas with guest star and legendary rocker Willie Nelson.
The tour then stopped by Nashville, Texas's Ascend Amphitheater yesterday. The concert received rave reviews from local publication, The Tennesseean:
At 70 years old, the rock icon hasn't lost a step. His voice is still in fine form, and the audience sang along reverently to every word of classics like "Heart of Gold" and "Long May You Run." After an opening set from singer-songwriter Steve Earle (whose debut album "Guitar Town" turned 30 this year) and half a dozen of his own solo songs, Young brought out his backing band Promise of the Real: Five rootsy rockers including Willie Nelson's sons, Lukas and Micah Nelson—and played another 90 minutes.
Here is EARTH's track listing:
1. "People Want to Hear About Love" (from The Monsanto Years)
2. "Big Box" (from The Monsanto Years)
3. "Mother Earth" (from Ragged Glory)
4. "The Monsanto Years" (from The Monsanto Years)
5. "I Won't Quit" (previously unreleased)
6. "Western Hero" (from Sleeps With Angels)
7. "Vampire Blues" (from On The Beach)
8. "Hippie Dream" (from Landing On Water)
9. "After The Gold Rush" (from After The Gold Rush)
10. "Wolf Moon" (from The Monsanto Years)
11. "Love & Only Love" (from Ragged Glory)
YOU MIGHT ALSO LIKE
EcoWatch Daily Newsletter
Aerial view of Ruropolis, Para state, northen Brazil, on Sept. 6, 2019. Tthe world's biggest rainforest is under threat from wildfires and rampant deforestation. JOHANNES MYBURGH / AFP via Getty Images
By Kate Martyr
Deforestation in Brazil's Amazon rainforest last month jumped to the highest level since records began in 2015, according to government data.
A total of 563 square kilometers (217.38 square miles) of the world's largest rainforest was destroyed in November, 103% more than in the same month last year, according to Brazil's space research agency.
From January to November this year an area almost the size of the Caribbean island of Puerto Rico was destroyed — an 83% overall increase in destruction when compared with the same period last year.
The figures were released on Friday by the National Institute for Space Research (INPE), and collected through the DETER database, which uses satellite images to monitor forest fires, forest destruction and other developments affecting the rainforest.
What's Behind the Rise?
Overall, deforestation in 2019 has jumped 30% compared to last year — 9,762 square kilometers (approximately 3769 square miles) have been destroyed, despite deforestation usually slowing during November and December.
Environmental groups, researchers and activists blamed the policies of Brazil's president Jair Bolsonaro for the increase.
They say that Bolosonaro's calls for the Amazon to be developed and his weakening support for Ibama, the government's environmental agency, have led to loggers and ranchers feeling safer and braver in destroying the expansive rainforest.
His government hit back at these claims, pointing out that previous governments also cut budgets to environment agencies such as Ibama.
The report comes as Brazil came to loggerheads with the Association of Small Island States (AOSIS) over climate goals during the UN climate conference in Madrid.
AOSIS blasted Brazil, among other nations, for "a lack of ambition that also undermines ours."
Last month, a group of Brazilian lawyers called for Bolsonaro to be investigated by the International Criminal Court over his environmental policies.
Reposted with permission from DW.
The Carolina parakeet went extinct in 1918. James St. John /
CC BY 2.0
The Carolina parakeet, the only parrot species native to the U.S., went extinct in 1918 when the last bird died at the Cincinnati Zoo. Now, a little more than 100 years later, researchers have determined that humans were entirely to blame.
Pexels
Vitamin C is a very important nutrient that's abundant in many fruits and vegetables.
BLM drill seeders work to restore native grasses after wildfire on the Bowden Hills Wilderness Study Area in southeast Oregon, Dec. 14, 2018. Marcus Johnson / BLM / CC BY 2.0
By Tara Lohan
In 2017 the Thomas fire raged through 281,893 acres in Ventura and Santa Barbara counties, California, leaving in its wake a blackened expanse of land, burned vegetation, and more than 1,000 destroyed buildings.