This website uses cookies to ensure you get the best experience while browsing it. By clicking 'Got It' you're accepting these terms.
Neil Young's New Album EARTH Breaks All the Rules
Apr. 29, 2016 10:14AM EST
Animals
Neil Young has announced his new, full-length album EARTH. The 98-minute record, out June 17, features an unusual set of collaborators: live animals.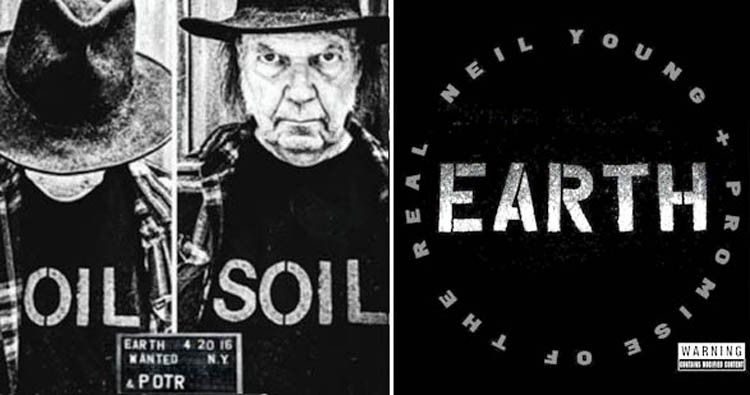 Young described his latest project on social media:
We made a live record and every creature on the planet seemed to show up. Suddenly all the living things of Earth were in the audience going crazy. Then they took over the stage, letting their wild sounds mingle with the Vanilla Singers perfect corporate harmony. Earth's creatures let loose, there were Bee breakdowns, Bird breakdowns and yes, even Wall Street breakdowns, jamming with me and Promise of the Real! The show was non stop bliss for 98 minutes, no breaks. EARTH does not fit on iTunes. It breaks all their rules (and couldn't all really be heard that way anyway) No one who was there will ever forget the love, wonder and beautiful madness of EARTH. I know I won't. Neil
EARTH consists of recordings from Young's tour last year with the band Promise Of The Real for his preceding album, The Monsanto Years. AlterNet described Young's 36th studio album, as a "concept-based criticism" of Monsanto, the world's biggest seed company, and also a condemnation of other multinational agriculture giants like Syngenta, Dow, Dupont and Bayer that have also, like Monsanto, "garnered control of global seed production."
Promise Of The Real guitarist Lukas Nelson lauded the new LP. "I just listened to our new record EARTH with Neil Young ... One of the single greatest audio experiences I've ever had," he wrote on Instagram.
The world premiere of EARTH will be hosted by the Natural History Museum in Los Angeles on May 6. And, according to an announcement about the event, it's sure to be spectacular:
Against the backdrop of the Museum's blossoming outdoor Nature Gardens, musician and icon Neil Young will present the first public playback of his upcoming release, EARTH, in its entirety in Pono high definition fidelity audio, before its June 17 release. The album features "After the Gold Rush," "Vampire Blues," and an explosive 29-minute version of "Love & Only Love," and includes some unexpected accompaniment—the sounds of many different kinds of wildlife.
The Grammy Award-winning artist and environmental crusader said in a press release that EARTH "flows as a collection of 13 songs from throughout my life, songs I have written about living here on our planet together. Our animal kingdom is well represented in the audience as well, and the animals, insects, birds, and mammals actually take over the performances of the songs at times."
Young also told Rolling Stone last year that EARTH is "like nothing that I've done. It's more like a giant radio show."
"It has no stops," he continued. "The songs are too long for iTunes, thank God, so they won't be on iTunes. I'm making it available in the formats that can handle it ... Imagine it's a live show where the audience is full of every living thing on Earth. And also they overtake the music once in a while and play the instruments. It's not conventional, but it is based on live performance."
On Tuesday, Young kicked off his 2016 world tour with Promise Of The Real in New Braunfels, Texas with guest star and legendary rocker Willie Nelson.
The tour then stopped by Nashville, Texas's Ascend Amphitheater yesterday. The concert received rave reviews from local publication, The Tennesseean:
At 70 years old, the rock icon hasn't lost a step. His voice is still in fine form, and the audience sang along reverently to every word of classics like "Heart of Gold" and "Long May You Run." After an opening set from singer-songwriter Steve Earle (whose debut album "Guitar Town" turned 30 this year) and half a dozen of his own solo songs, Young brought out his backing band Promise of the Real: Five rootsy rockers including Willie Nelson's sons, Lukas and Micah Nelson—and played another 90 minutes.
Here is EARTH's track listing:
1. "People Want to Hear About Love" (from The Monsanto Years)
2. "Big Box" (from The Monsanto Years)
3. "Mother Earth" (from Ragged Glory)
4. "The Monsanto Years" (from The Monsanto Years)
5. "I Won't Quit" (previously unreleased)
6. "Western Hero" (from Sleeps With Angels)
7. "Vampire Blues" (from On The Beach)
8. "Hippie Dream" (from Landing On Water)
9. "After The Gold Rush" (from After The Gold Rush)
10. "Wolf Moon" (from The Monsanto Years)
11. "Love & Only Love" (from Ragged Glory)
YOU MIGHT ALSO LIKE
EcoWatch Daily Newsletter

georgeclerk / E+ / Getty Images
By Jennifer Molidor
One million species are at risk of extinction from human activity, warns a recent study by scientists with the United Nations. We need to cut greenhouse gas pollution across all sectors to avoid catastrophic climate change — and we need to do it fast, said the Intergovernmental Panel on Climate Change.
This research should serve as a rallying cry for polluting industries to make major changes now. Yet the agriculture industry continues to lag behind.
Edwin Remsburg / VW Pics / Getty Images
Botswana, home to one third of Africa's elephants, announced Wednesday that it was lifting its ban on the hunting of the large mammals.
"The Ministry of Environment, Natural Resources Conservation and Tourism wishes to inform the public that following extensive consultations with all stakeholders, the Government of Botswana has taken a decision to lift the hunting suspension," the government announced in a press release shared on social media.
Pxhere
By Richard Denison
Readers of this blog know how concerned EDF is over the Trump EPA's approval of many dozens of new chemicals based on its mere "expectation" that workers across supply chains will always employ personal protective equipment (PPE) just because it is recommended in the manufacturer's non-binding safety data sheet (SDS).
By Grant Smith
From 2009 to 2012, Gregory Jaczko was chairman of the Nuclear Regulatory Commission, which approves nuclear power plant designs and sets safety standards for plants. But he now says that nuclear power is too dangerous and expensive — and not part of the answer to the climate crisis.
A lake in Rocky Mountain National Park. Brett Walton / Circle of Blue
By Brett Walton
When Greg Wetherbee sat in front of the microscope recently, he was looking for fragments of metals or coal, particles that might indicate the source of airborne nitrogen pollution in Rocky Mountain National Park. What caught his eye, though, were the plastics.
Gabriele Holtermann Gorden / Pacific Press / LightRocket / Getty Images
In a big victory for animals, Prada has announced that it's ending its use of fur! It joins Coach, Jean Paul Gaultier, Giorgio Armani, Versace, Ralph Lauren, Vivienne Westwood, Michael Kors, Donna Karan and many others PETA has pushed toward a ban.
This is a victory more than a decade in the making. PETA and our international affiliates have crashed Prada's catwalks with anti-fur signs, held eye-catching demonstrations all around the world, and sent the company loads of information about the fur industry. In 2018, actor and animal rights advocate Pamela Anderson sent a letter on PETA's behalf urging Miuccia Prada to commit to leaving fur out of all future collections, and the iconic designer has finally listened.
Amer Ghazzal / Barcroft Media / Getty Images
If people in three European countries want to fight the climate crisis, they need to chill out more.
That's the conclusion of a new study from think tank Autonomy, which found that Germany, the UK and Sweden all needed to drastically reduce their workweeks to fight climate change.
Amazon Employees for Climate Justice held a press conference after the annual shareholder meeting on May 22. Amazon Employees for Climate Justice