Neil Young Ups the Ante in GMO Food Fight in Vermont
Jul. 21, 2015 09:47AM EST
Food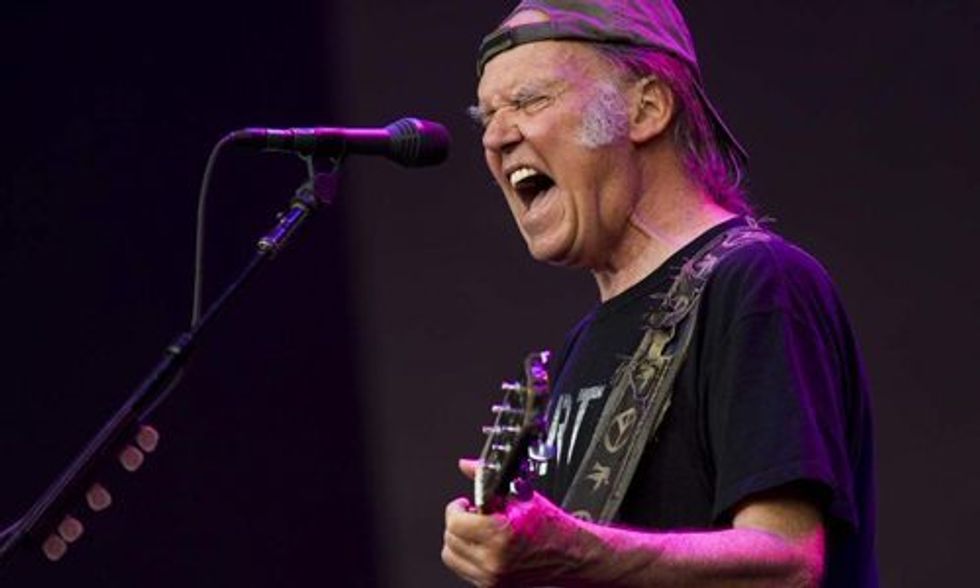 Neil Young and Vermont Gov. Peter Shumlin joined forces to urge Vermonters and Americans everywhere to donate to the Vermont Food Fight Fund, which is raising money to help Vermont implement and administer its new law, and mount a powerful defense against these lawsuits.
"I'm just a rock and roller who believes people should know what they're eating," Young said.
.@Neilyoung Pledges $100K to Vermont's GMO Lawsuit http://t.co/ut7mtDYJZZ pic.twitter.com/B6ap4pIX8r

— Civil Eats (@CivilEats) July 21, 2015
Young held a backstage press conference in Essex Junction, Vermont with the governor before he took the stage to perform.
"He called me out of the blue about 10 days ago and said, 'I'm coming to Vermont. I want to help you raise money for the Vermont food fight so you can beat Monsanto, beat the big corporations,'" said Gov. Shumlin at the press conference.
Young's concert this past weekend was his first headlining show in Vermont. I'm not sure why he would deprive the good people of Vermont for so long, but as they say, better late than never. The 10,000-plus crowd rocked out to his two and a half hour performance, which included long-time favorites and songs from his latest album "The Monsanto Years." As you can probably guess, Young's latest album has some pretty scathing lyrics for Monsanto and other corporations who Young (and the Pope) feel are choosing people over profit and destroying our environment in the process. If you haven't seen Monsanto's response to the album, you should check it out.
Young also announced at his concert that he is donating $100,000 of ticket sales to the Vermont Food Fight Fund, bringing the total money raised so far by the fund to $550,000.
"We would like to see some of the high rollers to come out and match that. Because if you got it, break it out," Young said.
Young has been a vocal proponent of GMO labeling for a long time. He publicly boycotted Starbucks last fall over their alleged support of a lawsuit filed by the Grocery Manufacturers Association. That case is still working its way through the courts.
"We knew Monsanto and the food manufacturers would sue us," Gov. Shumlin said.
"They have. We are now raising money through the Vermont Food Fight Fund to fight back against Monsanto. This is a simple example of corporate greed against people's right to know what's in their food and make an informed choice.
"This food fight is so critically important because if we win in Vermont, we'll win in America. This is a very simple concept. Vermonters and Americans should join the 36 other countries in letting consumers know what's in their food."
YOU MIGHT ALSO LIKE
If GMOs Are Safe, Why Not Label Them? (64 Other Countries Do)
What Neil Young and Pope Francis Have in Common
Republicans Stomp on GMO Labeling, DARK Act Heads to House Floor
EcoWatch Daily Newsletter