This website uses cookies to ensure you get the best experience while browsing it. By clicking 'Got It' you're accepting these terms.
Neil Young Takes on Monsanto
Apr. 23, 2015 08:29AM EST
Food
There's a cliche about people getting more conservative as they get older. But with 69-year-old musician Neil Young that opposite seems to be true. He keeps getting more passionate and outspoken about the things he believes—including the environment, Keystone XL pipeline, small-scale agriculture and taking on big corporations like Monsanto.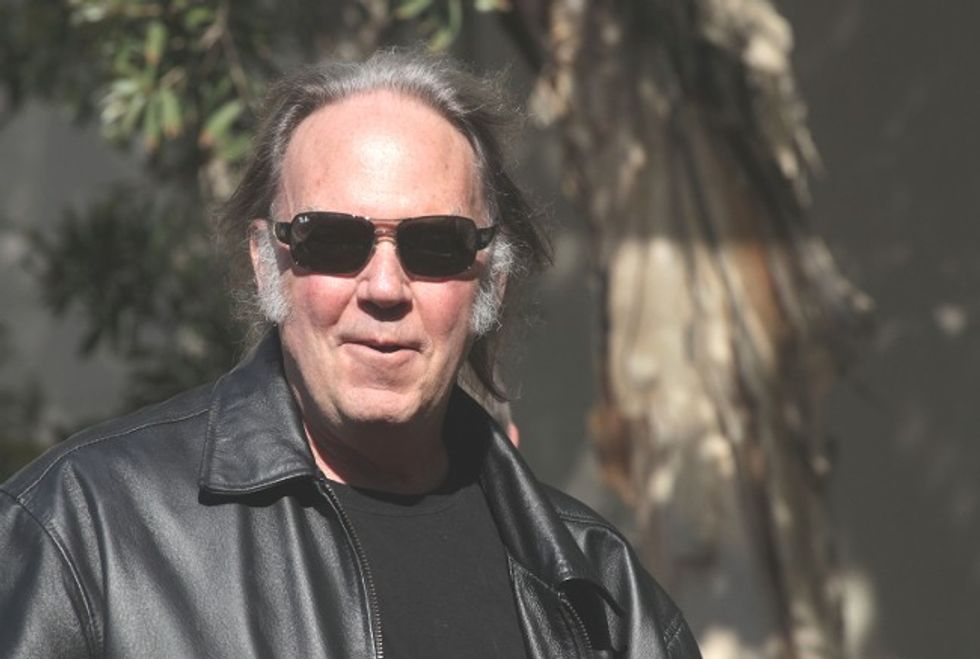 Photo credit: Shutterstock
The unflaggingly productive Young has a new album coming out June 16 called The Monsanto Years. It's all about the multinational chemical giant that has been a leader in the development of genetically modified seeds and pesticides. That includes the widely used Roundup herbicide, which has been linked to cancer. He mentioned the album in January in an interview with Rolling Stone executive editor Nathan Brackett but according to the magazine he appeared to be joking.
Young has been outspoken against the spread of genetically modified crops. Last November, he announced on his website that he would be boycotting Starbucks for their membership in the Grocery Manufacturers Association (GMA), which has been one of the main funders, along with Monsanto, of successful efforts to derail state GMO-labeling ballot initiatives.
"No latte for me," he said. "I used to line up and get my latte every day but yesterday was the last one. Starbucks has teamed up with Monsanto to sue Vermont and stop accurate food labeling. Hiding behind the shadowy 'Grocery Manufacturers Association,' Starbucks is supporting a lawsuit that's aiming to block a landmark law that requires genetically modified ingredients be labeled. Amazingly, it claims that the law is an assault on corporations' right to free speech."
Starbucks has denied their involvement in the Vermont lawsuit, but it seems like Young isn't letting them off the hook. At a pop-up gig at SLO Brewing Co. in San Luis Obispo last weekend featuring mostly environmentally focused material, he debuted several new songs, including "The Monsanto Years," "Too Big to Fail," "New Day for the Planet" and "Rock Starbucks."
Young will hit the road this summer with his band Promise of the Real, which features the songs of another passionate advocate for the old-fashioned family farm: Willie Nelson. His guitarist/singer sons Micah and Lukas will be part of Young's Rebel Content tour, kicking of July 5. The tour will include Young's first headlining show in Vermont (he performed there once before 50 years ago as an unknown guitarist in an obscure, short-lived band). The state's Burlington Free Press speculated that the concert might be connected to the state's support for GMO labeling.
YOU MIGHT ALSO LIKE
8 Celebrities Calling for Climate Action
Neil Young Boycotts Starbucks Over Its Opposition to GMO Labeling
Monsanto's Roundup — Most Popular Weed Killer in U.S. — 'Probably' Causes Cancer, WHO Report Says
EcoWatch Daily Newsletter
A harbour seal on an ice floe in Glacier Bay, Alaska. A new study shows that the climate crisis has warmed waters, changing ecosystems and crippling sea ice growth. Janette Hill / robertharding / Getty Images Plus
Doctors report that only 1 in 4 children are getting the recommended 60 minutes of physical activity per day. Ronnie Kaufman / DigitalVision / Getty Images
By Dan Gray
Pediatricians are being urged to start writing "exercise prescriptions" for the children they see in their office.
A First Nations protester walks in front of a train blockade in Tyendinaga, near Belleville, Ontario, Canada on Feb. 21, 2020. LARS HAGBERG / AFP via Getty Images
An indigenous rail blockade that snarled train travel in Canada for more than two weeks came to an end Monday when police moved in to clear protesters acting in solidarity with another indigenous community in British Columbia (B.C.), which is fighting to keep a natural gas pipeline off its land.
A rainbow snake, a rare reptile spotted in a Florida county for the first time in more than 50 years, seen here on July 5, 2013.
Kevin Enge / FWC Fish and Wildlife Research Institute / Flickr
A Florida hiker recently stumbled across a slithering surprise — a rare snake that hadn't been spotted in the area for more than 50 years.
We need our government to do everything it can to stop PFAS contamination and exposure from wreaking havoc in communities across the country. LuAnn Hun /
Unsplash
By Genna Reed
The EPA announced last week that it is issuing a preliminary regulatory determination for public comment to set an enforceable drinking water standard to two of the most common and well-studied PFAS, PFOA and PFOS.
This decision is based on three criteria:
PFOA and PFOS have an adverse effect on public health
PFOA and PFOS occur in drinking water often enough and at levels of public health concern;
regulation of PFOA and PFOS is a meaningful opportunity for reducing the health risk to those served by public water systems.