This website uses cookies to ensure you get the best experience while browsing it. By clicking 'Got It' you're accepting these terms.
Grammy Award-winning artist Neil Young has been a powerful presence in music for the past 50 years. In addition to his artistic career, Young has become a vocal advocate for social justice, working specifically to highlight issues that impact farmers and the food system. In 1985, Young joined Willie Nelson and John Mellencamp to launch Farm Aid to raise awareness about the loss of family farms and to raise funds for family farmers. Today, Farm Aid contributes to the campaign for transparency around genetically modified foods.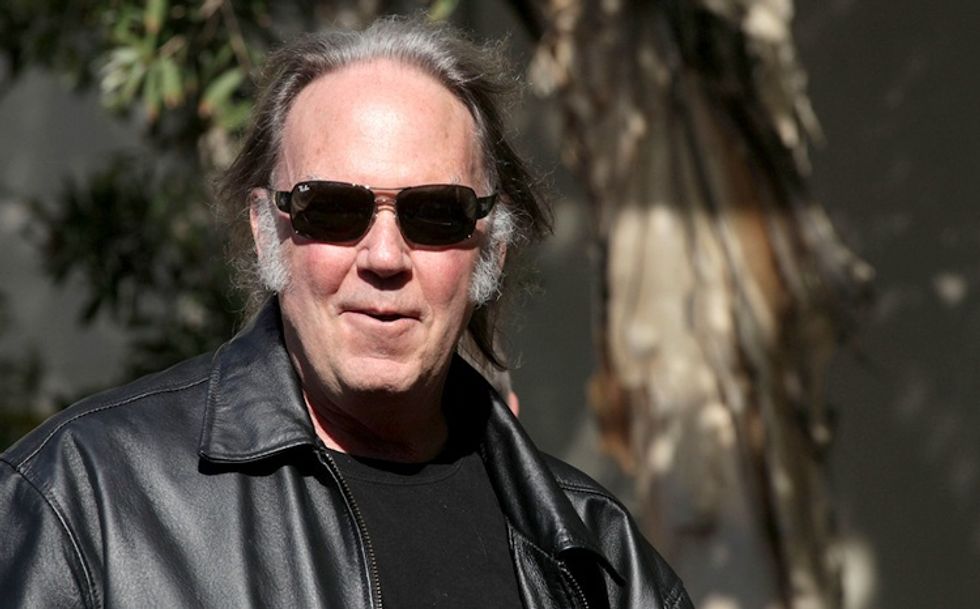 In 2015, Young released his 36th studio album, The Monsanto Years, a concept-based criticism of multinational agrochemical and biotechnology giant Monsanto, the world's biggest seed company. A collaboration with Willie Nelson's sons Lukas and Micah, the album also condemns other industrial agriculture giants like Syngenta, Dow, Dupont and Bayer—corporations that, like Monsanto, have garnered control of global seed production.
By creating patents for genetically engineered seed, these firms have taken away farmers' right to save their own seeds.
"Monsanto wants to sell the farmers the seeds and they want to license the seeds," Bob McFarland of the California State Grange said. "So the farmers can only use those seeds for one cycle, then they have to go back to Monsanto and buy the seeds again."
The rise of GE crops has dramatically increased the use of pesticides and herbicides, which poison wildlife—most notably birds and key pollinating species like bees and butterflies—and impact public health. Herbicide-resistant (a.k.a. Roundup Ready) GE crops, according to a 2012 Washington State University study, have led to a 527-million-pound increase in herbicide use in the U.S. between 1996 and 2011. Critics of genetically engineering seeds warn that the next generation of GE crops will only increase the use of even more toxic pesticides and herbicides.
More than 90 percent of all GE crops cultivated in the U.S. have been engineered to be resistant to glyphosate, the active ingredient in Monsanto's Roundup, the world's most popular weedkiller. In 2015, the World Health Organization classified glyphosate as a "probable carcinogen."
Unsurprisingly, Monsanto is not fond of Neil Young's new album. "Many of us at Monsanto have been and are fans of Neil Young," the company told Billboard. "Unfortunately, for some of us, his current album may fail to reflect our strong beliefs in what we do every day to help make agriculture more sustainable. We recognize there is a lot of misinformation about who we are and what we do—and unfortunately several of those myths seem to be captured in these lyrics."
The album's concepts stretch beyond the lyrics, with Young using visual cues to underscore the harsh reality of industrial farming. At a July 2015 performance in Massachusetts a few weeks after the album's release, a performative piece introduced the band's first song, with stagehands dressed as farmers "planting seeds" on the stage, followed by another group wearing hazmat outfits who sprayed the seeds with pesticides.
One of the songs on the album, "Working Man," is about farmers who have been prosecuted for saving their seeds. "That song is a microcosm of the larger problem that we've been talking about with farmers being stripped of their right to choose what they want to grow," George Kimbrell, Center for Food Safety senior attorney, said.
Center for Food Safety, an environmental nonprofit and Hollywood Food Guild—a Center for Food Safety-produced initiative that organizes Hollywood to advocate for food and farm system integrity—followed Young on tour in Red Rocks, Colorado, to join his mission to educate the public about the threats posed by Monsanto and other Big Ag corporations. At each tour location, Young created an "eco-village" where concertgoers could find information about family farmers, industrial farming, the inequities of the food system, organic foods and the impact of pesticides on animals and humans. Young's international tour begins this summer.
"Neil is a man after our own heart," Kaiulani Kimbrell, director of Hollywood Food Guild and host of the guild's original content series Food Voices, said. "He has used his voice and his music to protect our environment and increase transparency around … the tragedy that's happened with our food system."
For a behind-the-scenes look at Neil Young's tour, The Monsanto Years, watch this Hollywood Food Guild video:
YOU MIGHT ALSO LIKE 
Pro-GMO Group Crosses Ethical Line
These 3 Women Attend Monsanto's Annual Shareholder Meeting Demanding Answers
Syngenta Megamerger Must Be Blocked
The Inside Story of How a University Professor Quietly Collaborated With Monsanto
EcoWatch Daily Newsletter
Elva Etienne / Moment / Getty Images
By Ketura Persellin
Gift-giving is filled with minefields, but the Environmental Working Group's (EWG) got your back, so you don't need to worry about inadvertently giving family members presents laden with toxic chemicals. With that in mind, here are our suggestions for gifts to give your family this season.
Pexels
Garlic is an ingredient that provides great flavor to dishes and can be found in most kitchens across the globe.
Pexels
Echinacea is a group of flowering plants that belong to the daisy family, along with plants like sunflowers, chicory, chamomile, and chrysanthemums.

One of the 25 new Long Beach Transit hybrid gasoline-electric buses on April 23, 2009. Jeff Gritchen / Digital First Media / Orange County Register / Getty Images
In Long Beach, California, some electric buses can charge along their route without cords or wires.
When a bus reaches the Pine Avenue station, it parks over a special charging pad. While passengers get on and off, the charger transfers energy to a receiver on the bottom of the bus.