This website uses cookies to ensure you get the best experience while browsing it. By clicking 'Got It' you're accepting these terms.
Grammy Award-winning artist Neil Young has been a powerful presence in music for the past 50 years. In addition to his artistic career, Young has become a vocal advocate for social justice, working specifically to highlight issues that impact farmers and the food system. In 1985, Young joined Willie Nelson and John Mellencamp to launch Farm Aid to raise awareness about the loss of family farms and to raise funds for family farmers. Today, Farm Aid contributes to the campaign for transparency around genetically modified foods.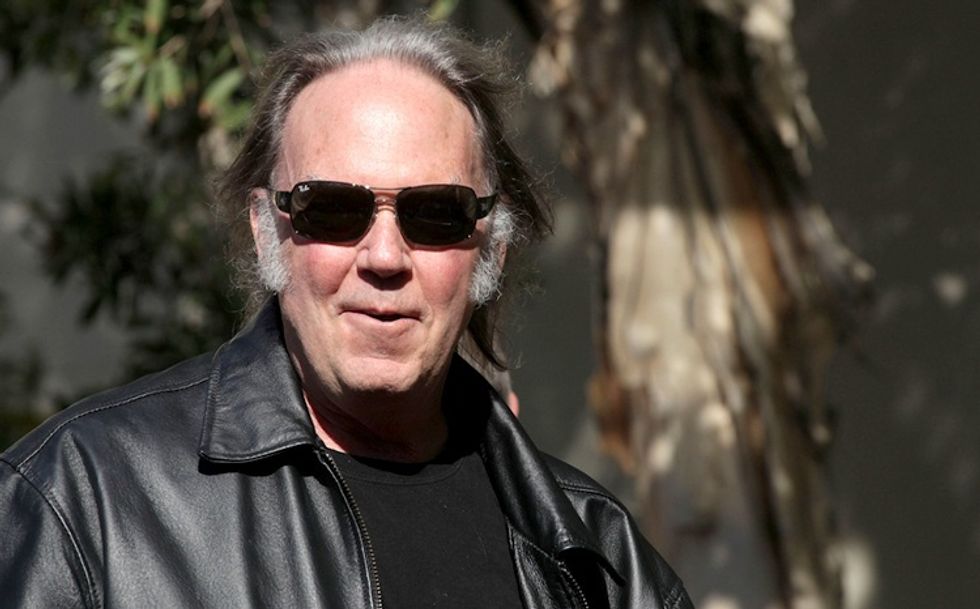 In 2015, Young released his 36th studio album, The Monsanto Years, a concept-based criticism of multinational agrochemical and biotechnology giant Monsanto, the world's biggest seed company. A collaboration with Willie Nelson's sons Lukas and Micah, the album also condemns other industrial agriculture giants like Syngenta, Dow, Dupont and Bayer—corporations that, like Monsanto, have garnered control of global seed production.
By creating patents for genetically engineered seed, these firms have taken away farmers' right to save their own seeds.
"Monsanto wants to sell the farmers the seeds and they want to license the seeds," Bob McFarland of the California State Grange said. "So the farmers can only use those seeds for one cycle, then they have to go back to Monsanto and buy the seeds again."
The rise of GE crops has dramatically increased the use of pesticides and herbicides, which poison wildlife—most notably birds and key pollinating species like bees and butterflies—and impact public health. Herbicide-resistant (a.k.a. Roundup Ready) GE crops, according to a 2012 Washington State University study, have led to a 527-million-pound increase in herbicide use in the U.S. between 1996 and 2011. Critics of genetically engineering seeds warn that the next generation of GE crops will only increase the use of even more toxic pesticides and herbicides.
More than 90 percent of all GE crops cultivated in the U.S. have been engineered to be resistant to glyphosate, the active ingredient in Monsanto's Roundup, the world's most popular weedkiller. In 2015, the World Health Organization classified glyphosate as a "probable carcinogen."
Unsurprisingly, Monsanto is not fond of Neil Young's new album. "Many of us at Monsanto have been and are fans of Neil Young," the company told Billboard. "Unfortunately, for some of us, his current album may fail to reflect our strong beliefs in what we do every day to help make agriculture more sustainable. We recognize there is a lot of misinformation about who we are and what we do—and unfortunately several of those myths seem to be captured in these lyrics."
The album's concepts stretch beyond the lyrics, with Young using visual cues to underscore the harsh reality of industrial farming. At a July 2015 performance in Massachusetts a few weeks after the album's release, a performative piece introduced the band's first song, with stagehands dressed as farmers "planting seeds" on the stage, followed by another group wearing hazmat outfits who sprayed the seeds with pesticides.
One of the songs on the album, "Working Man," is about farmers who have been prosecuted for saving their seeds. "That song is a microcosm of the larger problem that we've been talking about with farmers being stripped of their right to choose what they want to grow," George Kimbrell, Center for Food Safety senior attorney, said.
Center for Food Safety, an environmental nonprofit and Hollywood Food Guild—a Center for Food Safety-produced initiative that organizes Hollywood to advocate for food and farm system integrity—followed Young on tour in Red Rocks, Colorado, to join his mission to educate the public about the threats posed by Monsanto and other Big Ag corporations. At each tour location, Young created an "eco-village" where concertgoers could find information about family farmers, industrial farming, the inequities of the food system, organic foods and the impact of pesticides on animals and humans. Young's international tour begins this summer.
"Neil is a man after our own heart," Kaiulani Kimbrell, director of Hollywood Food Guild and host of the guild's original content series Food Voices, said. "He has used his voice and his music to protect our environment and increase transparency around … the tragedy that's happened with our food system."
For a behind-the-scenes look at Neil Young's tour, The Monsanto Years, watch this Hollywood Food Guild video:
YOU MIGHT ALSO LIKE 
Pro-GMO Group Crosses Ethical Line
These 3 Women Attend Monsanto's Annual Shareholder Meeting Demanding Answers
Syngenta Megamerger Must Be Blocked
The Inside Story of How a University Professor Quietly Collaborated With Monsanto
EcoWatch Daily Newsletter
A new study shows that half of all Arctic warming and corresponding sea-loss during the late 20th century was caused by ozone-depleting substances. Here, icebergs discharged from Greenland's Jakobshavn Glacier. Kevin Krajick / Earth Institute /
EurekAlert!
The world awakened to the hole in the ozone layer in 1985, which scientists attributed it to ozone depleting substances. Two years later, in Montreal, the world agreed to ban the halogen compounds causing the massive hole over Antarctica. Research now shows that those chemicals didn't just cut a hole in the ozone layer, they also warmed up the Arctic.
Diane Wilson holds up a bag full of nurdles she collected from one of Formosa's outfall areas on Jan. 15. Julie Dermansky / DeSmogBlog
On the afternoon of Jan. 15, activist Diane Wilson kicked off a San Antonio Estuary Waterkeeper meeting on the side of the road across from a Formosa plastics manufacturing plant in Point Comfort, Texas.
After Wilson and the waterkeeper successfully sued Formosa, the company agreed to no longer release even one of the tiny plastic pellets known as nurdles into the region's waterways. The group of volunteers had assembled that day to check whether the plant was still discharging these raw materials of plastics manufacturing.
Malaysian Environment Minister Yeo Bee Yin (front 2nd L) and officials inspect a container containing plastic waste shipment on Jan. 20, 2020 before sending back to the countries of origin. AFP via Getty Images
The Southeast Asian country Malaysia has sent 150 shipping containers packed with plastic waste back to 13 wealthy countries, putting the world on notice that it will not be the world's garbage dump, as CNN reported. The countries receiving their trash back include the United States, the United Kingdom, France and Canada.
Trump leaves after delivering a speech at the Congress Centre during the World Economic Forum annual meeting in Davos on Jan. 21, 2020. JIM WATSON / AFP via Getty Images