Neil Young Boycotts Starbucks Over Its Opposition to GMO Labeling
Nov. 18, 2014 10:12AM EST
Food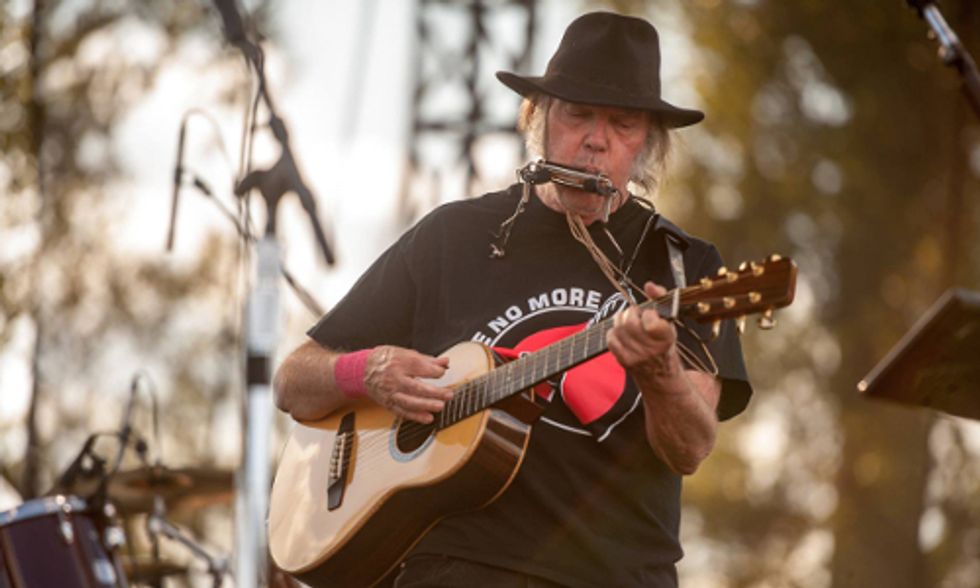 Neil Young has long been known for his involvement in environmental and social justice issues. Now Young has extended his longtime activism to another area: taking on Starbucks and its association with the anti-GMO labeling Grocery Manufacturers Association (GMA). The GMA has spent heavily in states where GMO labeling has been on the ballot, working to defeat it, usually coming in just behind Monsanto in the size of its donations.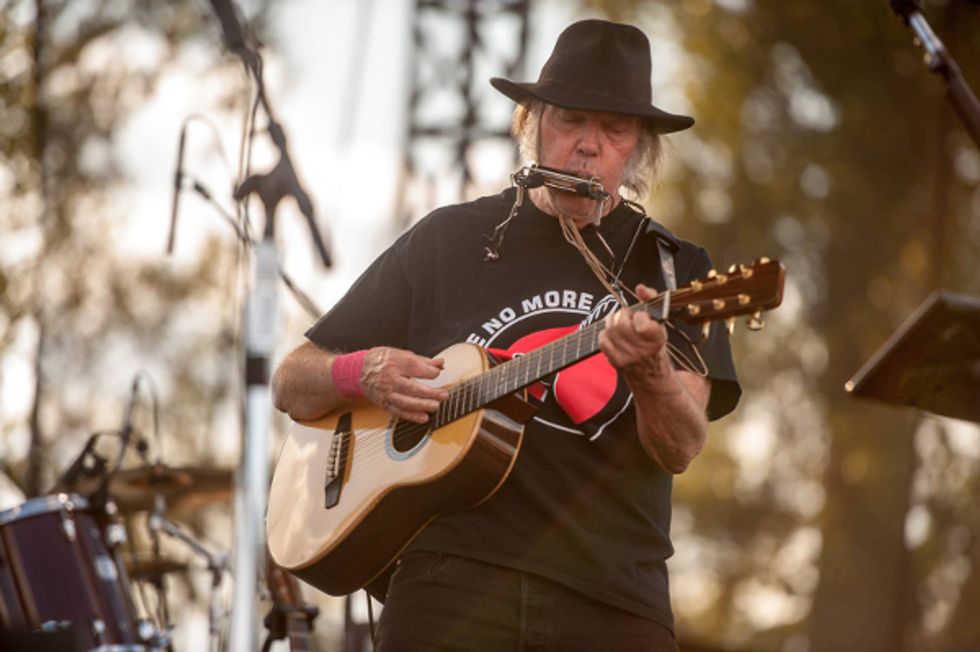 "Goodbye Starbucks!" Young announces on his website.
"I used to line up and get my latte every day but yesterday was the last one," he says. "Starbucks has teamed up with Monsanto to sue Vermont and stop accurate food labeling. Hiding behind the shadowy 'Grocery Manufacturers Association,' Starbucks is supporting a lawsuit that's aiming to block a landmark law that requires genetically modified ingredients be labeled. Amazingly, it claims that the law is an assault on corporations' right to free speech."
Vermont's labeling law never appeared on the ballot, which would have given the big-spending groups the chance to swamp labeling supporters with money. Instead, it was passed by Vermont's legislature in April and signed by its governor in May. A lawsuit challenging the law was filed in June by GMA, the Snack Food Association, the International Dairy Foods Association and the National Association of Manufacturers, claiming that it would impose "burdensome new speech requirements and restrictions" on the product manufacturers they represent. Vermont is the first state in the U.S. to pass GMO labeling; the big spenders have been able to defeat all the state ballot measures.
"Vermont is a small, entirely rural state with just 600,000 people," says Young. "It's a classic David and Goliath fight between Vermont and Monsanto. Whatever you think of GMOs, corporations should not be using massive lawsuits to overturn legitimate, democratic decisions with strong public backing. Considering that Starbucks has been progressive on LGBT and labor issues in the past, it's disappointing that it is working with the biggest villain of them all, Monsanto. Monsanto might not care what we think—but as a public-facing company, Starbucks does. If we can generate enough attention, we can push Starbucks to withdraw its support for the lawsuit, and then pressure other companies to do the same."
Young urges people to join with SumOfUs.org, an organization that advocates for workers and consumers against corporation, to pressure Starbucks to oppose the lawsuit.
Starbucks meanwhile denies any responsibility for the lawsuit. "Starbucks is not a part of any lawsuit pertaining to GMO labeling nor have we provided funding for any campaign. And Starbucks is not aligned with Monsanto to stop food labeling or block Vermont state law. The petition claiming that Starbucks is part of this litigation is completely false and we have asked the petitioners to correct their description of our position. Starbucks has not taken a position on the issue of GMO labeling. As a company with stores and a product presence in every state, we prefer a national solution."
Young may be 69, with a music career spanning 50 years, but his level of activism on behalf of environmental causes only seems to be growing. In September, he joined Willie Nelson to headline the day-long Harvest the Hope: A Concert to Protect the Heartland in rural Nebraska on behalf of Keystone XL pipeline opponents, where he introduced his new tune and latest environmental salvo "Who's Gonna Stand Up? (And Save the Earth), which he recently performed with Stephen Colbert on The Colbert Report.
YOU MIGHT ALSO LIKE
GMO Labeling Defeated in Colorado, Too Close to Call in Oregon
Millions March Against Monsanto Calling for Boycott of GMOs
MUST-SEE: Stephen Colbert and Neil Young Sing 'Who's Gonna Stand Up?'
EcoWatch Daily Newsletter