Neil deGrasse Tyson Schools Rapper B.o.B. Who Believes the Earth Is Flat
Jan. 26, 2016 08:13AM EST
Science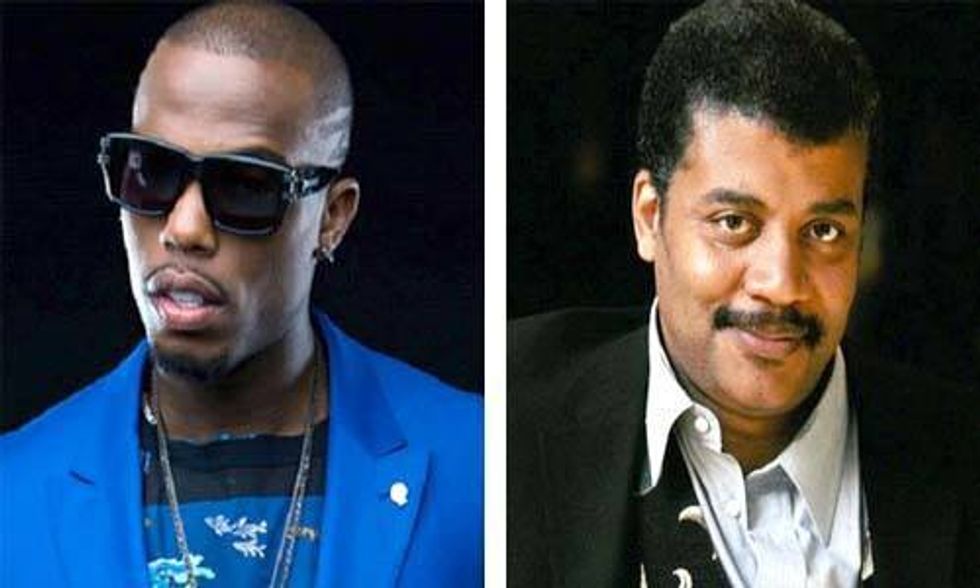 Rapper B.o.B. is the latest celebrity to take to Twitter to promote the "Flat Earth" theory, which has no support in the modern scientific community.
His evidence includes "Why is the horizon always at eye level?," "Why aren't planes constantly flying into space?" and "Why can you see Philadelphia from New Jersey?" Here is a sampling of his Tweets claiming the Earth is, in fact, flat:
The cities in the background are approx. 16miles apart... where is the curve ? please explain this https://t.co/YCJVBdOWX7

— B.o.B (@B.o.B) 1453680313.0
Famed astrophysicist Neil deGrasse Tyson couldn't help but chime in, debunking the rapper's claims about the Earth's curve and whether or not Polaris is visible in the Southern Hemisphere.
@bobatl Earth's curve indeed blocks 150 (not 170) ft of Manhattan. But most buildings in midtown are waaay taller than that.

— Neil deGrasse Tyson (@Neil deGrasse Tyson) 1453736663.0
@bobatl Polaris is gone by 1.5 deg S. Latitude. You've never been south of Earth's Equator, or if so, you've never looked up.

— Neil deGrasse Tyson (@Neil deGrasse Tyson) 1453737266.0
He even added a burn in at the end:
@bobatl Flat Earth is a problem only when people in charge think that way. No law stops you from regressively basking in it.

— Neil deGrasse Tyson (@Neil deGrasse Tyson) 1453737839.0
But Tyson was sure to let him know he's still a fan of his music with the most veiled compliment ever:
@bobatl Duude — to be clear: Being five centuries regressed in your reasoning doesn't mean we all can't still like your music

— Neil deGrasse Tyson (@Neil deGrasse Tyson) 1453738488.0
Rapper B.o.B. is not the only celebrity who has recently espoused the "Flat Earth" theory. Earlier this month, reality TV star Tila Tequila took to Twitter, claiming that no one has been able to prove her wrong that the Earth is flat. Pythagoras is rolling over in his grave.
YOU MIGHT ALSO LIKE
Is There a Ninth Planet in Our Solar System?
EcoWatch Daily Newsletter
Related Articles from EcoWatch