This website uses cookies to ensure you get the best experience while browsing it. By clicking 'Got It' you're accepting these terms.
Nebraska Farmers Sue Monsanto Alleging Roundup Gave Them Cancer
May. 16, 2016 10:53AM EST
Food
Four Nebraskan agricultural workers have filed a lawsuit against Monsanto Co. alleging that the agribusiness giant's cancer-linked product, Roundup, gave them non-Hodgkin lymphoma after many years of exposure.
The plaintiffs have also accused Monsanto of purposely misleading consumers about the safety of its blockbuster product, which contains glyphosate as its controversial main ingredient.
The plaintiffs allege that Monsanto mislabeled the product in defiance of the "body of recognized scientific evidence linking the disease to exposure to Roundup."
Glyphosate, the most widely used herbicide in the world was infamously classified as "probably carcinogenic to humans" by the World Health Organization's (WHO) International Agency for Research on Cancer (IARC) in March 2015.
"Case-control studies of occupational exposure in the USA, Canada, and Sweden reported increased risks for non-Hodgkin lymphoma that persisted after adjustment for other pesticides," the IARC said about the herbicide, adding that there is also "convincing evidence" that it can cause cancer in laboratory animals.
The plaintiffs in the case are farmers Larry Domina and Robert Dickey both of Cedar County, York County farmer Royce Janzen and Dodge County agronomist Frank Pollard, the Lincoln Journal Star reported. They are represented by Omaha-based Domina Law Group and New York-based Weitz & Luxembourg.
"Roundup is used by Nebraskans raising everything from grain to grass and tulips to trees. Nothing on the label alerts users to health risks," their attorney David Domina told Courthouse News. He said that Nebraskans deserve the benefit of the WHO's research and protection against unknown exposure.
Monsanto has vehemently denied cancer claims and said that Roundup is "safe enough to drink," as the farmers pointed out in their federal lawsuit.
Roundup, which brought the St. Louis-based business $4.8 billion in revenue last year, is applied to "Roundup Ready" crops around that world that are genetically modified to resist applications of the powerful weedkiller.
According to the farmers' complaint, the ubiquitous product is used in commercial agriculture on more than 100 varieties of crops, with more than 85 million pounds. of glyphosate applied to crops grown in the U.S. in 2001 and skyrocketing to 185 million pounds by 2007.
"Glyphosate is found in rivers, streams, and groundwater in agricultural areas where Roundup is used. It has been found in food, the urine of exposed persons, and in the urine of urban dwellers without direct contact with glyphosate," the complaint states.
The farmers are seeking punitive damages for defective design, failure to warn, negligence and breach of warranty.
Monsanto spokeswoman Charla Lord told Courthouse News in an email that "while we have sympathy for the plaintiffs, the science simply does not support their claims when it comes to glyphosate."
"The U.S. EPA and other pesticide regulators around the world have reviewed numerous long-term carcinogenicity studies and agree that there is no evidence that glyphosate causes cancer, even at very high doses," she continued. "Since 1991, glyphosate has been classified by the U.S. EPA in its lowest category for evidence of non-carcinogenicity based on extensive animal studies. In fact, glyphosate is one of the most thoroughly studied herbicides in the marketplace."
Incidentally, last month, the EPA's Cancer Assessment Review Committee published a report online about glyphosate concluding that the chemical is not likely carcinogenic to humans. However, even though it was marked "Final" and was signed by 13 members of CARC, the report disappeared from the website three days later. The EPA said that the report was "inadvertently" released.
The chemical has been the subject of incredible controversy in Europe especially after the European Food Safety Authority famously rejected the IARC's classification of glyphosate as a possible carcinogen in November.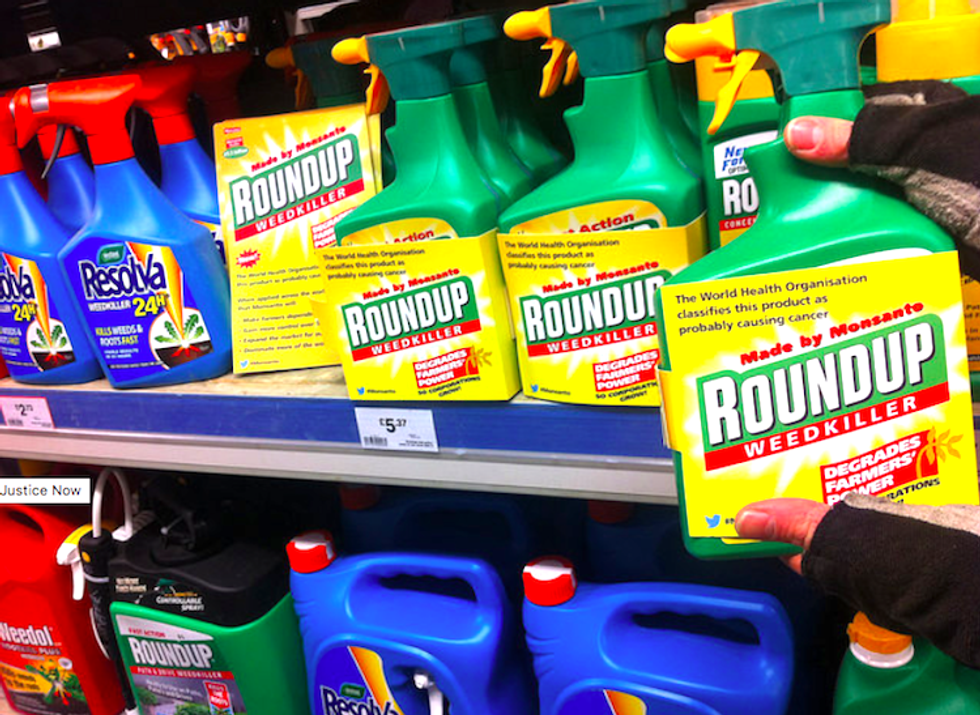 Activists have been relabelling bottles of Monsanto's Roundup weedkiller in garden centers and DIY shops across the UK. Roundup contains glyphosate, a chemical that the WHO has shown to be "probably carcinogenic." Photo credit: Global Justice Now
The European Commission—the executive body of the European Union—reportedly plans to relicense glyphosate for nine years despite opposition from European Parliament, which voted on April 13 to oppose EU relicensing. Additionally, countries such as France, Sweden, Italy, the Netherlands and now Germany, as well as 1.4 million people have called on an EU ban of glyphosate.
Meanwhile, Monsanto is facing a mounting number of similar cancer lawsuits.
In March, a wrongful death lawsuit was filed against Monsanto by the widow of a prominent Cambria, California farmer alleging that Roundup caused her husband of 40-years, Anthony Jackson "Jack" McCall, to develop a rare and aggressive version of non-Hodgkin lymphoma after he used the herbicide on his 20-acre fruit and vegetable farm for nearly 30 years.
In February, the Hawaii Tribune-Herald reported that Christine and Kenneth Sheppard, the former owners of Dragon's Lair Kona Coffee Farm in Honaunau, Hawaii, have accused the multinational agribusiness of falsely masking the carcinogenic risks of glyphosate and is responsible for causing the woman's cancer, non-Hodgkins lymphoma.
Last year, California announced plans to become the first state to label glyphosate as a carcinogen based on the IARC's classification. Monsanto has fought back against the Golden State with their own lawsuit.
YOU MIGHT ALSO LIKE
Consumed: First Fictional Film to Cover Concerns of GMOs
Results of Glyphosate Pee Test Are in 'And It's Not Good News'
Monsanto Faces Rejection in U.S. Over GMO Soybean
EcoWatch Daily Newsletter
The CDC has emphasized that washing hands with soap and water is one of the most effective ways to prevent the spread of COVID-19. Guido Mieth / Moment / Getty Images
The Centers for Disease Control has emphasized that washing hands with soap and water is one of the most effective measures we can take in preventing the spread of COVID-19. However, millions of Americans in some of the most vulnerable communities face the prospect of having their water shut off during the lockdowns, according to The Guardian.
A California newt (Taricha torosa) from Napa County, California, USA. Connor Long /
CC BY-SA 3.0
Aerial photos of the Sierra Nevada — the long mountain range stretching down the spine of California — showed rust-colored swathes following the state's record-breaking five-year drought that ended in 2016. The 100 million dead trees were one of the most visible examples of the ecological toll the drought had wrought.
Now, a few years later, we're starting to learn about how smaller, less noticeable species were affected.
Disinfectants and cleaners claiming to sanitize against the novel coronavirus have started to flood the market.
Natthawat / Moment / Getty Images
Disinfectants and cleaners claiming to sanitize against the novel coronavirus have started to flood the market, raising concerns for the U.S. Environmental Protection Agency (EPA), which threatened legal recourse against retailers selling unregistered products, according to The New York Times.
A customer packs groceries in reusable bags at a NYC supermarket on March 1, 2020. Eduardo Munoz Alvarez/Getty Images
The global coronavirus pandemic has thrown our daily routine into disarray. Billions are housebound, social contact is off-limits and an invisible virus makes up look at the outside world with suspicion. No surprise, then, that sustainability and the climate movement aren't exactly a priority for many these days.
Ingredients are displayed for the Old School Pinto Beans from the Decolonize Your Diet cookbook by Luz Calvo and Catriona Rueda Esquibel. Melissa Renwick / Toronto Star via Getty Images
By Molly Matthews Multedo
Livestock farming contributes to global warming, so eating less meat can be better for the climate.