This website uses cookies to ensure you get the best experience while browsing it. By clicking 'Got It' you're accepting these terms.
Native Voices Say No to Keystone XL Pipeline at DC Rally
Jan. 05, 2015 09:28AM EST
Energy
On Jan. 3, more than 150 people from as far away as Canada, New Mexico, Virginia and New York gathered in front of the White House in Washington, DC to urge Congress and President Obama to say no to the Keystone XL pipeline. Organizers of the rally felt it was essential to make their voice heard prior to the Keystone XL debate taking center stage as Congress reconvenes this week.
On Wednesday, Jan. 7, the Senate Energy and Natural Resources Committee will hold a hearing on legislation to try and push forward the Keystone XL pipeline after the Senate approval of the pipeline was defeated by one vote in November.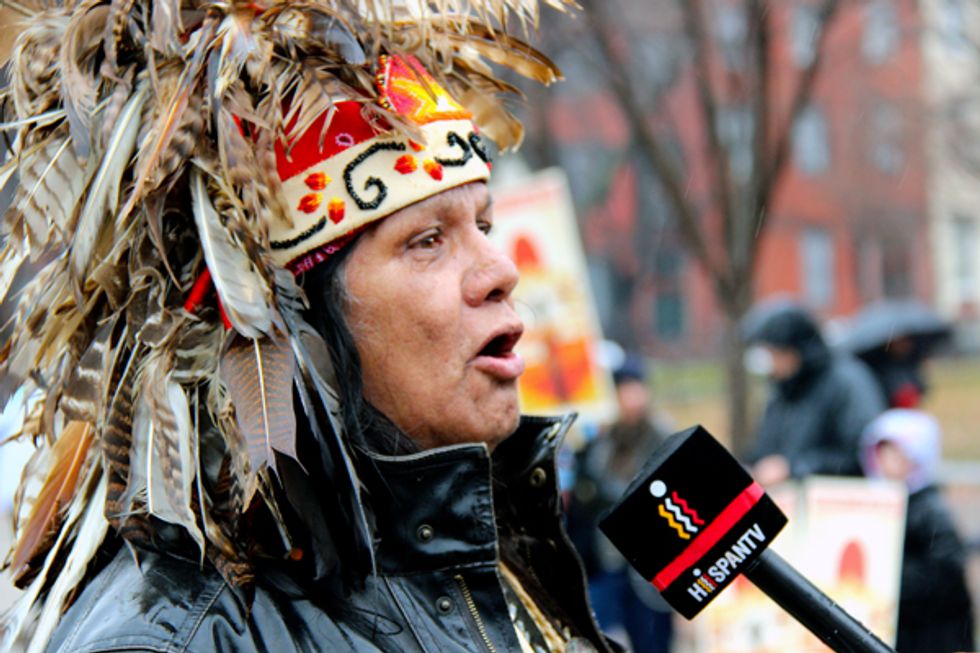 "We are here to urge Congress about the gravity of the decision they are about to make and the catastrophic results that the construction of the KXL pipeline will have when it spills and contaminates the land and likely the largest aquifer of fresh water in the world that provides 30 percent of the irrigation water and approximately 70 percent of the drinking water for the United States," said Tara Houska, founder of NotYourMascots.org and co-organizer of the rally.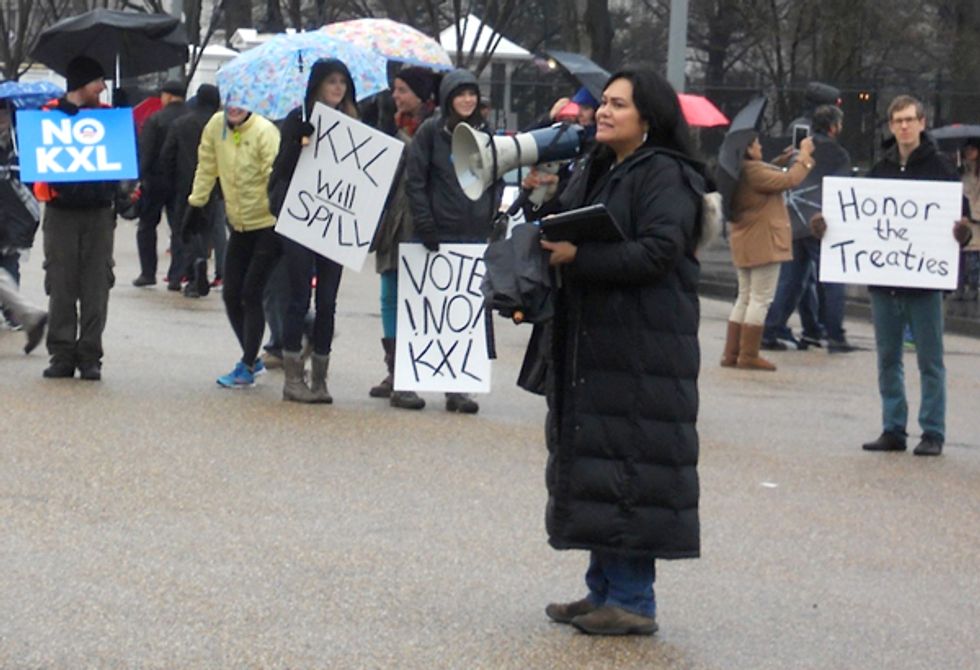 Emelie Jeffries spoke at the rally in front of the White House in Washington, DC.
"We are in the battle of our lives as we see history repeating itself in legislation that steals our lands, our homes and our lives," said Emelie Jeffries of Voices Of Our People and co-organizer of the rally. "The KXL Pipeline is a greater threat to national security, more so than any terrorist!"
At the rally Jeffries read this statement from Debra White Plume, a Lakota grandmother and founder and director of Owe Aku (Bring Back the Way), a grassroots non-profit devoted to preserving and revitalizing the Lakota way of life:
"Friends, allies and relatives gathered here today in the spirit of resistance, in the spirit of demanding rights for Mother Earth and the Protection of Sacred Water, in the spirit of standing up for the coming generations … be strong, be focused, be brave, and be ready to demand of this citizen government that they first and foremost protect our sacred water and our sacred children from the black snake of the KXL Tar Sand poison banging on our doors.
To violate our Human Right to water by promising to approve the KXL for a Canadian-based corporation is a serious act by the elected leaders in this big land that the citizens must not ignore or allow to pass unnoticed. When government refuses to protect its people, then the people must be ready to protect themselves. These non-violent, direct actions of putting this issue in the face of the government and the citizens are acts of love. Acts of love … for coming generations and Mother Earth.
We are not protestors, we are the Protectors of Sacred Water! Have faith in the good people who will vote against KXL, and be ready to support them in their vote to be steadfast and deny it entry to our lands and waters. Be ready to stand in front of the black snake or it will be in your house flicking its deadly tongue at your children.
I thank you all for being here, and for your love of Mother Earth. My love and heart is with you in resistance and solidarity, my body is along the banks of Wounded Knee Creek, where I will fast all day and night to support you, and to be with you."
A statement was also read on behalf of Winona LaDuke of Honor the Earth by her son Ajuawak Kapashesit.
YOU MIGHT ALSO LIKE
Keystone XL Debate to Take Center Stage in New Congress
Plunging Oil Prices Trigger Economic Downturn in Fracking Boom Town
EcoWatch Daily Newsletter
Traffic moves across the Brooklyn Bridge on Aug. 2, 2018 in New York City. Drew Angerer / Getty Images
The Trump administration is expected to unveil its final replacement of Obama-era fuel-efficiency standards for cars and light trucks Tuesday in a move likely to pump nearly a billion more tons of carbon dioxide into the atmosphere over the lifetime of those less-efficient vehicles.
U.S. President Donald Trump listens as Anthony Fauci, Director of the National Institute of Allergy and Infectious Diseases speaks in the Rose Garden for the daily coronavirus briefing at the White House on March 29 in Washington, DC. Tasos Katopodis / Getty Images
By Jake Johnson
Just over a month after proclaiming that the number of coronavirus cases in the U.S. would soon "be down to close to zero," President Donald Trump said during a press briefing on the White House lawn Sunday that limiting U.S. deaths from the pandemic to between 100,000 and 200,000 people would mean his administration and the country as a whole did "a very good job."
Dicamba is having a devastating impact in Arkansas and neighboring states. A farmer in Mississippi County, Arkansas looks at rows of soybean plants affected by dicamba. The Washington Post / Getty Images
Documents unearthed in a lawsuit brought by a Missouri farmer who claimed that Monsanto and German chemical maker BASF's dicamba herbicide ruined his peach orchard revealed that the two companies knew their new agricultural seed and chemical system would likely damage many U.S. farms, according to documents seen by The Guardian.
Washington State Governor Jay Inslee and other leaders speak to the press on March 28, 2020 in Seattle. Karen Ducey / Getty Images