This website uses cookies to ensure you get the best experience while browsing it. By clicking 'Got It' you're accepting these terms.
Native Americans Launch 'Love Water Not Oil' Ride To Protest Fracking Pipeline
Aug. 19, 2014 11:18AM EST
Energy
Winona LaDuke, executive director of Native environmental group Honor the Earth, launched the "Love Water Not Oil" horse ride this week to draw attention to the group's continued opposition to the Enbridge Sandpiper pipeline. It would carry fracked oil from North Dakota's Bakken shale oil fields through the Sandy Lake and Rice Lake watersheds in northern Minnesota. The area is not only rich in recreational fishing facilities but it is also home to vast fields of wild rice or manoomim, a Native American staple.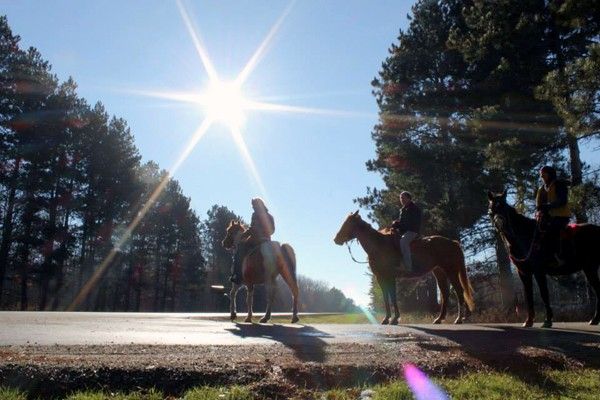 The ride began at Rice Lake on Aug. 18 and concludes at Big Bear Landing on the White Lake Reservation on Rice Lake on Aug. 27, where there will be a powwow and gathering. During the ride, which anyone is free to join, the group plans to raise awareness of the pipeline and its impact on both surrounding Native communities and local landowners.
The group says:
This is the only land that the Anishinaabe know, and we know that this land is good land, and this water is our lifeblood. One-fifth of the world's fresh surface water supply lies here, and it is worth protecting. Our wild rice beds, lakes and rivers are precious—and our regional fisheries generate $7.2 billion annually and support 49,000 jobs. The tourism economy of northern Minnesota represents $11.9 billion in gross sales (or 240,000 jobs).
Honor the Earth asserts that a single leak could spew up to 20,000 gallons of fracked oil per minute.
"This would cause irreparable damage to an extremely biodiverse and intact ecosystem," said LaDuke. "Enbridge chose a bad path. The people of Minnesota love their water more than oil and they are standing up against the pipeline."
The group points to another spill caused by the Enbridge Corporation, the same company proposing the Sandpiper project. In July 2010, a pipeline break dumped 1.5 million gallons of tar sands crude oil into the Kalamazoo River system in Michigan, causing the largest inland oil spill in U.S. history and one of the costliest. That spill still has not been completely cleaned up.
"For us on the White Earth reservation in northwestern Minnesota, it is the Sandpiper which threatens our community and our way of life," said Honor the Earth. "The Sandpiper line of fracked oil will cross pristine ecosystems and facilitate the creation of a national sacrifice area in western North Dakota. This land and this water are precious, and they are endangered."
Partnering for the "Love Water Not Oil" tour is  oil and gas analyst Shane Davis of Colorado's Fractivist.org, who has been documenting the fracking industry there.
"Fracked oil is a last-ditch effort and poses a significant radioactive threat to the environment and human health," he said.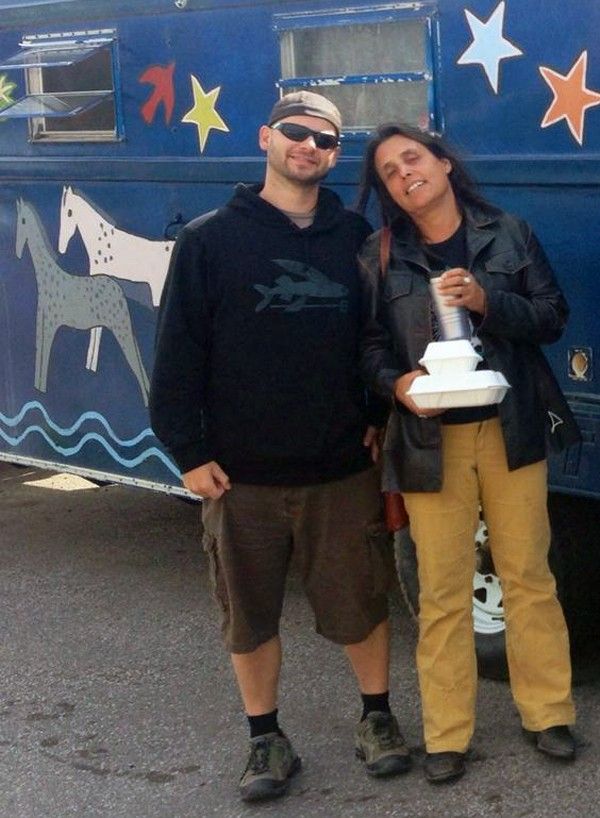 YOU ALSO MIGHT LIKE
Kalamazoo Tar Sands Oil Spill Anniversary Sparks Actions Nationwide
North Dakota Fails to Disclose Hundreds of Oil Spills to the Public
Pipeline Spews 20,600 Barrels of Fracked Oil Amidst Government Shutdown
EcoWatch Daily Newsletter
Fabian Krause / EyeEm / Getty Images
Water protectors of all persuasions gathered in talking circles at Borderland Ranch in Pe'Sla, the heart of the sacred Black Hills, during the first Sovereign Sisters Gathering. At the center are Cheryl Angel in red and white and on her left, Lyla June. Tracy Barnett
By Tracy L. Barnett
Sources reviewed this article for accuracy.
For Sicangu Lakota water protector Cheryl Angel, Standing Rock helped her define what she stands against: an economy rooted in extraction of resources and exploitation of people and planet. It wasn't until she'd had some distance that the vision of what she stands for came into focus.
Hedges, 2019 © Hugh Hayden. All photos courtesy of Lisson Gallery
By Patrick Rogers
"I'm really into trees," said the sculptor Hugh Hayden. "I'm drawn to plants."
BruceBlock / iStock / Getty Images
Thanks to their high concentration of powerful plant compounds, foods with a natural purple hue offer a wide array of health benefits.
Environmental Investigation Agency
Last week, the Peruvian Palm Oil Producers' Association (JUNPALMA) promised to enter into an agreement for sustainable and deforestation-free palm oil production. The promise was secured by the U.S. based National Wildlife Federation (NWF) in collaboration with the local government, growers and the independent conservation organization Sociedad Peruana de Ecodesarrollo.
Pixabay
Leaked documents show that Jair Bolsonaro's government intends to use the Brazilian president's hate speech to isolate minorities living in the Amazon region. The PowerPoint slides, which democraciaAbierta has seen, also reveal plans to implement predatory projects that could have a devastating environmental impact.
XL CATLIN SEAVIEW SURVEY / THE OCEAN AGENCY
Hope may be on the horizon for the world's depleted coral reefs thanks to scientists who successfully reproduced endangered corals in a laboratory setting for the first time, according to Reuters.