This website uses cookies to ensure you get the best experience while browsing it. By clicking 'Got It' you're accepting these terms.
Nation's Strongest Fracking Ban Bill Introduced to Protect Public Lands
Apr. 22, 2015 09:52AM EST
Energy
Congressmembers Jan Schakowsky of Illinois and Mark Pocan of Wisconsin, both Democrats, have made no secret of their strong opposition to fracking. Last December, for instance, as new rules were being formulated on the opening new areas of public lands to energy exploration and extraction, they introduced a bill to ban fracking entirely on public lands.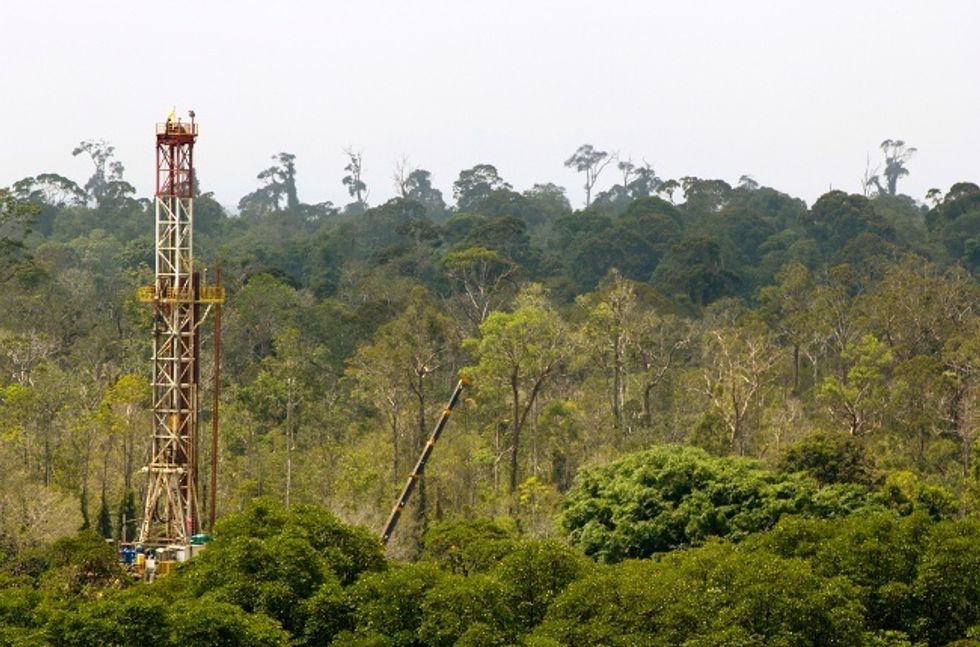 Photo credit: Shutterstock
"Federal lands should be preserved for the public good," said Pocan at the time. "We should not allow short-term economic gain to harm our environment and endanger workers."
Today they upped the ante with the reintroduction of the Protect Our Public Lands Act, which they announced at a press conference in Washington DC. H.R. 1902 would prohibit fracking, the use of fracking fluid and acidization for the extraction of oil and gas on public lands for any lease issued, renewed or readjusted. The bill is being touted as the strongest bill against fracking introduced in Congress so far.
"Today is Earth Day' a time to renew our commitment to protecting the air we breathe, the water we drink and the planet we all call home," said Schakowsky. "Our public lands have been preserved and protected by the federal government for over one hundred years. We owe it to future generations to maintain their natural beauty and rich biodiversity. I believe the only way to do that is to enact the Protect Our Public Lands Act, and I will continue to fight to see that happen."
Schakowsky and Pocan were joined by environmental leaders, including Wenonah Hauter, executive director of Food & Water Watch, Hilary Baum of the American Sustainable Business Council, Andrea Miller of Progressive Democrats of America and Bill Snape, senior counsel at the Center for Biological Diversity. The legislation is also endorsed by Environment America and Friends of the Earth.
"Our public lands are a shared national heritage and shouldn't be polluted, destroyed and fracked to enrich the oil and gas industry," said Hauter. "Ironically, the President is speaking in the Everglades today, a unique and fragile ecosystem that is threatened by nearby fracking on public land. Congress must follow Congressman Pocan and Congresswoman Schakowsky's bold leadership and ban fracking on these land, so that future generations can enjoy these special places."
"We've seen fracking contaminate our drinking water, put our families health at risk and turn our treasured open spaces into industrial zones," said Environment America's Sarah Frost. "Environment America applauds Representatives Pocan and Schakowsky and the co-sponsors of POPLA on their effort to protect our country's most precious and protected public lands from fracking. Some places are just too precious to drill and frack, and that includes our parks, canyons, and forests."
Co-sponsors include Arizona Congressman Raul Grijalva, who is the ranking member of the House Natural Resources Committee, New York Congressman Jerrold Nadler, Rhode Island Congressman David Cicilline and California Congressman Mark DeSaulnier. All are Democrats.
The reintroduction of the bill follows the new rules for fracking on public lands, which were announced by the Department of the Interior's Bureau of Land Management in March. Their release followed a comment period that solicited more than a million responses, including more than 650,000 supporting a ban on oil and gas operations. While those rules strengthened some environmental and public health protections, for instance, requiring companies to disclose chemicals used within 30 days of completing operations, Schakowsky called them only "a step in the right direction."
H.R. 1902 proposes to take another giant step.
"Our national parks, forests and public lands are some of our most treasured places and need to be protected for future generations," said Pocan."It is clear fracking has a detrimental impact on the environment and there are serious safety concerns associated with these type of wells. Until we fully understand the effects, the only way to avoid these risks is to halt fracking entirely."
"Fracking is dangerous to human health, massively contributes to global warming and simply should not be occurring on U.S. public lands owned by all Americans," said Snape. "This historic bill will help lead us to a better future."
YOU MIGHT ALSO LIKE
Federal Bill Introduced to Ban Fracking on Public Lands
New Fracking Rules on Public Lands 'A Giveaway to Oil and Gas Industry,' Advocates Say
EcoWatch Daily Newsletter
Pope Francis celebrates an opening Mass for the Amazon synod, in St. Peter's Basilica, at the Vatican, Sunday, Oct. 6, 2019. Massimo Valicchia / NurPhoto / Getty Images
Pope Francis, in an effort to reignite his influence as a global environmental leader, released an impassioned document Feb. 12 entitled Dear Amazon — a response to the historic Vatican meeting last autumn regarding the fate of the Amazon biome and its indigenous people.

A flooded motorhome dealership is seen following Storm Dennis on Feb. 18 at Symonds Yat, Herefordshire, England. Storm Dennis is the second named storm to bring extreme weather in a week and follows in the aftermath of Storm Ciara. Although water is residing in many places flood warnings are still in place.
Christopher Furlong
/ Getty Images
Britain has been battered by back-to-back major storms in consecutive weekends, which flooded streets, submerged rail lines, and canceled flights. The most recent storm, Dennis, forced a group of young climate activists to cancel their first ever national conference, as CBS News reported.
A group of Fulani women and their daughters walk towards their houses in Hapandu village, Zinder Region, Niger on July 31, 2019. In the African Sahel the climate has long been inhospitable. But now rising temperatures have caused prolonged drought and unpredictable weather patterns, exacerbating food shortages, prompting migration and contributing to instability in countries already beset by crisis. LUIS TATO / AFP / Getty Images
At the 56th Munich Security Conference in Germany, world powers turned to international defense issues with a focus on "Westlessness" — the idea that Western countries are uncertain of their values and their strategic orientation. Officials also discussed the implications of the coronavirus outbreak, the Middle East and the Libya crisis.
Polar bears on Barter Island on the north slope of Alaska wait for the winter sea ice to arrive so they can leave to hunt seals, on Sept. 28, 2015.
cheryl strahl / Flickr
The climate crisis wreaks havoc on animals and plants that have trouble adapting to global heating and extreme weather. Some of the most obvious examples are at the far reaches of the planet, as bees disappear from Canada, penguin populations plummet in the Antarctic, and now polar bears in the Arctic are struggling from sea ice loss, according to a new study, as CNN reported.
By Petros Kusmu, George Patrick Richard Benson
We can all take steps to reduce the environmental impact of our work-related travels.
Individual actions — like the six described here — can cumulatively help prompt more collective changes, but it helps to prioritize by impact.
As the saying goes: be the change you want to see in the world.