This website uses cookies to ensure you get the best experience while browsing it. By clicking 'Got It' you're accepting these terms.
Nation's Largest Solar Farm on Public Lands Now Online
Feb. 11, 2015 10:41AM EST
Business
Desert Sunlight Solar Farm in California is the country's sixth—and largest—solar project approved on public lands. Secretary of the Interior Sally Jewell, Director of the Bureau of Land Management (BLM) Neil Kornze, and California state and industry leaders announced the opening of the facility on Monday.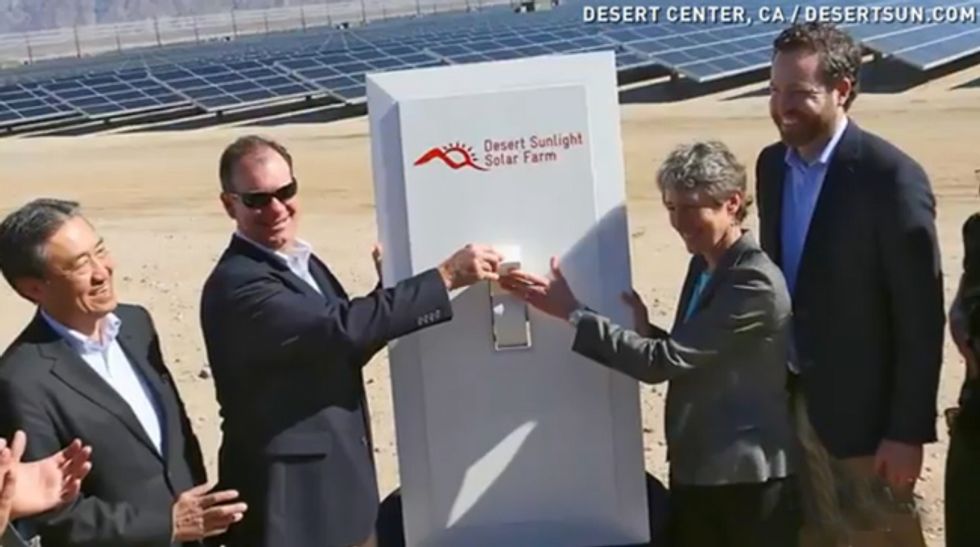 The solar farm provides 550 megawatts of electricity to the grid, which is enough to power about 160,000 homes and is estimated to displace 300,000 tons of carbon dioxide per year, according to the Department of the Interior (DOI). Desert Sunlight was developed by First Solar, the farm is owned by NextEra and the energy it produces is sold to Pacific Gas & Electric Company and Southern California Edison.
"Solar projects like Desert Sunlight are helping to create American jobs, develop domestic renewable energy and cut carbon pollution," said Secretary Jewell. "I applaud the project proponents for their vision and entrepreneurial spirit to build this solar project and commend Governor Brown for implementing policies that take action on climate change and help move our nation toward a renewable energy future."
Governor Brown announced last month his goal to increase the amount of electricity the state generates from renewable sources to 50 percent by 2030. President Obama set a goal to approve 20,000 megawatts of renewable energy on public land by 2020, part of his Climate Action Plan. Projects like these will help make both of those goals a reality.
The renewable energy projects built on public lands since 2009 are producing more than 2,200 megawatts of power, or enough to power almost 700,000 average homes and an additional 2,500 megawatts is currently under construction, according the DOI.
"This is an important day for solar energy, California and for the nation," said Kornze. "The Desert Sunlight project is an example of how industry and government can work together to strengthen local economies, generate good jobs and provide affordable, reliable, sustainable power."
Nationwide, BLM has approved 52 utility-scale renewable energy projects, including 29 solar projects, with a total capacity of more than 14,000 megawatts. If built as planned, these projects will provide more than 21,000 jobs and power about 4.8 million homes, according to DOI.
DOI and BLM have taken great efforts to minimize the impact from one of the world's largest solar farms. The facility uses more than 8 million First Solar photovoltaic modules to generate power with no air emissions, no waste production and no water use. The thin film technology has the smallest carbon footprint of any photovoltaic technology.
The project "underwent extensive environmental review and mitigation" and the BLM is "requiring that Desert Sunlight provide funding for acquisition and enhancement of more than 7,500 acres of suitable habitat for desert tortoise and other sensitive wildlife species to help mitigate the project's potential impacts."
Bernadette Del Chiaro, executive director of the California Solar Energy Industry Association, discussed with Ed Schultz the benefits of the project on MSNBC's The Ed Show yesterday. One percent of the job growth in the U.S. last year came just from the solar industry, according to Del Chiaro. We need to let "the government do what it does best, which is create opportunities for innovation and for businesses to do what they do best, which, in this case, is turn our abundant sunshine into renewable, pollution-free electricity," Del Chiaro told Schultz.
The recent explosion in solar projects is impressive: "We've installed just in California alone more solar power in the last 18 months than the past 18 years combined," Del Chiaro said. "It's a huge success story of government actually getting behind smart, innovative, no-brainer business opportunities, turning the sunlight into real jobs."
When Schultz asked Del Chiaro, "Where do we go from here?" Del Chiaro said rooftops in cities are the next untapped market. She said that in California we've only installed solar on one to two percent of the roofs.
Not everyone is pleased about the recent uptick in massive solar farms, though. David Lamfrom of the National Parks Conservation Association, is concerned about the location of the new project. He told National Parks Traveler, there's still work to be done in the California desert, including "permanently protecting some of the most beautiful and vibrant lands in America" and says we need to do "a better job of siting renewable energy away from species-rich lands. Considering how important our national parks and protected lands are to our desert economy, finding this balance now is fundamental​."
California's Senators clearly see the public's concern over ensuring that "critical parts of the California desert ... will be protected for all time," as Sen. Feinstein put it. At the same time that DOI and BLM were celebrating the launch of the new mega-solar farm, Senators Feinstein and Boxer introduced the California Desert Conservation and Recreation Act of 2015 to "protect additional land and help manage California's desert resources by carefully balancing conservation, recreation and renewable energy development."
"This new bill preserves more land, sets aside off-road recreational sites and allows for the development of renewable energy in a responsible way," said Feinstein. "With so many competing uses for this land, it is essential that we come together to build consensus."
Among its many provisions, the bill would expand acreage in the Mojave National Preserve, Death Valley and Joshua Tree, create two national monuments and expand BLM wilderness areas. To strike a "balanced approach to renewable energy development," Feinstein proposes creating "solar zones established by the federal government" on federal land but outside of national parks and designated wilderness areas to avoid "conflicts over lands long intended for conservation. "This piece of legislation is the final chapter in a long effort to preserve one of the most magnificent landscapes in the United States," Feinstein said.
YOU MIGHT ALSO LIKE
Sustainable Energy Revolution Grows, Says Bloomberg Report
Rooftop Solar Set to Outshine Massive Solar Farms
Burlington, Vermont Becomes First U.S. City to Run On 100% Renewable Electricity
EcoWatch Daily Newsletter
Investing in grid infrastructure would enable utilities to incorporate modern technology, making the grid more resilient and flexible. STRATMAN2 / FLICKR
By Elliott Negin
The Royal Swedish Academy of Sciences' recent decision to award the 2019 Nobel Prize in Chemistry to scientists who developed rechargeable lithium-ion batteries reminded the world just how transformative they have been. Without them, we wouldn't have smartphones or electric cars. But it's their potential to store electricity generated by the sun and the wind at their peak that promises to be even more revolutionary, reducing our dependence on fossil fuels and protecting the planet from the worst consequences of climate change.
Two Javan rhinos deep in the forests of Ujung Kulon National Park, the species' last habitat on Earth. Sugeng Hendratno / WWF
The global population of the critically endangered Javan rhinoceros has increased to 72 after four new calves were spotted in the past several months.
A tiger looks out from its cage at a new resort and zoo in the eastern Lao town of Tha Bak on Dec. 5, 2018. Karl Ammann believes the "zoo" is really a front for selling tigers. Terrence McCoy / The Washington Post / Getty Images
Are tigers extinct in Laos?
That's the conclusion of a detailed new study that found no evidence wild tigers still exist in the country.
A group of scientists is warning that livestock production must not expand after 2030 for the world to stave off ecological disaster.
The largest wetland in Africa is in the South Sudan. George Steinmetz / Corbis Documentary / Getty Images Plus
Methane emissions are a far more powerful greenhouse gas than carbon dioxide – about 28 times more powerful. And they have been rising steadily since 2007. Now, a new study has pinpointed the African tropics as a hot spot responsible for one-third of the global methane surge, as Newsweek reported.