Nation's First Vegan-Certified Farm Is Booming in Philly
Feb. 29, 2016 11:07AM EST
Food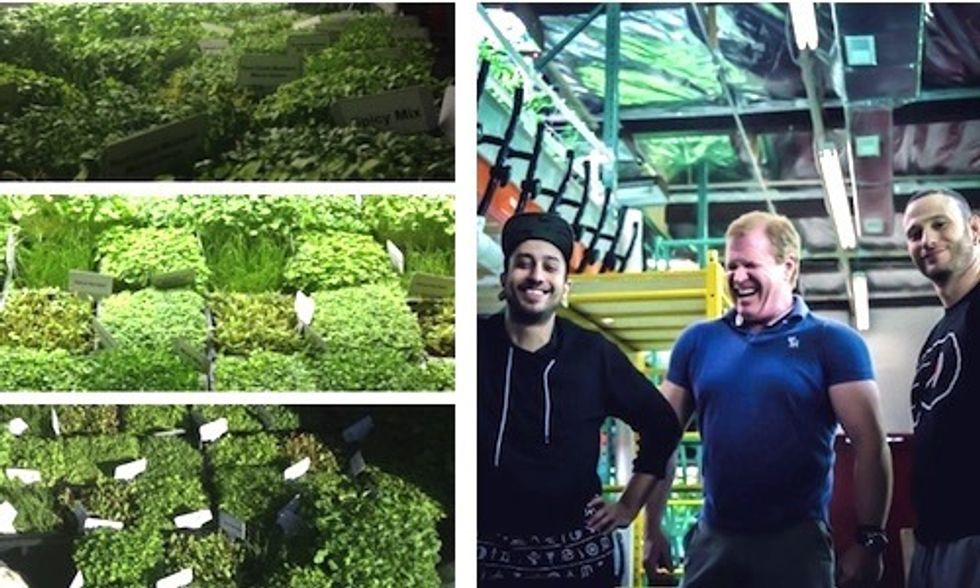 As new vertical farms continue to open across the nation, a South Philly warehouse is churning out fresh, local produce 365 days a year and cutting the distance food needs to travel to get to local restaurants, grocery stores and plates.
Metropolis Farms is not only the first indoor hydroponic vertical farm in Philadelphia, it's the first vegan-certified farm in the nation and the only known vertical farm to operate on the second floor of a building.
"The landlord had faith in us to let us put thousands of pounds of water over his head and prove that it wouldn't leak," Metropolis Farms president Jack Griffin told NewsWorks. "That makes it possible for others to try it. Proving it by showing it is a different thing from just talking about it."
A vegan farm means no pesticides, herbicides, animal manure and animal bi-products. The company boasts that they were certified under the rigorous standards of the American Vegetarian Association.
"According to the CDC, green leafy vegetables grown in manure is one of the top sources of food poisoning," Griffin told Philly.com. To prevent pests, the farm places carnivorous plants between the towers to lure and kill bugs.
Using artificial lighting, climate control and other patented farming techniques, stacks of plants flourish in tall towers inside the South Water Street building (that's located "just minutes from the south Philly Italian market made famous in the Rocky movies," as the venture points out on their website). The farm also reduces its energy output through the use of robotics and hopes to transition to solar energy soon.
Metropolis Farms grows herbs, greens, tomatoes and more crops year round in a very small space—about 120,000 plants in only 36 square feet—and with a lot less water by using hydroponics. The farm claims to use 98 percent less water since it just recirculates and 82 percent less energy compared to conventional and organic farms.
"The innovation here is density, as well as energy and water conservation," Griffin told Technically Philly. "We can grow more food in less space using less energy and water. The result is that I can replace 44,000 square feet with 36 square feet. When you hear those numbers, it kind of makes sense."
Vertical farms, as EcoWatch has mentioned previously, are sprouting up around the world from densely packed Japanese cities to perpetually wintry Jackson, Wyoming. These green hubs are growing crops in places where traditional agriculture would have been impossible. Proponents say indoor farming is a solution to extreme weather caused by climate change and can be a response to global food shortages. As the company notes on their website:
When you consider that agriculture is the number one cause of global warming, it's not hard to understand that our systems are not only a better way to grow but clearly the future of farming. We live in the real world, the one where the population is rapidly increasing and less usable farmland and fresh water is available worldwide every year. Our food is grow in the same communities where it's sold so our food doesn't have to travel 3,000 miles or more to keep our city populations to be fed in the winters. We recycle our nutrients instead of allowing them to seep into our water table. Our protected indoor environments enable our crops eliminate the risk of soil transmitted lead, arsenic and other heavy metals, in addition to soil transmitted bacterial infections and diseases. Our produce is protected from harmful pests or the dangers of natural disasters like the California drought or unpredictable weather events. We create local living wage jobs that do something worthwhile with our efforts, namely feeding people.
That's the big picture, of course. For Metropolis Farms, the small picture is important, too.
"We want to show that the [urban vertical] tech was adaptable," NewsWorks quoted Griffin. "How much available space, like nooks, second-floor space, gets wasted, or never offers a job? Growing a significant amount of food in an economically viable model means we can bring artesian farmers back, and that anybody can do this. With a lot of the vertical farming out there, I see the very sophisticated equipment, and I think it must cost so much. But they're over-engineering it. The average person can do this. The goal is to make it simple."
Crops can be plucked at peak freshness and delivered the same day to maximize freshness and nutrition, the company touts on their website, adding that instead of food miles they actually measure food minutes from harvest.
Griffin told Technically Philly that his vision "is to have communities start to embrace and use our open source technology to create small farms everywhere so that people can enjoy fresh produce year round at a fraction of the cost and with lower energy consumption than traditional farms."
YOU MIGHT ALSO LIKE 
This $16 Water Filter Could Save 100,000 Lives a Year
Ever Wonder What's Happened to the More Than 570 Million iPhones Sold Since 2007?
NBA Superstar Ray Allen to Open Organic Fast-Food Restaurant
EcoWatch Daily Newsletter
Related Articles from EcoWatch