This website uses cookies to ensure you get the best experience while browsing it. By clicking 'Got It' you're accepting these terms.
Nation's First School District to Serve 100% Organic, Non-GMO Meals
Aug. 18, 2015 08:28AM EST
What if we could feed our students the nutritious, delicious and sustainably sourced food they truly deserve?
Well, when schools in the Sausalito Marin City School District open their doors this August, they will do just that, by becoming the first 100 percent organic and non-GMO (genetically modified organisms) school district in the country!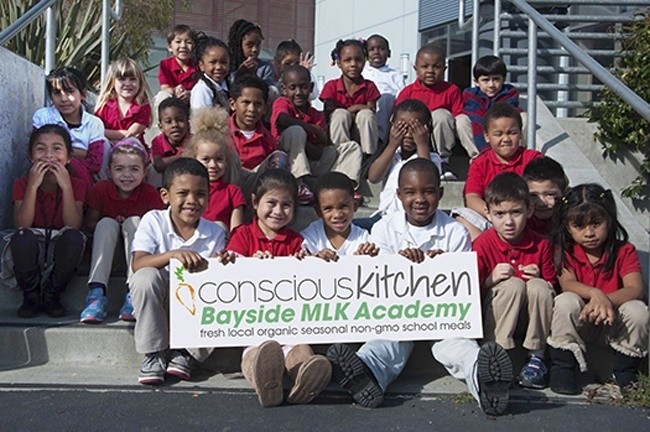 That's right: More than 500 students at Bayside MLK Jr. Academy (Marin City) and Willow Creek Academy (Sausalito) in Marin County, California, will eat sustainably sourced meals this year, all prepared on-site through The Conscious Kitchen.
Turning Green launched The Conscious Kitchen pilot program in August 2013 together with Cavallo Point Lodge, the Sausalito Marin City School District, Whole Foods Market and Good Earth Natural Foods. The pilot served 156 students at Bayside MLK Jr. Academy in Marin City, California. In two years, the program saw a steep decrease in disciplinary cases, increased attendance and a greater sense of community. Now, The Conscious Kitchen is expanding to serve Willow Creek Academy, the other school in the Sausalito Marin City School District.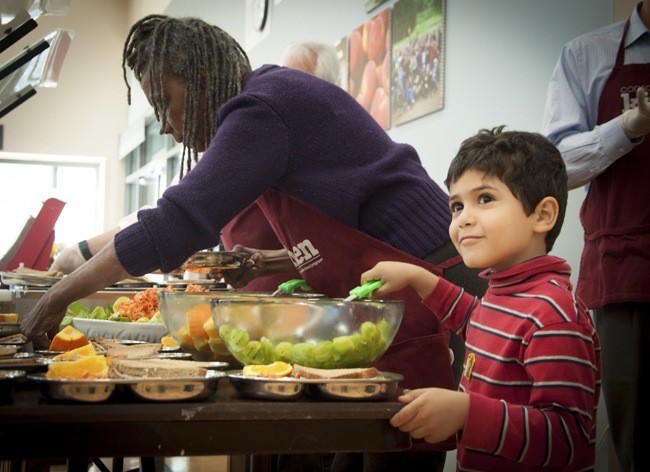 "Students everywhere are vulnerable to pesticide residues and unsafe environmental toxins," says Judi Shils, founder and executive director of Turning Green. "Not only does this program far exceed USDA nutritional standards, but it ties the health of our children to the health of our planet. It's the first program to say that fundamentally, you cannot have one without the other."
The Conscious Kitchen rethinks school food based on five foundational terms: Fresh, Local, Organic, Seasonal and Non-GMO, or FLOSN. All food is organic and non-GMO, and more than 90 percent of all produce is sourced from local farmers and purveyors.

This program is the first to take a stand against GMOs. While the long-term effects of GMOs are still uncertain, a growing body of evidence links them to a variety of health risks and environmental damage. An estimated 80 percent of items on most supermarket shelves contain GMOs, and they are ubiquitous in school food programs.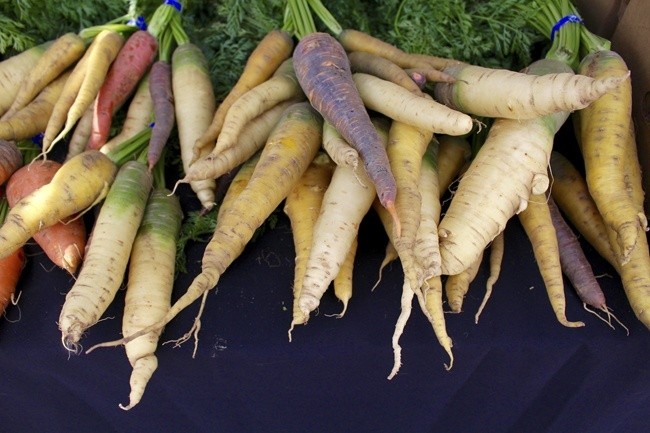 "Most people don't realize that GMOs are everywhere, especially in processed foods," says Justin Everett, executive chef at Cavallo Point Lodge, who serves as the consulting chef for The Concious Kitchen. "By embracing fresh, local, organic, non-GMO food, this program successfully disrupts the cycle of unhealthy, pre-packaged, heat and serve meals that dominate school kitchens."
Meals are accompanied by a garden and nutrition curriculum that teaches students about where their food comes from, how it's grown and why it's good for them. Through this approach, The Conscious Kitchen hopes to curb childhood obesity while cultivating young champions of sustainable food.
For more information on The Conscious Kitchen, visit www.theconscious.kitchen. Here's to nourishing our students, one delicious FLOSN meal at a time!
YOU MIGHT ALSO LIKE
Starbucks, Destroyer of the Seas
5 GMO Myths Debunked by Vandana Shiva
$51 Million: That's How Much Big Food Spent So Far This Year to Defeat GMO Labeling
Plus, learn if there's one that's best for your health.
Catherine Falls Commercial / Moment / Getty Images
An invasive Amynthas worm, also known as a crazy snake worm, Asian jumping worm and Alabama jumper Tom Potterfield / Flickr
By Jason Bittel
My wife and I built a house two years ago on a few acres of woodland outside of Pittsburgh. The backyard is full of maples, poplars, briars and common spicebush. Two-lined salamanders and grumpy-looking crayfish wade among the rocks in the small stream that runs down the edge of the property. Deer, raccoon and opossum tracks appear regularly in the snow and mud. Sometimes, my trail-cam even catches a pair of gray foxes as they slink through the night.
AleksandarNakic / Getty Images
By Kate Murphy
No matter the time of year, there's always a point in each season when my skin decides to cause me issues. While these skin issues can vary, I find the most common issues to be dryness, acne and redness.

David Woodfall / The Image Bank / Getty Images
By Sam Nickerson
The U.S. Environmental Protection Agency (EPA) in April 2018 proposed relaxing standards related to how it assesses the effects of exposure to low levels of toxic chemicals on public health.
Now, correspondence obtained by the LA Times revealed just how deeply involved industry lobbyists and a controversial, industry-funded toxicologist were in drafting the federal agency's proposal to scrap its current, protective approach to regulating toxin exposure.
Steve Irwin poses with a three foot long alligator at the San Francisco Zoo on June 26, 2002. Justin Sullivan / Getty Images
February 22 is the birthday of conservationist and beloved TV personality "Crocodile Hunter" Steve Irwin, who would have been 57 years old today.
Irwin's life was tragically cut short when the barb from a stingray went through his chest while he was filming in 2006, but his legacy of loving and protecting wildlife lives on, most recently in a Google Doodle today honoring his birthday.