This website uses cookies to ensure you get the best experience while browsing it. By clicking 'Got It' you're accepting these terms.
Nation's First Major Public University Fully Divests From Fossil Fuels
May. 26, 2016 09:31AM EST
Climate
By UMass Fossil Fuel Divestment Campaign
Just over one month after 34 University of Massachusetts students were arrested demanding that the university divest from fossil fuels, the administration announced they would be divesting all direct holdings of the $770 million endowment from coal, oil and gas.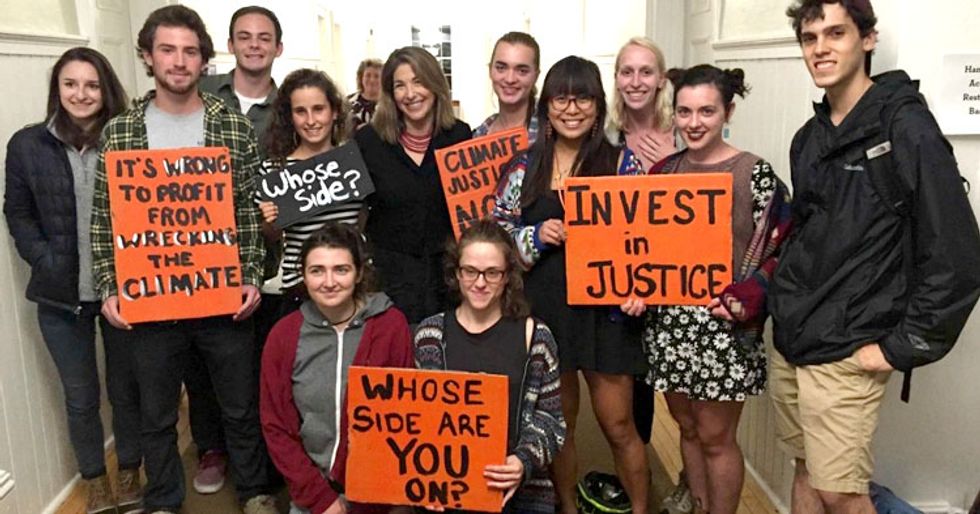 The announcement Wednesday morning makes UMass the first major public university in the U.S. to fully divest from the fossil fuel industry, joining an international movement of universities, religious organizations, retirement funds and other institutions. To date, more than 500 institutions representing more than $3.4 trillion in managed assets have committed some level of fossil fuel divestment.
The board of directors of the UMass Foundation voted unanimously to divest the university's endowment, from direct holdings in fossil fuels. The UMass Foundation is the private non-profit corporation responsible for overseeing the endowment, valued at $770 million at the end of the last fiscal year.
This decision came as a response to a week-long sit-in at the Whitmore Administration building at the University of Massachusetts Amherst, during which 34 students were arrested in an act of nonviolent civil disobedience. This action was a culmination of four years of organizing for divestment, which began with students at UMass Amherst and spread to include alumni, faculty and and staff across all five UMass campuses. The sit-in took place amidst a coordinated wave of national campus protests for fossil fuel divestment, in which a total of 62 students were arrested this spring.
At UMass, more than 500 students, faculty, staff and community members participated in the momentous action, which pushed University System President Marty Meehan to meet personally with campaign leaders and to declare his commitment to leading the university administration to take immediate action on full divestment.
"This decision is not only an enormous victory for this campaign and for UMass, but for the global climate justice movement," Kristie Herman, a recent graduate and four year core organizer of the campaign, said.
"As the first major public university to fully divest from fossil fuels, we are showing the country and the world that our institutions have a responsibility to align their investments with the public interest and to sever ties with industries that perpetuate injustice. We have pushed our leaders to act with the urgency of this crisis, which has already caused millions of climate related deaths and is making communities across the world uninhabitable every day."
When asked about the vote, Meehan said, "Important societal change often begins on college campuses and it often begins with students. I'm proud of the students and the entire University community for putting UMass at the forefront of a vital movement, one that has been important to me throughout my professional life."
Sarah Jacqz, a junior and core organizer, said, "This victory demonstrates that student and community organizing has an incredible capacity to make true and impactful social change and that collectively, we have the power to lead our society to a just and sustainable future."
UMass Fossil Fuel Divestment Campaign is a UMass Amherst student power organization fighting for climate justice by demanding our institution divest from the top 200 publicly traded fossil fuel companies and reinvest in projects and funds in communities on the front lines of the climate crisis. We organize to bring the urgency of the crisis, created by economic inequality and climate change, to those who are responsible and challenge our university to take the bold action necessary to ensure a just future for its students, the Commonwealth and the world.
YOU MIGHT ALSO LIKE
Exxon Board Rejects All Nine Climate Resolutions at Annual Meeting
Fracked Gas Isn't Green or Clean
5 Huge Climate Success Stories 10 Years After the Release of Al Gore's 'An Inconvenient Truth'
Burning All Fossil Fuels Would Lead to a 17 C Rise in Arctic Temperatures
EcoWatch Daily Newsletter
Pro-environment demonstrators on the streets of Washington, DC during the Jan. 20, 2017 Trump inauguration.
Mobilus In Mobili
/ Flickr /
CC BY-SA 2.0
By Dr. Brian R. Shmaefsky
One year after the Flint Water Crisis I was invited to participate in a water rights session at a conference hosted by the US Human Rights Network in Austin, Texas in 2015. The reason I was at the conference was to promote efforts by the American Association for the Advancement of Science (AAAS) to encourage scientists to shine a light on how science intersects with human rights, in the U.S. as well as in the context of international development. My plan was to sit at an information booth and share my stories about water quality projects I spearheaded in communities in Bangladesh, Colombia, and the Philippines. I did not expect to be thrown into conversations that made me reexamine how scientists use their knowledge as a public good.
Mt. Rainier and Reflection Lake on Sept. 10, 2015. Crystal Geyser planned to open a bottling plant near Mt. Rainier, emails show.
louelke - on and off / Flickr
Bottled water manufacturers looking to capture cool, mountain water from Washington's Cascade Mountains may have to look elsewhere after the state senate passed a bill banning new water permits, as The Guardian reported.
Large storage tank of Ammonia at a fertilizer plant in Cubatão, Sao Paulo State, Brazil. Luis Veiga / The Image Bank / Getty Images
The shipping industry is coming to grips with its egregious carbon footprint, as it has an outsized contribution to greenhouse gas emissions and to the dumping of chemicals into open seas. Already, the global shipping industry contributes about 2 percent of global carbon emissions, about the same as Germany, as the BBC reported.
At high tide, people are forced off parts of the pathway surrounding DC's Tidal Basin. Andrew Bossi /
Wikimedia
The Jefferson Memorial in Washington, DC overlooks the Tidal Basin, a man-made body of water surrounded by cherry trees. Visitors can stroll along the water's edge, gazing up at the stately monument.
But at high tide, people are forced off parts of the path. Twice a day, the Tidal Basin floods and water spills onto the walkway.
Lioness displays teeth during light rainstorm in Kruger National Park, South Africa. johan63 / iStock / Getty Images
Ahead of government negotiations scheduled for next week on a global plan to address the biodiversity crisis, 23 former foreign ministers from various countries released a statement on Tuesday urging world leaders to act "boldly" to protect nature.