This website uses cookies to ensure you get the best experience while browsing it. By clicking 'Got It' you're accepting these terms.
National Solar Energy Plan Moves Closer to Final Stages
Jan. 31, 2012 07:44PM EST
Renewable Energy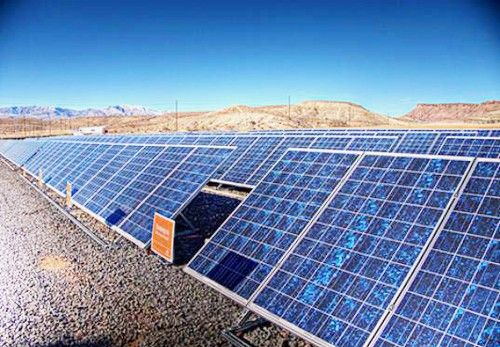 On the heels of President Obama's State of the Union remarks to expand clean energy development, the Interior Department is moving to finalize the nation's first solar energy program for public lands with the closing of the public comment period Jan. 30. Over the past 90 days, the Bureau of Land Management has been seeking input on the Supplemental Draft Programmatic Environmental Impact Statement (SPEIS) for solar development on public lands in Arizona, California, Colorado, Nevada, New Mexico and Utah.
The solar plan has garnered more than 100,000 comments in the past two years from stakeholders across the country advocating for balanced, guided development that would minimize potential impacts on wildlife and sensitive lands, and reduce uncertainty in permitting. Solar companies, major trade associations, utilities and conservation groups also submitted a joint letter to the Interior Department with recommendations to help shape a successful solar program.
Following are statements from conservation groups and other stakeholders in support of guided solar development:
"It's time to kick our addiction to polluting fuels and create new jobs by increasing clean sources of energy," said Johanna Wald, senior attorney at the Natural Resources Defense Council. "Interior's intention to guide development to thoughtfully designated 'solar energy zones' will help ensure the success of the solar industry and our nation's quick transition to a clean energy economy while protecting irreplaceable lands and wildlife. Reaching that balance is a tall order but Interior has provided strong leadership demonstrating that a comprehensive final solar program can be achieved."
"We are at a critical juncture in the future of solar development on our public lands," said Chase Huntley, director of renewable energy policy at The Wilderness Society. "We have seen a tremendous amount of leadership from staff at the Department of the Interior to ensure we develop a strong solar program. Over the next few months we hope to see them finalizing a plan that strikes a balance between wildlands and wildlife protection while creating certainty and a level playing field for the solar industry."
"If the Obama administration is to reach the goal of powering three million homes with clean energy by the year's end, it must move quickly to put in place a smart solar energy program that speeds up permitting of projects. The key is to guide development away from conflicts with wildlife and natural resources to areas with access to transmission," said Jim Lyons, senior director for renewable energy with Defenders of Wildlife. "The Interior Department's proposed solar program focuses on producing power in low-conflict and no-conflict zones and offers the best opportunity to achieve this goal.  This zone-based approach is an important step toward producing energy in the right places and protecting sensitive public lands and wildlife."
"Properly designed solar energy zones on public lands would be a major step forward in helping create an enduring and stable investment environment for the solar industry," said Nancy Pfund, founder and managing partner at DBL Investors. "As a solar investor, I believe the biggest advantage of the zones approach is reducing uncertainty in permitting. By doing so, it will reduce risks and attract long-term investments for projects that will create jobs and help advance our nation's clean energy goals."
"The Bureau of Land Management's latest solar energy plan is a major step forward in achieving the multiple goals of efficient solar development and protecting our water, wildlife and magnificent western landscapes," said Timothy Hay, former Nevada consumer advocate and public utility commissioner. "By establishing clearly defined zones for solar energy development, we can begin to provide investors, developers, conservationists and citizens the predictability and stability to move forward."
 "Well-designed solar energy zones will result in faster permitting and speedier construction of projects," said Jonathan Foster, a director of Environmental Entrepreneurs (E2) in California. "Interior's approach to guide solar development to appropriate areas strikes the right balance between protecting critical lands and wildlife, and providing greater certainty for project success—and should be supported by solar developers, environmentalists, and the public at large."
"The solar industry is up to the task of meeting the president's goal for dramatically expanding our rich solar resources in the Southwest," said Rhone Resch, president and CEO of the Solar Energy Industries Association. "However, project developers need clear rules of the road that balance the need for flexibility to build solar power plants both inside and outside of designated Solar Energy Zones with responsible stewardship of public lands, resources and wildlife. These are not mutually exclusive objectives and we look forward to continuing work with stakeholders."
For more information, click here.
—————
The Natural Resources Defense Council (NRDC) is an international nonprofit environmental organization with more than 1.3 million members and online activists. Since 1970, our lawyers, scientists, and other environmental specialists have worked to protect the world's natural resources, public health, and the environment. NRDC has offices in New York City, Washington, D.C., Los Angeles, San Francisco, Chicago, Livingston, Montana, and Beijing.
EcoWatch Daily Newsletter
Artist's conception of solar islands in the open ocean. PNAS
Millions of solar panels clustered together to form an island could convert carbon dioxide in seawater into methanol, which can fuel airplanes and trucks, according to new research from Norway and Switzerland and published in the Proceedings of the National Academy of Sciences journal, PNAS, as NBC News reported. The floating islands could drastically reduce greenhouse gas emissions and dependence on fossil fuels.
Marcos Alves / Moment Open / Getty Images
More than 40 percent of insects could go extinct globally in the next few decades. So why did the U.S. Environmental Protection Agency (EPA) last week ok the 'emergency' use of the bee-killing pesticide sulfoxaflor on 13.9 million acres?
EcoWatch teamed up with Center for Biological Diversity via EcoWatch Live on Facebook to find out why. Environmental Health Director and Senior Attorney Lori Ann Burd explained how there is a loophole in the The Federal Insecticide, Fungicide, and Rodenticide Act under section 18, "that allows for entities and states to request emergency exemptions to spraying pesticides where they otherwise wouldn't be allowed to spray."
Simple swaps that cut down on kitchen trash.
Sponsored
By Kayla Robbins
Along with the bathroom, the kitchen is one of the most daunting areas to try and make zero waste.
View of downtown Miami, Florida from Hobie Island on Feb. 2, 2019.
Michael Muraz / Flickr
The Democratic candidates for president descended upon Miami for a two-night debate on Wednesday and Thursday. Any candidate hoping to carry the state will have to make the climate crisis central to their campaign, as The New York Times reported.
By Sharon Kelly
On Monday, the Wall Street Journal featured a profile of Scott Sheffield, CEO of Pioneer Natural Resources, whose company is known among investors for its emphasis on drawing oil and gas from the Permian basin in Texas using horizontal drilling and hydraulic fracturing, or fracking.
Pexels
By Craig K. Chandler
The federal government has available to it, should it choose to use them, a wide range of potential climate change management tools, going well beyond the traditional pollution control regulatory options. And, in some cases (not all), without new legislative authorization.
Denis Poroy / Getty Images
By Dan Gray
Processed foods, in their many delicious forms, are an American favorite.
But new research shows that despite increasing evidence on just how unhealthy processed foods are, Americans have continued to eat the products at the same rate.
By Sarah Steffen
With a profound understanding of their environmental surroundings, indigenous communities around the world are often cited as being pivotal to tackling climate change.