This website uses cookies to ensure you get the best experience while browsing it. By clicking 'Got It' you're accepting these terms.
National Roadless Rule Overlooked in Colorado
Nov. 10, 2011 11:56AM EST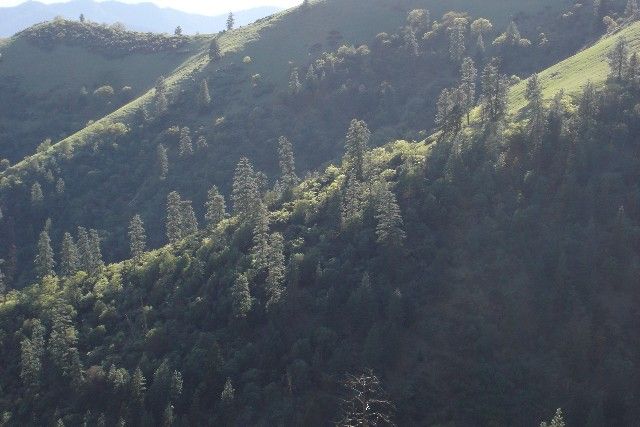 The U.S. Forest Service issued a decision Nov. 8 that literally paves the way for conglomerate Arch Coal to build up to 48 well pads and 6.5 miles of road into pristine roadless lands about ten miles east of Paonia, Colo. This decision permits a 1,700-acre expansion of Arch's West Elk coal mine, one of the state's largest greenhouse gas polluters.
The Obama administration's action comes on the heels of the recent decision by the Denver-based Tenth Circuit Court of Appeals upholding the 2001 National Roadless Rule, court action in which the administration defended that rule. The National Roadless Rule prohibits road construction on about 4 million acres of roadless forest in Colorado, including the Sunset Trail Roadless Area that Arch Coal would develop.
"The Forest Service is snatching defeat from the jaws of victory," said Ted Zukoski, an attorney with Earthjustice, a public interest law firm that defended the 2001 National Roadless Rule in courtrooms across the nation for the last decade.
The majority expansion is within the Sunset Trail Roadless Area, a pristine landscape of beaver ponds and aspen and conifer forests which provides habitat for lynx, elk and black bear adjacent to the scenic West Elk Wilderness Area. The Obama administration's decision will likely turn this wild roadless area into an industrial zone of well pads and roads, with an average of 18 wells pads—and two miles of road—per square mile.
"The administration should not be paving the way for an incursion into roadless lands when a court has just upheld its authority to protect those lands," Zukoski said. "This administration promised to protect Colorado roadless areas as well or better than the 2001 Roadless Rule required. It doesn't look like they intend to live up to that promise."
The administration is considering a Colorado-specific rule that, unlike the National Roadless Rule, will allow dozens of miles of road to be built in 20,000 acres of roadless areas to meet the desires of several coal companies hoping to develop these wild areas for mining. The administration received more than 30,000 comments opposing the coal mines in May 2010.
"With this decision, we know what the administration's proposed Colorado roadless rule would mean—miles of roads, well pads and a maze of destruction on stunning landscapes right next to one of the state's flagship wilderness areas," said Suzanne Jones, Colorado regional director for The Wilderness Society.
Although the West Elk coal mine is underground, safe coal mining in the North Fork Valley requires that methane venting wells be drilled above the mine. The West Elk Mine spews millions of cubic feet of methane pollution every day. Methane is a potent greenhouse gas with 21 times more heat trapping ability than carbon dioxide. Methane venting makes the West Elk coal mine one of the largest sources of greenhouse gases in Colorado.
West Elk's methane pollution also wastes a valuable commodity—natural gas. Forest Service and U.S. Environmental Protection Agency data show the amount of methane vented at West Elk could heat a city about the size of Grand Junction. But the Forest Service has refused to require the Mine to capture, burn or reduce any of the Mine's methane pollution.
"This project is a lose-lose-lose proposition," said Jeremy Nichols, climate and energy coordinator for WildEarth Guardians. "The public loses a fantastic wild area, loses millions in potential royalties from methane that is wasted instead of captured, and loses due to the massive pollution the mine causes. It's time the Forest Service stood up to Big Coal and said no to this kind of damaging expansion."
For more information, click here.
EcoWatch Daily Newsletter
Earthjustice
In April 2018, Afro-Colombian activist Francia Márquez won the prestigious Goldman Environmental Prize, thanks to her work to retake her community's ancestral territories from illegal gold mining. However, her international recognition comes at a very risky price.
By Stuart Braun
A year after activist Greta Thunberg first stood in the rain outside the Swedish parliament with her now iconic "Skolstrejk för klimatet" — school strike for the climate — placard, the movement she spawned has set the tone for environmental protest action around the world.
Bruno Vincent / Staff / Getty Images
Toy maker Hasbro wants to play in the eco-packaging game. The board game giant will ditch its plastic packaging by 2022. The move means that games like Monopoly, Scrabble and Operation will no longer have shrink wrap, window sheets, plastic bags or elastic bands, as the Associated Press reported.
Vaping impaired the circulatory systems of people in a new study. bulentumut / iStock / Getty Images Plus
A man spreads pesticides on a plantation of vegetables in Rio de Janeiro Brazil. Ze Martinusso / Moment Open / Getty Images
By Jessica Corbett
Pointing to the deaths of more than half a billion bees in Brazil over a period of just four months, beekeepers, experts and activists are raising concerns about the soaring number of new pesticides greenlighted for use by the Brazilian government since far-right President Jair Bolsonaro took office in January — and the threat that it poses to pollinators, people and the planet.
SHEALAH CRAIGHEAD
By Elliott Negin
On July 19, President Trump hosted Apollo 11 astronauts Buzz Aldrin and Michael Collins and their families, along with the family of their deceased colleague Neil Armstrong, at a White House event to commemorate the 50th anniversary of the first manned landing on the moon.
The study looked at three groups of diverse lizards from South America. Daniel Pincheira-Donoso
Cold-climate lizards that give live birth to their offspring are more likely to be driven to extinction than their egg-laying cousins as global temperatures continue to rise, new research suggests.
Sean Gallup / Getty Images