This website uses cookies to ensure you get the best experience while browsing it. By clicking 'Got It' you're accepting these terms.
National Roadless Rule Overlooked in Colorado
Nov. 10, 2011 11:56AM EST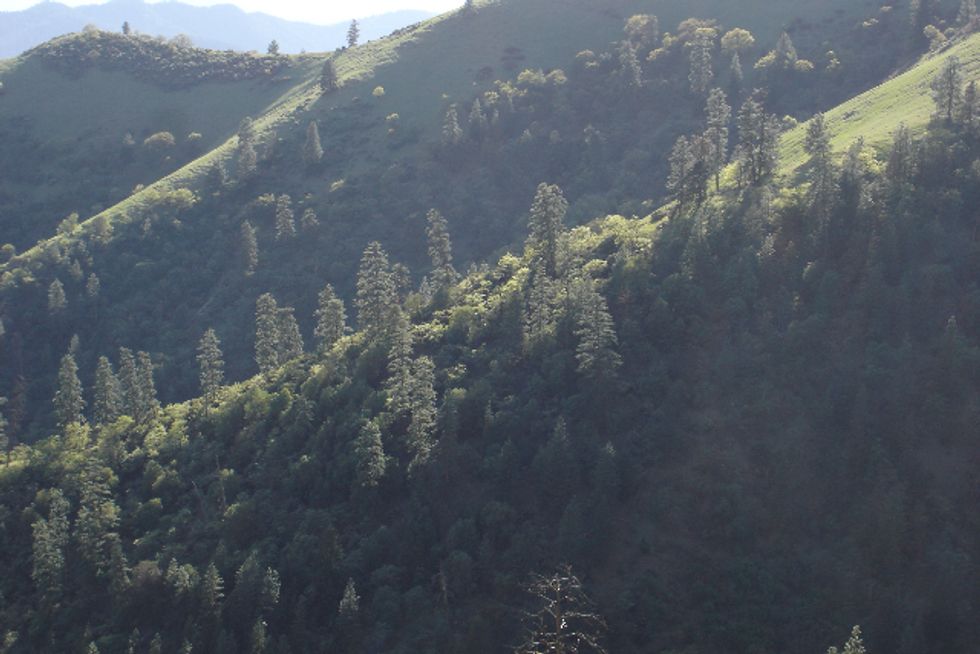 The U.S. Forest Service issued a decision Nov. 8 that literally paves the way for conglomerate Arch Coal to build up to 48 well pads and 6.5 miles of road into pristine roadless lands about ten miles east of Paonia, Colo. This decision permits a 1,700-acre expansion of Arch's West Elk coal mine, one of the state's largest greenhouse gas polluters.
The Obama administration's action comes on the heels of the recent decision by the Denver-based Tenth Circuit Court of Appeals upholding the 2001 National Roadless Rule, court action in which the administration defended that rule. The National Roadless Rule prohibits road construction on about 4 million acres of roadless forest in Colorado, including the Sunset Trail Roadless Area that Arch Coal would develop.
"The Forest Service is snatching defeat from the jaws of victory," said Ted Zukoski, an attorney with Earthjustice, a public interest law firm that defended the 2001 National Roadless Rule in courtrooms across the nation for the last decade.
The majority expansion is within the Sunset Trail Roadless Area, a pristine landscape of beaver ponds and aspen and conifer forests which provides habitat for lynx, elk and black bear adjacent to the scenic West Elk Wilderness Area. The Obama administration's decision will likely turn this wild roadless area into an industrial zone of well pads and roads, with an average of 18 wells pads—and two miles of road—per square mile.
"The administration should not be paving the way for an incursion into roadless lands when a court has just upheld its authority to protect those lands," Zukoski said. "This administration promised to protect Colorado roadless areas as well or better than the 2001 Roadless Rule required. It doesn't look like they intend to live up to that promise."
The administration is considering a Colorado-specific rule that, unlike the National Roadless Rule, will allow dozens of miles of road to be built in 20,000 acres of roadless areas to meet the desires of several coal companies hoping to develop these wild areas for mining. The administration received more than 30,000 comments opposing the coal mines in May 2010.
"With this decision, we know what the administration's proposed Colorado roadless rule would mean—miles of roads, well pads and a maze of destruction on stunning landscapes right next to one of the state's flagship wilderness areas," said Suzanne Jones, Colorado regional director for The Wilderness Society.
Although the West Elk coal mine is underground, safe coal mining in the North Fork Valley requires that methane venting wells be drilled above the mine. The West Elk Mine spews millions of cubic feet of methane pollution every day. Methane is a potent greenhouse gas with 21 times more heat trapping ability than carbon dioxide. Methane venting makes the West Elk coal mine one of the largest sources of greenhouse gases in Colorado.
West Elk's methane pollution also wastes a valuable commodity—natural gas. Forest Service and U.S. Environmental Protection Agency data show the amount of methane vented at West Elk could heat a city about the size of Grand Junction. But the Forest Service has refused to require the Mine to capture, burn or reduce any of the Mine's methane pollution.
"This project is a lose-lose-lose proposition," said Jeremy Nichols, climate and energy coordinator for WildEarth Guardians. "The public loses a fantastic wild area, loses millions in potential royalties from methane that is wasted instead of captured, and loses due to the massive pollution the mine causes. It's time the Forest Service stood up to Big Coal and said no to this kind of damaging expansion."
For more information, click here.
EcoWatch Daily Newsletter
Bill Bader, owner of Bader Farms, and his wife Denise pose in front of the Rush Hudson Limbaugh Sr. United States Courthouse in Cape Girardeau, Missouri on Jan. 27, 2020.
Johnathan Hettinger /
Midwest Center for Investigative Reporting
A jury in Missouri awarded a farmer $265 million in a lawsuit that claimed Bayer and BASF's weedkiller destroyed his peach orchard, as Reuters reported.
Earthjustice says Louisiana has violated the Clean Water Act and given Formosa Plastics Group the "greenlight to double toxic air pollution in St. James" (seen above).
Louisiana Bucket Brigade
A coalition of local and national groups on Friday launched a legal challenge to a Louisiana state agency's decision to approve air permits for a $9.4 billion petrochemical complex that Taiwan-based Formosa Plastics Group plans to build in the region nationally known as "Cancer Alley."
Bears Ears National Monument in Utah. Bob Wick / BLM / onEarth
Well, he told us he would do it. And now he's actually doing it — or at least trying to. Late last week, President Trump, via the U.S. Department of the Interior's Bureau of Land Management, announced that he was formalizing his plan to develop lands that once belonged within the Bears Ears and Grand Staircase-Escalante National Monuments in southern Utah. The former is a stunningly beautiful, ecologically fragile landscape that has played a crucial role in Native American culture in the Southwest for thousands of years; the latter, just as beautiful, is one of the richest and most important paleontological sites in North America.
Smoke pours from the exhaust pipes on a truck on Nov. 5, 2019 in Miami, Florida. According to a 2017 EPA study the largest source of greenhouse gas emissions in the U.S. is from the transportation sector. Joe Raedle / Getty Images
Hundreds of thousands of green-lipped mussels (like those pictured) were found dead on a New Zealand beach.
DianesPhotographicDesigns
/ iStock / Getty Images
Hundreds of thousands of mussels that cooked to death off the New Zealand coast are likely casualties of the climate crisis.