This website uses cookies to ensure you get the best experience while browsing it. By clicking 'Got It' you're accepting these terms.
National Research Council GMO Study Compromised by Industry Ties
May. 16, 2016 11:45AM EST
Food
One day before the National Research Council (NRC) is scheduled to release a multi-year research report about genetically engineered (GMO) crops and food, Food & Water Watch has released an issue brief detailing the far-reaching conflicts of interest at the NRC and its parent organization, the National Academy of Sciences.
Under the Influence: The National Research Council and GMOs charts the millions of dollars in donations the NRC receives from biotech companies like Monsanto, documents the one-sided panels of scientists the NRC enlists to carry out its GMO studies and describes the revolving door of NRC staff directors who shuffle in and out of agriculture and biotech industry groups. The new issue brief also shows how NRC routinely arrives at watered-down scientific conclusions on agricultural issues based on industry science.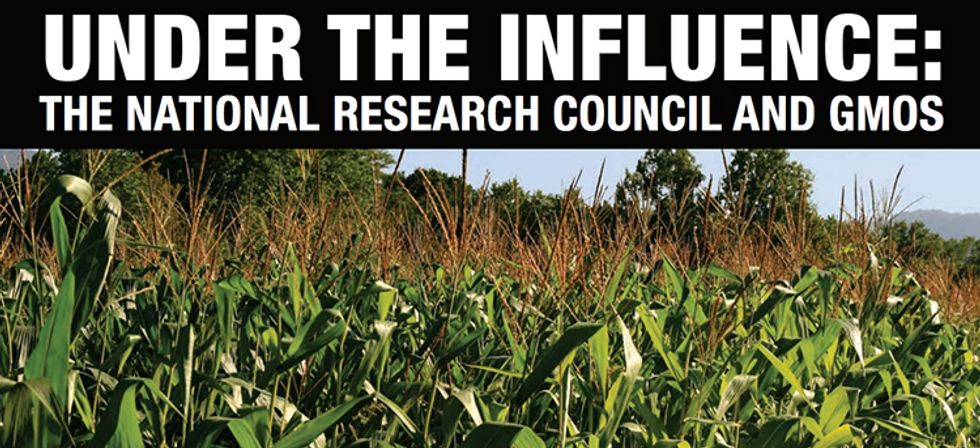 While companies like Monsanto and its academic partners are heavily involved in the NRC's work on GMOs, critics have long been marginalized. Many groups have called on the NRC many times to reduce industry influence, noting how conflicts of interest clearly diminish its independence and scientific integrity.
More than half of the invited authors of the new NRC study are involved in GMO development or promotion or have ties to the biotechnology industry—some have consulted for or have received research funding from, biotech companies. NRC has not publicly disclosed these conflicts.
Under the Federal Advisory Committee Act, the NRC is required to form balanced committees of scientists to carry out its research—and to disclose any conflicts of interests. Yet the NRC failed to even disclose the conflicts of the members of this deeply unbalanced committee.
The NRC's own conflicts-of-interest policy acknowledges its responsibility for conducting balanced science and the organization frequently trumpets its role in providing policy makers with independent, objective scientific advice on topics like GMOs. Congress chartered the parent organization of the NRC, the National Academy of Science, to offer objective guidance to the government that could be used to shape rules and regulations.
Food & Water Watch found similar industry influence in NRC's work on other agricultural topics. The new issue brief documents conflicts of interest and industry bias in a 2015 NRC report on animal agriculture, authored by industry representatives from Monsanto and Smithfield Foods and funded by industry groups like Tyson Foods and the National Pork Board. In April 2016, the NRC began a new, in-depth study on improving regulations of GMOs that, once again, is very heavily biased toward industry perspectives.
Agribusiness companies like Monsanto have an outsized role at our public universities, at peer-reviewed journals and the NRC. We won't have good public policy on new technologies like GMOs until these rampant conflicts of interest are addressed.
In response to the industry influence at the NRC, Food & Water Watch calls for the following changes:
Congress should expand and enforce the Federal Advisory Committee Act to ensure that the scientific advice the NRC produces for the government is free of conflicts of interest and bias.
Congress should immediately halt all taxpayer funding for agricultural projects at the NRC until meaningful conflicts-of-interest policies are enforced.
The NRC should no longer engage funders, directors, authors or reviewers that have a financial interest in the outcome of any of the NRC's work.
The NRC should prohibit the citation of science funded or authored by industry, given the obvious potential for bias.
YOU MIGHT ALSO LIKE
Nebraska Farmers Sue Monsanto Alleging Roundup Gave Them Cancer
Big Ag Fights to the Bitter End to Keep Pesticide From Being Banned
Is Roundup Sprayed at Your Local Park?
EcoWatch Daily Newsletter
A Starbucks barista prepares a drink at a Starbucks Coffee Shop location in New York. Ramin Talaie / Corbis via Getty Images
By Cathy Cassata
Are you getting your fill of Starbucks' new Almondmilk Honey Flat White, Oatmilk Honey Latte, and Coconutmilk Latte, but wondering just how healthy they are?
By Sharon Kelly
Back in April last year, the Trump administration's Environmental Protection Agency decided it was "not necessary" to update the rules for toxic waste from oil and gas wells. Torrents of wastewater flow daily from the nation's 1.5 million active oil and gas wells and the agency's own research has warned it may pose risks to the country's drinking water supplies.
Swedish climate activist Greta Thunberg takes part in a "Friday for Future" youth demonstration in a street of Davos on Jan. 24, 2020 on the sideline of the World Economic Forum annual meeting. FABRICE COFFRINI / AFP via Getty Images
Treasury Secretary Steven Mnuchin pretended not to know who Greta Thunberg is, and then he told her to get a degree in economics before giving world leaders advice, as The Guardian reported.
The Visible Infrared Imaging Radiometer Suite on the Suomi NPP satellite acquired this image of forest fire smoke hovering over North America on Aug. 15, 2018. NASA Earth Observatory
New York City isn't known for having the cleanest air, but researchers traced recent air pollution spikes there to two surprising sources — fires hundreds of miles away in Canada and the southeastern U.S.
If temperatures continue to rise, the world is at risk from global
sea-level rise
, which will flood many coastal cities as seen above in Bangladesh. NurPhoto / Contributor / Getty Images
The mounting climate emergency may spur the next global financial crisis and the world's central banks are woefully ill equipped to handle the consequences, according to a new book-length report by the Bank for International Settlements (BIS), as S&P Global reported. Located in Basel, Switzerland, the BIS is an umbrella organization for the world's central banks.