This website uses cookies to ensure you get the best experience while browsing it. By clicking 'Got It' you're accepting these terms.


The best of EcoWatch, right in your inbox. Sign up for our email newsletter!
National Research Council GMO Study Compromised by Industry Ties
May. 16, 2016 11:45AM EST
Food
One day before the National Research Council (NRC) is scheduled to release a multi-year research report about genetically engineered (GMO) crops and food, Food & Water Watch has released an issue brief detailing the far-reaching conflicts of interest at the NRC and its parent organization, the National Academy of Sciences.
Under the Influence: The National Research Council and GMOs charts the millions of dollars in donations the NRC receives from biotech companies like Monsanto, documents the one-sided panels of scientists the NRC enlists to carry out its GMO studies and describes the revolving door of NRC staff directors who shuffle in and out of agriculture and biotech industry groups. The new issue brief also shows how NRC routinely arrives at watered-down scientific conclusions on agricultural issues based on industry science.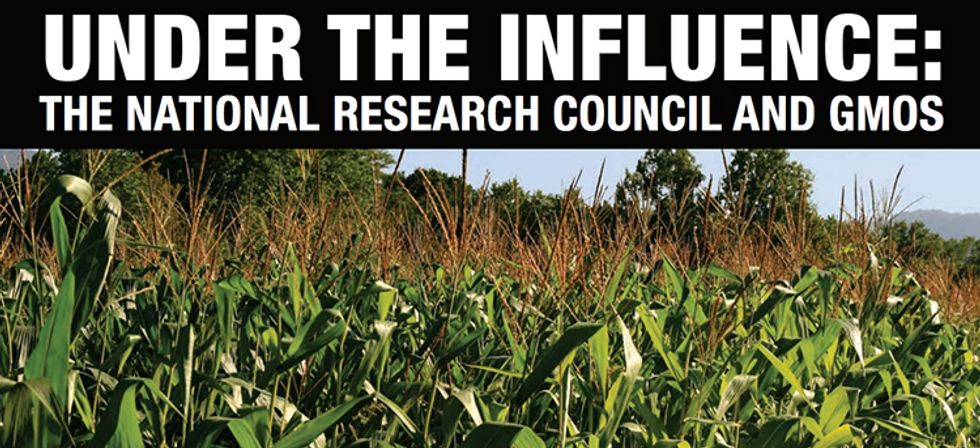 While companies like Monsanto and its academic partners are heavily involved in the NRC's work on GMOs, critics have long been marginalized. Many groups have called on the NRC many times to reduce industry influence, noting how conflicts of interest clearly diminish its independence and scientific integrity.
More than half of the invited authors of the new NRC study are involved in GMO development or promotion or have ties to the biotechnology industry—some have consulted for or have received research funding from, biotech companies. NRC has not publicly disclosed these conflicts.
Under the Federal Advisory Committee Act, the NRC is required to form balanced committees of scientists to carry out its research—and to disclose any conflicts of interests. Yet the NRC failed to even disclose the conflicts of the members of this deeply unbalanced committee.
The NRC's own conflicts-of-interest policy acknowledges its responsibility for conducting balanced science and the organization frequently trumpets its role in providing policy makers with independent, objective scientific advice on topics like GMOs. Congress chartered the parent organization of the NRC, the National Academy of Science, to offer objective guidance to the government that could be used to shape rules and regulations.
Food & Water Watch found similar industry influence in NRC's work on other agricultural topics. The new issue brief documents conflicts of interest and industry bias in a 2015 NRC report on animal agriculture, authored by industry representatives from Monsanto and Smithfield Foods and funded by industry groups like Tyson Foods and the National Pork Board. In April 2016, the NRC began a new, in-depth study on improving regulations of GMOs that, once again, is very heavily biased toward industry perspectives.
Agribusiness companies like Monsanto have an outsized role at our public universities, at peer-reviewed journals and the NRC. We won't have good public policy on new technologies like GMOs until these rampant conflicts of interest are addressed.
In response to the industry influence at the NRC, Food & Water Watch calls for the following changes:
Congress should expand and enforce the Federal Advisory Committee Act to ensure that the scientific advice the NRC produces for the government is free of conflicts of interest and bias.
Congress should immediately halt all taxpayer funding for agricultural projects at the NRC until meaningful conflicts-of-interest policies are enforced.
The NRC should no longer engage funders, directors, authors or reviewers that have a financial interest in the outcome of any of the NRC's work.
The NRC should prohibit the citation of science funded or authored by industry, given the obvious potential for bias.
YOU MIGHT ALSO LIKE
Nebraska Farmers Sue Monsanto Alleging Roundup Gave Them Cancer
Big Ag Fights to the Bitter End to Keep Pesticide From Being Banned
Is Roundup Sprayed at Your Local Park?
EcoWatch Daily Newsletter
Pexels
By Danielle Nierenberg and Katherine Walla
As the holiday season ramps up for many across the world, Food Tank is highlighting 15 children's books that will introduce young eaters, growers and innovators to the world of food and agriculture. Authors and organizations are working to show children the importance — and fun — of eating healthy, nutritious and delicious food, growing their own produce, and giving food to others in need.
Pixabay
Purple cabbage, also referred to as red cabbage, belongs to the Brassica genus of plants. This group includes nutrient-dense vegetables, such as broccoli, Brussels sprouts, and kale.
Pexels
By Lauren Wolahan
For the first time ever, the UN is building out a roadmap for curbing carbon pollution from agriculture. To take part in that process, a coalition of U.S. farmers traveled to the UN climate conference in Madrid, Spain this month to make the case for the role that large-scale farming operations, long criticized for their outsized emissions, can play in addressing climate change.
Pexels
In recent years, acai bowls have become one of the most hyped-up health foods on the market.
They're prepared from puréed acai berries — which are fruits grown in Central and South America — and served as a smoothie in a bowl or glass, topped with fruit, nuts, seeds, or granola.
Investing in grid infrastructure would enable utilities to incorporate modern technology, making the grid more resilient and flexible. STRATMAN2 / FLICKR
By Elliott Negin
The Royal Swedish Academy of Sciences' recent decision to award the 2019 Nobel Prize in Chemistry to scientists who developed rechargeable lithium-ion batteries reminded the world just how transformative they have been. Without them, we wouldn't have smartphones or electric cars. But it's their potential to store electricity generated by the sun and the wind at their peak that promises to be even more revolutionary, reducing our dependence on fossil fuels and protecting the planet from the worst consequences of climate change.