This website uses cookies to ensure you get the best experience while browsing it. By clicking 'Got It' you're accepting these terms.
National, Community, Labor and Food Leaders Speak Out against Walmart
Feb. 24, 2012 11:40AM EST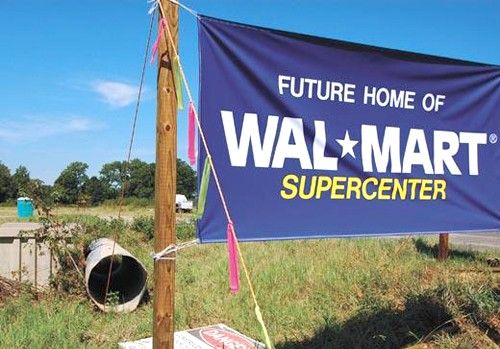 On the steps of New York City Hall on Feb. 23, national, community, food, urban and labor group leaders hosted a press conference to address Walmart's negative impact on the food system. Food & Water Watch Executive Director Wenonah Hauter and Stuart Appelbaum, president of the Retail, Wholesale, and Department Store Union (RWDSU), spoke at the event, which also marked the release of the new Food & Water Watch report, "Why Walmart Can't Fix the Food System," an analysis of the rift between Walmart's marketing claims and the true impact the company has on the food system.
This week, as the largest food retailer in the U.S. released its fourth quarter earnings, community leaders in New York gathered to call attention to the company's business model, which squeezes farmers, workers and processors, and drives food production to become more consolidated and industrialized. While Walmart has been busy promoting itself as the solution to lack of access to healthy food in urban communities, the message from City Hall was loud and clear—Walmart is not the answer and they are not wanted in New York City.
"Plunking down a big-box store in the middle of a community with a lack of access to healthy food will not solve this complicated problem," said Food & Water Watch Executive Director Wenonah Hauter. "Selling fruit and vegetables is one step, but all communities, especially those that are struggling financially, will be better served for the long term by local businesses that put money back into the community by paying livable wages and buying from local and regional suppliers and farmers whenever possible."
"This report shows Walmart has been a source of tremendous harm and devastation to workers, businesses, and communities across the country," said Stuart Appelbaum, president of the Retail, Wholesale and Department Store Union (RWDSU), UFCW. "Walmart is a great destroyer, not the great savior it claims to be. We are working with a large coalition to keep Walmart out of New York City."
"Walmart can't fix the food system, just like it can't get our communities out of poverty," said Matt Ryan, executive director of ALIGN. "It is ultimately the source of the problem, not the solution."
"I don't believe for one second that Walmart cares whether or not I have fresh vegetables; their bottom line is opening more stores and making money," said East New York resident Maria Maisonett.
"Part of the challenge to ending hunger in our communities is creating a sustainable food system that provides affordable, healthy food while also paying a living wage to food producers and other workers in the food system," said Mark Dunlea, executive director of the Hunger Action Network of NYS. Walmart unfortunately is a major factor in the corporate consolidation of our food supply, making it harder for local farmers and communities to make a decent living, while also pushing out other food retailers. Too much of Walmart's publicity about support local and organic foods is a marketing devise rather than supporting a truly local, decentralized, environmentally sound, sustainable food system."
"Brooklyn doesn't need a Walmart to eat more healthy food. It needs local businesses, paying fair wages, and a focus on a stronger sustainable regional supply chain," said Benjamin Solotaire, a volunteer with the Brooklyn Food Coalition.
"It is no surprise that the Food & Water Watch report shows how Wal-Mart is not a solution to food deserts but the actual problem," says Food Chain Workers Alliance organizer Diana Robinson. "Whether it be from factory workers in Bangladesh to warehouse and retail workers in the United States, Wal-Mart has a proven record of committing labor rights violations with its own employees. Because of Wal-Mart's dominance in the retail market, it drives down the prices that it pays its suppliers, which, in turn, drives down wages and working conditions throughout the food supply chain. 20 million people in the U.S. work in the food system, and many of the low-wage food workers live in food deserts because they cannot afford to live in neighborhoods with reasonable access to affordable fresh and healthy food. It's a vicious cycle that needs to be stopped. Wal-Mart's business practice of super low wages and super low prices is not the answer to food desserts."
For more information, click here.
—————
Food & Water Watch works to ensure the food, water and fish we consume is safe, accessible and sustainable. So we can all enjoy and trust in what we eat and drink, we help people take charge of where their food comes from, keep clean, affordable, public tap water flowing freely to our homes, protect the environmental quality of oceans, force government to do its job protecting citizens, and educate about the importance of keeping shared resources under public control.
EcoWatch Daily Newsletter
A typical adult takes around 20,000 breaths per day. If you live in a megacity like Beijing, with many of those lungfuls you're likely to inhale a noxious mixture of chemicals and pollutants.
Fred Stone holds his brown swiss cow Lida Rose at his Arundel dairy farm on March 18 after a press conference where he spoke about PFAS chemical contamination in his fields. Gregory Rec / Portland Portland Press Herald via Getty Images
By Susan Cosier
First there was Fred Stone, the third-generation dairy farmer in Maine who discovered that the milk from his cows contained harmful chemicals. Then came Art Schaap, a second-generation dairy farmer in New Mexico, who had to dump 15,000 gallons of contaminated milk a day.
Protesters attend the 32nd Annual Fur-Free Friday demonstration on Nov. 23, 2018 in Beverly Hills, California. Ella DeGea / Getty Images
California Governor Gavin Newsom signed into law a bill that that bans the sale and manufacture of fur products in the state. The fur ban, which he signed into law on Saturday, prohibits Californians from selling or making clothing, shoes or handbags with fur starting in 2023, according to the AP.
By Simon Evans
During the three months of July, August and September, renewables generated an estimated total of 29.5 terawatt hours (TWh), compared with just 29.1TWh from fossil fuels, the analysis shows.
A demonstrator waves an Ecuadorian flag during protests against the end of subsidies to gasoline and diesel on Oct. 9 in Quito, Ecuador. Jorge Ivan Castaneira Jaramillo / Getty Images
Protesters block the road outside Mansion House in London during an XR climate change protest. Gareth Fuller / PA Images via Getty Images
Protestors marched outside the Prudential Center in Newark, New Jersey on Monday, August 26, during the MTV Video and Music Awards to bring attention to the water crisis currently gripping the city. Karla Ann Cote / NurPhoto / Getty Images
By Will Sarni
It is far too easy to view scarcity and poor quality of water as issues solely affecting emerging economies. While the images of women and children fetching water in Africa and a lack of access to water in India are deeply disturbing, this is not the complete picture.
Pexels
Mice exposed to nicotine-containing e-cigarette vapor developed lung cancer within a year.
More research is needed to know what this means for people who vape.
Other research has shown that vaping can cause damage to lung tissue.
A new study found that long-term exposure to nicotine-containing e-cigarette vapor increases the risk of cancer in mice.