This website uses cookies to ensure you get the best experience while browsing it. By clicking 'Got It' you're accepting these terms.
National, Community, Labor and Food Leaders Speak Out against Walmart
Feb. 24, 2012 11:40AM EST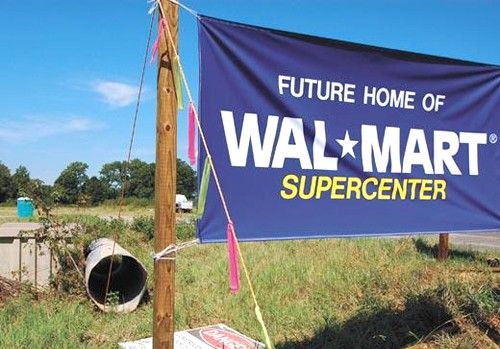 On the steps of New York City Hall on Feb. 23, national, community, food, urban and labor group leaders hosted a press conference to address Walmart's negative impact on the food system. Food & Water Watch Executive Director Wenonah Hauter and Stuart Appelbaum, president of the Retail, Wholesale, and Department Store Union (RWDSU), spoke at the event, which also marked the release of the new Food & Water Watch report, "Why Walmart Can't Fix the Food System," an analysis of the rift between Walmart's marketing claims and the true impact the company has on the food system.
This week, as the largest food retailer in the U.S. released its fourth quarter earnings, community leaders in New York gathered to call attention to the company's business model, which squeezes farmers, workers and processors, and drives food production to become more consolidated and industrialized. While Walmart has been busy promoting itself as the solution to lack of access to healthy food in urban communities, the message from City Hall was loud and clear—Walmart is not the answer and they are not wanted in New York City.
"Plunking down a big-box store in the middle of a community with a lack of access to healthy food will not solve this complicated problem," said Food & Water Watch Executive Director Wenonah Hauter. "Selling fruit and vegetables is one step, but all communities, especially those that are struggling financially, will be better served for the long term by local businesses that put money back into the community by paying livable wages and buying from local and regional suppliers and farmers whenever possible."
"This report shows Walmart has been a source of tremendous harm and devastation to workers, businesses, and communities across the country," said Stuart Appelbaum, president of the Retail, Wholesale and Department Store Union (RWDSU), UFCW. "Walmart is a great destroyer, not the great savior it claims to be. We are working with a large coalition to keep Walmart out of New York City."
"Walmart can't fix the food system, just like it can't get our communities out of poverty," said Matt Ryan, executive director of ALIGN. "It is ultimately the source of the problem, not the solution."
"I don't believe for one second that Walmart cares whether or not I have fresh vegetables; their bottom line is opening more stores and making money," said East New York resident Maria Maisonett.
"Part of the challenge to ending hunger in our communities is creating a sustainable food system that provides affordable, healthy food while also paying a living wage to food producers and other workers in the food system," said Mark Dunlea, executive director of the Hunger Action Network of NYS. Walmart unfortunately is a major factor in the corporate consolidation of our food supply, making it harder for local farmers and communities to make a decent living, while also pushing out other food retailers. Too much of Walmart's publicity about support local and organic foods is a marketing devise rather than supporting a truly local, decentralized, environmentally sound, sustainable food system."
"Brooklyn doesn't need a Walmart to eat more healthy food. It needs local businesses, paying fair wages, and a focus on a stronger sustainable regional supply chain," said Benjamin Solotaire, a volunteer with the Brooklyn Food Coalition.
"It is no surprise that the Food & Water Watch report shows how Wal-Mart is not a solution to food deserts but the actual problem," says Food Chain Workers Alliance organizer Diana Robinson. "Whether it be from factory workers in Bangladesh to warehouse and retail workers in the United States, Wal-Mart has a proven record of committing labor rights violations with its own employees. Because of Wal-Mart's dominance in the retail market, it drives down the prices that it pays its suppliers, which, in turn, drives down wages and working conditions throughout the food supply chain. 20 million people in the U.S. work in the food system, and many of the low-wage food workers live in food deserts because they cannot afford to live in neighborhoods with reasonable access to affordable fresh and healthy food. It's a vicious cycle that needs to be stopped. Wal-Mart's business practice of super low wages and super low prices is not the answer to food desserts."
For more information, click here.
—————
Food & Water Watch works to ensure the food, water and fish we consume is safe, accessible and sustainable. So we can all enjoy and trust in what we eat and drink, we help people take charge of where their food comes from, keep clean, affordable, public tap water flowing freely to our homes, protect the environmental quality of oceans, force government to do its job protecting citizens, and educate about the importance of keeping shared resources under public control.
EcoWatch Daily Newsletter
Trump speaks to contractors at the Shell Chemicals Petrochemical Complex on Aug. 13 in Monaca, Pennsylvania. Jeff Swensen / Getty Images
Thousands of union members at a multibillion dollar petrochemical plant outside of Pittsburgh were given a choice last week: Stand and wait for a speech by Donald Trump or take the day off without pay.
By Simon Mui
States across the country are stepping up to make clean cars cheaper and easier to find. Colorado's Air Quality Control Commission (AQCC) voted Friday to adopt a Zero Emission Vehicle (ZEV) program that will increase the availability of electric vehicles in the state, improve air quality and increase transportation affordability.
Aerial view of lava flows from the eruption of volcano Kilauea on Hawaii, May 2018. Frizi / iStock / Getty Images
Hawaii's Kilauea volcano could be gearing up for an eruption after a pond of water was discovered inside its summit crater for the first time in recorded history, according to the AP.
An internally displaced woman flees from drought in Dollow, Somalia. Zohra Bensemra / Reuters
By Annemieke Tsike-Sossah
World Humanitarian Day offers an opportunity to take stock of where the world stands on addressing humanitarian issues and highlight lessons for how to improve in the future. Here are five ways we all can commit to driving positive change for the world.
A view from the top of Ok volcano in Iceland, where the Okjokull glacier used to be located. Drepicter / Getty Images Plus
Officials, activists and scientists gathered in Iceland Sunday for the funeral of the nation's first glacier to fall victim to the climate crisis.
picture-alliance / Xinhua / Then Chih Wey
Some 183 nations are set to discuss possibly loosening elephant and ivory exports at the World Wildlife Conference on trade in endangered species, known as CITES, which is meeting in Geneva, Switzerland.
This picture taken on May 23 shows Marium swimming in the waters in southern Thailand. SIRACHAI ARUNRUGSTICHAI / AFP / Getty Images
Marium, an 8-month-old dugong who became an internet sensation in Thailand this spring, died after ingesting plastic, officials announced Saturday.