This website uses cookies to ensure you get the best experience while browsing it. By clicking 'Got It' you're accepting these terms.
National, Community, Labor and Food Leaders Speak Out against Walmart
Feb. 24, 2012 11:40AM EST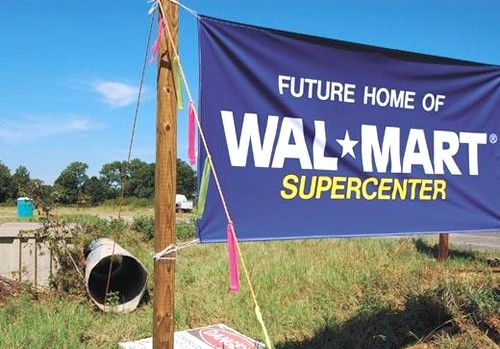 On the steps of New York City Hall on Feb. 23, national, community, food, urban and labor group leaders hosted a press conference to address Walmart's negative impact on the food system. Food & Water Watch Executive Director Wenonah Hauter and Stuart Appelbaum, president of the Retail, Wholesale, and Department Store Union (RWDSU), spoke at the event, which also marked the release of the new Food & Water Watch report, "Why Walmart Can't Fix the Food System," an analysis of the rift between Walmart's marketing claims and the true impact the company has on the food system.
This week, as the largest food retailer in the U.S. released its fourth quarter earnings, community leaders in New York gathered to call attention to the company's business model, which squeezes farmers, workers and processors, and drives food production to become more consolidated and industrialized. While Walmart has been busy promoting itself as the solution to lack of access to healthy food in urban communities, the message from City Hall was loud and clear—Walmart is not the answer and they are not wanted in New York City.
"Plunking down a big-box store in the middle of a community with a lack of access to healthy food will not solve this complicated problem," said Food & Water Watch Executive Director Wenonah Hauter. "Selling fruit and vegetables is one step, but all communities, especially those that are struggling financially, will be better served for the long term by local businesses that put money back into the community by paying livable wages and buying from local and regional suppliers and farmers whenever possible."
"This report shows Walmart has been a source of tremendous harm and devastation to workers, businesses, and communities across the country," said Stuart Appelbaum, president of the Retail, Wholesale and Department Store Union (RWDSU), UFCW. "Walmart is a great destroyer, not the great savior it claims to be. We are working with a large coalition to keep Walmart out of New York City."
"Walmart can't fix the food system, just like it can't get our communities out of poverty," said Matt Ryan, executive director of ALIGN. "It is ultimately the source of the problem, not the solution."
"I don't believe for one second that Walmart cares whether or not I have fresh vegetables; their bottom line is opening more stores and making money," said East New York resident Maria Maisonett.
"Part of the challenge to ending hunger in our communities is creating a sustainable food system that provides affordable, healthy food while also paying a living wage to food producers and other workers in the food system," said Mark Dunlea, executive director of the Hunger Action Network of NYS. Walmart unfortunately is a major factor in the corporate consolidation of our food supply, making it harder for local farmers and communities to make a decent living, while also pushing out other food retailers. Too much of Walmart's publicity about support local and organic foods is a marketing devise rather than supporting a truly local, decentralized, environmentally sound, sustainable food system."
"Brooklyn doesn't need a Walmart to eat more healthy food. It needs local businesses, paying fair wages, and a focus on a stronger sustainable regional supply chain," said Benjamin Solotaire, a volunteer with the Brooklyn Food Coalition.
"It is no surprise that the Food & Water Watch report shows how Wal-Mart is not a solution to food deserts but the actual problem," says Food Chain Workers Alliance organizer Diana Robinson. "Whether it be from factory workers in Bangladesh to warehouse and retail workers in the United States, Wal-Mart has a proven record of committing labor rights violations with its own employees. Because of Wal-Mart's dominance in the retail market, it drives down the prices that it pays its suppliers, which, in turn, drives down wages and working conditions throughout the food supply chain. 20 million people in the U.S. work in the food system, and many of the low-wage food workers live in food deserts because they cannot afford to live in neighborhoods with reasonable access to affordable fresh and healthy food. It's a vicious cycle that needs to be stopped. Wal-Mart's business practice of super low wages and super low prices is not the answer to food desserts."
For more information, click here.
—————
Food & Water Watch works to ensure the food, water and fish we consume is safe, accessible and sustainable. So we can all enjoy and trust in what we eat and drink, we help people take charge of where their food comes from, keep clean, affordable, public tap water flowing freely to our homes, protect the environmental quality of oceans, force government to do its job protecting citizens, and educate about the importance of keeping shared resources under public control.
EcoWatch Daily Newsletter
Artist's conception of solar islands in the open ocean. PNAS
Millions of solar panels clustered together to form an island could convert carbon dioxide in seawater into methanol, which can fuel airplanes and trucks, according to new research from Norway and Switzerland and published in the Proceedings of the National Academy of Sciences journal, PNAS, as NBC News reported. The floating islands could drastically reduce greenhouse gas emissions and dependence on fossil fuels.
Marcos Alves / Moment Open / Getty Images
More than 40 percent of insects could go extinct globally in the next few decades. So why did the U.S. Environmental Protection Agency (EPA) last week OK the 'emergency' use of the bee-killing pesticide sulfoxaflor on 13.9 million acres?
EcoWatch teamed up with Center for Biological Diversity via EcoWatch Live on Facebook to find out why. Environmental Health Director and Senior Attorney Lori Ann Burd explained how there is a loophole in the The Federal Insecticide, Fungicide, and Rodenticide Act under section 18, "that allows for entities and states to request emergency exemptions to spraying pesticides where they otherwise wouldn't be allowed to spray."
Simple swaps that cut down on kitchen trash.
Sponsored
By Kayla Robbins
Along with the bathroom, the kitchen is one of the most daunting areas to try and make zero waste.
View of downtown Miami, Florida from Hobie Island on Feb. 2, 2019.
Michael Muraz / Flickr
The Democratic candidates for president descended upon Miami for a two-night debate on Wednesday and Thursday. Any candidate hoping to carry the state will have to make the climate crisis central to their campaign, as The New York Times reported.
By Sharon Kelly
On Monday, the Wall Street Journal featured a profile of Scott Sheffield, CEO of Pioneer Natural Resources, whose company is known among investors for its emphasis on drawing oil and gas from the Permian basin in Texas using horizontal drilling and hydraulic fracturing, or fracking.
Pexels
By Craig K. Chandler
The federal government has available to it, should it choose to use them, a wide range of potential climate change management tools, going well beyond the traditional pollution control regulatory options. And, in some cases (not all), without new legislative authorization.
Denis Poroy / Getty Images
By Dan Gray
Processed foods, in their many delicious forms, are an American favorite.
But new research shows that despite increasing evidence on just how unhealthy processed foods are, Americans have continued to eat the products at the same rate.
By Sarah Steffen
With a profound understanding of their environmental surroundings, indigenous communities around the world are often cited as being pivotal to tackling climate change.