NASA's 14 Second Video Says It All
Aug. 05, 2015 12:20PM EST
Climate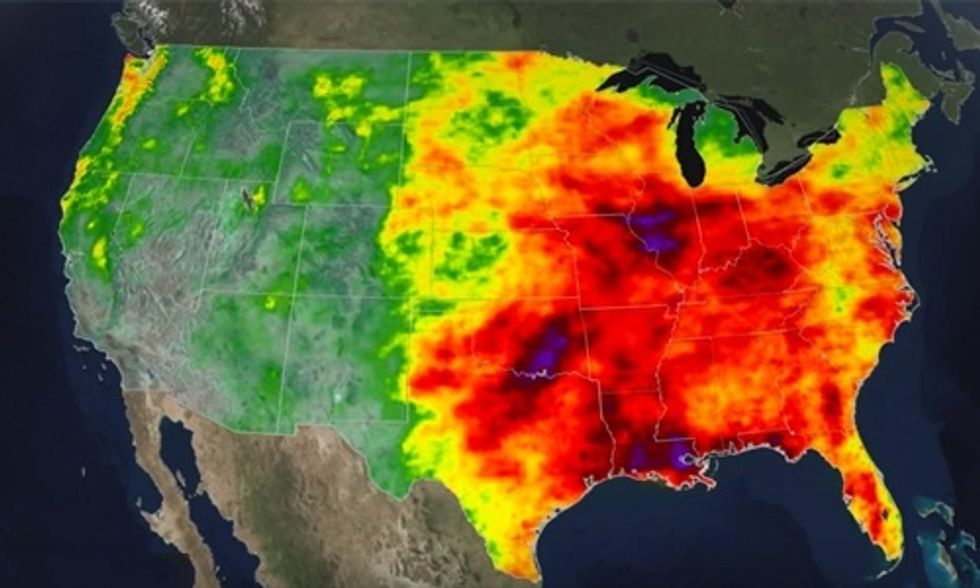 NASA produced a video last week that helps visualize what we already know to be true. The first half of this year has been a really wet one overall for the eastern and southeastern U.S. and a very dry one for the West and Southwest. This year is expected to be the hottest on record and May and June already smashed records for heat and rainfall in many parts of the country. We know that with climate change, heavy downpours are increasing, especially in areas that already receive abundant rainfall, while drought-prone states like California and the rest of the West continue to be mired in an epic drought.
The video is from NASA's Global Precipitation Measurement constellation of 12 satellites, which can sense 13 different types of precipitation, including snow and light rain. Just like a typical radar image, green indicates lower levels of precipitation with yellow, red and purple indicating increasingly higher levels.
Oklahoma, Texas and other parts of the Southeast witnessed insane amounts of rainfall this past spring. A series of storms in late May "provided 200 to 600 percent more May rainfall than normal, set all-time monthly records, and obliterated a drought that had gripped the region for five years," reports Climate Central. In June, the remnants of Tropical Storm Bill added to the dousing in that region. The storm brought rainfall totals to more than 75 inches in areas that normally see 40 inches for the entire year.
In contrast, the West has seen very little precipitation overall. Though it appears that Washington and Oregon saw a fair amount, it's deceiving. "While it looks like parts of the Cascades have received a fair amount of precipitation, the visualization is missing one key indicator of drought: temperature," says Climate Central. "And on that front, Washington and Oregon have dealt with particularly high temperatures, leading to what scientists have termed a 'wet drought.'"
With the Pacific Northwest recording its second warmest winter ever, much of the precipitation that would have normally fallen as snow fell as rain. This reduced the snowpack dramatically, leaving western states scrambling to deal with critically low water levels during the dry, summer season. In May, Washington Gov. Jay Inslee issued an emergency drought declaration.
YOU MIGHT ALSO LIKE
World's Glaciers Melting at Record Rate
15 Things the World Is Running Out of
EcoWatch Daily Newsletter
Related Articles from EcoWatch
Recent Stories from EcoWatch