This website uses cookies to ensure you get the best experience while browsing it. By clicking 'Got It' you're accepting these terms.
NASA Scientists: Future Megadroughts Could Last 30+ Years 'Thanks to Human-Induced Climate Change'
Feb. 13, 2015 02:08PM EST
Climate
The drought in California, going into its fourth year, has been in the news, especially since California produces much of the country's food. But a new NASA study, published this week in the journal Science Advances, suggests that the U.S. could be looking at much worse. It predicts multi-decade "megadroughts" of more than 30 years by the end of the 21st century if we don't significantly reduce greenhouse gas emissions.
"Recent droughts such as the ongoing drought in California or the Southwest, or even historical droughts such as the Dust Bowl in the 1930s, these are naturally occurring droughts that typically last several years or sometimes almost a decade," said the study's lead author Ben Cook, a climate scientist at NASA's Goddard Institute for Space Studies and Columbia University's Lamont-Doherty Earth Observatory. "What we're seeing is that with climate change many of these types of droughts will likely last for 20, 30, sometimes even 40 years."
How bad these droughts will get is tied to how much greenhouse gas emissions humans generate in future years. Cook and his colleagues say the current risk of a megadrought is 12 percent. If greenhouse gas emissions stop increasing by the mid-21st century, they project the risk at more than 60 percent in the second half of the 21st century. And if they continue to rise at current rates, the researchers say, there is an 80 percent chance of a megadrought in the Southwest and Central Plains between 2050 and 2099. "Alternatively, if the world were to take aggressive actions to reduce emissions, the model still showed drought but the trends would be less severe," they found.
Cook said this study is more robust than previous research, which used fewer drought indictors and few climate models. This study used 17 different climate models, all of which showed a drier planet "thanks to human-induced climate change," says NASA.
"What I think really stands out in the paper is the consistency between different metrics of soil moisture and the findings across all the different climate models," said climate scientist Kevin Anchukaitis of Woods Hole Oceanographic Institution, who was not involved in the study. "It is rare to see all signs pointing so unwaveringly toward the same result, in this case a highly elevated risk of future megadroughts in the United States."
This is also the first study to compare future drought projections to droughts over the last 1,000 years, using tree-ring information to estimate droughts beyond the last 150 years. The researchers looked at megadroughts of 30-50 years that occurred in North America between 1100 and 1300 and compared them with projected late 21st-century droughts. They found that whether greenhouse gas emissions stop increasing or continue to increase at the current rate, the likelihood of drier conditions and droughts lasting 30 years or more is greater.
"We can't really understand the full variability and the full dynamics of drought over western North America by focusing only on the last century or so," said Cook. "We have to go to the paleoclimate record, looking at these much longer timescales, when much more extreme and extensive drought events happened, to really come up with an appreciation for the full potential drought dynamics in the system."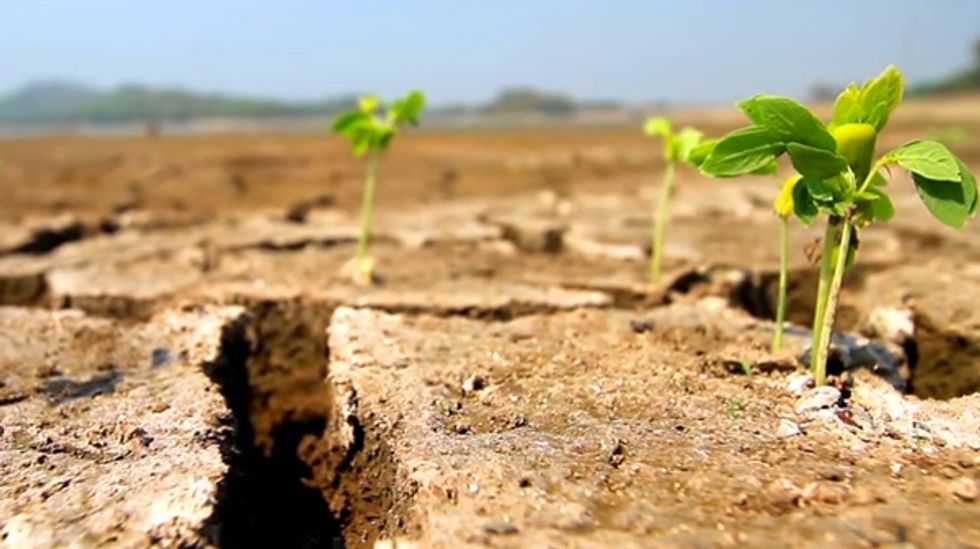 Anchukaitis agreed that comparing medieval-era droughts with projected ones is useful.
"Those droughts had profound ramifications for societies living in North America at the time," he said. "These findings require us to think about how we would adapt if even more severe droughts lasting over a decade were to occur in our future."
Those adaptations would be more challenging than anything we've seen in the past, says Cook.
"The droughts represent events that nobody in the history of the U.S. has ever had to deal with," he said. "Even in the modern era, droughts such as the ongoing droughts in California and the Southwest, these normal droughts act as major stressors on water resources in the region. So we expect that with these much longer droughts, it's going to be even more impactful and cause even more problems for agriculture and ecosystems in the region."
YOU MIGHT ALSO LIKE
California Experiences Worst Drought in 1,200 Years
NASA Satellite Images Reveal Shocking Groundwater Loss in Drought-Stricken California
NOAA Report Misses Link Between California Drought and Human-Caused Climate Change
EcoWatch Daily Newsletter
With well over a billion cars worldwide, electric vehicles are still only a small percentage. An economist from the University of Michigan Energy Institute says that is likely to change. Maskot / Getty Images
In 2018, there were about 5 million electric cars on the road globally. It sounds like a large number, but with well over a billion cars worldwide, electric vehicles are still only a small percentage.
Nestlé is accelerating its efforts to bring functional, safe and environmentally friendly packaging solutions to the market and to address the global challenge of plastic packaging waste.
Nestlé
/ Flickr /
CC BY-NC-ND 2.0
Nestlé, the world's largest food company, said it will invest up to $2 billion to address the plastic waste crisis that it is largely responsible for.
Determining the effects of media on people's lives requires knowledge of what people are actually seeing and doing on those screens. Vertigo3d / iStock / Getty Images Plus
Indigenous people of various ethnic groups protest calling for demarcation of lands during the closing of the 'Red January - Indigenous Blood', in Paulista Avenue, in São Paulo, Brazil, Jan. 31, 2019. Cris Faga / NurPhoto / Getty Images
By Raphael Tsavkko Garcia
Rarely has something so precious fallen into such unsafe hands. Since Jair Bolsonaro took the Brazilian presidency in 2019, the Amazon, which makes up 10 percent of our planet's biodiversity and absorbs an estimated 5 percent of global carbon emissions, has been hit with a record number of fires and unprecedented deforestation.
Microsoft's main campus in Redmond, Washington on May 12, 2017. GLENN CHAPMAN / AFP via Getty Images
Microsoft announced ambitious new plans to become carbon negative by 2030 and then go one step further and remove by 2050 all the carbon it has emitted since the company was founded in 1975, according to a company press release.