This website uses cookies to ensure you get the best experience while browsing it. By clicking 'Got It' you're accepting these terms.
NASA Satellite Images Reveal Shocking Groundwater Loss in Drought-Stricken California
Oct. 03, 2014 09:30AM EST
NASA's Gravity Recovery and Climate Experiment (GRACE) program has released a series of satellite images, taken in June 2002, June 2008 and June of this year, showing the stunning groundwater loss in California which is in its third year of record drought.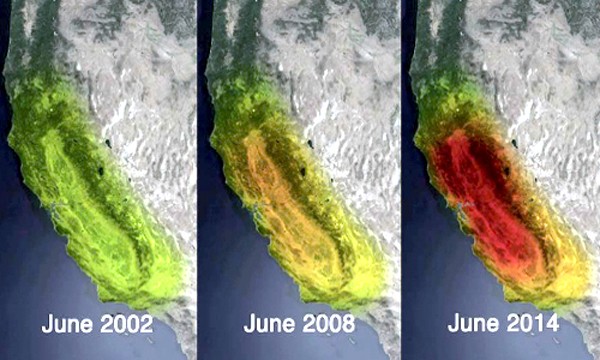 California's rapidily disappearing groundwater was tracked by NASA and its partners over a period of 12 years. Image credit: NASA/JPL-Caltech/University of California, Irvine
"This trio of images depicts satellite observations of declining water storage in California as seen by NASA's Gravity Recovery and Climate Experiment satellites," says NASA. "Colors progressing from green to orange to red represent greater accumulated water loss between April 2002 and June 2014."
The prolonged drought has impacted everything from agriculture to fisheries to residential use, worsened and prolonged the wildfire season and created conflicts over the use of water resources. That has included calls for banning water-intensive fracking and disputes over the diversion of river water for the state's even more water-intensive agriculture sector, primarily in its fertile Central Valley.
"California's Sacramento and San Joaquin River basins, including the Central Valley, have suffered the greatest losses, in part due to increased groundwater pumping to support agricultural production," said NASA. "Between 2011 and 2014, the combined river basins have lost 4 trillion gallons of water each year, an amount far greater than California's 38 million residents use in cities and homes annually."
Gov. Brown declared a state of emergency in January after the state had its lowest recorded rainfall in its history.
GRACE is a collaborative endeavor involving the Center for Space Research at the University of Texas, Austin; NASA's Jet Propulsion Laboratory, Pasadena, Calif.; the German Space Agency and Germany's National Research Center for Geosciences, Potsdam.
YOU MIGHT ALSO LIKE
California Experiencing Most Severe Drought Ever Recorded
California Farmers Demand Fracking Moratorium
The California Drought: Who Gets Water and Who's Hung Out to Dry?
Plus, learn if there's one that's best for your health.
Catherine Falls Commercial / Moment / Getty Images
An invasive Amynthas worm, also known as a crazy snake worm, Asian jumping worm and Alabama jumper Tom Potterfield / Flickr
By Jason Bittel
My wife and I built a house two years ago on a few acres of woodland outside of Pittsburgh. The backyard is full of maples, poplars, briars and common spicebush. Two-lined salamanders and grumpy-looking crayfish wade among the rocks in the small stream that runs down the edge of the property. Deer, raccoon and opossum tracks appear regularly in the snow and mud. Sometimes, my trail-cam even catches a pair of gray foxes as they slink through the night.
AleksandarNakic / Getty Images
By Kate Murphy
No matter the time of year, there's always a point in each season when my skin decides to cause me issues. While these skin issues can vary, I find the most common issues to be dryness, acne and redness.

David Woodfall / The Image Bank / Getty Images
By Sam Nickerson
The U.S. Environmental Protection Agency (EPA) in April 2018 proposed relaxing standards related to how it assesses the effects of exposure to low levels of toxic chemicals on public health.
Now, correspondence obtained by the LA Times revealed just how deeply involved industry lobbyists and a controversial, industry-funded toxicologist were in drafting the federal agency's proposal to scrap its current, protective approach to regulating toxin exposure.
Steve Irwin poses with a three foot long alligator at the San Francisco Zoo on June 26, 2002. Justin Sullivan / Getty Images
February 22 is the birthday of conservationist and beloved TV personality "Crocodile Hunter" Steve Irwin, who would have been 57 years old today.
Irwin's life was tragically cut short when the barb from a stingray went through his chest while he was filming in 2006, but his legacy of loving and protecting wildlife lives on, most recently in a Google Doodle today honoring his birthday.