This website uses cookies to ensure you get the best experience while browsing it. By clicking 'Got It' you're accepting these terms.
NASA Finds Enormous Planet 3,700 Light Years Away
Jun. 15, 2016 09:16AM EST
Science
A team led by astronomers from the National Aeronautics and Space Administration (NASA) and San Diego State University have found the largest planet yet to orbit a double-star system.
Kepler-1647b is 3,700 light-years away and approximately 4.4 billion years old, roughly the same age as Earth, according to NASA's announcement Monday. The planet's mass and radius are nearly identical to that of Jupiter. Astronomers from NASA's Goddard Space Flight Center in Greenbelt, Maryland, used the administration's Kepler Space Telescope to identify the planet.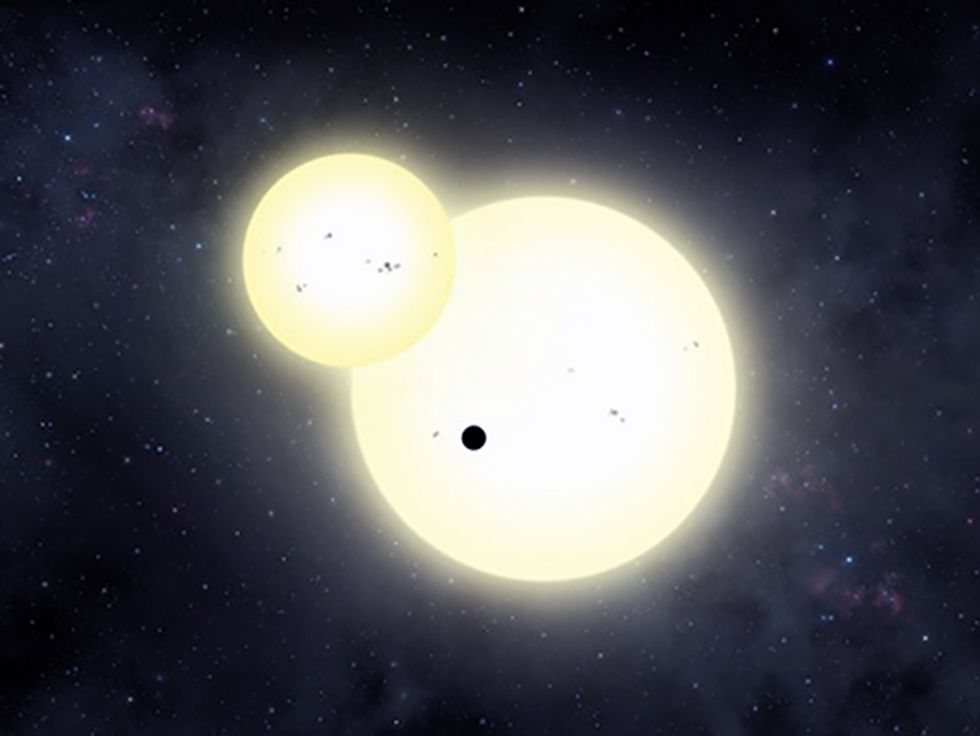 The Kepler Space Telescope's goal is to "survey our region of the Milky Way for Earth-size and smaller planets in or near the habitable zone," according to the telescope's website. Almost 3,000 exoplanets have been confirmed since the mission launched in 2009.
Kepler-1647b is a circumbinary planet, which means it orbits two stars instead of one. The larger star is slightly larger than our sun, while the other is slightly smaller, NASA reported. Kepler-1647b is the largest circumbinary planet ever discovered.
"Finding circumbinary planets is much harder than finding planets around single stars," William Welsh, an astronomer at San Diego State University, said. "The transits are not regularly spaced in time and they can vary in duration and even depth."
Kepler-1647b takes 1,107 days—just more than three years—to orbit its stars, NASA said, marking the longest period of any confirmed exoplanet. It is also unusually far from its stars. Scientists say the orbit puts the planet in the habitable zone—the range of distance from a star where liquid water could form on the surface of an orbiting planet.
Despite being in the habitable zone, it is unlikely Kepler-1647b could host life. It is a gas giant just like Jupiter. However, if it's discovered that the planet has large moons, they could potentially be suitable for life, according to NASA.
"Habitability aside, Kepler-1647b is important because it is the tip of the iceberg of a theoretically predicted population of large, long-period circumbinary planets," Welsh said.
Kepler-1647b will now be inspected by researchers using advanced computer programs to determine if it really is a planet, NASA said.
YOU MIGHT ALSO LIKE:
Bionic Leaf Turns Sunlight Into Liquid Fuel 10 Times Faster Than Nature
Scientists Turn CO2 Into Solid Rock
World's First 'Spotty Dog' and Cow-Like Sheep Created Using Gene Editing
EcoWatch Daily Newsletter
Pexels
Vitamin C is a very important nutrient that's abundant in many fruits and vegetables.
BLM drill seeders work to restore native grasses after wildfire on the Bowden Hills Wilderness Study Area in southeast Oregon, Dec. 14, 2018. Marcus Johnson / BLM / CC BY 2.0
By Tara Lohan
In 2017 the Thomas fire raged through 281,893 acres in Ventura and Santa Barbara counties, California, leaving in its wake a blackened expanse of land, burned vegetation, and more than 1,000 destroyed buildings.
Brogues Cozens-Mcneelance / EyeEm / Getty Images
Fruit juice is generally perceived as healthy and far superior to sugary soda.
Pexels
By Danielle Nierenberg and Katherine Walla
As the holiday season ramps up for many across the world, Food Tank is highlighting 15 children's books that will introduce young eaters, growers and innovators to the world of food and agriculture. Authors and organizations are working to show children the importance — and fun — of eating healthy, nutritious and delicious food, growing their own produce, and giving food to others in need.
Pixabay
Purple cabbage, also referred to as red cabbage, belongs to the Brassica genus of plants. This group includes nutrient-dense vegetables, such as broccoli, Brussels sprouts, and kale.