NASA Carbon Map Shows Which Countries are Polluting the World
Nov. 19, 2015 12:55PM EST
Climate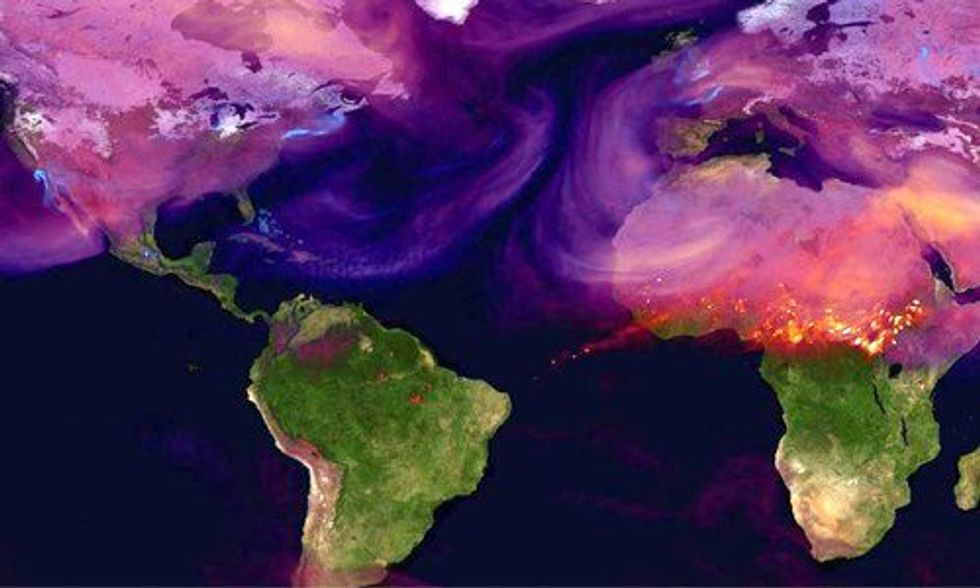 The World Meteorological Organization (WMO) announced last week that the global average carbon dioxide (CO2) levels reached the 400 parts per million (ppm) milestone in the spring of 2015.
It won't be long before global CO2 levels averaging above 400 ppm become a "permanent reality," WMO Secretary-General Michel Jarraud said.
Supercomputing power gives us a better understanding of carbon's role in Earth's climate. #EarthRightNow https://t.co/YsVeluRDrI

— NASA (@NASA)1447884678.0
On the same day, the UK's Met Office announced that the global mean temperature at the Earth's surface is set to reach one degree Celsius above pre-industrial levels this year for the first time.
Thanks to NASA's first satellite tracking CO2—the Orbiting Carbon Observatory-2—we have a visual representation of those dangerously high CO2 levels. In light of the upcoming COP21 Paris climate talks, NASA has released an animation of the world's carbon dioxide and how it moves through the atmosphere. The animation shows carbon dioxide emissions from two different sources: burning biomass and megacities. It covers five days in June 2006.
Scientists are using these climate models to "better understand how carbon dioxide moves around Earth's atmosphere and how carbon moves through Earth's air, land and ocean over time," NASA said. The red spots, such as those seen over Central Africa, indicate a significant amount of biomass being burned in forest fires, explained Tech Times. And the blue areas indicate emissions from megacities, such as those in East Asia, Western Europe and U.S. coasts. The purple, then, is the blending of those sources in the atmosphere.
About half of the CO2 emitted is absorbed by the land and the ocean, NASA scientist Lesley Ott said. "Otherwise you would have carbon building up in the atmosphere twice as fast as it does now," Ott added.
The ocean's absorb one-quarter of the atmosphere's CO2, according to Dr. David Suzuki, which, he said, is "bad news" for marine life as the oceans become more and more acidic. And now it appears the oceans may not be able to absorb as much CO2 in the future because of rising ocean temperatures and affected phytoplankton communities.
"These kinds of simulations will present Paris delegates with detailed information on where the world's carbon is coming from," The Independent reported. "If they want to take action, they will need to target the major sources, while the planet is still absorbing much of our emissions."
Watch the NASA animation here:
YOU MIGHT ALSO LIKE
10 Photos Show the Reality of a Warming Planet
Bernie Sanders: 'Climate Change Is Directly Related to the Growth of Terrorism'
Interactive Map Shows 96% of Americans Live in Counties Hit by Extreme Weather
What's Going on in Antarctica? Is the Ice Melting or Growing?
EcoWatch Daily Newsletter
Related Articles from EcoWatch