This website uses cookies to ensure you get the best experience while browsing it. By clicking 'Got It' you're accepting these terms.
NASA: California Needs 11 Trillion Gallons of Water to End Epic Drought
Dec. 17, 2014 11:38AM EST
Climate
California's record-setting three-year-old drought has left the state with a massive water deficit, and communities, agricultural interests and others warring over access to the supply.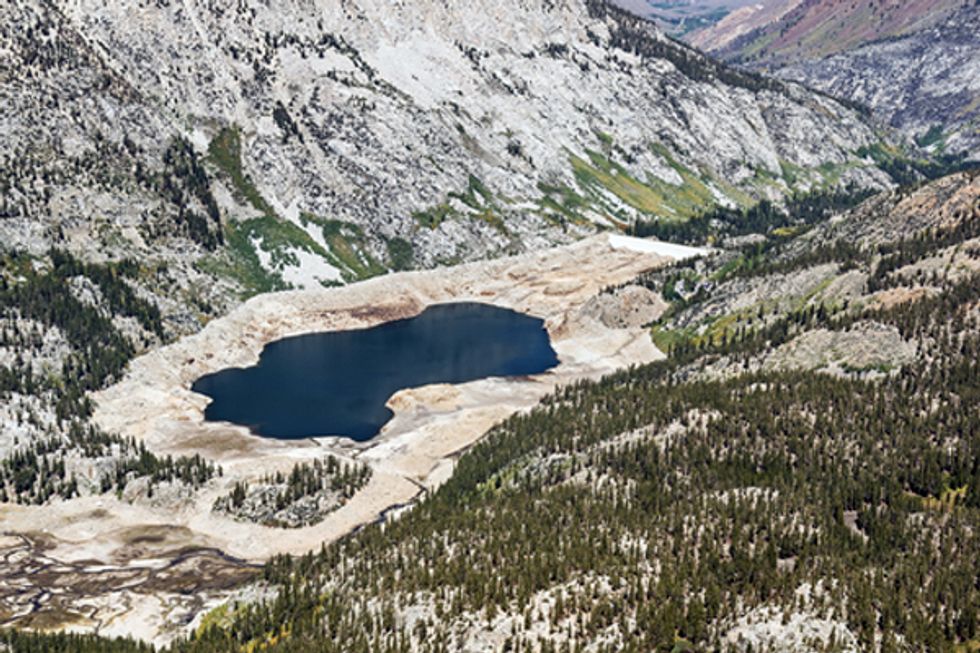 Photo credit: Shutterstock
Now groundbreaking new calculations based on Now groundbreaking new calculations based on NASA satellite data have revealed just how large that deficit is. A team of sci's Jet Propulsion Laborator (JPL) crunched data from NASA's Gravity Recovery and Climate Experiment (GRACE) to figure out how much water it would take to end the drought. They determined that it would take 11 trillion gallons—about 1.5 times the maximum volume of the largest U.S. reservoir—to make up for drought losses due to record heat and low rainfall.
"Spaceborne and airborne measurements of Earth's changing shape, surface height and gravity field now allow us to measure and analyze key features of droughts better than ever before, including determining precisely when they begin and end and what their magnitude is at any moment in time," said NASA team leader Jay Famiglietti. "That's an incredible advance and something that would be impossible using only ground-based observations."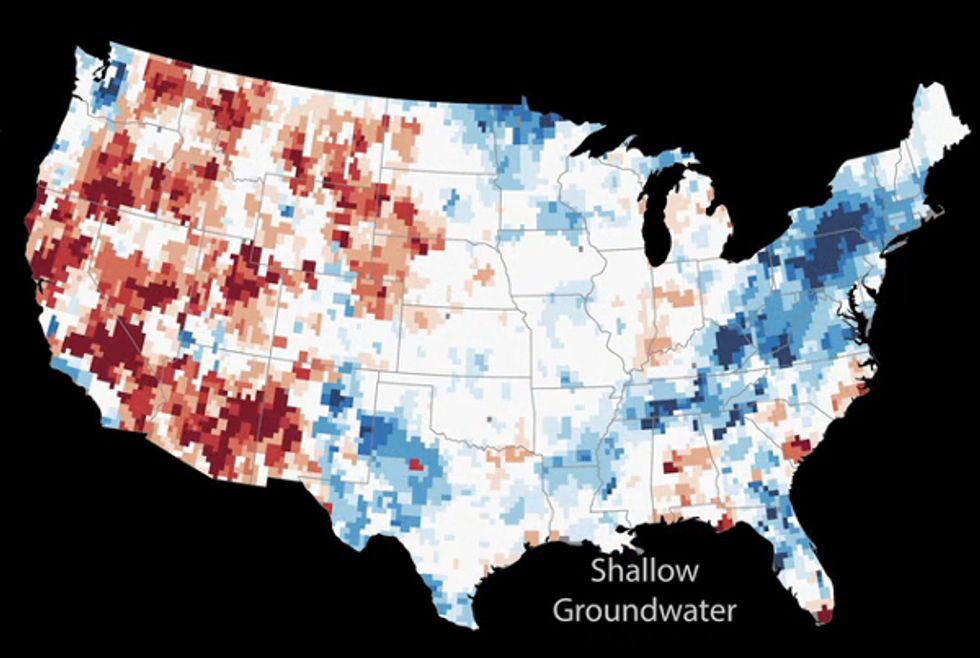 The NASA team found that the volume of water in the Sacramento and San Joaquin river basins had decreased by 4 trillion gallons a year since 2011—more water than is used by the state's residents each year for domestic and municipal purposes—and that water storage in the two basins is currently 11 trillion gallons below normal, a deficit that has steadily increased since GRACE launched in 2002. Depletion of groundwater in California's fertile agricultural Central Valley is responsible for two-thirds of the loss.
"Integrating GRACE data with other satellite measurements provides a more holistic view of the impact of drought on water availability, including on groundwater resources, which are typically ignored in standard drought indices," said Matt Rodell, chief of the Hydrological Sciences Laboratory at Goddard.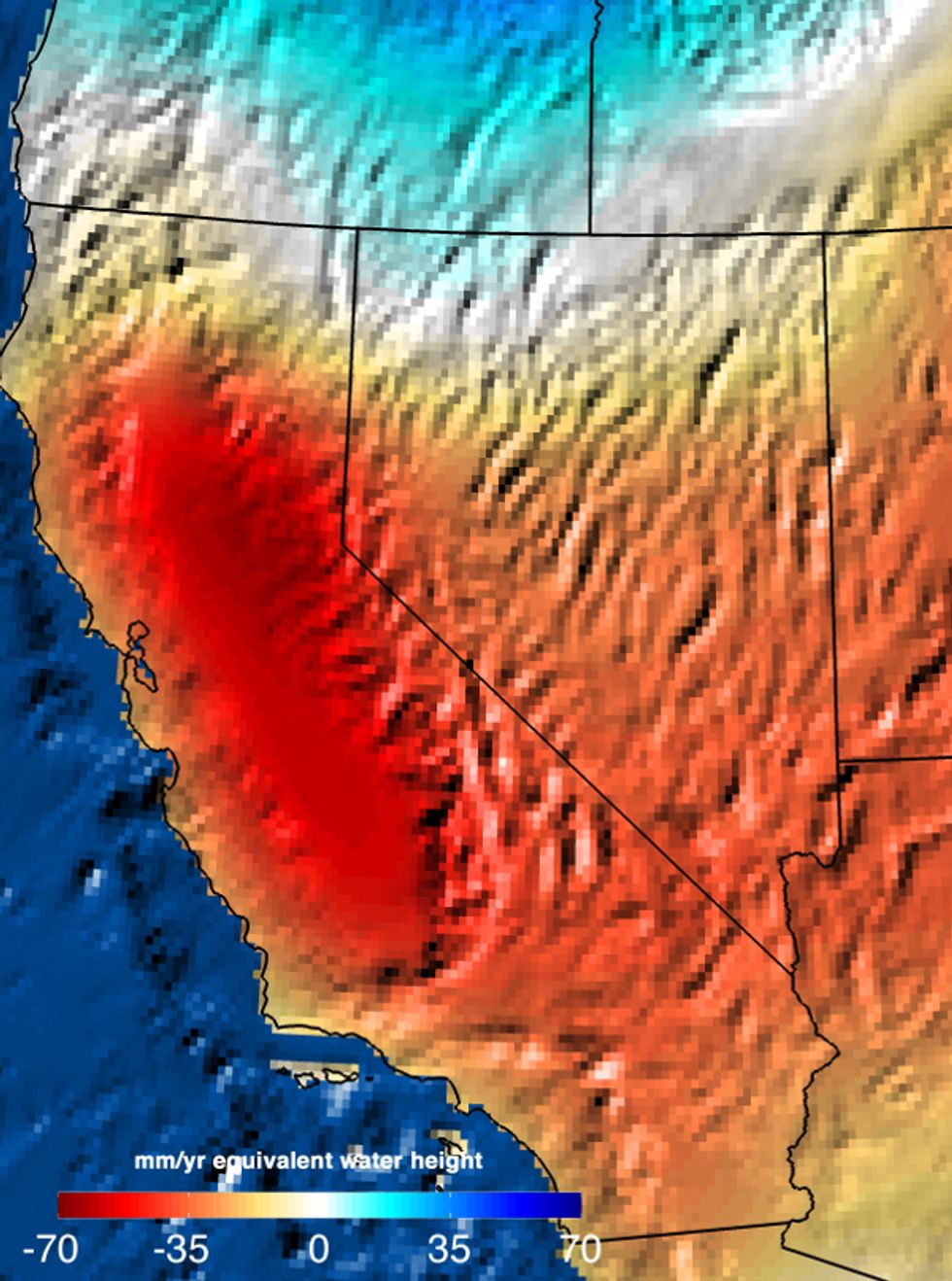 Making matters worse, data from NASA's Airborne Snow Observatory earlier this year showed that California's Sierra Nevada snowpack was half that of earlier estimates.
"The 2014 snowpack was one of the three lowest on record and the worst since 1977, when California's population was half what it is now," said Airborne Snow Observatory principal investigator Tom Painter of JPL. "Besides resulting in less snow water, the dramatic reduction in snow extent contributes to warming our climate by allowing the ground to absorb more sunlight. This reduces soil moisture, which makes it harder to get water from the snow into reservoirs once it does start snowing again."
The NASA scientists said that the recent rainstorms in California will do little to alleviate the water shortage, failing to provide anything close to the amount of water the state needs to end its prolonged drought.
"It takes years to get into a drought of this severity, and it will likely take many more big storms, and years, to crawl out of it," said Famiglietti.
YOU MIGHT ALSO LIKE
California Experiencing Most Severe Drought Ever Recorded
NASA Satellite Images Reveal Shocking Groundwater Loss in Drought-Stricken California
NOAA Report Misses Link Between California Drought and Human-Caused Climate Change
EcoWatch Daily Newsletter
The CDC has emphasized that washing hands with soap and water is one of the most effective ways to prevent the spread of COVID-19. Guido Mieth / Moment / Getty Images
The Centers for Disease Control has emphasized that washing hands with soap and water is one of the most effective measures we can take in preventing the spread of COVID-19. However, millions of Americans in some of the most vulnerable communities face the prospect of having their water shut off during the lockdowns, according to The Guardian.
A California newt (Taricha torosa) from Napa County, California, USA. Connor Long /
CC BY-SA 3.0
Aerial photos of the Sierra Nevada — the long mountain range stretching down the spine of California — showed rust-colored swathes following the state's record-breaking five-year drought that ended in 2016. The 100 million dead trees were one of the most visible examples of the ecological toll the drought had wrought.
Now, a few years later, we're starting to learn about how smaller, less noticeable species were affected.
Disinfectants and cleaners claiming to sanitize against the novel coronavirus have started to flood the market.
Natthawat / Moment / Getty Images
Disinfectants and cleaners claiming to sanitize against the novel coronavirus have started to flood the market, raising concerns for the U.S. Environmental Protection Agency (EPA), which threatened legal recourse against retailers selling unregistered products, according to The New York Times.
A customer packs groceries in reusable bags at a NYC supermarket on March 1, 2020. Eduardo Munoz Alvarez/Getty Images
The global coronavirus pandemic has thrown our daily routine into disarray. Billions are housebound, social contact is off-limits and an invisible virus makes up look at the outside world with suspicion. No surprise, then, that sustainability and the climate movement aren't exactly a priority for many these days.
Ingredients are displayed for the Old School Pinto Beans from the Decolonize Your Diet cookbook by Luz Calvo and Catriona Rueda Esquibel. Melissa Renwick / Toronto Star via Getty Images
By Molly Matthews Multedo
Livestock farming contributes to global warming, so eating less meat can be better for the climate.