This website uses cookies to ensure you get the best experience while browsing it. By clicking 'Got It' you're accepting these terms.
NASA: California Needs 11 Trillion Gallons of Water to End Epic Drought
Dec. 17, 2014 11:38AM EST
Climate
California's record-setting three-year-old drought has left the state with a massive water deficit, and communities, agricultural interests and others warring over access to the supply.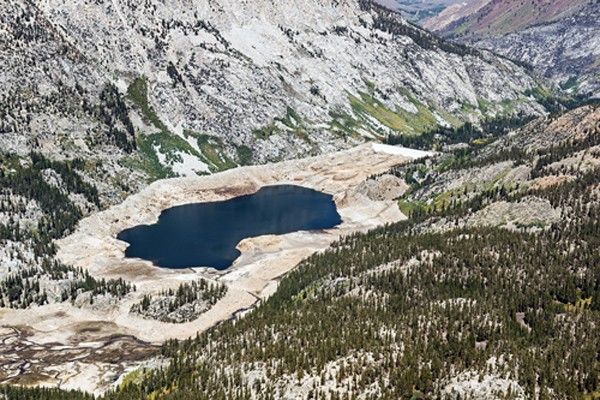 Photo credit: Shutterstock
Now groundbreaking new calculations based on Now groundbreaking new calculations based on NASA satellite data have revealed just how large that deficit is. A team of sci's Jet Propulsion Laborator (JPL) crunched data from NASA's Gravity Recovery and Climate Experiment (GRACE) to figure out how much water it would take to end the drought. They determined that it would take 11 trillion gallons—about 1.5 times the maximum volume of the largest U.S. reservoir—to make up for drought losses due to record heat and low rainfall.
"Spaceborne and airborne measurements of Earth's changing shape, surface height and gravity field now allow us to measure and analyze key features of droughts better than ever before, including determining precisely when they begin and end and what their magnitude is at any moment in time," said NASA team leader Jay Famiglietti. "That's an incredible advance and something that would be impossible using only ground-based observations."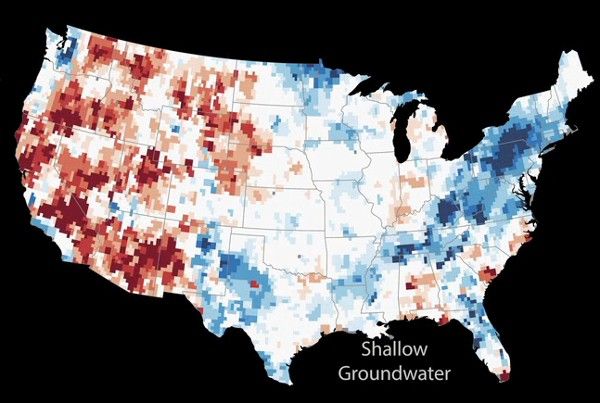 The NASA team found that the volume of water in the Sacramento and San Joaquin river basins had decreased by 4 trillion gallons a year since 2011—more water than is used by the state's residents each year for domestic and municipal purposes—and that water storage in the two basins is currently 11 trillion gallons below normal, a deficit that has steadily increased since GRACE launched in 2002. Depletion of groundwater in California's fertile agricultural Central Valley is responsible for two-thirds of the loss.
"Integrating GRACE data with other satellite measurements provides a more holistic view of the impact of drought on water availability, including on groundwater resources, which are typically ignored in standard drought indices," said Matt Rodell, chief of the Hydrological Sciences Laboratory at Goddard.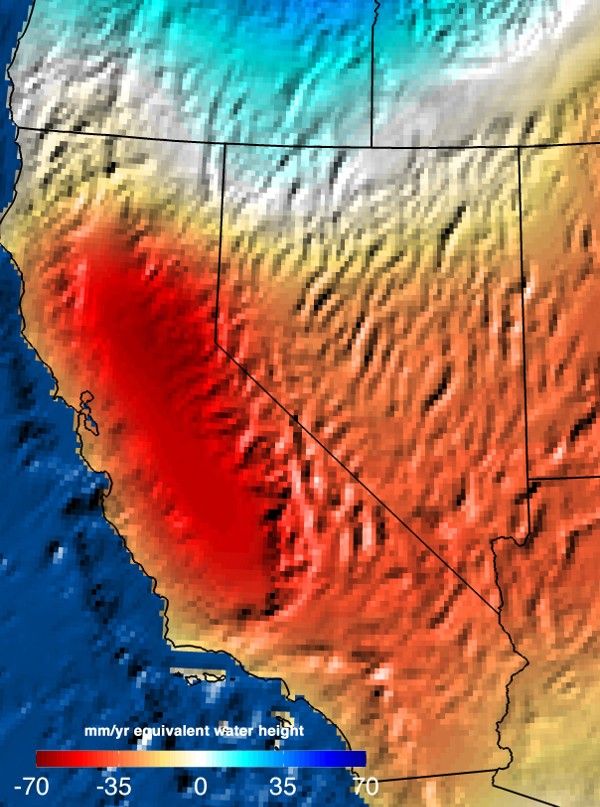 Making matters worse, data from NASA's Airborne Snow Observatory earlier this year showed that California's Sierra Nevada snowpack was half that of earlier estimates.
"The 2014 snowpack was one of the three lowest on record and the worst since 1977, when California's population was half what it is now," said Airborne Snow Observatory principal investigator Tom Painter of JPL. "Besides resulting in less snow water, the dramatic reduction in snow extent contributes to warming our climate by allowing the ground to absorb more sunlight. This reduces soil moisture, which makes it harder to get water from the snow into reservoirs once it does start snowing again."
The NASA scientists said that the recent rainstorms in California will do little to alleviate the water shortage, failing to provide anything close to the amount of water the state needs to end its prolonged drought.
"It takes years to get into a drought of this severity, and it will likely take many more big storms, and years, to crawl out of it," said Famiglietti.
YOU MIGHT ALSO LIKE
California Experiencing Most Severe Drought Ever Recorded
NASA Satellite Images Reveal Shocking Groundwater Loss in Drought-Stricken California
NOAA Report Misses Link Between California Drought and Human-Caused Climate Change
EcoWatch Daily Newsletter
It was early in the morning last Thursday, and Jonathan Butler was standing on the Fred Hartman Bridge, helping 11 fellow Greenpeace activists rappel down and suspend themselves over the Houston Ship Channel. The protesters dangled in the air most of the day, shutting down a part of one of the country's largest ports for oil.
By C.J. Polychroniou
Climate change is by far the most serious crisis facing the world today. At stake is the future of civilization as we know it. Yet, both public awareness and government action lag way behind what's needed to avert a climate change catastrophe. In the interview below, Noam Chomsky and Robert Pollin discuss the challenges ahead and what needs to be done.
Food manufacturer General Mills issued a voluntary recall of more than 600,000 pounds, or about 120,000 bags, of Gold Medal Unbleached All Purpose Flour this week after a sample tested positive for a bacteria strain known to cause illness.
Imelda flooded highway 69 North in Houston Thursday. Thomas B. Shea / Getty Images
Extreme weather events supercharged by climate change in 2012 led to nearly 1,000 more deaths, more than 20,000 additional hospitalizations, and cost the U.S. healthcare system $10 billion, a new report finds.
Giant sequoia trees at Sequoia National Park, California. lucky-photographer / iStock / Getty Images Plus
A Bay Area conservation group struck a deal to buy and to protect the world's largest remaining privately owned sequoia forest for $15.6 million. Now it needs to raise the money, according to CNN.
This aerial view shows the Ogasayama Sports Park Ecopa Stadium, one of the venues for 2019 Rugby World Cup. MARTIN BUREAU / AFP / Getty Images
The Rugby World Cup starts Friday in Japan where Pacific Island teams from Samoa, Fiji and Tonga will face off against teams from industrialized nations. However, a new report from a UK-based NGO says that when the teams gather for the opening ceremony on Friday night and listen to the theme song "World In Union," the hypocrisy of climate injustice will take center stage.
Vera_Petrunina / iStock / Getty Images Plus
By Wudan Yan
In June, New York Times journalist Andy Newman wrote an article titled, "If seeing the world helps ruin it, should we stay home?" In it, he raised the question of whether or not travel by plane, boat, or car—all of which contribute to climate change, rising sea levels, and melting glaciers—might pose a moral challenge to the responsibility that each of us has to not exacerbate the already catastrophic consequences of climate change. The premise of Newman's piece rests on his assertion that traveling "somewhere far away… is the biggest single action a private citizen can take to worsen climate change."