NASA Astronauts Grow Vegetables in Space for First Time
Aug. 10, 2015 12:56PM EST
Food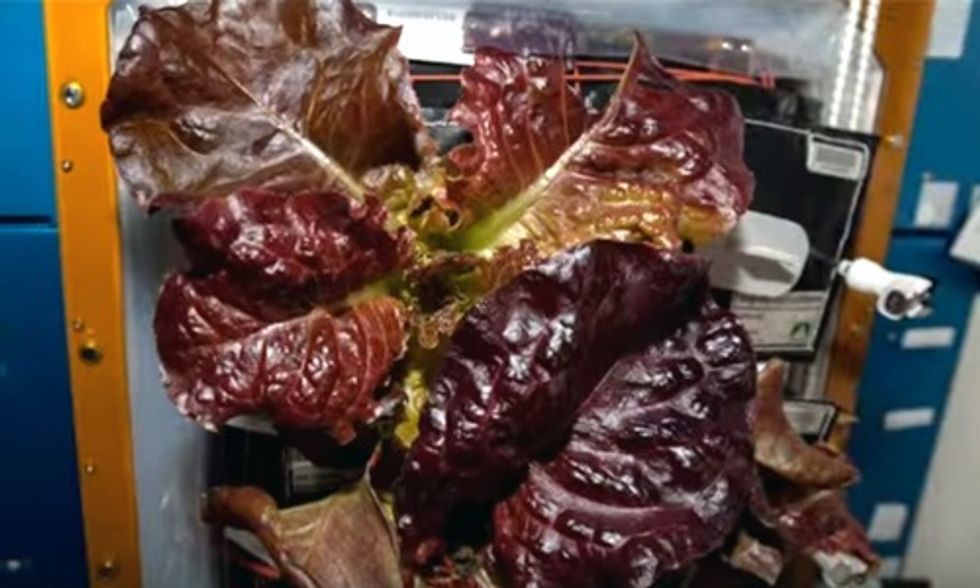 Goodbye freeze-dried space food. NASA's astronauts aboard the International Space Station are taking a giant leap with its menu: fresh-grown vegetables.
3 astronauts will harvest and taste space-grown lettuce today at 11:15am on @NASA TV... http://t.co/C7LVQGyw5P pic.twitter.com/kFNvikrV2z

— Intl. Space Station (@Space_Station) August 10, 2015
Expedition 44 crew members, including astronaut Scott Kelly who's on a special year-long mission in space, will be dining on a crop of "Outredgeous" red romaine lettuce from the Veggie plant growth system that's sitting on the station itself.
Called the Veg-01, the experiment aims to "study the in-orbit function and performance of the plant growth facility and its rooting 'pillows,' which contain the seeds," according to a NASA press release.
The Veggie unit, which is expandable and collapsible, contains a light bank that features a flat panel red, blue and green LEDs for plant growth and crew observation (which explains why the plants are glowing pink in some photos). Half of the harvest, which was plucked 33 days after it was initially planted, will be eaten. The other half will be packaged and frozen on the station until it can be sent to Earth for analysis.
Tomorrow we'll eat the anticipated veggie harvest on @space_station! But first, lettuce take a #selfie. #YearInSpace pic.twitter.com/fUKQMhEDjK

— Scott Kelly (@StationCDRKelly) August 9, 2015
NASA said that the idea behind the out-of-this-world fare is to provide future astronauts with sustainable food supplements especially for long-distance trips, like to Mars.
"There is evidence that supports fresh foods, such as tomatoes, blueberries and red lettuce are a good source of antioxidants," said Dr. Ray Wheeler, the lead for advanced life support activities in the Surface Systems Division at the Kennedy Space Center, in a statement. "Having fresh food like these available in space could have a positive impact on people's moods and also could provide some protection against radiation in space."
Not only do the live plants provide nutrition and produce fresh air, but the act of gardening provides "a psychological boost to isolated crews hoping for something that reminds them of home," NASA also said.
'Lettuce' tell you how growing veggies in space will help on our #JourneyToMars: http://t.co/Hvihb4QCf5 #YearInSpace pic.twitter.com/tCJQVW1c8Y

— NASA (@NASA) August 10, 2015
"Besides having the ability to grow and eat fresh food in space, there also may be a psychological benefit," said Veggie's payload scientist Dr. Gioia Massa. "The farther and longer humans go away from Earth, the greater the need to be able to grow plants for food, atmosphere recycling and psychological benefits. I think that plant systems will become important components of any long-duration exploration scenario."
Growing food in space also has potential benefits for us Earthlings, especially in areas where conditions are not ideal for planting. As I've mentioned before, thanks to technological advancements in agriculture, plants are being grown in places where traditional farming would be impossible (and without soil, pesticides and a lot less water).
"The lessons learned on the ISS might apply to plant factories where abundant sunlight and water aren't guaranteed," NASA said. "Even if you never get to taste these otherworldly greens, you may still reap their rewards."
Check out the video below to learn about growing produce in space.
YOU MIGHT ALSO LIKE
NASA: 'If You See One Meteor Shower This Year, Make It the Perseids'
NASA Captures 'EPIC' Image of the Dark Side of the Moon
Epic Video Narrated by Neil deGrasse Tyson Explains the Universe in 8 Minutes
EcoWatch Daily Newsletter
Recent Stories from EcoWatch