This website uses cookies to ensure you get the best experience while browsing it. By clicking 'Got It' you're accepting these terms.
NASA: 4 Billion People at Risk as 'Water Table Dropping All Over the World'
Feb. 15, 2016 10:06AM EST
A new analysis reveals that global water scarcity is a far greater problem than previously thought, affecting 4 billion people—two-thirds of the world's population—and will be "one of the most difficult and important challenges of this century."
Previous analyses looked at water scarcity at an annual scale and had found that water scarcity affected between 1.7 and 3.1 billion people. The new study, published Friday in the journal Science Advances, assessed water scarcity on a monthly basis, more fully capturing the specific times of year when it could be an issue.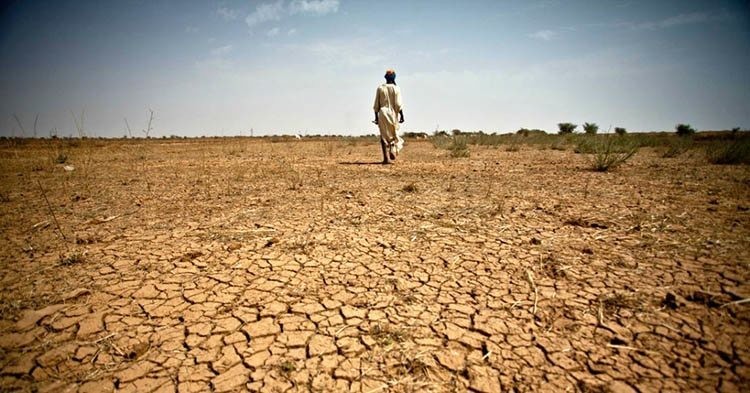 "Water scarcity has become a global problem affecting us all," study co-author Arjen Hoekstra, a professor of water management at the University of Twente in the Netherlands, said.
The study found that almost half of the 4 billion affected by severe water scarcity for a month or more are in India and China. Millions of others affected live in Bangladesh, Nigeria, Pakistan and Mexico.
The U.S. is far from immune to the problem, with 130 million people affected by water scarcity for at least one month a year, mostly in the states of Texas, California and Florida. And among the rivers the study notes that are fully or nearly depleted before reaching their end is the Colorado River in the West.
There are also half a billion people who face severe water scarcity year round, the analysis found.
From study:
"Direct victims of the overconsumption of water resources are the users themselves, who increasingly suffer from water shortages during droughts, resulting in reduced harvests and loss of income for farmers, threatening the livelihoods of whole communities. Businesses depending on water in their operations or supply chain also face increasing risks of water shortages. Other effects include biodiversity losses, low flows hampering navigation, land subsidence and salinization of soils and groundwater resources."
The study concludes that "[m]eeting humanity's increasing demand for freshwater and protecting ecosystems at the same time ... will be one of the most difficult and important challenges of this century."
The new publication follows a pair of NASA studies led by researchers from the University of California Irvine that showed that the impacts of global warming along with growing demand has caused the world's water supply to drop to dangerous levels.
"The water table is dropping all over the world," Jay Famiglietti, senior water scientist at NASA's Jet Propulsion Laboratory, said at the time. "There's not an infinite supply of water."
"We need to get our heads together on how we manage groundwater," Famiglietti added, "because we're running out of it."
YOU MIGHT ALSO LIKE 
150,000 Penguins Die After Huge Iceberg Blocks Route to Sea
Despite Supreme Court Decision, Clean Energy Revolution Continues to Grow
Supreme Court Deals Blow to EPA's Clean Power Plan, Obama Vows to Fight
Plus, learn if there's one that's best for your health.
Catherine Falls Commercial / Moment / Getty Images
An invasive Amynthas worm, also known as a crazy snake worm, Asian jumping worm and Alabama jumper Tom Potterfield / Flickr
By Jason Bittel
My wife and I built a house two years ago on a few acres of woodland outside of Pittsburgh. The backyard is full of maples, poplars, briars and common spicebush. Two-lined salamanders and grumpy-looking crayfish wade among the rocks in the small stream that runs down the edge of the property. Deer, raccoon and opossum tracks appear regularly in the snow and mud. Sometimes, my trail-cam even catches a pair of gray foxes as they slink through the night.
AleksandarNakic / Getty Images
By Kate Murphy
No matter the time of year, there's always a point in each season when my skin decides to cause me issues. While these skin issues can vary, I find the most common issues to be dryness, acne and redness.

David Woodfall / The Image Bank / Getty Images
By Sam Nickerson
The U.S. Environmental Protection Agency (EPA) in April 2018 proposed relaxing standards related to how it assesses the effects of exposure to low levels of toxic chemicals on public health.
Now, correspondence obtained by the LA Times revealed just how deeply involved industry lobbyists and a controversial, industry-funded toxicologist were in drafting the federal agency's proposal to scrap its current, protective approach to regulating toxin exposure.
Steve Irwin poses with a three foot long alligator at the San Francisco Zoo on June 26, 2002. Justin Sullivan / Getty Images
February 22 is the birthday of conservationist and beloved TV personality "Crocodile Hunter" Steve Irwin, who would have been 57 years old today.
Irwin's life was tragically cut short when the barb from a stingray went through his chest while he was filming in 2006, but his legacy of loving and protecting wildlife lives on, most recently in a Google Doodle today honoring his birthday.