This website uses cookies to ensure you get the best experience while browsing it. By clicking 'Got It' you're accepting these terms.


The best of EcoWatch, right in your inbox. Sign up for our email newsletter!
NASA: 4 Billion People at Risk as 'Water Table Dropping All Over the World'
Feb. 15, 2016 10:06AM EST
Health + Wellness
A new analysis reveals that global water scarcity is a far greater problem than previously thought, affecting 4 billion people—two-thirds of the world's population—and will be "one of the most difficult and important challenges of this century."
Previous analyses looked at water scarcity at an annual scale and had found that water scarcity affected between 1.7 and 3.1 billion people. The new study, published Friday in the journal Science Advances, assessed water scarcity on a monthly basis, more fully capturing the specific times of year when it could be an issue.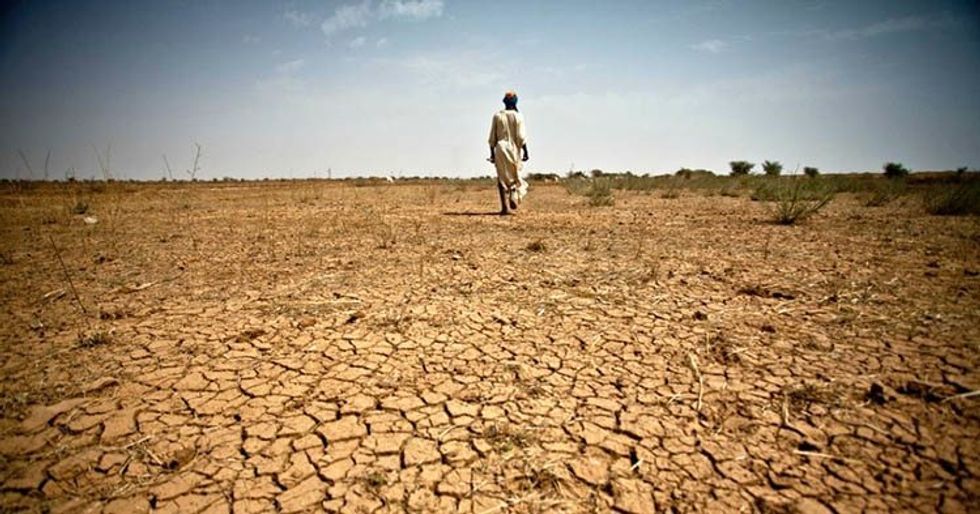 "Water scarcity has become a global problem affecting us all," study co-author Arjen Hoekstra, a professor of water management at the University of Twente in the Netherlands, said.
The study found that almost half of the 4 billion affected by severe water scarcity for a month or more are in India and China. Millions of others affected live in Bangladesh, Nigeria, Pakistan and Mexico.
The U.S. is far from immune to the problem, with 130 million people affected by water scarcity for at least one month a year, mostly in the states of Texas, California and Florida. And among the rivers the study notes that are fully or nearly depleted before reaching their end is the Colorado River in the West.
There are also half a billion people who face severe water scarcity year round, the analysis found.
From study:
"Direct victims of the overconsumption of water resources are the users themselves, who increasingly suffer from water shortages during droughts, resulting in reduced harvests and loss of income for farmers, threatening the livelihoods of whole communities. Businesses depending on water in their operations or supply chain also face increasing risks of water shortages. Other effects include biodiversity losses, low flows hampering navigation, land subsidence and salinization of soils and groundwater resources."
The study concludes that "[m]eeting humanity's increasing demand for freshwater and protecting ecosystems at the same time ... will be one of the most difficult and important challenges of this century."
The new publication follows a pair of NASA studies led by researchers from the University of California Irvine that showed that the impacts of global warming along with growing demand has caused the world's water supply to drop to dangerous levels.
"The water table is dropping all over the world," Jay Famiglietti, senior water scientist at NASA's Jet Propulsion Laboratory, said at the time. "There's not an infinite supply of water."
"We need to get our heads together on how we manage groundwater," Famiglietti added, "because we're running out of it."
YOU MIGHT ALSO LIKE 
150,000 Penguins Die After Huge Iceberg Blocks Route to Sea
Despite Supreme Court Decision, Clean Energy Revolution Continues to Grow
Supreme Court Deals Blow to EPA's Clean Power Plan, Obama Vows to Fight
EcoWatch Daily Newsletter
Pexels
Up to 20% of people may have a food addiction or exhibit addictive-like eating behavior.
Spiced hot chocolate. Lilechka75 / iStock / Getty Images
Food is the cornerstone of the holiday season. It brings friends and family together to share memories, cultural traditions, and great flavors.
Solar panels at the Renewable Hydrogen Fueling and Production Station on Joint Base Pearl Harbor-Hickam. U.S. Navy / Mass Communication Specialist 2nd Class Daniel Barker / Released
By Tara Lohan
Three years into the Trump administration, its anti-climate and anti-science agenda is well established. Despite dire warnings from the world's leading scientists about the threats from rising greenhouse gas emissions, the administration has stubbornly continued to deny climate change, obstructed and undermined efforts to curb it, and moved again and again to roll back existing regulations that help reduce emissions.
Pexels
Rye bread tends to have a darker color and stronger, earthier taste than regular white and wheat bread, which is one reason why many people enjoy it.
Elva Etienne / Moment / Getty Images
By Ketura Persellin
Gift-giving is filled with minefields, but the Environmental Working Group's (EWG) got your back, so you don't need to worry about inadvertently giving family members presents laden with toxic chemicals. With that in mind, here are our suggestions for gifts to give your family this season.