This website uses cookies to ensure you get the best experience while browsing it. By clicking 'Got It' you're accepting these terms.
NASA: 4 Billion People at Risk as 'Water Table Dropping All Over the World'
Feb. 15, 2016 10:06AM EST
Health + Wellness
A new analysis reveals that global water scarcity is a far greater problem than previously thought, affecting 4 billion people—two-thirds of the world's population—and will be "one of the most difficult and important challenges of this century."
Previous analyses looked at water scarcity at an annual scale and had found that water scarcity affected between 1.7 and 3.1 billion people. The new study, published Friday in the journal Science Advances, assessed water scarcity on a monthly basis, more fully capturing the specific times of year when it could be an issue.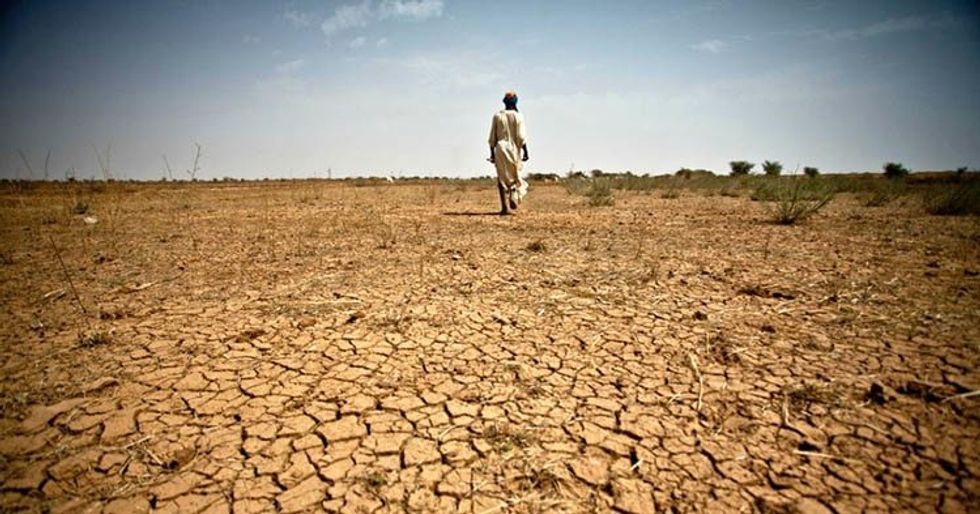 "Water scarcity has become a global problem affecting us all," study co-author Arjen Hoekstra, a professor of water management at the University of Twente in the Netherlands, said.
The study found that almost half of the 4 billion affected by severe water scarcity for a month or more are in India and China. Millions of others affected live in Bangladesh, Nigeria, Pakistan and Mexico.
The U.S. is far from immune to the problem, with 130 million people affected by water scarcity for at least one month a year, mostly in the states of Texas, California and Florida. And among the rivers the study notes that are fully or nearly depleted before reaching their end is the Colorado River in the West.
There are also half a billion people who face severe water scarcity year round, the analysis found.
From study:
"Direct victims of the overconsumption of water resources are the users themselves, who increasingly suffer from water shortages during droughts, resulting in reduced harvests and loss of income for farmers, threatening the livelihoods of whole communities. Businesses depending on water in their operations or supply chain also face increasing risks of water shortages. Other effects include biodiversity losses, low flows hampering navigation, land subsidence and salinization of soils and groundwater resources."
The study concludes that "[m]eeting humanity's increasing demand for freshwater and protecting ecosystems at the same time ... will be one of the most difficult and important challenges of this century."
The new publication follows a pair of NASA studies led by researchers from the University of California Irvine that showed that the impacts of global warming along with growing demand has caused the world's water supply to drop to dangerous levels.
"The water table is dropping all over the world," Jay Famiglietti, senior water scientist at NASA's Jet Propulsion Laboratory, said at the time. "There's not an infinite supply of water."
"We need to get our heads together on how we manage groundwater," Famiglietti added, "because we're running out of it."
YOU MIGHT ALSO LIKE 
150,000 Penguins Die After Huge Iceberg Blocks Route to Sea
Despite Supreme Court Decision, Clean Energy Revolution Continues to Grow
Supreme Court Deals Blow to EPA's Clean Power Plan, Obama Vows to Fight
EcoWatch Daily Newsletter
A First Nations protester walks in front of a train blockade in Tyendinaga, near Belleville, Ontario, Canada on Feb. 21, 2020. LARS HAGBERG / AFP via Getty Images
An indigenous rail blockade that snarled train travel in Canada for more than two weeks came to an end Monday when police moved in to clear protesters acting in solidarity with another indigenous community in British Columbia (B.C.), which is fighting to keep a natural gas pipeline off its land.
A rainbow snake, a rare reptile spotted in a Florida county for the first time in more than 50 years, seen here on July 5, 2013.
Kevin Enge / FWC Fish and Wildlife Research Institute / Flickr
A Florida hiker recently stumbled across a slithering surprise — a rare snake that hadn't been spotted in the area for more than 50 years.
We need our government to do everything it can to stop PFAS contamination and exposure from wreaking havoc in communities across the country. LuAnn Hun /
Unsplash
By Genna Reed
The EPA announced last week that it is issuing a preliminary regulatory determination for public comment to set an enforceable drinking water standard to two of the most common and well-studied PFAS, PFOA and PFOS.
This decision is based on three criteria:
PFOA and PFOS have an adverse effect on public health
PFOA and PFOS occur in drinking water often enough and at levels of public health concern;
regulation of PFOA and PFOS is a meaningful opportunity for reducing the health risk to those served by public water systems.
Charging EVs in Stockholm: But where does a dead battery go? Ranjithsiji / Wikimedia Commons
By Kieran Cooke
Driving an electric-powered vehicle (EV) rather than one reliant on fossil fuels is a key way to tackle climate change and improve air quality — but it does leave the old batteries behind as a nasty residue.
U.S. Secretary of the Treasure Steven Mnuchin arrives for a welcome dinner at the Murabba Palace in Riyadh, Saudi Arabia on Feb. 22, 2020 during the G20 finance ministers and central bank governors meeting. FAYEZ NURELDINE / AFP via Getty Images
Finance ministers from the 20 largest economies agreed to add a scant mention of the climate crisis in its final communiqué in Riyadh, Saudi Arabia on Sunday, but they stopped short of calling it a major economic risk, as Reuters reported. It was the first time the G20 has mentioned the climate crisis in its final communiqué since Donald Trump became president in 2017.