NASA: 4 Billion People at Risk as 'Water Table Dropping All Over the World'
A new analysis reveals that global water scarcity is a far greater problem than previously thought, affecting 4 billion people—two-thirds of the world's population—and will be "one of the most difficult and important challenges of this century."
Previous analyses looked at water scarcity at an annual scale and had found that water scarcity affected between 1.7 and 3.1 billion people. The new study, published Friday in the journal Science Advances, assessed water scarcity on a monthly basis, more fully capturing the specific times of year when it could be an issue.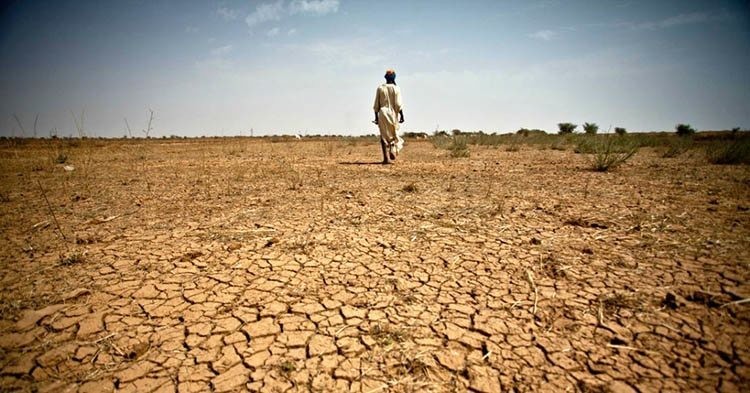 "Water scarcity has become a global problem affecting us all," study co-author Arjen Hoekstra, a professor of water management at the University of Twente in the Netherlands, said.
The study found that almost half of the 4 billion affected by severe water scarcity for a month or more are in India and China. Millions of others affected live in Bangladesh, Nigeria, Pakistan and Mexico.
The U.S. is far from immune to the problem, with 130 million people affected by water scarcity for at least one month a year, mostly in the states of Texas, California and Florida. And among the rivers the study notes that are fully or nearly depleted before reaching their end is the Colorado River in the West.
There are also half a billion people who face severe water scarcity year round, the analysis found.
From study:
"Direct victims of the overconsumption of water resources are the users themselves, who increasingly suffer from water shortages during droughts, resulting in reduced harvests and loss of income for farmers, threatening the livelihoods of whole communities. Businesses depending on water in their operations or supply chain also face increasing risks of water shortages. Other effects include biodiversity losses, low flows hampering navigation, land subsidence and salinization of soils and groundwater resources."
The study concludes that "[m]eeting humanity's increasing demand for freshwater and protecting ecosystems at the same time ... will be one of the most difficult and important challenges of this century."
The new publication follows a pair of NASA studies led by researchers from the University of California Irvine that showed that the impacts of global warming along with growing demand has caused the world's water supply to drop to dangerous levels.
"The water table is dropping all over the world," Jay Famiglietti, senior water scientist at NASA's Jet Propulsion Laboratory, said at the time. "There's not an infinite supply of water."
"We need to get our heads together on how we manage groundwater," Famiglietti added, "because we're running out of it."
YOU MIGHT ALSO LIKE 
150,000 Penguins Die After Huge Iceberg Blocks Route to Sea
Despite Supreme Court Decision, Clean Energy Revolution Continues to Grow
Supreme Court Deals Blow to EPA's Clean Power Plan, Obama Vows to Fight
A coalition of conservation groups and others announced Thursday that a historic number of comments and petitions of support have been submitted to the U.S. Department of the Interior in support of Bears Ears National Monument. Despite the entirely inadequate 15-day comment period ending on May 26, more than 685,000 comments in support of Bears Ears National Monument have been collected.
Keep reading...
Show less
Rink Glacier in western Greenland, with a meltwater lake visible center. NASA/OIB
Scientists have had their eyes on Greenland as its iconic glaciers have begun disappearing due to a warming climate. But, what they didn't expect to see was a whole new type of melting.
Keep reading...
Show less
Mountain View Fire
By Lena Moffitt
An oil tanker in Mead, Colorado exploded, killing one and injuring three on Thursday. Authorities are continuing to investigate the cause of the explosion.
Keep reading...
Show less
Banner created by Alliance for Climate Education
Keep reading...
Show less
Twenty-two GOP senators sent a letter Thursday urging Donald Trump to pull out of the Paris agreement. They argued remaining in the deal could "upend" the administration's ability "to fulfill its goal of rescinding the Clean Power Plan."
Keep reading...
Show less
By Cheryl Johncox
The Federal Energy Regulatory Commission (FERC) rejected on Thursday Energy Transfer Partners' request to resume horizontal directional drilling at two sites for its Rover fracked gas pipeline. This rejection comes after numerous leaks into Ohio's wetlands, and Clean Air and Clean Water act violations. FERC has halted the process at only eight locations of the 32 where drilling is taking place under Ohio's wetlands and streams.
Keep reading...
Show less
By Nadia Prupis
A majority of people in eight countries say they are ready to change their lifestyles if it would prevent climate catastrophe, a survey on global threats released Wednesday found.
Keep reading...
Show less
May. 25, 2017 01:55PM EST
Bill Maher is sick of billionaires' obsession with Mars, more like "Mars-a-Lago," he said.
In a new animation produced by ATTN:, the popular talk show host of Real Time, discusses the perils of our planet, including how "climate change is killing us."
Keep reading...
Show less