Naomi Klein: 'Toxic Ideology of Market Fundamentalism' Is to Blame for the 'Degradation of the Planetary System'
Sep. 08, 2015 03:09PM EST
Climate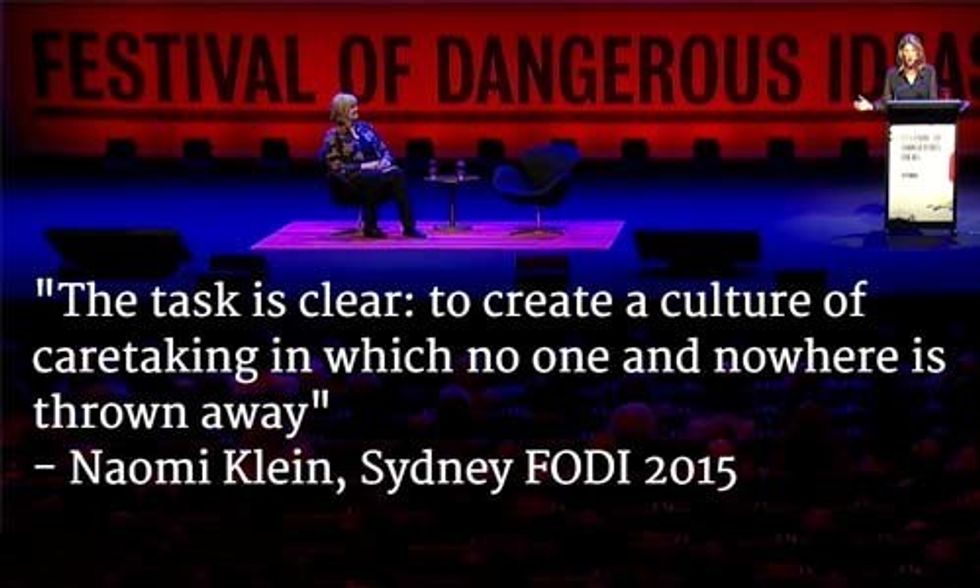 Naomi Klein, author of the critically acclaimed book, This Changes Everything: Capitalism vs. the Climate, spoke at the Festival of Dangerous Ideas in Sydney, Australia last weekend. The annual event "brings leading thinkers and culture creators from around the world to the Sydney Opera House stages and online to discuss and debate the important ideas of our time."
video now out - Naomi Klein at Festival of Dangerous Ideas http://t.co/gOXRfcKE5P @NaomiAKlein @IdeasattheHouse #FODI pic.twitter.com/NmVLZnpdW2

— Will Rayward-Smith (@willr_s) September 6, 2015
Klein's most recent book argues that the climate crisis cannot be addressed without fundamentally changing our current economic system. Since her book was published, Klein has become a fierce advocate for action on climate change. Last month, she criticized her own Canadian government and the Australian government for "destroying the planet," calling Australian Prime Minister Tony Abbott a climate change "villain." In July, she spoke at a Vatican conference, People and Planet First: the Imperative to Change Course. She even made an appearance on The Colbert Report with Stephen Colbert last fall.
At the festival this past weekend, she spoke of the continued urgency of the climate crisis. She focuses in on the refugee crisis, which she says will only get worse with climate change, citing the research that linked the Syrian conflict to a drought made worse by climate change. She references Alan Kurdi (initially reported as Aylan), the 3-year old Syrian boy who washed up dead on a Turkish beach, who, Klein says, "has become the tragic symbol of this moral crisis."
Klein says:
We tell ourselves that perhaps migrants from conflict zones are dangerous to us—whether because they will steal our jobs or because they will blow us up. But really, we are part of a system doing the same thing—the same old thing—denying the full humanity of others and with that humanity their full human rights, refusing to share our wealth ill-gotten as it may be. This week, Canadians have been confronted with the unbearable truth that Alan Kurdi, the three-year-old boy whose tiny drowned body has become the tragic symbol of this moral crisis should by all rights be living safely in Vancouver right now. Instead, he, his brother and his mother all died off the Turkish coast. Alan's aunt had been trying to sponsor members of her family to come as refugees, but the increasingly hostile bureaucratic process ... failed her and failed her family. Desperate and with Canada unwelcoming, the family decided to trust their fates to that precarious plastic boat and those fake life jackets.
Klein explains that the refugee crisis, the austerity measures in Greece and "the degradation of the planetary system on which all of life depends" are all linked. "The same forces, the same logic, are behind all of these attacks on life" ... it's a "toxic ideology of market fundamentalism."
Watch Klein discuss more of her "dangerous" ideas here:
YOU MIGHT ALSO LIKE
Paul McCartney, Jon Bon Jovi, Sheryl Crow and More Call for Action on Climate Change in 'Love Song to the Earth'
Bonn Climate Talks Fail to Deliver Common Grounds Undermining Hopes of Meaningful Deal in Paris
EcoWatch Daily Newsletter