My Toxic Couch
Have you ever wondered what chemicals might lurk in your couch? I did and so I decided to participate in a study, published yesterday, which analyzed what kinds of flame retardant chemicals are being used in upholstered furniture. I cut out a one inch square from one of the cushions of my still relatively new couch, wrapped it in foil and then bagged it into a Ziploc before sending it off. I wasn't sure what would be found, crossed my fingers and hoped for the best. 
Now I know—and the news isn't good. 
The foam in my couch contains the toxic flame retardant chemical, chlorinated Tris. And it isn't just a small amount, because my couch is relatively big and has a lot of cushions. I have more than a pound, of this cancer-causing chemical in my living room. More than 35 years ago, chlorinated Tris was banned from kid's pajamas because it was linked to cancer. Now it is in my couch, likely in my house dust, and in my body and in everyone in my family.
My couch wasn't the only one. Out of 102 couches, the study found 85 percent contained toxic or untested flame retardants in the foam and all couches from California, except one purchased in 1989, contained measurable levels of at least one flame retardant chemical.
Chlorinated Tris, the chemical in my couch, was the most frequently found flame retardant chemical in the couches tested. Since the 1970s, chlorinated Tris has been recognized as a mutagen which damages DNA and can cause cancer. Chlorinated Tris is now listed under California's Prop 65 as a carcinogen.  As of October 2012, any products containing this chemical have to carry a warning label. In other words, if I was buying my couch today, it would likely carry a warning that looks like this: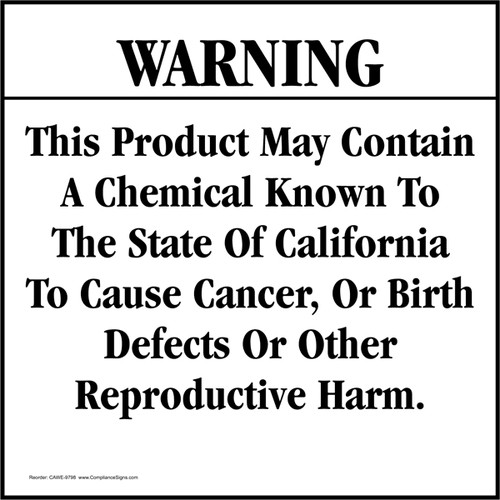 Would you buy a couch with this label? I surely wouldn't have if I knew then what I know now.
The second most commonly detected flame retardant chemical in this study was pentaBDE, which is recognized as a hormone disrupting chemical that interferes with development of the brain and nervous system and interferes with reproduction. Exposure to this chemical is associated with human health effects like delayed physical development, lower IQ, poorer attention, longer time to pregnancy and altered levels of sex hormones. PentaBDE was phased out of use in the U.S. in 2005, but because we hold onto our furniture for many years, many of couches with this chemical are still being used in American households. And PentaBDE is very persistent, so long after the exposure has ended, the chemical can remain in the body.
The third most frequently detected chemical was a proprietary mixture with the trade name of FireMaster 550. This mixture of chemicals appears to be the latest replacement flame retardant chemical in furniture with increasing use in furniture. FireMaster 550 has not been thoroughly tested but there are a number of concerns about it. One of the ingredients is a brominated form of the phthalate, DEHP, which is a well-recognized hormone disrupting chemical that has been shown to cause genital birth defects and cancer in laboratory animals. A recent study of FM 550 showed that small doses triggered obesity, anxiety and developmental problems in baby rats.
How did a chemical banned in pajamas get in my couch?
Unfortunately, it was only banned from pajamas and no other use. Under the current law, it is perfectly legal for this chemical to be in my couch. In the U.S., chemicals are presumed to be safe until found harmful, and the U.S. Environmental Protection Agency has little power to ban even notoriously deadly chemicals like asbestos. The reason toxic chemicals, like chlorinated Tris, have been allowed to remain on the market thirty years after they were recognized as carcinogens is also because of the failing of TSCA.
New legislation, the Safe Chemicals Act, would update and reform the Toxic Substances Control Act (TSCA) of 1976 and has been introduced by Senator Lautenberg of New Jersey. The proposed legislation being considered will give EPA more power to regulate the use of dangerous chemicals, including flame retardants.  
Why are Californian's couches the most polluted?
California has a unique flammability standard, TB 117, which applies to all upholstered furniture sold in the state. Couches sold in California, often contain a label that looks like this: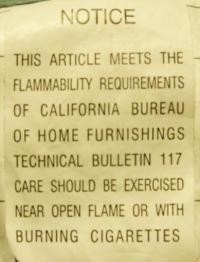 TB 117 is a performance standard which requires that the foam material withstand an open flame for 12 seconds. Although the standard doesn't require the use of chemicals, the cheapest way to meet it has been to saturate furniture foam with toxic flame retardant chemicals. Millions of pounds of toxic chemicals are used for just this purpose, every year.  And because couches aren't just made for California, flame retardants were found in nearly all of the couches tested.
The trouble is—as well-intentioned as the standard may be—it has never been proven to be effective and as a recent hard hitting investigative series by the Chicago Tribune revealed, the flame retardant chemical industry worked with the tobacco industry to use deception, lots of money and lies to perpetuate the myth of the efficacy of these chemicals. Improved building codes requiring smoke detectors and water sprinklers, self-extinguishing cigarettes, and overall decreased rates of smoking have had a much bigger impact on the fewer number of fires and fire deaths observed over the past few decades.   
The study found that more than 90 percent of couches purchased outside California during the last 7 years contained flame retardants, whether or not they carried a TB 117 label. Nearly two-thirds of couches that didn't have the TB 117 label were still found to contain toxic or untested flame retardant chemicals. Demonstrating for the first time that we cannot rely on the presence or absence of a TB117 label to tell us if our couch is safe.
The good news is that California is taking steps to update the antiquated TB117 standard that is driving flame retardant use in furniture across the country. Despite past heavy lobbying by chemical producers to preserve TB117, Governor Jerry Brown has called for revisions to the standard that would improve fire safety without toxic flame retardants. If changes are successfully made, it may be possible to buy safe, non-toxic furniture by next summer.
We know that flame retardants don't stay put in our couches but migrate out and attach to our house dust which we either inhale or ingest. Another study published this week found more than forty flame retardant chemicals in California household dust, with the most frequently found being—you guessed it—chlorinated Tris.
So while we wait for the new furniture regulations to be put in place, we can reduce our exposure to these chemicals by reducing our dust exposure.
Vacuum often (with an HEPA filter) and wet-mop to reduce build-up of dust in your home.
Dust with a damp cloth or a microfiber cloth to avoid kicking up dust particles in the air as you work. For example, don't use a feather duster as this only releases dust particles into the air.
Wash hands frequently, (with plain soap and water!) as hand-to-mouth contact with dust is a major pathway for exposure.
And as for me, no more eating on the couch!
Laurie Woolever
By James O'Hare
There are 20 million people in the world facing famine in South Sudan, Somalia, Nigeria and Yemen. In developed nations, too, people go hungry. Venezuela, for instance, is enduring food insecurity on a national level as a result of economic crisis and political corruption. In the U.S., the land of supposed excess, 12.7 percent of households were food insecure in 2015, meaning they didn't know where their next meal would come from.
Keep reading...
Show less
Melwater, Greenland ice sheet. Diane Tuft
Artists are taking the climate crisis into frame and the results are emotional, beautiful and stirring.
So you've seen the best climate change cartoons and shared them with your friends. You've showed your family the infographics on climate change and health, infographics on how the grid works and infographics about clean, renewable energy. You've even forwarded these official National Oceanic and Atmospheric Administration graphs that explain the 10 clear indicators of climate change to your colleagues at the office.
Keep reading...
Show less
May. 27, 2017 01:11PM EST
As the Trump administration moves full speed ahead on boosting the oil and fossil fuel industry, opposition to increased pipeline construction is cropping up in different communities around the country.
Keep reading...
Show less
May. 27, 2017 01:02PM EST
Minke whale stranding near Havergate Island in Suffolk. MCGA.
By Simon Evans
Last Saturday, two dead whales washed up on the coast of Suffolk, in eastern England, and a third was spotted floating at sea.
What happened next illustrates how news can spread and evolve into misinformation, when reported by journalists rushing to publish before confirming basic facts or sourcing their own quotes.
Keep reading...
Show less
May. 27, 2017 01:22PM EST
By Monica Amarelo and Paul Pestano
Sun safety is a crucial part of any outdoor activity for kids, and sunscreen can help protect children's skin from harmful ultraviolet rays. Kids often get sunburned when they're outside unprotected for longer than expected. Parents need to plan ahead and keep sun protection handy in their cars or bags.
Keep reading...
Show less
May. 27, 2017 01:02PM EST
By Joe McCarthy
A lot of people take part in community clean-up efforts—spending a Saturday morning picking up litter in a park, mowing an overgrown field or painting a fence.
Keep reading...
Show less
May. 26, 2017 03:22PM EST
Rink Glacier in western Greenland, with a meltwater lake visible center. NASA/OIB
Scientists have had their eyes on Greenland as its iconic glaciers have begun disappearing due to a warming climate. But, what they didn't expect to see was a whole new type of melting.
Keep reading...
Show less
May. 26, 2017 03:40PM EST
A coalition of conservation groups and others announced Thursday that a historic number of comments and petitions of support have been submitted to the U.S. Department of the Interior in support of Bears Ears National Monument. Despite the entirely inadequate 15-day comment period ending on May 26, more than 685,000 comments in support of Bears Ears National Monument have been collected.
Keep reading...
Show less


Get EcoWatch in your inbox