Must-See Video: Ohio Rep. Bows to Economic Wonders of Coal and Fracking
Aug. 22, 2014 02:55PM EST
Energy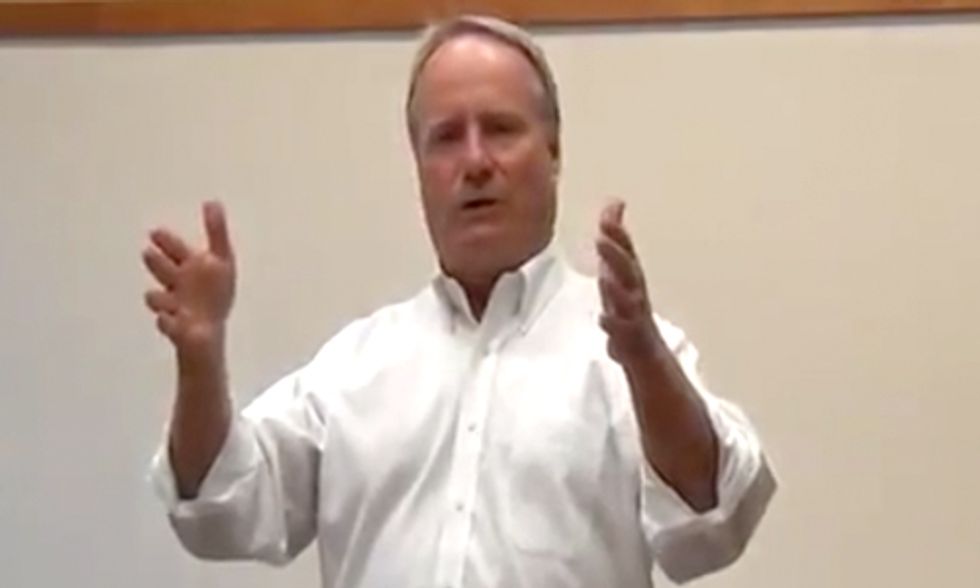 It always pays to keep an eye—and a video camera—on congresspersons and candidates like David Joyce, a freshman Republican from Ohio's 14th district in the northeast corner of the state. It's a swing district which until January 2011 was represented by Steve LaTourette, who maintained his popularity and landslide victories by presenting a moderate face.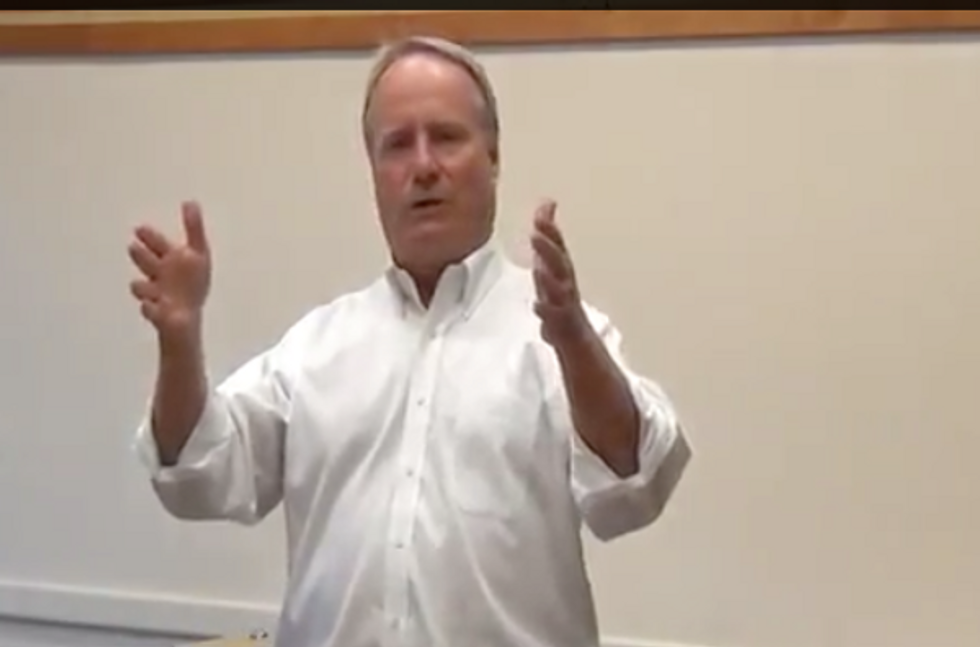 So Joyce has to do some fancy footwork to stay in office, veering right to defeat a Tea Party primary challenger in May and trying to appear to move to the center for the general election. That means he's probably not going to be too happy with this video footage, shot by citizens this past week at the Geauga West Library in Chester Township, in which he sings a full-throated ode to the economic wonders of coal and fracking.
It shows him saying "How can we change things? First thing we can do right now, we need to drill, we need to drill fast, we can ship now from the north coast of Ohio directly to Europe. Beautiful day!"
He continues:
We all want clean air, we all want clean water, but guess who's buying coal—China, India. No restrictions—they're burning it. My daughter was over there, she was in China, she was in Vietnam. In Vietnam it was crystal clear; her pictures in China looked like she was shooting them through a gray screen because of the smog. We should be selling them our technology and how to use it in a clean way, and selling them our coal.
He appears to be saying that as long as we make a profit here and send the pollution to other countries, we're all good. But it's unclear how he relates selling our coal to clean technology or what technology he is referring to.
He also threatens darkly:
The problem we have is, what this president has done is, a plant in Eastlake and a plant in Ashtabula [two cities in his district] are down, they're not coming back, they're not going to be coal-fired. If he continues to do this with coal-fired ... we were at 98% capacity last year with the winter ... guess what's going to start happening as more of these coal-powered go offline. They're going to start rolling brownouts. They're not going to brown out schools, they're not going to brown out hospitals, they're going to brown out manufacturing, and people are going to lose their jobs.
Joyce also declared flatly to a meeting of local chambers of commerce this week that it is essential to approve the Keystone XL Pipeline immediately, and he has consistently voted and spoken in favor of that. He received a lifetime/2013 score of 7 percent from the League of Conservation Voters.
Joyce is opposed by Democrat Michael Wager who says on his campaign site "What matters to Michael: investing in clean, sustainable energy."
Watch the video here:
YOU ALSO MIGHT LIKE
China Coal Cap Could Strand Assets Around the World
Oregon Rejects Key Permit for Coal Export Terminal
EcoWatch Daily Newsletter
Related Articles from EcoWatch