This website uses cookies to ensure you get the best experience while browsing it. By clicking 'Got It' you're accepting these terms.
Must-See: Obama's Key and Peele Skit at White House Correspondents' Dinner
Apr. 27, 2015 11:04AM EST
Climate
The annual White House Correspondents Dinner offers the President of the U.S. the opportunity to get in a few digs at his adversaries in the press as well as his political opponents—all in good fun, of course. But often, there's some real emotion behind the jesting, and so it was when President Obama spoke at the formal dinner which attracts the Washington elite as well as an increasing number of Hollywood celebrities.
After joking about the upcoming presidential primaries, saying things like "I for one can't wait to see who the Koch Brothers pick. Who will get that red rose?" Obama, famously known for his even-keel professorial manner of speaking, brought on his "Luther, the anger translator," played by actor Keegan-Michael Key to play his "id," saying things the unruffled Obama never would. [starts at 14:15]
"We do need to stay focused on some big challenges, like climate change," said Obama as his presentation drew to a close.
"Hey listen y'all, if you haven't noticed, California is bone-dry," Key rejoindered, as Obama appeared to ignore him. "It look like a trailer for the new Mad Max movie up in there. Y'all think Bradley Cooper came here because he wants to talk to Chuck Todd? He needed a glass of water!"
"The science is clear," Obama continued calmly. "Nine out of the 10 hottest years ever came in the last decade."
"I'm no scientist but I do know how to count to ten," his alter-ego shouted.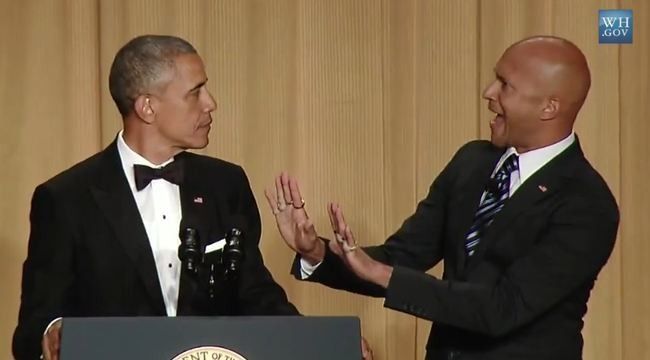 But the President's own intensity rose as he continued to talk about climate change. "Look what's happening right now," he said. "Every serious scientist says we need to act. The Pentagon says it's a national security risk. Miami floods on a sunny day and instead of doing anything about it, we've got elected officials throwing snowballs in the Senate!"
"Luther" starts to express alarm as Obama drops his cool and starts yelling, "What about the kids? What kind of short-sighted, irresponsible ..."  Finally says that as far as climate change goes, "With all due respect, sir, you don't need an anger translator—you need counseling," as he backs off the stage.
Watch the President get emotional about climate change in the video.
YOU MIGHT ALSO LIKE
Obama Says 'Climate Change Can No Longer Be Ignored' as Jeb Bush Admits He's 'Concerned'
Obama Signs Executive Order to Cut Government Greenhouse Gas Emissions by 40 Percent
Obama: No Challenge Poses a Greater Threat Than Climate Change
EcoWatch Daily Newsletter
Smog over Los Angeles. Westend61 / Getty Images
After four decades of improving air quality, the U.S. has started to take a step backwards, as the number of polluted days has ticked upwards over the last two years, the Associated Press reported.
Photobos / iStock / Getty Images
Governors in Vermont and Maine signed bills on Monday that will ban plastic bags in their states next year, The Hill reported.
The Maine ban will go into effect next Earth Day, April 22, 2020. The Vermont ban, which extends beyond plastic bags and is the most comprehensive plastics ban so far, will go into effect in July 2020. The wait time is designed to give businesses time to adjust to the ban.
picture-alliance / AP Images / D. Goldman
By Daniel Moattar
Eastern Kentucky's hills are interrupted by jarring flats of bare rock: the aftermath of mountaintop removal mining, which uses explosives to destroy and harvest coal-rich peaks.
By Molly Taft
Lisa Marshall isn't your typical activist. For one thing, she's not into crowds. "I don't really like rallies," Marshall, a mom of three from upstate New York, said. "They're a little stressful — not my favorite thing."

An oil drilling site in a residential area of Los Angeles, California on July 16, 2014.
Faces of Fracking / Flickr
By Jake Johnson
A comprehensive analysis of nearly 1,500 scientific studies, government reports, and media stories on the consequences of fracking released Wednesday found that the evidence overwhelmingly shows the drilling method poses a profound threat to public health and the climate.

sonsam / iStock / Getty Images
By Grace Francese
A new Environmental Working Group (EWG) study published in Environmental Research found that nitrate, one of the most common contaminants of drinking water, may cause up to 12,594 cases of cancer per year, but that's not its only danger: It can pose unique health risks to children.
Melt water from Everest's Khumbu glacier. Ed Giles / Getty Images
EPA Administrator Andrew Wheeler signs his replacement for the Clean Power Plan. Win McNamee / Getty Images