This website uses cookies to ensure you get the best experience while browsing it. By clicking 'Got It' you're accepting these terms.
Must-See: Obama's Key and Peele Skit at White House Correspondents' Dinner
Apr. 27, 2015 11:04AM EST
Climate
The annual White House Correspondents Dinner offers the President of the U.S. the opportunity to get in a few digs at his adversaries in the press as well as his political opponents—all in good fun, of course. But often, there's some real emotion behind the jesting, and so it was when President Obama spoke at the formal dinner which attracts the Washington elite as well as an increasing number of Hollywood celebrities.
After joking about the upcoming presidential primaries, saying things like "I for one can't wait to see who the Koch Brothers pick. Who will get that red rose?" Obama, famously known for his even-keel professorial manner of speaking, brought on his "Luther, the anger translator," played by actor Keegan-Michael Key to play his "id," saying things the unruffled Obama never would. [starts at 14:15]
"We do need to stay focused on some big challenges, like climate change," said Obama as his presentation drew to a close.
"Hey listen y'all, if you haven't noticed, California is bone-dry," Key rejoindered, as Obama appeared to ignore him. "It look like a trailer for the new Mad Max movie up in there. Y'all think Bradley Cooper came here because he wants to talk to Chuck Todd? He needed a glass of water!"
"The science is clear," Obama continued calmly. "Nine out of the 10 hottest years ever came in the last decade."
"I'm no scientist but I do know how to count to ten," his alter-ego shouted.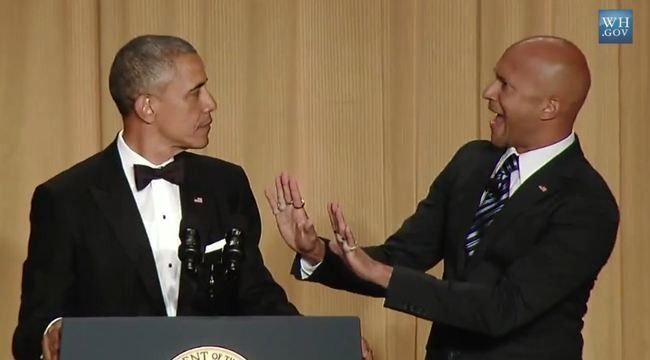 But the President's own intensity rose as he continued to talk about climate change. "Look what's happening right now," he said. "Every serious scientist says we need to act. The Pentagon says it's a national security risk. Miami floods on a sunny day and instead of doing anything about it, we've got elected officials throwing snowballs in the Senate!"
"Luther" starts to express alarm as Obama drops his cool and starts yelling, "What about the kids? What kind of short-sighted, irresponsible ..."  Finally says that as far as climate change goes, "With all due respect, sir, you don't need an anger translator—you need counseling," as he backs off the stage.
Watch the President get emotional about climate change in the video.
YOU MIGHT ALSO LIKE
Obama Says 'Climate Change Can No Longer Be Ignored' as Jeb Bush Admits He's 'Concerned'
Obama Signs Executive Order to Cut Government Greenhouse Gas Emissions by 40 Percent
Obama: No Challenge Poses a Greater Threat Than Climate Change
EcoWatch Daily Newsletter
A. Battenburg / Technical University of Munich
By Sarah Kennedy
Algae in a pond may look flimsy. But scientists are using algae to develop industrial-strength material that's as hard as steel but only a fraction of the weight.
Variety of fermented food korean traditional kimchi cabbage and radish salad. white and red sauerkraut in ceramic plates over grey spotted background. Natasha Breen / REDA&CO / Universal Images Group / Getty Image
Even if you've never taken probiotics, you've probably heard of them.
These supplements provide numerous benefits because they contain live microorganisms, such as bacteria or yeast, which support the healthy bacteria in your gut (1, 2, 3, 4).
Pexels
Singapore will become the first country in the world to place a ban on advertisements for carbonated drinks and juices with high sugar contents, its health ministry announced last week. The law is intended to curb sugar consumption since the country has some of the world's highest diabetes rates per capita, as Reuters reported.
A typical adult takes around 20,000 breaths per day. If you live in a megacity like Beijing, with many of those lungfuls you're likely to inhale a noxious mixture of chemicals and pollutants.
Fred Stone holds his brown swiss cow Lida Rose at his Arundel dairy farm on March 18 after a press conference where he spoke about PFAS chemical contamination in his fields. Gregory Rec / Portland Portland Press Herald via Getty Images
By Susan Cosier
First there was Fred Stone, the third-generation dairy farmer in Maine who discovered that the milk from his cows contained harmful chemicals. Then came Art Schaap, a second-generation dairy farmer in New Mexico, who had to dump 15,000 gallons of contaminated milk a day.
Protesters attend the 32nd annual Fur-Free Friday demonstration on Nov. 23, 2018 in Beverly Hills, California. Ella DeGea / Getty Images
California Governor Gavin Newsom signed into law a bill that that bans the sale and manufacture of fur products in the state. The fur ban, which he signed into law on Saturday, prohibits Californians from selling or making clothing, shoes or handbags with fur starting in 2023, according to the AP.
By Simon Evans
During the three months of July, August and September, renewables generated an estimated total of 29.5 terawatt hours (TWh), compared with just 29.1TWh from fossil fuels, the analysis shows.
A demonstrator waves an Ecuadorian flag during protests against the end of subsidies to gasoline and diesel on Oct. 9 in Quito, Ecuador. Jorge Ivan Castaneira Jaramillo / Getty Images