This website uses cookies to ensure you get the best experience while browsing it. By clicking 'Got It' you're accepting these terms.
Must See Documentary: TRASHED
Jan. 23, 2013 05:05PM EST
Climate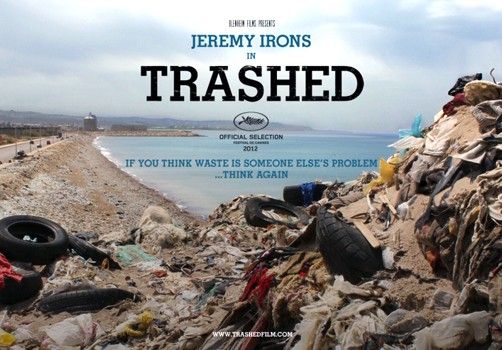 is a documentary featuring its executive producer, actor Jeremy Irons. It examines the encroaching problem of global waste.
Director Candida Brady, who describes herself as a childhood asthmatic and a concerned mother, builds a trajectory that illustrates the impact of waste on land, air and water. We see how marine life is impacted after ingesting toxins from billions of plastic items that do not breakdown after being discarded. Humans, in turn, eat the fish—retaining these contaminants in their systems.
Landfill and incineration emissions accelerate global warming. Referencing the philosophy of Barry Commoner, one expert notes that 150 years ago, waste was comprised of natural elements like wool, paper and wood. Nature was able to break them down. Now, we are left with poisons that get into the food chain. Incinerators spew bottom ash and fly ash. The Arctic is revealed as one of the most polluted places on earth. Iceland has been criticized by its neighbors for being lax with their incinerator standards. It is with justified consternation that Irons observes, "We are at the tipping point."
Featured is an assessment of the effects of dioxins and how they are transmitted from a mother to her fetus. It takes six generations before toxins are eliminated from the human system. Perhaps the most devastating sequence shows images of the dire ramifications of Agent Orange—sprayed on the South Vietnamese landscape by the U.S. military. The population has suffered ongoing birth defects.
Watch the trailer to learn more:
I reached out to Brady with questions about the documentary:
Why did you get involved in this project?
My interest in waste as an issue was cumulative. It happened over a long period of time and for many reasons—from being influenced by my grandparents' generation who made everything last, nothing was wasted—to looking into incineration and its effects on communities, ultimately learning about the staggering amount of rubbish in the North Pacific gyre and the work of Captain Charles Moore.
Can you speak to how the effects of having asthma as a child and being a mother have impacted your concern with the issue of global waste?
I think anyone who has spent time battling to regain good health can not help but be profoundly affected by it. When I was a child, my parents were told by one specialist I would be lucky to make it to being a teenager [because] my asthma was so chronic. My father often had to carry me from my bed to the bathroom, and I was a regular at Hospital A & E. I wanted to do everything I could to prevent my children [from] having the kind of experiences I have had. I have said this before, but I am shocked by the amount of kids who now have asthma. I knew one other kid who had asthma when I was growing up.

Like the thousands of scientists, including Nobel Prize winners who signed the Paris Appeal—an international statement on the dangers and effects of chemical pollution—along with hundreds of thousands of other signatories, I am also shocked by the rise in autism and cancer. I see families struggling to cope with so many different health issues, ones that I never encountered growing up. The experts say that we need to address the causes of these illnesses, not just try and belatedly find cures.
You include simple steps to change the trash equation. Do you think a bottom up shift in attitudes can be achieved?
Yes. I completely believe in a bottom up shift, I think we underestimate the power we have as communities and consumers. We all have the power to say, "NO." Grassroots, zero waste, [and] recycling organizations all over the world have been leading the way for years, defeating plans for new incinerators and landfills and so on—showing us how we can all change. People on the ground can also empower the politicians. There are many significant changes happening all over the world. Concord, Massachusetts has just banned the sale of bottled water in units smaller than one liter to reduce waste. Ireland has had tremendous success by not banning plastic bags, but by taxing them instead. Within weeks, bag use had fallen by 95 percent. Encouraging shoppers to provide their own bags, rather than offering them alternatives, makes disposable bags in any form a thing of the past.
At the screening I attended, where Irons was present, he clarified how he wanted to go beyond the problem … to the solution. He hopes the information the film imparts will be an impetus for change on an individual level. He is showing Trashed to legislators in Washington in February. "I think we can change habits," he said. "It's just a mental attitude." He pointed to the fact that New York City recycles only 15 percent of its trash, while San Francisco just reached the 80 percent mark. The key mantra for Irons was, "If each of us does something small … "
Visit EcoWatch's BIODIVERSITY page for more related news on this topic.
EcoWatch Daily Newsletter
Sen. Michael Bennet (D-CO) speaks during the North American Building Trades Unions Conference at the Washington Hilton April 10, 2019 in Washington, DC. Zach Gibson / Getty Images
Colorado senator and 2020 hopeful Michael Bennet introduced his plan to combat climate change Monday, in the first major policy rollout of his campaign. Bennet's plan calls for the establishment of a "Climate Bank," using $1 trillion in federal spending to "catalyze" $10 trillion in private spending for the U.S. to transition entirely to net-zero emissions by 2050.
When Trump's Environmental Protection Agency (EPA) announced its replacement for the Obama-era Clean Power Plan in August 2018, its own estimates said the reduced regulations could lead to 1,400 early deaths a year from air pollution by 2030.
Now, the EPA wants to change the way it calculates the risks posed by particulate matter pollution, using a model that would lower the death toll from the new plan, The New York Times reported Monday. Five current or former EPA officials familiar with the plan told The Times that the new method would assume there is no significant health gain by lowering air pollution levels below the legal limit. However, many public health experts say that there is no safe level of particulate matter exposure, which has long been linked to heart and lung disease.
A crate carrying one of the 33 lions rescued from circuses in Peru and Columbia is lifted onto the back of a lorry before being transported to a private reserve on April 30, 2016 in Johannesburg, South Africa. Dan Kitwood / Getty Images
By Andrea Germanos
Animal welfare advocates are praising soon-to-be introduced legislation in the U.S. that would ban the use of wild animals in traveling circuses.
A tornado Monday in Union City, Oklahoma.
TicToc by Bloomberg / YouTube screenshot
A woman walks in front of her water-logged home in Sriwulan village, Sayung sub-district of Demak regency, Central Java, Indonesia on Feb. 2, 2018. Siswono Toyudho / Anadolu Agency /Getty Images
Matt Cardy / Stringer / Getty Images
The Guardian is changing the way it writes about environmental issues.
Blueberry yogurt bark. SEE D JAN / iStock / Getty Images Plus
Having nutritious snacks to eat during the workday can help you stay energized and productive.

A 2017 flood in Elk Grove, California. Florence Low / California Department of Water Resources
By Tara Lohan
It's been the wettest 12 months on record in the continental United States. Parts of the High Plains and Midwest are still reeling from deadly, destructive and expensive spring floods — some of which have lasted for three months.
Mounting bills from natural disasters like these have prompted renewed calls to reform the National Flood Insurance Program, which is managed by Federal Emergency Management Agency and is now $20 billion in debt.