This website uses cookies to ensure you get the best experience while browsing it. By clicking 'Got It' you're accepting these terms.
MUST READ: Bill McKibben's 'Global Warming's Terrifying New Math'
Jul. 21, 2012 11:18AM EST
Climate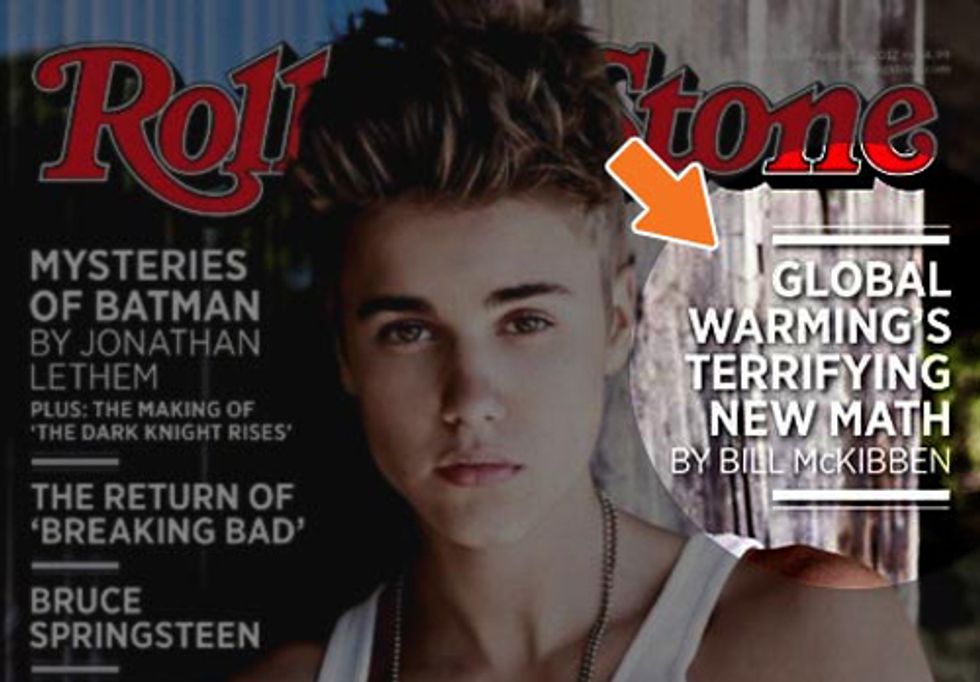 I've know for days that Bill McKibben, founder of 350.org, wrote a new feature piece for Rolling Stone Magazine, but it wasn't until this morning that I took the time to read it.
Once again McKibben, inGlobal Warming's Terrifying New Math, outlines the daunting reality of climate change and global warming. I'm not going to rehash the article, as I think it's vital you read it yourself, but I do want to point out one insight from the piece that I found critically important.
In a piece I wrote last week about a petition EcoWatch launched telling Congress to expedite renewable energy, I mentioned that it's money in politics that's preventing our democratic society from moving beyond fossil fuels. Though that's true, McKibben points out an even more obvious problem preventing the world from reducing its carbon emissions. He writes,
"We have five times as much oil and coal and gas on the books as climate scientists think is safe to burn. We'd have to keep 80 percent of those reserves locked away underground to avoid that fate. Before we knew those numbers, our fate had been likely. Now, barring some massive intervention, it seems certain.
Yes, this coal and gas and oil is still technically in the soil. But it's already economically aboveground – it's figured into share prices, companies are borrowing money against it, nations are basing their budgets on the presumed returns from their patrimony. It explains why the big fossil-fuel companies have fought so hard to prevent the regulation of carbon dioxide – those reserves are their primary asset, the holding that gives their companies their value. It's why they've worked so hard these past years to figure out how to unlock the oil in Canada's tar sands, or how to drill miles beneath the sea, or how to frack the Appalachians."
I know reading this stuff is hard. Hard because you see little hope of turning it around. But we can't give up and we need to keep fighting as science tells us it's our only way out.
McKibben does an excellent job summing up his own article by writing,
"The three numbers I've described are daunting – they may define an essentially impossible future. But at least they provide intellectual clarity about the greatest challenge humans have ever faced. We know how much we can burn, and we know who's planning to burn more. Climate change operates on a geological scale and time frame, but it's not an impersonal force of nature; the more carefully you do the math, the more thoroughly you realize that this is, at bottom, a moral issue..."
I encourage you to take the time to read in whole McKibben's Rolling Stone reckoning and consider joining the fight of our lifetime.
EcoWatch Daily Newsletter
A new report spotlights a U.N. estimate that at least 275 million people rely on healthy coral reefs. A sea turtle near the Heron Island in the Great Barrier Reef is seen above. THE OCEAN AGENCY / XL CATLIN SEAVIEW SURVEY
In a new report about how the world's coral reefs face "the combined threats of climate change, pollution, and overfishing" — endangering the future of marine biodiversity — a London-based nonprofit calls for greater global efforts to end the climate crisis and ensure the survival of these vital underwater ecosystems.
Half of the extracted resources used were sand, clay, gravel and cement, seen above, for building, along with the other minerals that produce fertilizer. Cavan Images / Cavan / Getty Images
The world is using up more and more resources and global recycling is falling. That's the grim takeaway from a new report by the Circle Economy think tank, which found that the world used up more than 110 billion tons, or 100.6 billion metric tons, of natural resources, as Agence France-Presse (AFP) reported.
By Gero Rueter
Heating with coal, oil and natural gas accounts for around a quarter of global greenhouse gas emissions. But that's something we can change, says Wolfgang Feist, founder of the Passive House Institute in the western German city of Darmstadt.

By George Citroner
Recent research finds that official government figures may be underestimating drug deaths by half.
Researchers estimate that 142,000 people died due to drug use in 2016.
Drug use decreases life expectancy after age 15 by 1.4 years for men and by just under 1 year for women, on average.
Government records may be severely underreporting how many Americans die from drug use, according to a new study by researchers from the University of Pennsylvania and Georgetown University.
Water coolers in front of shut-off water fountains at Center School in Stow, MA on Sept. 4, 2019 after elevated levels of PFAS were found in the water. David L. Ryan / The Boston Globe via Getty Images
In a new nationwide assessment of drinking water systems, the Environmental Working Group found that toxic fluorinated chemicals known as PFAS are far more prevalent than previously thought.