This website uses cookies to ensure you get the best experience while browsing it. By clicking 'Got It' you're accepting these terms.
MUST READ: Bill McKibben's 'Global Warming's Terrifying New Math'
Jul. 21, 2012 12:18PM EST
Climate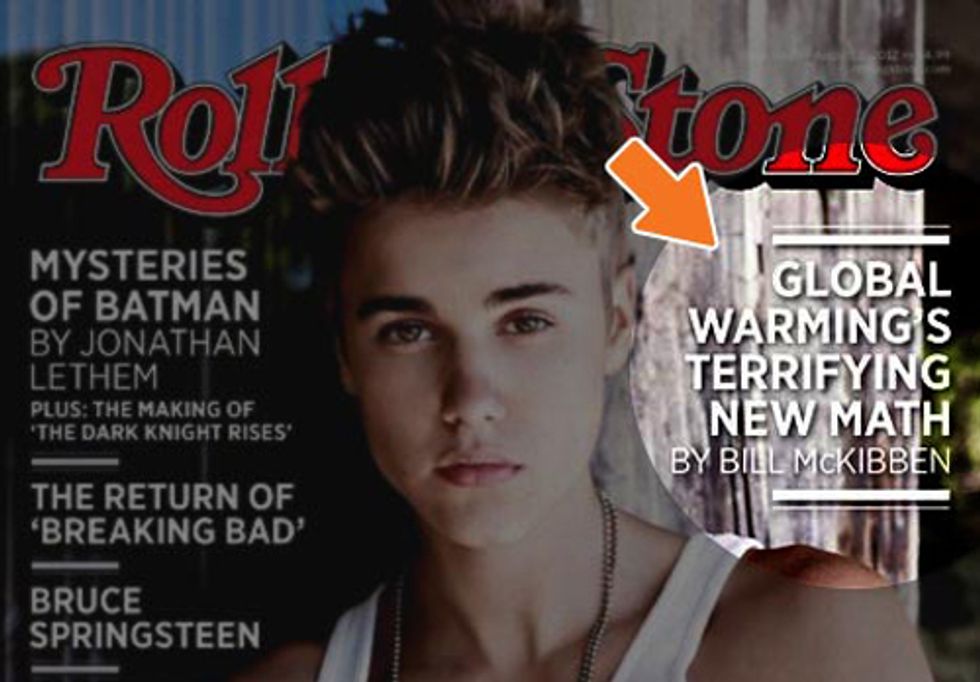 I've know for days that Bill McKibben, founder of 350.org, wrote a new feature piece for Rolling Stone Magazine, but it wasn't until this morning that I took the time to read it.
Once again McKibben, inGlobal Warming's Terrifying New Math, outlines the daunting reality of climate change and global warming. I'm not going to rehash the article, as I think it's vital you read it yourself, but I do want to point out one insight from the piece that I found critically important.
In a piece I wrote last week about a petition EcoWatch launched telling Congress to expedite renewable energy, I mentioned that it's money in politics that's preventing our democratic society from moving beyond fossil fuels. Though that's true, McKibben points out an even more obvious problem preventing the world from reducing its carbon emissions. He writes,
"We have five times as much oil and coal and gas on the books as climate scientists think is safe to burn. We'd have to keep 80 percent of those reserves locked away underground to avoid that fate. Before we knew those numbers, our fate had been likely. Now, barring some massive intervention, it seems certain.
Yes, this coal and gas and oil is still technically in the soil. But it's already economically aboveground – it's figured into share prices, companies are borrowing money against it, nations are basing their budgets on the presumed returns from their patrimony. It explains why the big fossil-fuel companies have fought so hard to prevent the regulation of carbon dioxide – those reserves are their primary asset, the holding that gives their companies their value. It's why they've worked so hard these past years to figure out how to unlock the oil in Canada's tar sands, or how to drill miles beneath the sea, or how to frack the Appalachians."
I know reading this stuff is hard. Hard because you see little hope of turning it around. But we can't give up and we need to keep fighting as science tells us it's our only way out.
McKibben does an excellent job summing up his own article by writing,
"The three numbers I've described are daunting – they may define an essentially impossible future. But at least they provide intellectual clarity about the greatest challenge humans have ever faced. We know how much we can burn, and we know who's planning to burn more. Climate change operates on a geological scale and time frame, but it's not an impersonal force of nature; the more carefully you do the math, the more thoroughly you realize that this is, at bottom, a moral issue..."
I encourage you to take the time to read in whole McKibben's Rolling Stone reckoning and consider joining the fight of our lifetime.
EcoWatch Daily Newsletter
A coral reef in Egypt's Red Sea. Tropical ocean ecosystems could see sudden biodiversity losses this decade if emissions are not reduced. Georgette Douwma / Stone / Getty Images
An approximately one-year-old puma in the streets of Santiago, Chile on March 24, 2020, in search for food as fewer people are outside due to the pandemic. ANDRES PINA / ATON CHILE / AFP via Getty Images
A third cougar has been sighted wandering through a residential neighborhood in the Chilean capital of Santiago as millions of the city's residents are under lockdown measures in response to the coronavirus outbreak.

Bernie Sanders announces he is suspending his campaign via a livestream Wednesday.
berniesanders.com
via Getty Images
The Ernest N. Morial Convention Center in New Orleans, Louisiana has been converted to a 1,000-bed field hospital for coronavirus patients to alleviate stress on local hospitals. Chris Graythen / Getty Images
An area in Louisiana whose predominantly black and brown residents are hard-hit by health problems from industry overdevelopment is experiencing one of the highest death rates from coronavirus of any county in the United States.
A woman lies in bed with the flu. marka/Universal Images Group via Getty Images
A central player in the fight against the novel coronavirus is our immune system. It protects us against the invader and can even be helpful for its therapy. But sometimes it can turn against us.