This website uses cookies to ensure you get the best experience while browsing it. By clicking 'Got It' you're accepting these terms.
Multinational Corporations Continue to Pull the Strings at Rio+20
Jun. 19, 2012 08:37AM EST
Climate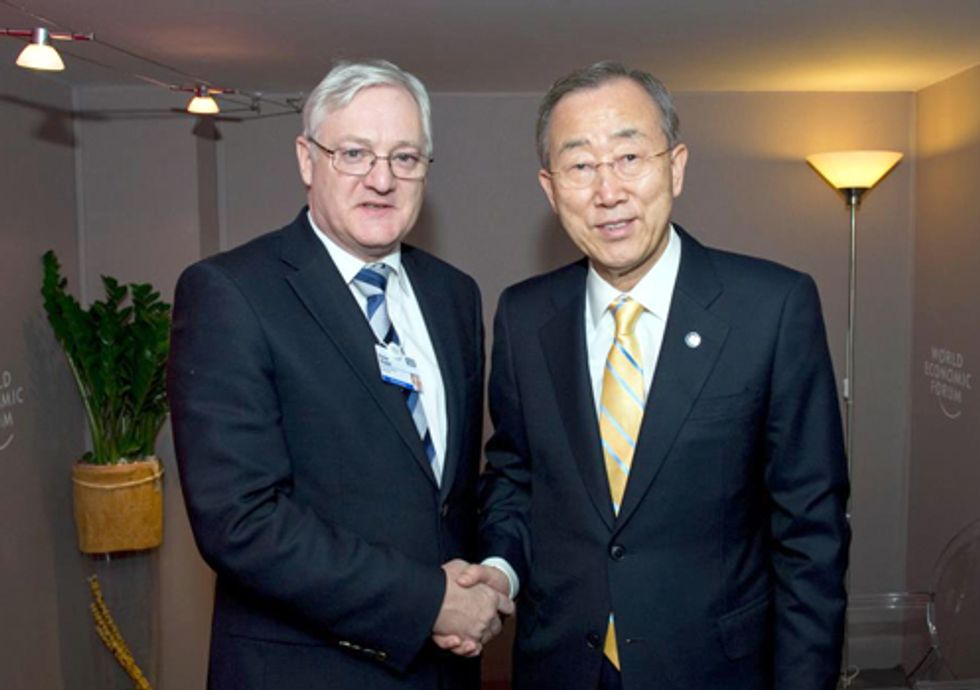 By Andy Rowell
If you open a copy of the Financial Times this morning, you will see a full page advert from the "Friends of Rio+20" with a message to the delegates at the UN Conference on Sustainable Development.
These "friends" say they are an assortment of big business, scientific and civil society leaders, but a quick glimpse down the list reveals more big business than anything else.
The list includes the likes of the Nestle, Coca-Cola, Anglo American and the World Business Council for Sustainable Development (WBCSD).
To an unsuspecting public, it looks like big business cares about the planet and is demanding action. To many seasoned environmental campaigners, it looks like the latest in a long line of greenwashing exercises by multinationals to con the public into thinking they care.
It was twenty years ago, on the eve of the first Earth Summit in Rio in 1992, that Greenpeace published a ground-breaking report, entitled The Greenpeace book of Greenwash. It was written by Greenpeace campaigner Kenny Bruno.
It warned that in 1992, Greenwash was going "global through the participation of transnational companies (TNCs)" at the Earth Summit. It went on to warn that: "Despite their new rhetoric, TNCs are not saviours of the environment or the world's poor, but remain the primary creators and peddlers of dirty, dangerous and unsustainable technologies."
One of the organisations profiled was the Business Council for Sustainable Development (BCSD), which the report identified as the principle vehicle by which multinationals were influencing the UN process. "One of the BCSD's primary targets at the Earth Summit is the hearts and minds of the global public."
In 1994, the BCSD became the World Business Council for Sustainable Development (WBCSD). It remains a power business lobby group and is one of the main signatories to the letter in the Financial Times, trying to portray itself as a "Friend of Rio." Despite representing big business, it is still trying to win your hearts and minds.
To mark the Rio+20 conference, Greenpeace has revisited the Greenwash subject in a new report. Although veteran campaigner Kenny Bruno has long since left the organisation, he returns to write the report, which is great. "Today, greenwash is alive and well, as you will no doubt see at the Rio+20 conference," the report says.
The bottom line is that for many companies: "Instead of using their might to change the basis of our economy for the better, many of them have chosen to stand in the way."
Indeed, in the 20 years since Rio, the UN concedes that on most major environmental issues there has been poor progress, and on the huge issue of climate change there has been little or no progress at all.
One of the companies profiled in the report is Shell, (its CEO, Peter Voser, is pictured here with UN Secretary General, Ban Ki-Moon) which was the subject of a "greenwash snapshot" in the original 1992 report. The report notes that "Now it's time to assess what 20 years of 'leadership" has achieved.' We find that despite all the years of rhetoric, Shell is increasing its carbon intensity, its investments in risky and high carbon fuels, and reducing its investment in renewable energy."
Greenpeace is not the only organisation warning about Greenwash and the corporate capture of the UN process.
Friends of the Earth (FoE) also warns that "We are experiencing a corporate takeover of the UN, as big business exerts its influence in a number of ways. There is increased business influence over the positions of national governments in multilateral negotiations; business representatives dominate certain UN discussion spaces and some UN bodies; business groups are given a privileged advisory role; UN officials move back and forth to the private sector; and—last but not least—UN agencies are increasingly financially dependent on the private sector."
The report notes that the WBCSD, along with other powerful business lobby groups, are partnering the UN. FoE warns that "Rio+20 was supposed to deliver a transition to more just and sustainable societies. This requires a dramatic transformation of national economies and the global economic system, a shift away from fossil fuel dependency, overconsumption, polluting industries, exploitation, human rights violations, industrial agriculture and systems of global trade which push for market liberalization."
The problem with this is "such a transformation threatens the interests of national and international elites, and of national and multinational businesses—that all have a vested interest in the status quo."
And therefore, twenty years after Rio, that is why we still have the status quo: That is why we have no effective long term action on climate change; that is why we have $1 trillion in fossil fuel subsidies, that is why we do not have concerted action to a clean energy future.
But that is what Greenwash is: protecting the vested interests of the powerful, while the powerful con the public that they are in fact green…
Visit EcoWatch's ENERGY and CLIMATE CHANGE pages for more related news on these topics.
EcoWatch Daily Newsletter
This study found evidence of illegal hammerhead fins in 46 out of 46 sampling events in Hong Kong. NOAA / Teachers at Sea Program
By Jason Bittel
Authorities in Hong Kong intercepted some questionable cargo three years ago — a rather large shipment of shark fins that had originated in Panama. Shark fins are a hot commodity among some Asian communities for their use in soup, and most species are legally consumed in Hong Kong, but certain species are banned from international trade due to their extinction risk. And wouldn't you know it: this confiscated shipment contained nearly a ton of illegal hammerhead fins.
A video shows a woman rescuing a koala from Australia's wildfires.
VOA News / YouTube screenshot
More than 350 koalas may have died in the wildfires raging near the Australian town of Port Macquarie in New South Wales, but one got a chance at survival after a woman risked her life to carry him to safety.
Heat waves emanate from the exhaust pipe of a city transit bus as it passes an American flag hung on the Los Angeles County Hall of Justice on April 25, 2013. David McNew / Getty Images
Air pollution rules aren't doing enough to protect Americans, finds a major new study that examined the cause of death for 4.5 million veterans, as The Guardian reported.
Coldplay is releasing a new album on Friday, but the release will not be followed by a world tour.
Ash dieback is seen infecting a European ash (Fraxinus excelsior) in Bottomcraig, Scotland, UK on Aug. 10, 2016.
nz_willowherb / Flickr
Scientists have discovered a genetic basis to resistance against ash tree dieback, a devastating fungal infection that is predicted to kill over half of the ash trees in the region, and it could open up new possibilities to save the species.