MSNBC Shows How Keystone XL Indecision Continues Dividing Communities in Montana, Nebraska and South Dakota
Jul. 02, 2014 10:51AM EST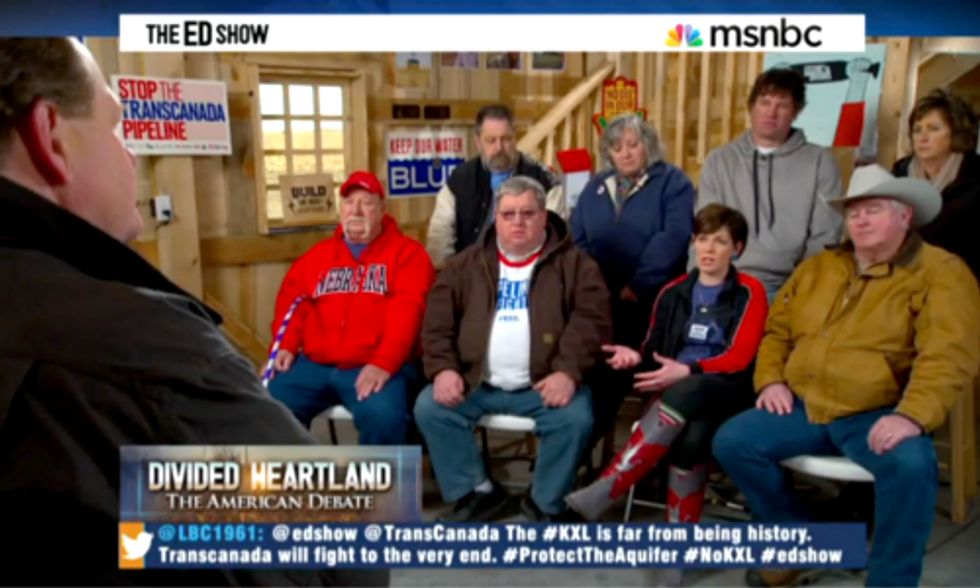 Though there's no true indication that the State Department is any closer to lifting its indefinite moratorium on a Keystone XL pipeline decision, recent developments have split some communities further apart on the issue.
TransCanada Corp.'s permit from the South Dakota Public Utilities Commission expired June 29, requiring the company to re-enter the application process. Meanwhile, in Montana—another state the pipeline would have to be constructed through to reach the existing southern leg—people are "praying" for its construction for an economic boost, NBC reported.
In Nebraska, landowners are still fuming over the aggressive land grabs TransCanada attempted. A judge there has since struck down an eminent domain law. 
MSNBC's The Ed Show puts all of this in perspective, showing how Montana, Nebraska and South Dakota are still divided on Keystone XL for different reasons. He was joined by Bold Nebraska's Jane Kleeb in the segment's footage from the spring and well as this week.
EcoWatch Daily Newsletter
Related Articles from EcoWatch
Recent Stories from EcoWatch