This website uses cookies to ensure you get the best experience while browsing it. By clicking 'Got It' you're accepting these terms.
Mr. President: Pardon the Turkey, Not Factory Farming
Nov. 21, 2012 10:30AM EST
By Karen Steuer and Laura Rogers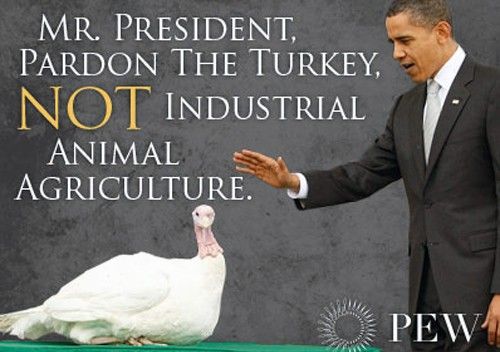 Tomorrow, Americans will prepare and serve about 45 million turkeys. This bounty is worthy of our thanks, but the conditions in which most of these birds were raised are not. Today, the overwhelming majority of turkeys we eat are produced in ways that endanger our environment and the public's health—and it does not have to be this way.
According to a recent report from the U.S. Department of Agriculture (USDA), 96 percent of turkeys were raised in facilities that produced at least 30,000 birds per year. These industrial operations are a far cry from the average farm of 50 years ago, which raised just 225 birds annually. Turkey production has increased almost seven-fold since then, but the birds now come from 150,000 fewer farms.
Across the U.S., industrial farms generate manure—and lots of it. Last year, 248 million turkeys raised in the U.S. generated more than two million tons of waste. Animal agriculture overall generates about 1 billion tons of manure each year. Much of this is applied to crops as fertilizer, but often in quantities too high for the plants to absorb, so it simply runs off into nearby waterways.
The waste contains a range of pollutants, including excess nutrients such as nitrogen and phosphorus. These elements create "dead zones" in downstream waters where a lack of oxygen destroys numerous species that are vital to healthy ecosystems that provide food and livelihoods for millions of people. In 2008, runoff from concentrated animal feeding operations (CAFOs) along the Mississippi River contributed to a dead zone in the Gulf of Mexico larger than the state of Massachusetts.
Because the waste is untreated, it can also contain bacteria and viruses that are harmful to human health, as well as toxic metals and even antibiotics.
What are antibiotics doing in the waste? These medicines are most widely used on CAFOs not to treat sick animals but to make healthy animals grow faster and to help protect them from diseases that spread easily in crowded, unsanitary living conditions. In 2009, drug makers sold about seven million pounds of antibiotics to treat sick people, but they sold about four times that amount—29 million pounds—to aid in the production of meat and poultry.
These practices create an ideal breeding ground for dangerous antibiotic-resistant superbugs that can infect people. Allan Sexton, a veterinarian and hog farmer from Illinois, traveled to Washington, D.C., last May with his wife Jeanne to advocate for common-sense antibiotic policies. He put it this way: "If you gave me the assignment to create a superbug, I would do exactly what they do in big feeding lots."
The U.S. Food and Drug Administration (FDA), the USDA, and the Centers for Disease Control and Prevention (CDC) have all testified before Congress that there is a definitive link between the routine use of antibiotics in food animal production and the crisis of resistant infections in humans. This position is supported by the American Medical Association, American Academy of Pediatrics and other leading scientists and medical experts who all warn that the injudicious use of these drugs in food animals presents a serious and growing threat to human health because the practice creates new strains of dangerous antibiotic-resistant bacteria.
Indeed, hundreds of studies conducted over the past four decades demonstrate how antibiotic use in food animal production contributes to the growing health crisis of antibiotic resistance. New research indicates how these practices are even contributing to diseases not traditionally associated with food, including drug-resistant urinary tract infections and methicillin-resistant Staphylococcus aureus, also known as MRSA.
The FDA and U.S. Environmental Protection Agency (EPA) are taking steps to address this problem. The EPA, for example, is considering new regulations to better manage CAFO food production and prevent pollution.
The FDA is working to require greater veterinary oversight of antibiotic use in meat and poultry production; today, many of the drugs available to people by prescription only are for sale over the counter at feed stores across the country. The agency also has issued guidance documents designed to eliminate the use of antibiotics for growth promotion purposes. This is important, but it leaves open a loophole that would allow industrial farms to continue using these drugs as a crutch to compensate for unsanitary conditions.
Congress can also act. Last month, Rep. Henry Waxman (D-Calif.) proposed a bill to require drug makers to report in greater detail how their antibiotics are being used on industrial farms.
These are encouraging steps, but more must be done.
Fortunately, consumers have some opportunities to take action. First, they can encourage responsible meat and poultry production by voting with their wallets, starting this Thanksgiving by buying a turkey that was raised without antibiotics. They can also encourage their local institutions that buy large quantities of meat and poultry—e.g., school districts, hospital systems—to start doing the same with the products they purchase and offer.
People can also get involved in fixing our policies. The Pew Charitable Trusts offers many educational materials and advocacy tools to help consumers become advocates for issues they care about.
The Obama administration has publicly committed to improving the way CAFOs produce meat and poultry. Now is the time to turn that commitment into action by establishing and enforcing policies that protect our environment and the public's health.
The White House turkey deserves a presidential pardon. Industrial animal agriculture does not.
Visit EcoWatch's FACTORY FARMING page for more related news on this topic.
EcoWatch Daily Newsletter
Artist's conception of solar islands in the open ocean. PNAS
Millions of solar panels clustered together to form an island could convert carbon dioxide in seawater into methanol, which can fuel airplanes and trucks, according to new research from Norway and Switzerland and published in the Proceedings of the National Academy of Sciences journal, PNAS, as NBC News reported. The floating islands could drastically reduce greenhouse gas emissions and dependence on fossil fuels.
Marcos Alves / Moment Open / Getty Images
More than 40 percent of insects could go extinct globally in the next few decades. So why did the U.S. Environmental Protection Agency (EPA) last week ok the 'emergency' use of the bee-killing pesticide sulfoxaflor on 13.9 million acres?
EcoWatch teamed up with Center for Biological Diversity via EcoWatch Live on Facebook to find out why. Environmental Health Director and Senior Attorney Lori Ann Burd explained how there is a loophole in the The Federal Insecticide, Fungicide, and Rodenticide Act under section 18, "that allows for entities and states to request emergency exemptions to spraying pesticides where they otherwise wouldn't be allowed to spray."
Simple swaps that cut down on kitchen trash.
Sponsored
By Kayla Robbins
Along with the bathroom, the kitchen is one of the most daunting areas to try and make zero waste.
View of downtown Miami, Florida from Hobie Island on Feb. 2, 2019.
Michael Muraz / Flickr
The Democratic candidates for president descended upon Miami for a two-night debate on Wednesday and Thursday. Any candidate hoping to carry the state will have to make the climate crisis central to their campaign, as The New York Times reported.
By Sharon Kelly
On Monday, the Wall Street Journal featured a profile of Scott Sheffield, CEO of Pioneer Natural Resources, whose company is known among investors for its emphasis on drawing oil and gas from the Permian basin in Texas using horizontal drilling and hydraulic fracturing, or fracking.
Pexels
By Craig K. Chandler
The federal government has available to it, should it choose to use them, a wide range of potential climate change management tools, going well beyond the traditional pollution control regulatory options. And, in some cases (not all), without new legislative authorization.
Denis Poroy / Getty Images
By Dan Gray
Processed foods, in their many delicious forms, are an American favorite.
But new research shows that despite increasing evidence on just how unhealthy processed foods are, Americans have continued to eat the products at the same rate.
By Sarah Steffen
With a profound understanding of their environmental surroundings, indigenous communities around the world are often cited as being pivotal to tackling climate change.