Mr. President: Pardon the Turkey, Not Factory Farming
By Karen Steuer and Laura Rogers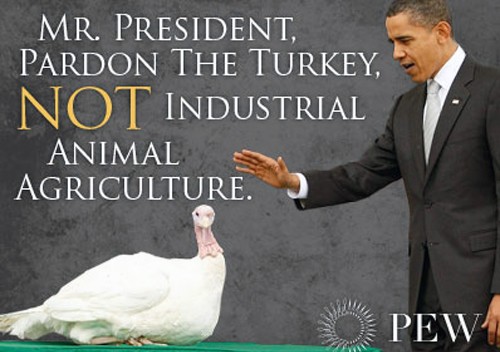 Tomorrow, Americans will prepare and serve about 45 million turkeys. This bounty is worthy of our thanks, but the conditions in which most of these birds were raised are not. Today, the overwhelming majority of turkeys we eat are produced in ways that endanger our environment and the public's health—and it does not have to be this way.
According to a recent report from the U.S. Department of Agriculture (USDA), 96 percent of turkeys were raised in facilities that produced at least 30,000 birds per year. These industrial operations are a far cry from the average farm of 50 years ago, which raised just 225 birds annually. Turkey production has increased almost seven-fold since then, but the birds now come from 150,000 fewer farms.
Across the U.S., industrial farms generate manure—and lots of it. Last year, 248 million turkeys raised in the U.S. generated more than two million tons of waste. Animal agriculture overall generates about 1 billion tons of manure each year. Much of this is applied to crops as fertilizer, but often in quantities too high for the plants to absorb, so it simply runs off into nearby waterways.
The waste contains a range of pollutants, including excess nutrients such as nitrogen and phosphorus. These elements create "dead zones" in downstream waters where a lack of oxygen destroys numerous species that are vital to healthy ecosystems that provide food and livelihoods for millions of people. In 2008, runoff from concentrated animal feeding operations (CAFOs) along the Mississippi River contributed to a dead zone in the Gulf of Mexico larger than the state of Massachusetts.
Because the waste is untreated, it can also contain bacteria and viruses that are harmful to human health, as well as toxic metals and even antibiotics.
What are antibiotics doing in the waste? These medicines are most widely used on CAFOs not to treat sick animals but to make healthy animals grow faster and to help protect them from diseases that spread easily in crowded, unsanitary living conditions. In 2009, drug makers sold about seven million pounds of antibiotics to treat sick people, but they sold about four times that amount—29 million pounds—to aid in the production of meat and poultry.
These practices create an ideal breeding ground for dangerous antibiotic-resistant superbugs that can infect people. Allan Sexton, a veterinarian and hog farmer from Illinois, traveled to Washington, D.C., last May with his wife Jeanne to advocate for common-sense antibiotic policies. He put it this way: "If you gave me the assignment to create a superbug, I would do exactly what they do in big feeding lots."
The U.S. Food and Drug Administration (FDA), the USDA, and the Centers for Disease Control and Prevention (CDC) have all testified before Congress that there is a definitive link between the routine use of antibiotics in food animal production and the crisis of resistant infections in humans. This position is supported by the American Medical Association, American Academy of Pediatrics and other leading scientists and medical experts who all warn that the injudicious use of these drugs in food animals presents a serious and growing threat to human health because the practice creates new strains of dangerous antibiotic-resistant bacteria.
Indeed, hundreds of studies conducted over the past four decades demonstrate how antibiotic use in food animal production contributes to the growing health crisis of antibiotic resistance. New research indicates how these practices are even contributing to diseases not traditionally associated with food, including drug-resistant urinary tract infections and methicillin-resistant Staphylococcus aureus, also known as MRSA.
The FDA and U.S. Environmental Protection Agency (EPA) are taking steps to address this problem. The EPA, for example, is considering new regulations to better manage CAFO food production and prevent pollution.
The FDA is working to require greater veterinary oversight of antibiotic use in meat and poultry production; today, many of the drugs available to people by prescription only are for sale over the counter at feed stores across the country. The agency also has issued guidance documents designed to eliminate the use of antibiotics for growth promotion purposes. This is important, but it leaves open a loophole that would allow industrial farms to continue using these drugs as a crutch to compensate for unsanitary conditions.
Congress can also act. Last month, Rep. Henry Waxman (D-Calif.) proposed a bill to require drug makers to report in greater detail how their antibiotics are being used on industrial farms.
These are encouraging steps, but more must be done.
Fortunately, consumers have some opportunities to take action. First, they can encourage responsible meat and poultry production by voting with their wallets, starting this Thanksgiving by buying a turkey that was raised without antibiotics. They can also encourage their local institutions that buy large quantities of meat and poultry—e.g., school districts, hospital systems—to start doing the same with the products they purchase and offer.
People can also get involved in fixing our policies. The Pew Charitable Trusts offers many educational materials and advocacy tools to help consumers become advocates for issues they care about.
The Obama administration has publicly committed to improving the way CAFOs produce meat and poultry. Now is the time to turn that commitment into action by establishing and enforcing policies that protect our environment and the public's health.
The White House turkey deserves a presidential pardon. Industrial animal agriculture does not.
Visit EcoWatch's FACTORY FARMING page for more related news on this topic.
Wikimedia Commons
By Stacy Malkan
Neil deGrasse Tyson has inspired millions of people to care about science and imagine themselves as participants in the scientific process. What a hopeful sign it is to see young girls wearing t-shirts emblazoned with the words, "Forget princess, I want to be an astrophysicist."
Keep reading...
Show less
www.youtube.com
By Andy Rowell
Any day now we will truly witness climate change in action. Within days at worst, maybe weeks at best, scientists predict that a huge section of the Larsen C ice shelf in Antarctica will break off into the ocean, in what is called a major "carving" event.
Keep reading...
Show less
www.youtube.com
President Trump visited Cedar Rapids, Iowa on June 21 to speak to a large crowd in the U.S. Cellular Center at a political rally organized by his campaign.
As Trevor Noah noted during The Daily Show episode last night (starts at 2:25), the real reason Trump has these rallies is to "get back in front of his loyal crowds and feed of their energy." Noah believes that "Trump supporters are so on board with their dude he can say anything and they'll come along for the ride."
Keep reading...
Show less
The Kamuthi solar plant in the southern Indian state of Tamil Nadu.
The rapid growth in renewable energy continues to put a dent in the demand for coal.
Coal India, the world's biggest coal mining company and producer of 82 percent of the country's coal, announced the closure of 37 mines that are financially "unviable."
Keep reading...
Show less
www.youtube.com
By Katie O'Reilly
Two years ago—long before coal became one of the most dominant and controversial symbols of the 2016 presidential election—Bloomberg Philanthropies approached production company RadicalMedia with the idea of creating a documentary exploring the U.S. coal mining industry. Last spring, they brought on Emmy-nominated director Michael Bonfiglio, tasked with forging a compelling story out of the multitudes of facts, statistics and narratives underlying the declining industry.
Keep reading...
Show less
Mayors for 100% Clean Energy
Keep reading...
Show less
www.youtube.com
Thanks to Newsy for their coverage on Thursday's news that the U.S. Fish and Wildlife Service removed grizzly bears in the Greater Yellowstone region from the Endangered Species List.
Watch above as Newsy explains that the decision comes despite serious concerns from the environmental and scientific community, and Tribal Nations about a declining, isolated grizzly bear population with diminishing food resources and record-high mortalities.
Keep reading...
Show less
www.facebook.com
By Francine Kershaw
Seismic airguns exploding in the ocean in search for oil and gas have devastating impacts on zooplankton, which are critical food sources for marine mammals, according to a new study in Nature. The blasting decimates one of the ocean's most vital groups of organisms over huge areas and may disrupt entire ecosystems.
And this devastating news comes on the heels of the National Marine Fisheries Service's proposal to authorize more than 90,000 miles of active seismic blasting. Based on the results of this study, the affected area would be approximately 135,000 square miles.
Keep reading...
Show less
By Jill Richardson
Is coconut oil:
good for you
bad for you
neither good nor bad
scientists don't know
The subject of this question is the source of a disagreement. Initially, the question was thought to be settled decades ago, when scientist Ancel Keys declared all saturated fats unhealthy. Coconut oil, which is solid at room temperature, is a saturated fat.
Keep reading...
Show less


Get EcoWatch in your inbox