Moving Planet Unites 175 Countries in Unprecedented Day of Action
Sep. 27, 2011 05:16AM EST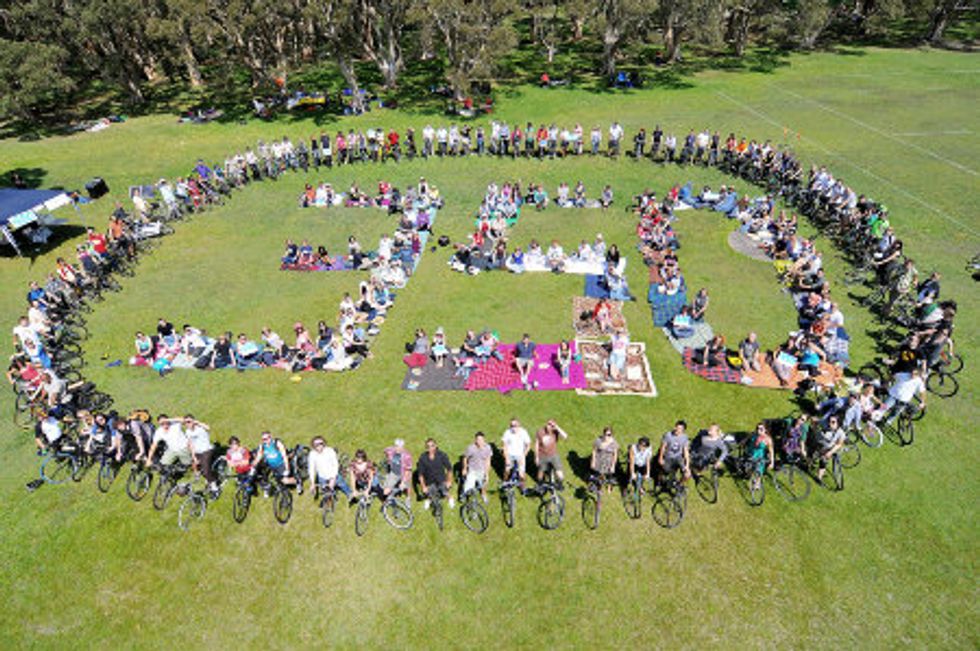 Photos and videos of massive bicycle rides and marches streamed onto the 350.org website as more than 2,000 Moving Planet clean-energy demonstrations got underway in 175 countries around the world on Sept. 24.
"The planet has been stuck for too long with governments doing nothing about the biggest problem we've ever faced," said Bill McKibben, founder of 350.org, the international climate campaign coordinating the demonstrations. "This is the day when people will get the earth moving, rolling towards the solutions we need."
Moving Planet got an early start in Cairo on Sept. 23, when hundreds of Egyptians took to the streets to form a human Nile, raising awareness about the threat global warming poses to critical water resources.
As the sun rose in the Pacific on Sept. 24, villagers on the island of Tonga held a ceremony to bless the day of events while islanders on Tuvalu prepared for a day of swimming lessons and disaster drills to raise awareness about climate impacts.
As the day continued, hundreds of Australians flew kites adorned with clean energy slogans over Sydney's Bondi Beach while mass bike rides took places across New Zealand.
Over in India, thousands of farmers, fisher folk and local leaders gathered in Ongole, Andhra Pradesh to protest the construction of 80 new coal-fired power plants, while hundreds of cyclists rode through the streets of Delhi to call for increased public transportation.
Moving Planet brought together hundreds of events across the Western Hemisphere, from the formation of a giant bicycle in London and enormous wind-turbine in Paris to mass bicycle parades in Sao Paulo, Brazil, New York, New York and San Francisco, California.
Photos from the days events were displayed on a giant screen outside the United Nations General Assembly in New York City, reminding leaders that the world expects progress at climate negotiations in South Africa this November and the Rio+20 Earth Summit next spring.
"Moving Planet is a global expression of unity, urgency and purpose to show political and business leaders they need to move from rhetoric to action," said Kumi Naidoo, executive director of Greenpeace International. "Today, we're beginning to move in the right direction."
For more information, click here.
—————
More information and hi-res photos and video available here.
350.org is an international grassroots climate campaign named after the safe upper concentration of carbon dioxide in the atmosphere, 350 parts per million. Right now, the atmosphere contains 392 ppm of CO2. Scientists say immediate action is necessary to address the crisis.
EcoWatch Daily Newsletter