Movement to Ban Fracking Sweeps Upstate New York
Jun. 18, 2012 01:28PM EST
Energy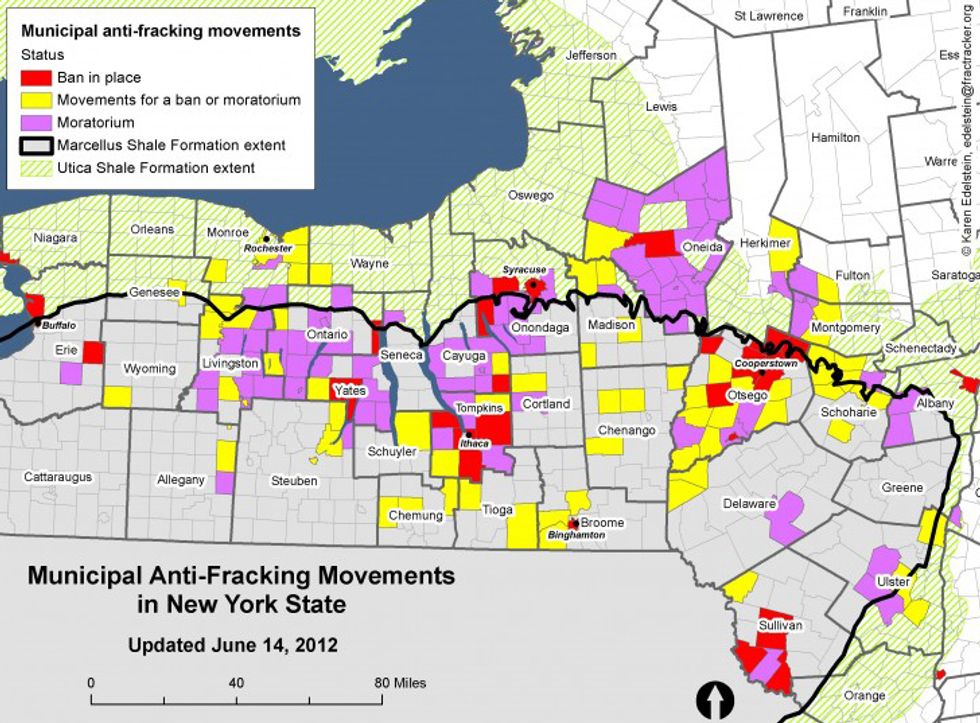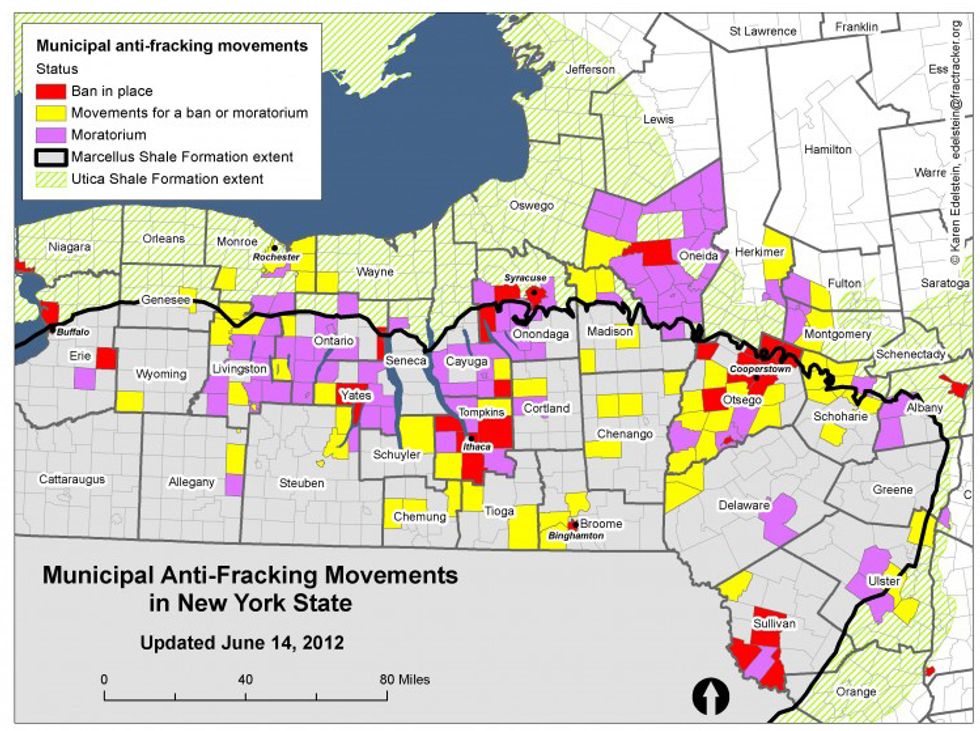 Local officials who voted to impose municipal bans on hydraulic fracturing gathered in the state capitol in Albany on Monday, June 18 to call attention to the rapidly expanding "home rule" movement that is sweeping upstate New York.
"I don't think that most people are aware of the full extent of this movement, or how quickly it is taking hold," said Karen Edelstein, who keeps track of local anti-fracking ordinances and initiatives for FracTracker, an organization dedicated to collecting and sharing information related to shale gas drilling.
In a little over a year nearly 130 municipalities have used home rule to enact bans or moratoria that prohibit fracking in close to 4,500 square miles of New York State.
 "The state constitution gives municipalities the authority to prohibit activities that threaten the health and welfare of residents, and we'd be derelict in our duty if we didn't exercise this power to protect the public," said Don Barber, supervisor of the Town of Caroline. He said his decision was motivated by health and safety considerations, and a concern that fracking would negatively impact property values and the municipal tax base.
Julie Huntsman, Otsego Town Board Member, says a fracking ban protects the local economy. "I represent a unique upstate town, Otsego, which has an economy heavily dependent on tourism and health care. High volume hydrofracking threatens this economy, as well as our environment, public health and animal health. For these reasons, I worked very hard for a ban," Huntsman said.
The industry has tried to derail the municipal ban movement, so far without success. Two upstate towns–Middlefield and Dryden—were sued for enacting fracking prohibitions, but in both cases the fracking bans were upheld in court. Late last month Binghamton Mayor Matt Ryan was notified that the ban in his city is now being challenged in court. "The residents of Binghamton have the right to control their own destiny though ultimately we would like to see a statewide prohibition on fracking as what we're doing is no substitute for statewide action," said Ryan.
In all, more than a dozen local officials including Mayor Ryan, Supervisor Barber and Councilperson Huntsman participated in the press conference. They were joined by FracTracker's Karen Edelstein and Robert Rosborough IV of the Albany law firm Whiteman Osterman & Hanna, a firm that has advised towns on their right to enact municipal ban and moratoria.
The press conference was sponsored by Sustainable Otsego, Catskill Citizens for Safe Energy and Otsego 2000.
 Visit EcoWatch's FRACKING page for more related news on this topic.
EcoWatch Daily Newsletter