Move Over Stonehenge, Scientists Just Discovered 'Super-Henge' Which Is 12 Times Bigger
Sep. 09, 2015 08:21AM EST
Science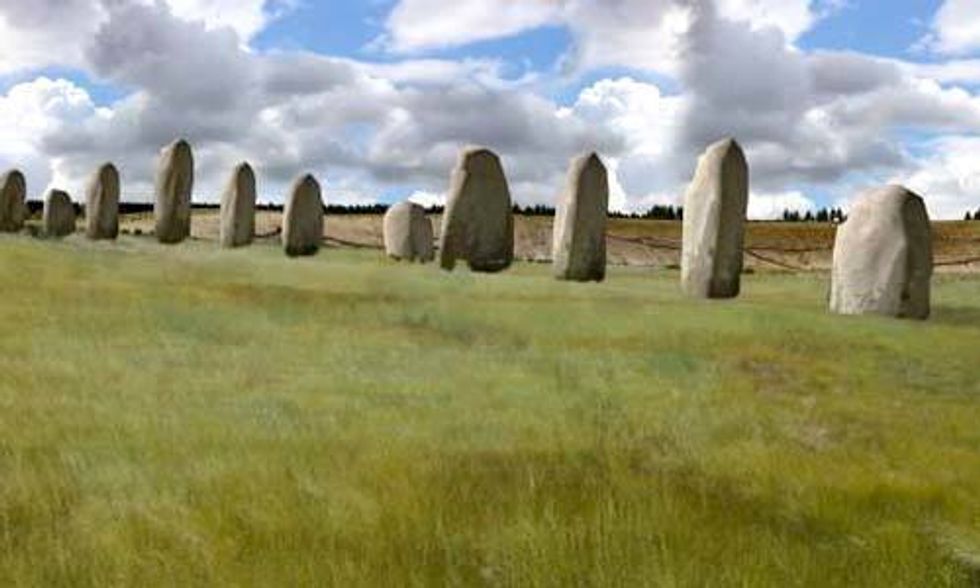 Researchers in England announced on Monday the discovery of a major prehistoric stone monument less than two miles away from Stonehenge. The researchers are calling the collection of stones a "super-henge" because it's nearly a mile wide, "dwarfing Stonehenge by a factor of 12," says IFL Science.
A bigger Stonehenge? Archaeologists have discovered larger stone remains near the site: http://t.co/wejgPHTMPS pic.twitter.com/4m9DtgCKz9

— CNN (@CNN) September 7, 2015
"Our high resolution ground penetrating radar data has revealed an amazing row of up to 90 standing stones a number of which have survived after being pushed over and a massive bank placed over the stones," said project co-leader Professor Wolfgang Neubauer. "In the east up to 30 stones, measuring up to size of 4.5 meters by 1.5 meters by 1 meter, have survived below the bank whereas elsewhere the stones are fragmentary or represented by massive foundation pits."
The findings come from the Stonehenge Hidden Landscapes Project, an international collaboration between the University of Birmingham and the Ludwig Boltzmann Institute for Archaeological Prospection and Virtual Archaeology. As part of the project, "experts from many different fields and institutions have been examining the area around Stonehenge revealing new and previously known sites in unprecedented detail and transforming our knowledge of this iconic landscape."
The latest research focuses on Durrington Walls, which measures 500 meters and is thought to have been built about 4,500 years ago. The stones were able to be discovered without excavation thanks to "non-invasive geophysical prospection and remote sensing technologies." Researchers believe the stones formed a "C-shaped arena" and that some of the stones may have originally measured up to about 14 feet tall. If the site is as big as researchers believe, it will be the largest Neolithic monument in England."
"This discovery of a major new stone monument, which has been preserved to a remarkable extent, has significant implications for our understanding of Stonehenge and its landscape setting," said Professor Vincent Gaffney, co-leader of the project. "Not only does this new evidence demonstrate a completely unexpected phase of monumental architecture at one of the greatest ceremonial sites in prehistoric Europe, the new stone row could well be contemporary with the famous Stonehenge sarsen circle or even earlier."
There is one lone standing stone, "The Cuckoo Stone," which remains above ground and is a sarsen stone—the same used at Stonehenge. Before this discovery, archaeologists believed that "only Stonehenge and a smaller henge at the end of the Stonehenge Avenue possessed significant stone structures."
"The Stonehenge landscape has been studied by antiquaries and archaeologists for centuries," said Dr Nick Snashall, National Trust archaeologist for the Avebury and Stonehenge World Heritage Site. "But the work of the Hidden Landscapes team is revealing previously unsuspected twists in its age-old tale. These latest results have produced tantalizing evidence of what lies beneath the ancient earthworks at Durrington Walls. The presence of what appear to be stones, surrounding the site of one of the largest Neolithic settlements in Europe adds a whole new chapter to the Stonehenge story."
The researchers have provided a simulation of the super-henge:
YOU MIGHT ALSO LIKE
Scientists Discover World's Oldest Stone Tools
World's First Solar Airport Generates More Power Than It Consumes
Earthquake and Tsunami Risks Ignored at Proposed LNG Facility on Oregon Coast
EcoWatch Daily Newsletter
Related Articles from EcoWatch