Mounting Climate Evidence Underscores the Need to Act

Because we enjoy relatively pure air, clean water and healthy food systems, Canadians sometimes take the environment for granted. Many scarcely blink if oil from a pipeline spills into a river, a forest is cleared for tar sands operations or agricultural land is fracked for gas. If Arctic ice melts and part of the Antarctic ice sheet collapses, well … they're far away.
Some see climate change as a distant threat, if they see it as a threat at all. But the scientific evidence is overwhelming: climate change is here, and unless we curb behaviors that contribute to it, it will get worse, putting our food, air, water and security at risk. A recent White House report confirms the findings of this year's Intergovernmental Panel on Climate Change Fifth Assessment report, and concludes global warming is a clear and present danger to the U.S.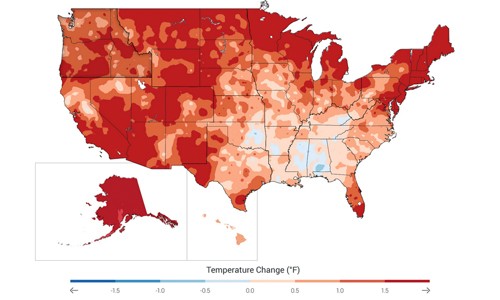 "Climate change is not a distant threat, but is affecting the American people already," says White House science adviser John Holdren in a video about the report. "Summers are longer and hotter, with longer periods of extended heat. Wildfires start earlier in the spring and continue later into the fall. Rain comes down in heavier downpours. People are experiencing changes in the length and severity of allergies. And climate disruptions to water resources and agriculture have been increasing."
Recognizing the problem's severity is a start, but whether the U.S. will actually do anything is another question. Action to curb climate change is constantly stalled—thanks to the powerful fossil fuel industry, political and media denial, extensive fossil fuel-based infrastructure and citizen complacency.
But at least the U.S. and its president have unequivocally called for action. It's disturbing that political leaders in Canada—a northern country already feeling impacts, with a long coastline particularly vulnerable to rising sea levels—ignore the issue in their drive to make Canada a petro-power. Our government prefers to spend taxpayers' money to support the fossil fuel industry with advertising campaigns and billions of dollars in subsidies. A recent New York Times ad, worth US$207,000, touts oil sands and pipelines as "environmentally responsible." Despite opposition from communities throughout B.C. and the rest of Canada, including many First Nations, approval of the Enbridge Northern Gateway pipeline project is expected next month.
Perceived economic benefits (mostly short-term) trump the needs of all Canadians and their children and grandchildren for clean air and water, healthy food and a stable climate. Droughts, floods, water shortages, insect-plagued forests, extreme weather events, rising sea levels and melting glaciers don't matter as much as getting the oil, gas and coal out of the ground and sold as quickly as possible.
B.C. once showed promise with climate policies such as a carbon tax. Now the government in my home province is also pinning its hopes on the fossil fuel market, fracking our way to "prosperity" at the expense of long-term human and economic health, farmland and climate.
How can we allow governments and industry to continue leading us down this destructive path?
Some people say we must choose between the human-created economy and the natural environment—an absurd argument on many levels, and a false dichotomy. Even within the current flawed economic paradigm, it's far more financially sound to invest in renewable energy and diversification than in a dying industry.
Others, often driven by fossil fuel industry propaganda, doubt the evidence and question the credentials of thousands of scientists worldwide studying the issue.
The IPCC report involved hundreds of scientists and experts worldwide who analyzed the latest peer-reviewed scientific literature and other relevant materials on climate change. The White House report was overseen by 13 government agencies, including the U.S. Environmental Protection Agency, NASA, Department of the Interior, Department of Defense and National Oceanic and Atmospheric Administration. It was written by close to 300 scientists and experts and reviewed by numerous others, including the National Academy of Sciences. It was also vetted by groups ranging from oil companies to environmental organizations. As an article on Desmog Blog points out, "If anything, this report is conservative in its findings."
The IPCC and White House reports are clear: solutions are available. But the longer we delay the more difficult and expensive they will be to implement. We can't just sit by and do nothing.
With contributions from David Suzuki Foundation Senior Editor Ian Hanington.
——–
YOU ALSO MIGHT LIKE
How Global Warming Worsens Allergies
Doing Nothing Isn't an Option: How to Avoid the Worst of Climate Change
White House's Alarming Climate Change Study Calls For 'Urgent Action'
——–
Laurie Woolever
By James O'Hare
There are 20 million people in the world facing famine in South Sudan, Somalia, Nigeria and Yemen. In developed nations, too, people go hungry. Venezuela, for instance, is enduring food insecurity on a national level as a result of economic crisis and political corruption. In the U.S., the land of supposed excess, 12.7 percent of households were food insecure in 2015, meaning they didn't know where their next meal would come from.
Keep reading...
Show less
Shutterstock
By Rachael Link
Though commonly thought to be a vegetable, cucumber is actually a fruit.
Keep reading...
Show less
Melwater, Greenland ice sheet. Diane Tuft
Artists are taking the climate crisis into frame and the results are emotional, beautiful and stirring.
So you've seen the best climate change cartoons and shared them with your friends. You've showed your family the infographics on climate change and health, infographics on how the grid works and infographics about clean, renewable energy. You've even forwarded these official National Oceanic and Atmospheric Administration graphs that explain the 10 clear indicators of climate change to your colleagues at the office.
Keep reading...
Show less
May. 27, 2017 01:11PM EST
As the Trump administration moves full speed ahead on boosting the oil and fossil fuel industry, opposition to increased pipeline construction is cropping up in different communities around the country.
Keep reading...
Show less
May. 27, 2017 01:02PM EST
Minke whale stranding near Havergate Island in Suffolk. MCGA.
By Simon Evans
Last Saturday, two dead whales washed up on the coast of Suffolk, in eastern England, and a third was spotted floating at sea.
What happened next illustrates how news can spread and evolve into misinformation, when reported by journalists rushing to publish before confirming basic facts or sourcing their own quotes.
Keep reading...
Show less
May. 27, 2017 01:22PM EST
By Monica Amarelo and Paul Pestano
Sun safety is a crucial part of any outdoor activity for kids, and sunscreen can help protect children's skin from harmful ultraviolet rays. Kids often get sunburned when they're outside unprotected for longer than expected. Parents need to plan ahead and keep sun protection handy in their cars or bags.
Keep reading...
Show less
May. 27, 2017 01:02PM EST
By Joe McCarthy
A lot of people take part in community clean-up efforts—spending a Saturday morning picking up litter in a park, mowing an overgrown field or painting a fence.
Keep reading...
Show less
May. 26, 2017 03:22PM EST
Rink Glacier in western Greenland, with a meltwater lake visible center. NASA/OIB
Scientists have had their eyes on Greenland as its iconic glaciers have begun disappearing due to a warming climate. But, what they didn't expect to see was a whole new type of melting.
Keep reading...
Show less


Get EcoWatch in your inbox