This website uses cookies to ensure you get the best experience while browsing it. By clicking 'Got It' you're accepting these terms.
Mountaintop Removal Linked to Cancer
Oct. 20, 2014 09:21AM EST
We know what a mess mountaintop removal makes when the tops of mountains are literally blown off to access the coal inside them. Forests are stripped and debris is dumped into streams and valleys, leaving behind a ravaged landscape. It's partly responsible for the loss of jobs in the coal industry since it requires only a handful of workers to operate the huge machines involved. Now we're learning that the process, which has been touted by advocates as cleaner and safer than below-ground coal mining, is the direct cause of a lung cancer epidemic in the Appalachian communities—primarily in West Virginia, Kentucky and southwestern Virginia—where mountaintop removal coal mining is taking place.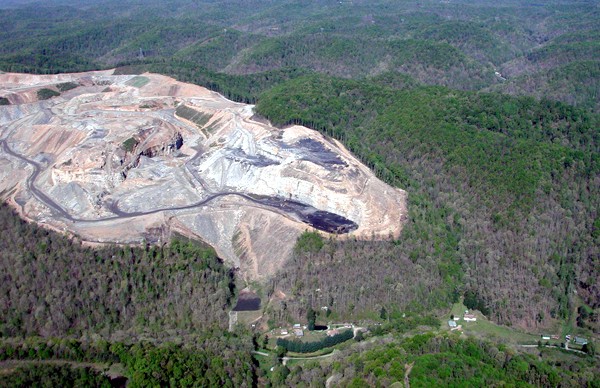 Photo credit: Vivian Stockman
A new peer-reviewed study by researchers from West Virginia University's Mary Babb Cancer Center found that the coal-dust particulates it blows into the atmosphere has fueled an epidemic of lung cancer.
"Epidemiological studies suggest that living near mountaintop coal mining activities is one of the contributing factors for high lung cancer incidence," the study states unequivocally in its introduction. 
"This study shows that dust collected from mountaintop-removal communities promotes lung cancer," the University of Indiana's Dr. Michael Hendryx, who published earlier studies showing health problems linked to mountaintop removal, told the Ashland, Kentucky Daily Independent. "Previous studies have shown that people who live in these communities have higher lung cancer rates, not due just to smoking. But with this study we now have solid evidence that dust collected from residential areas near mountaintop-removal sites causes cancerous changes to human lung cells."
As Dr. Hendryx suggests, the study, Appalachian Mountaintop Mining Particulate Matter Induces Neoplastic Transformation of Human Bronchial Epithelial Cells and Promotes Tumor Formation, moved beyond simply the evidence that lung cancer rates (as well as rates for birth defects and Parkinson's disease) are greatly elevated in mountaintop removal communities (MTR), studying the cancer-causing potential of the specific particulates in the dust created by such mining.
The study provides more ammunition to those fighting the impacts of MTR on their communities. In August, for instance, a federal judge overruled complaints by environmental groups about the issuing of a MTR permit in West Virginia, saying the evidence they presented of human health impacts was not compelling. The study advises implementing programs to limit exposure to the coal dust particulates.
"The coal industry and its allies in Congress have always been eager to dismiss claims that air and water pollution caused by mountaintop removal mining have any link to the high rates of lung cancer, cardiovascular disease and birth defects, or the decrease in life expectancy that counties with heavy mining have experienced over the past two decades," Thom Kay of Appalachian Voices posted on the environmental group's blog. "Will this study get them to finally change their tune? It's almost certain it won't. It will be up to those of us who care about the health of Appalachian communities to raise our voices and simply drown them out."
YOU MIGHT ALSO LIKE
Dear Sec. Burwell: Come Home to See Firsthand Appalachia's Health Crisis and Help Us Halt Mountaintop Removal Mining
It's Time to Move Beyond Dirty Coal
Gunnoe Appeals to President ... Judge Dismisses Health Studies on Mountaintop Removal
Three scissor-tailed flycatcher fledglings in a mesquite tree in Texas. Texas Eagle / CC BY-NC 2.0
By Gary Paul Nabhan
President Trump has declared a national emergency to fund a wall along our nation's southern border. The border wall issue has bitterly divided people across the U.S., becoming a vivid symbol of political deadlock.
PeopleImages / E+ / Getty Images
By Daniel Ross
Hurricane Florence, which battered the U.S. East Coast last September, left a trail of ruin and destruction estimated to cost between $17 billion and $22 billion. Some of the damage was all too visible—smashed homes and livelihoods. But other damage was less so, like the long-term environmental impacts in North Carolina from hog waste that spilled out over large open-air lagoons saturated in the rains.
Hog waste can contain potentially dangerous pathogens, pharmaceuticals and chemicals. According to the state's Department of Environmental Quality, as of early October nearly 100 such lagoons were damaged, breached or were very close to being so, the effluent from which can seep into waterways and drinking water supplies.
This picture taken on May 21, 2018 shows discarded climbing equipment and rubbish scattered around Camp 4 of Mount Everest. Decades of commercial mountaineering have turned Mount Everest into the world's highest rubbish dump as an increasing number of big-spending climbers pay little attention to the ugly footprint they leave behind. DOMA SHERPA / AFP / Getty Images
China has closed its Everest base camp to tourists because of a buildup of trash on the world's tallest mountain.
Researchers tested the eggs of Arctic northern fulmers like these in Nunavut, Canada.
Fiona Paton / Flickr
By Madison Dapcevich
Plastics have been recorded in every corner of the world, from the remote icy waters of Antarctica to the bellies of deep-sea fishes. Now, preliminary findings presented at this year's American Association for the Advancement of Science (AAAS) annual meeting in Washington, DC suggest that bird eggs from the high Arctic—one of the most remote wildernesses on the planet—show evidence of contamination from chemicals used in plastics.