This website uses cookies to ensure you get the best experience while browsing it. By clicking 'Got It' you're accepting these terms.
Mountaintop Removal Coal Mining Ends on March 16
Mar. 05, 2015 12:22PM EST
Energy

Fourteen months after the world watched in astonishment as poorly regulated coal-washing chemicals contaminated the Elk River in West Virginia, coal country residents and supporters are gearing up for an epic showdown on March 16 with the state's Department of Environmental Protection—and the U.S. Congress—over the mounting death toll and health crisis from mountaintop removal strip mining.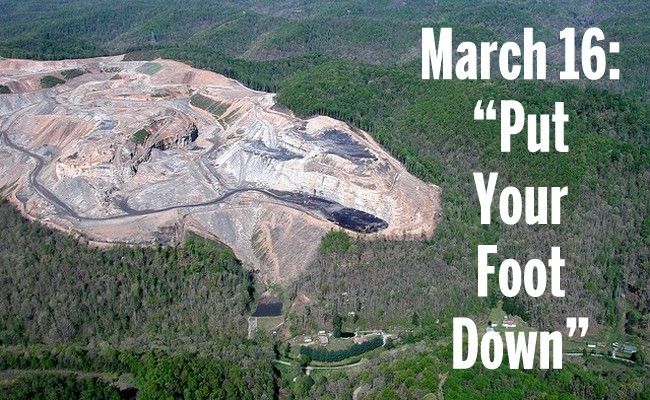 After witnessing the loss of their health, livelihoods, forests, historic farms and homes over a half century of unparalleled strip mining destruction, The People's Foot movement—an extraordinary alliance of residents, community and environmental groups and national civil rights organizations—is coming down in Charleston, West Virginia, with a clear message: March 16 has officially been declared "No More Mountaintop Removal Permits Day."
The era of "clean coal" billboards is over in West Virginia. A new era of billboards calling for an end to the devastation of mountaintop removal and a transition to clean energy jobs has begun.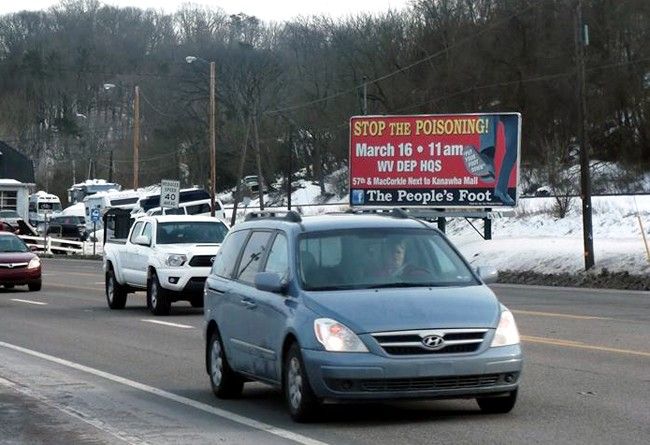 In essence: Mountaintop removal ends March 16; the people declare that the West Virginia Department of Environmental Protection must no longer approve the necessary permits for this deadly and costly strip mining operation.
And from this day forward, the health and lives of central Appalachian children, adults and pregnant mothers are in the hands of the U.S. Congress, who must pass the Appalachian Community Health Emergency Act in 2015.
Seeing how 25 peer-reviewed health, medical and scientific studies demonstrate the association and connection between a broad range of ill health outcomes and mountaintop removal mining, including lung cancer, birth defects, heart and respiratory problems;
Seeing how President Obama can veto the Keystone pipeline, we can bring 50 years of mountaintop removal ruin to an end;
Seeing how a federal judge has upheld the U.S. Army Corps of Engineers' right to disregard studies on the health impacts of mountaintop removal mining in its permitting process;
Seeing how the Obama administration has failed to send a single high-level official to tour the mountaintop removal areas in central Appalachia over the past six years;
Seeing how the West Virginia DEP is incapable of properly regulating the coal industry and ensuring the protection of the environment and the health of state residents;
Seeing how President Obama has failed to heed former West Virginia congressman Ken Hechler's call for a President Truman moment and sign an executive order for basic civil rights in strip mining operations;
Seeing how an AP review of federal environmental enforcement records "shows that nearly three-quarters of the 1,727 coal mines listed haven't been inspected in the past five years to see if they are obeying water pollution laws;"
Seeing how central Appalachian citizens have spent decades committed to building a citizens movement and education campaign for basic health rights and civil rights and environmental protection; leading legislative campaigns, nonviolence protests and direct actions; testifying in front of the state legislatures, the U.S. Congress, and the United Nations and in forums across the country;
Seeing how tens of films and documentaries, and concerts and songs, books and poetry, and artistic campaigns have attempted to highlight the humanitarian crisis and extraordinary environmental devastation;
Seeing how former U.S. Senator Robert Byrd called more than five years ago for the U.S. Congress to take the "time to fully understand the effects of mountaintop removal mining on the health of our citizens:"
The People's Foot is coming down in Charleston, West Virginia, on March 16.
Here's the official announcement—pass the word:
Respiratory birth defects in mountaintop removal mining communities (MTR) are triple that of NON-MTR communities. A mother that DOES NOT SMOKE, but lives in an MTR community is at 10x's GREATER RISK of birthing a baby with a respiratory birth defect than a woman THAT DOES SMOKE, but does not live in an MTR community. Research scientists, including West Virginia University's Mary Baab Randolph Cancer Center have proven that MTR blasting particulate matter collected from the air and peoples homes in MTR communities promotes tumor formation in human lung cells. Cancer rates in MTR communities are nearly triple the national average. There are now more than 25 peer reviewed and published research papers showing mountaintop removal is a major health threat to the living and the unborn. Yet, in spite of this overwhelming evidence the WV Dept. of Environmental Protection continues to issue mountaintop removal permits that allow the coal industry to blast WV mountains with high explosives unleashing fine particulates of silica, aluminum, and molybdenum dust. We, The People will no longer stand silent while the WV DEP with the blessing of Senator Joe Manchin and our Governor continue to encourage and support the poisoning of our children with toxins that cause cancer. Click the events link on the left side of this page, then come join us at the WV DEP to send a loud and firm message to the Secretary of the WV DEP; no more permits, stop allowing this murderous act to continue, mountaintop removal ends today!
YOU MIGHT ALSO LIKE
PNC Bank Will Cease Investments in Mountaintop Removal Coal Mining
President Obama, Stop Selling Us Out: End Oil, Gas and Coal Extraction on Public Lands
David Suzuki: Climate Change Is Real Threat, Not Activists Calling for Immediate Action
EcoWatch Daily Newsletter
David Gilmour performs at Anfiteatro Scavi di Pomei on July 7, 2016 in Pompei, Italy. Francesco Prandoni / Redferns / Getty Images
David Gilmour, guitarist, singer and songwriter in the rock band Pink Floyd, set a record last week when he auctioned off 126 guitars and raised $21.5 million for ClientEarth, a non-profit environmental law group dedicated to fighting the global climate crisis, according to CNN.
U.S. Secretary of Agriculture Sonny Perdue speaks during a forum April 18, 2018 in Washington, DC. Alex Wong / Getty Images
The Trump administration ratcheted up its open hostility to climate science in a move that may hide essential information from the nation's farmers.
Simple swaps that cut down on kitchen trash.
Sponsored
By Kayla Robbins
Along with the bathroom, the kitchen is one of the most daunting areas to try and make zero waste.
Protestors and police stand on ether side of railway tracks. dpa / picture-alliance
Police have cleared 250 climate activists who stayed overnight at the Garzweiler brown coal mine in western Germany, officials said Sunday.
Cecilie_Arcurs / E+ / Getty Images
By Megan Jones and Jennifer Solomon
The #MeToo movement has caused profound shake-ups at organizations across the U.S. in the last two years. So far, however, it has left many unresolved questions about how workplaces can be more inclusive and equitable for women and other diverse groups.

Cigarette butts are the most-littered item found at beach clean ups. John R. Platt
By Tara Lohan
By now it's no secret that plastic waste in our oceans is a global epidemic. When some of it washes ashore — plastic bottles, plastic bags, food wrappers — we get a stark reminder. And lately one part of this problem has been most glaring to volunteers who comb beaches picking up trash: cigarette butts.

Andrea Rodgers, second from the right, takes notes during a hearing in the Juliana v. U.S. case before the 9th Circuit Court of Appeals in Portland, Oregon on June 4. Colleague Elizabeth Brown sits to her left, while colleague Julia Olson sits on her right, with co-council Philip Gregory on Julia's right. Robin Loznak / Our Children's Trust
By Fran Korten
On June 4, Andrea Rodgers was in the front row of attorneys sitting before a three-judge panel of the 9th Circuit Court. The court session, held in Portland, Oregon, was to determine whether the climate change lawsuit (Juliana v. United States) brought by 21 young plaintiffs should be dismissed, as requested by the U.S. government, or go on to trial.
Seventy Extinction Rebellion protesters were arrested outside The New York Times building Saturday.
SCOOTERCASTER / YouTube screenshot