Mountaintop Removal Coal Mining Decimates Fish Populations in Appalachia
Jul. 10, 2014 08:30AM EST
Energy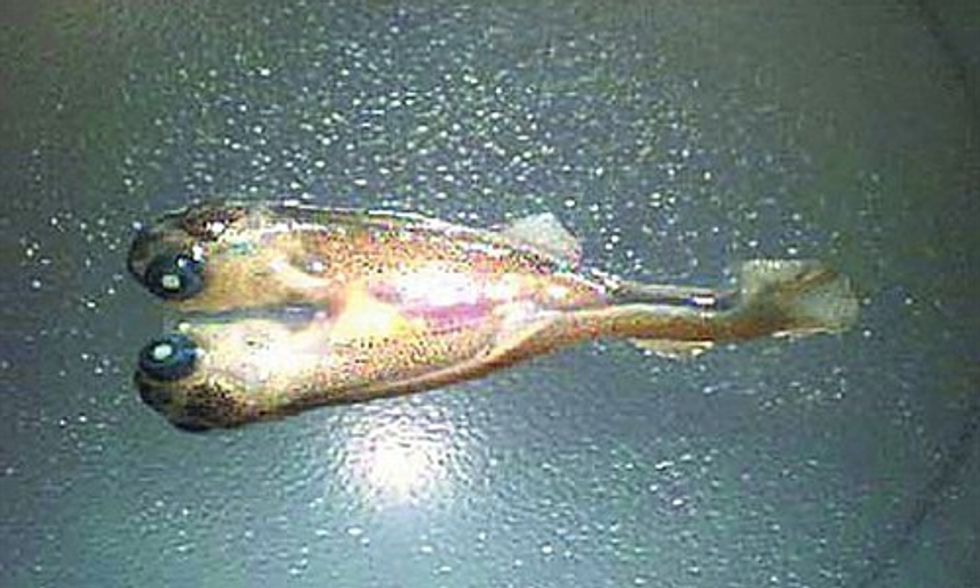 A study from researchers at the U.S. Geological Survey (USGS) published this month provides strong new evidence that mountaintop removal coal mining in Appalachia is devastating downstream fish populations.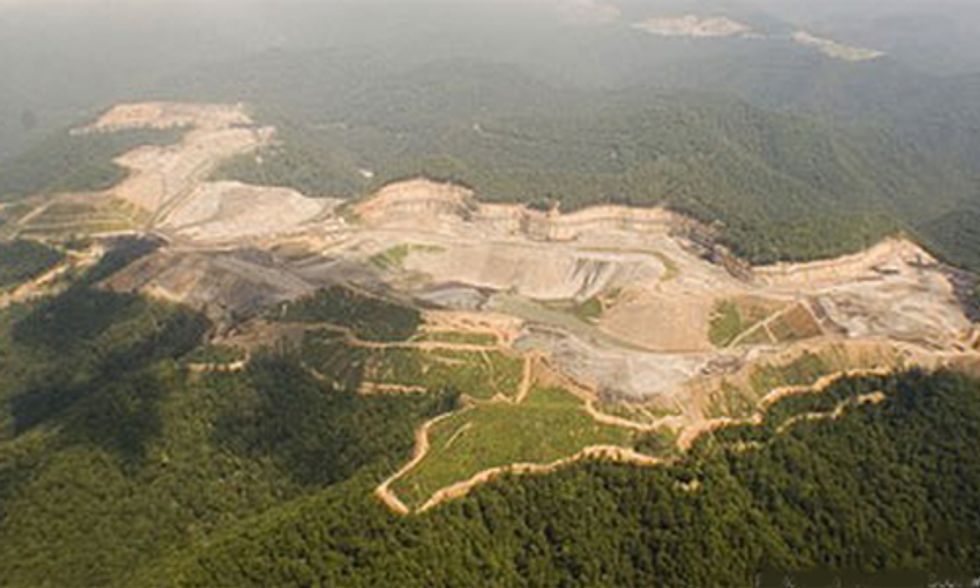 That's hardly news for long-time followers of the controversy surrounding mountaintop removal, a coal mining practice that involves blowing off the tops of mountains to access thin seams of coal and dumping the waste into valleys below. In 2010, a group of 13 prestigious biologists published a paper in Science, the nation's premier scientific journal, that found:
"Our analyses of current peer-reviewed studies and of new water-quality data from WV streams revealed serious environmental impacts that mitigation practices cannot successfully address… Clearly, current attempts to regulate [mountaintop removal mining] practices are inadequate."
The authors of the study published last week found a 50 percent decline in the number of fish species and a two-thirds decline in the total number of fish in streams below mountaintop removal mines in West Virginia's Guyandotte River drainage. They made this important contribution to the science by using rigorous methodology to isolate several types of water pollution most likely to have caused these staggering declines.
But a more important contribution of the study may be that it draws the focus of water pollution impacts away from mayflies and other aquatic insects and onto a far more popular and charismatic organism that not only is important to rural people's way of life, but supports a multi-billion dollar sportfishing industry in Appalachia.
Tellingly, industry spokespeople contacted by local reporters did not dispute the science as they typically have in the past. Those that didn't dodge reporters entirely were quick to change the subject to the purported benefits of mountaintop removal to create more flat land for industrial and commercial development (in a region where less than 10 percent of the more than 1 million acres of mountains that have already been flattened has been used for economic development).
This muted response is in stark contrast to the coal industry's response to previous science linking mountaintop removal to the loss of aquatic insects downstream from mine sites. The "EPA [U.S. Environmental Protection Agency] puts mayflies ahead of jobs" or "pests over people" became the rallying cries of coal industry supporters when the EPA first began bringing science back into the permitting process in 2009.
One suspects that the coal industry knows it isn't likely to win a "jobs vs. fish" debate with America's 33 million anglers.
Widespread damage to fish populations could also be important from the pocketbook perspective that political leaders in Kentucky and West Virginia take seriously. According to data from the American Sportfishing Association, recreational fishing creates a lot more jobs than mountaintop removal does in the states where it occurs: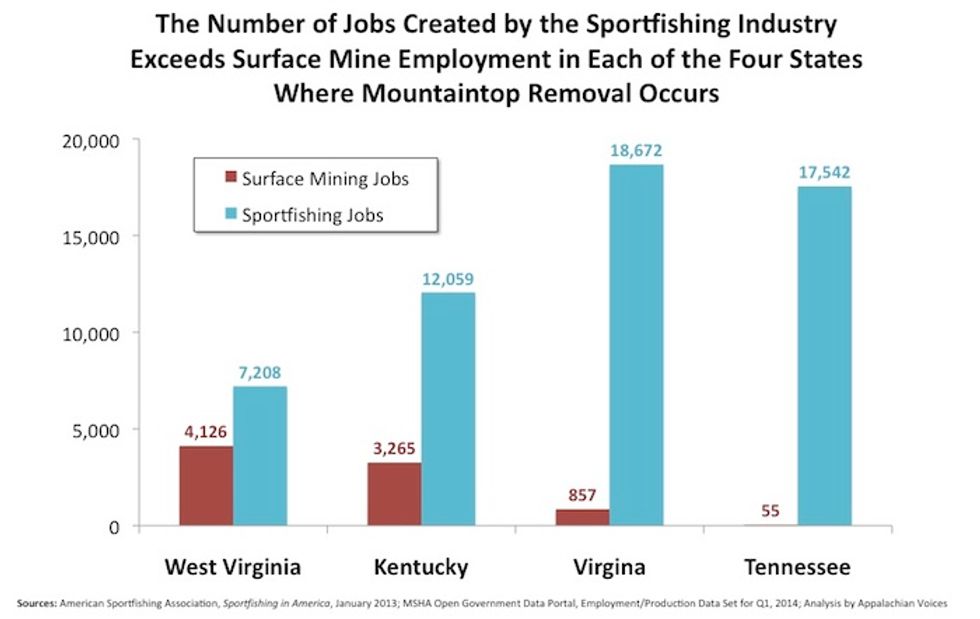 In fact, sportfishing accounts for more than 12,000 jobs in Kentucky, which is more than the entire coal mining workforce in the state, including all underground and surface miners, coal preparation plant workers and industry office workers combined. Moreover, unlike coal, sportfishing is a growing industry in Appalachia—the number of jobs it created in West Virginia more than tripled between 2001 and 2011.
Of course, even if "jobs vs. fish" were a popular argument, it would be just as false a narrative as "pests over people." Declines in populations of both fish and aquatic insects are important indicators of declining health of an ecosystem on which all organisms depend, including people. The "ecological indicator" theory is consistent with the dozens of scientific studies published in the last few years that show communities near mountaintop removal mines suffer poor health outcomes ranging from high rates of cancer, respiratory illness, heart disease and birth defects to low life expectancies that are comparable to those in developing nations like Iran, Syria, El Salvador and Vietnam.
Thus, the USGS study is an important contribution to the debate about mountaintop removal for anyone concerned about recreational fishing, human health or the economy of Appalachia. Hopefully that's everybody.
It's also a very timely contribution because it turns out that the EPA and other federal agencies are right now grappling with important rules to protect streams that will determine whether the pollution that leads to the kinds of declines in fish populations seen by the USGS researchers will be allowed to continue.
The study found that waters downstream from mountaintop removal mines contained elevated levels of two forms of pollution that the researchers believe could account for the declines in fish populations: conductivity and selenium. Conductivity is a measure of metals and salts in water, and elevated levels are toxic to aquatic life. Selenium has caused grotesque deformities in larval fish ranging from s-curved spines and double-headed larvae to fish with both eyes on the same side of their heads.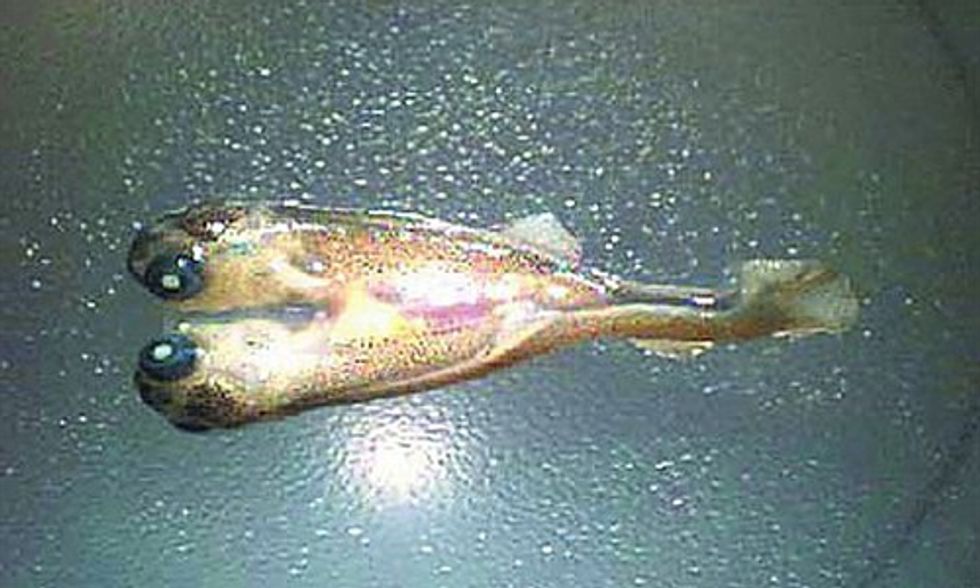 This study should serve as a wake-up call to federal regulators that have been steadily backsliding from the Obama administration's initial commitment to put science first in agency decision-making and to rein in the widespread damage from mountaintop removal mining. That backsliding has been particularly evident at the EPA's Region 4 headquarters in Atlanta, which oversees Clean Water Act permitting for a number of southeastern states including Kentucky.
Enforcement officials at Region 4 have not incorporated the science and recommendations developed by the EPA for the guidance on conductivity since it was announced by previous EPA Administrator Lisa Jackson in 2010. At the time, Jackson predicted the new guidelines would allow "few, if any, valley fills" to be permitted. Since then, valley fills—debris piles composed of the soil and rock that formerly made up the mountaintops of Central Appalachia—have continued to be approved by Region 4, including a massive new mountaintop removal permit with six valley fills that was approved last year.
Region 4 officials also recently approved a weakening of Kentucky's standards for chronic selenium levels in streams, allowing the state to permit levels high enough to cause reproductive failure in some fish. Worse, at the federal level, the EPA recently released a draft revision to its nationwide selenium rule that is likely to be all but impossible to enforce. That's a particular problem in states like Kentucky that have proven time and again to be incapable of enforcing rules on the politically powerful coal industry without citizen groups intervening. Here's what the Lexington Herald-Leader had to say about the state's "failure to oversee a credible water monitoring program by the coal industry":
"In some cases, state regulators allowed the companies to go for as long as three years without filing required quarterly water-monitoring reports. In other instances, the companies repeatedly filed the same highly detailed data, without even changing the dates. So complete was the lack of state oversight it's impossible to say whether the mines were violating their water pollution permits or not."
Fortunately, the administration has an opportunity to take meaningful action to protect Appalachian streams this winter, when the Office of Surface Mining is scheduled to release a draft Stream Protection Rule to replace the outdated Stream Buffer Zone rule promulgated more than 30 years ago.
The message for the Obama Administration from all this is that they are doing nobody any favors by taking half-measures to protecting water quality in Appalachia. When important recreational fish populations, a growing sector of the Appalachian economy and the health of Appalachian people clearly depend on strong water quality protections, the president's spirit of compromise should not extend to compromising on science.
Here's what you can do: tell President Obama to instruct his agencies to draft a strong Stream Protection Rule that will prohibit mining near streams and protect the health of people, fish and the economy of Appalachia. Take action here.
Google Earth's latest feature allows you to watch the climate change in four dimensions.
EcoWatch Daily Newsletter
Researchers say there's a growing epidemic of tap water distrust and disuse in the U.S. Teresa Short / Moment Open / Getty Images
By Asher Rosinger
Imagine seeing a news report about lead contamination in drinking water in a community that looks like yours. It might make you think twice about whether to drink your tap water or serve it to your kids – especially if you also have experienced tap water problems in the past.
Why tap wins every time.
Asher Rosinger is an assistant professor of biobehavioral health, anthropology, and demography and director of the Water, Health, and Nutrition Laboratory at Penn State University.

Disclosure statement: Asher Rosinger receives funding from the National Science Foundation on an unrelated project. This work was supported by the Ann Atherton Hertzler Early Career Professorship funds, and the Penn State Population Research Institute (NICHD P2CHD041025). The funders had no role in the research or interpretation of results.
Reposted with permission from The Conversation.
A new report urges immediate climate action to control global warming. John W Banagan / Getty Images
A new report promoting urgent climate action in Australia has stirred debate for claiming that global temperatures will rise past 1.5 degrees Celsius in the next decade.
Winegrowers check vines during the burning of anti-frost candles in the Luneau-Papin wine vineyard in Le Landreau, near Nantes, western France, on April 12, 2021. SEBASTIEN SALOM-GOMIS / AFP via Getty Images
French winemakers are facing devastating grape loss from the worst frost in decades, preceded by unusually warm temperatures, highlighting the dangers to the sector posed by climate change.
"An important share of the harvest has been lost. It's too early to give a percentage estimate, but in any case it's a tragedy for the winegrowers who have been hit," said Christophe Chateau, director of communications at the Bordeaux Wine Council, told CNN.
Climate change, caused by the extraction and combustion of fossil fuels, has pushed winegrowing seasons earlier, putting crops at higher risk of cold — and wildfires supercharged by climate change also threaten American vignerons and farmworkers as well.
"I think it's good for people to understand that this is nature, climate change is real, and to be conscious of the effort that goes into making wine and the heartbreak that is the loss of a crop," Jeremy Seysses of Domaine Dujac in Burgundy's Côte de Nuits told Wine Enthusiast.
As reported by Wine Enthusiast:
Last week, images of candlelit French vineyards flooded social media. Across the country, winemakers installed bougies, or large wax-filled metal pots, among the vines to prevent cold air from settling in during an especially late frost.

With temperatures in early April as low as 22°F, and following an unseasonably warm March, this year's frost damage may be the worst in history for French winegrowers. Every corner of France reports considerable losses, from Champagne to Provence, and Côtes de Gascogne to Alsace. As a result, there will likely be very little French wine from the 2021 vintage reaching U.S. shores.
For a deeper dive:

CNN, Wine Enthusiast, France24, Eater
For more climate change and clean energy news, you can follow Climate Nexus on Twitter and Facebook, sign up for daily Hot News, and visit their news site, Nexus Media News.
From Your Site Articles
Related Articles Around the Web
A recent study focused on regions in Ethiopia, Africa's largest coffee-producing nation. Edwin Remsberg / Getty Images
Climate change could make it harder to find a good cup of coffee, new research finds. A changing climate might shrink suitable areas for specialty coffee production without adaptation, making coffee taste blander and impacting the livelihoods of small farms in the Global South.