This website uses cookies to ensure you get the best experience while browsing it. By clicking 'Got It' you're accepting these terms.
Most U.S. Apples Coated With Chemical Banned in Europe
Apr. 24, 2014 09:02AM EST
Food
A chemical widely used on non-organic American apples was banned in the European Union in 2012 because its makers could not show it did not pose a risk to human health, according to a new analysis by Environmental Working Group (EWG).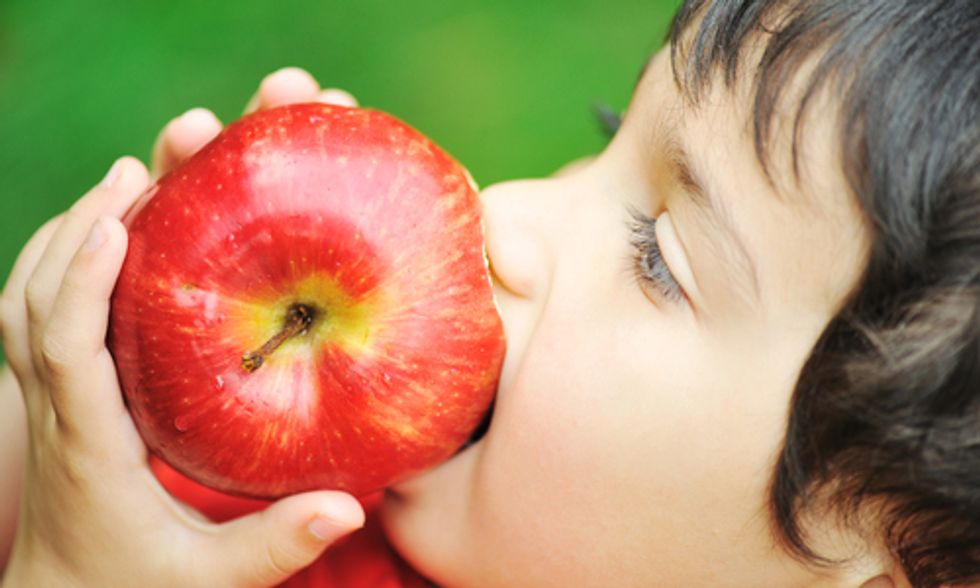 Photo credit: Shutterstock
In the U.S., as few Americans may realize, after harvest, farmers and packers drench most conventionally-raised apples with diphenylamine, known as DPA, which helps prevent "storage scald," blackening or browning of fruit skin during long months of cold storage. DPA was first registered for use in the U.S. in 1962. Tests of raw apples conducted by U.S. Department of Agriculture (USDA) scientists in 2010, the most recent year for which data are available, found DPA on 80 percent of the apples tested.
"While it is not yet clear that DPA is risky to public health, European Commission officials asked questions that the chemicals' makers could not answer," said EWG senior scientist Sonya Lunder. "The EC officials banned outright any further use of DPA on the apples cultivated in the European Union until they are confident it is safe. Europe's action should cause American policymakers to take a new look at this chemical."
USDA pesticide residue tests of apples find DPA more often and at greater concentrations than most other pesticide residues. DPA is also detected in apple juice and applesauce and, less often, on pears and in pear baby food. It is regulated as a pesticide, but its primary function is a "growth regulator" or antioxidant that slows fruit skin discoloration during storage.
Of particular concern to EC officials was the possible presence on DPA-treated fruit of nitrosamines, a family of potent carcinogens.
European regulators theorized that nitrosamines could be generated if DPA combined, either during storage or when fruit was processed, with a source of nitrogen, an element ubiquitous in the environment. Beginning in 2008, they pressed makers of DPA for test data that showed whether nitrosamines or other harmful chemicals formed when containers of DPA sat on shelves, when fruit was treated with DPA and stored for a long time and when DPA-treated fruit was processed into juices, purees and sauces (EFSA 2008). The industry provided one study that detected three unknown chemicals on DPA-treated apples, but it could not determine if any of these chemicals, apparently formed when the DPA broke down, were nitrosamines.
In 2012 the European Food Safety Authority, a government body that evaluates the risk of pesticides for the European Commission, concluded that the industry had not provided sufficient information and that the many data gaps made it impossible to confirm the safety of DPA. The full Commission banned the use of DPA on European apples and pears in June 2012. In March of this year, the EC reduced the allowable level of DPA on imports to 0.1 part per million. The average concentration of DPA on U.S. apples is roughly four times higher at 0.42 parts per million.
The U.S. Environmental Protect Agency (EPA) has taken no action to respond to the European ban and nor to the concerns about nitrosamines expressed by European food safety officials. This year, scientists in the U.S. EPA Pesticide Office tasked with pesticide safety reviews told EWG they were unaware of the new European ban and import restrictions.
"Americans, particularly parents of young children, deserve the same level of concern from our government," said Lunder. "Apples, apple juice and applesauce are staples in the diets of millions of children, so if there are potential risks to kids from DPA, we need to know now."
EWG's analysis of DPA and apples says that, according to USDA, Americans eat nearly 10 pounds per person of fresh apples every year. Consequently, even low levels of nitrosamines on raw apples, or in apple juice and applesauce could potentially pose a risk to human health.
Researchers with USDA's Pesticide Data Program consistently find multiple pesticides on apple samples, including DPA. As a result, apples have appeared at or near the top of EWG's Dirty Dozen list in the Shopper's Guide to Pesticides in Produce since it was first published more than a decade ago. The 2014 Shopper's Guide will be released next week.
EWG president Ken Cook sent a letter today to the head of the pesticide office at U.S. EPA urging the agency to follow Europe's lead. "The American public deserves the same level of protection as Europeans from pesticide risks," wrote Cook. "We urge EPA to halt the use of DPA on U.S. fruit until a rigorous analysis (re-registration) by EPA of the chemical can prove that it poses a reasonable certainty of no harm to consumers."
——–
YOU ALSO MIGHT LIKE 
Squatty Potty Makes Me Feel Happy and Healthy
Yale Researchers Show Why Choosing a Paleo, Low-Carb or Fat-Free Diet is Not the Healthiest Way to Go
30% Jump in Autism Rates Brings Greater Urgency to Toxic Chemical Reform
——–
EcoWatch Daily Newsletter
The Opera House is seen with smoke haze which enveloped Sydney Harbor on Dec. 10 in Sydney, Australia. Smoke haze hangs over the city as the New South Wales fire danger risk is raised from 'very high' to 'severe'. James D. Morgan / Getty Images
The brushfires raging through New South Wales have shrouded Australia's largest city in a blanket of smoke that pushed the air quality index 12 times worse than the hazardous threshold, according to the Australia Broadcast Corporation (ABC).
People walk across the bridge near Little Raven Court in downtown Denver. Younger Americans increasingly prefer to live in walkable neighborhoods. Helen H. Richardson / The Denver Post via Getty Images
By David B. Goldstein
Energy efficiency is the cornerstone of any country's plan to fight the climate crisis. It is the cheapest option available, and one that as often as not comes along with other benefits, such as job creation, comfort and compatibility with other key solutions such as renewable energy. This has been recognized by the International Energy Agency (IEA) for at least a decade.
Activists from Extinction Rebellion New York City engaged in nonviolent direct action to confront climate change outside City Hall on April 17, 2019. Erik McGregor / Pacific Press / LightRocket via Getty Images
By Andrea Germanos

Over 500 groups on Monday rolled out an an action plan for the next president's first days of office to address the climate emergency and set the nation on a transformative path towards zero emissions and a just transition in their first days in office.

The Ladakh region of India, pictured above, is a part of the Himalayan mountain region of the upper Indus Valley which is the most vulnerable water tower, according to researchers. Suttipong Sutiratanachai / Moment / Getty Images
Jet stream triggered heat waves could threaten food production in several important breadbaskets, including central North America.
Carl Wycoff /
CC BY 2.0
Researchers have pinpointed a previously underexamined threat to global food production, and they warn it will only get worse as the climate crisis intensifies.