More Than 75 California Leaders Say 'Yes' to Solar Power
Mar. 02, 2012 12:00PM EST
Climate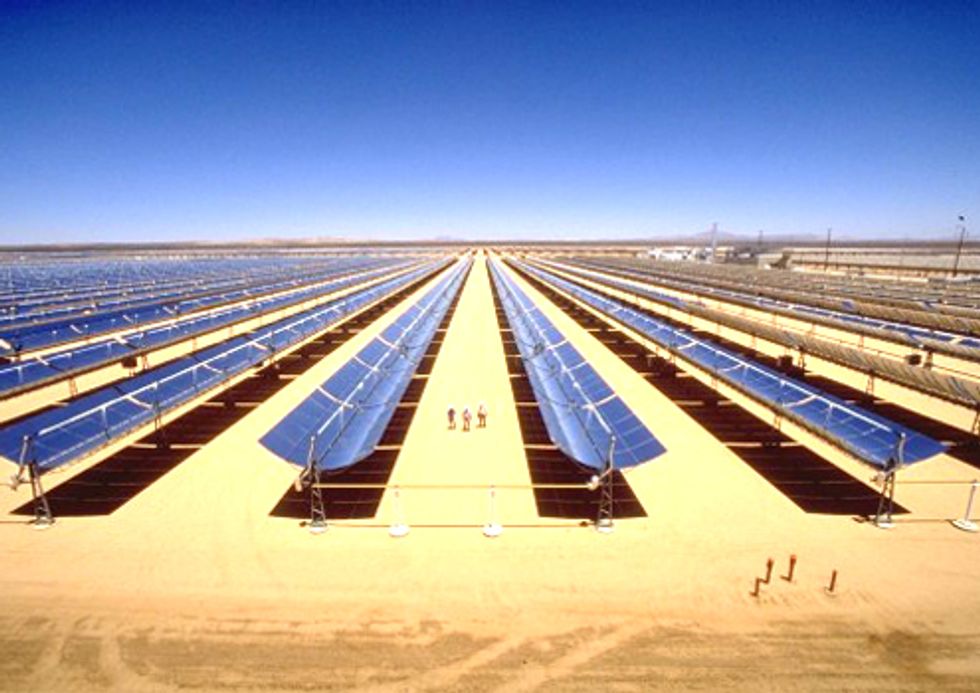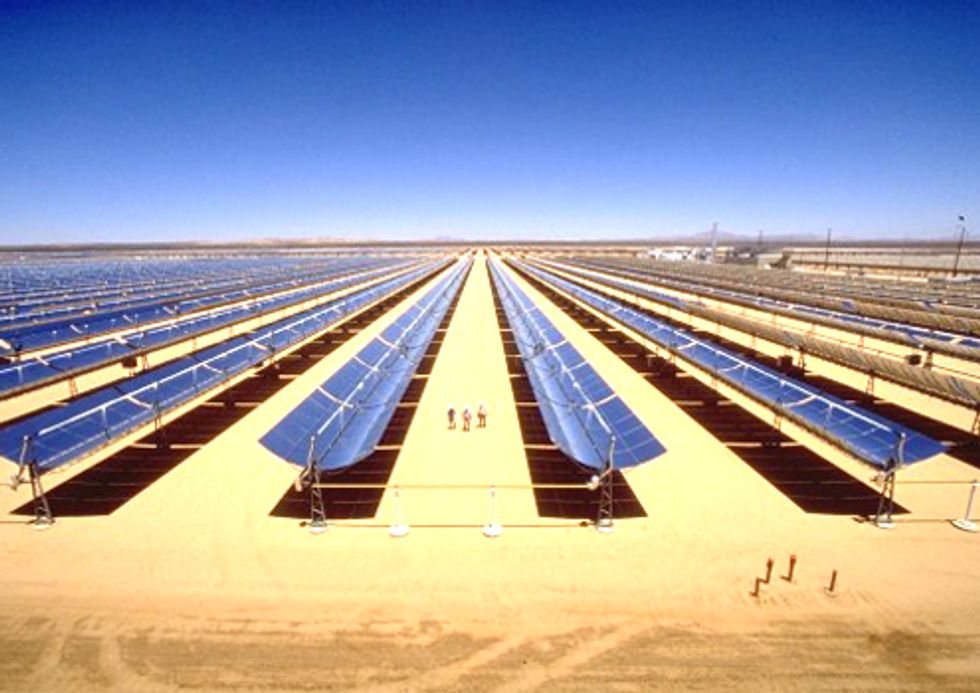 Solar power is booming in California—in urban and rural areas, along the coast and throughout the Central Valley, in Democratic and Republican strongholds alike—and a growing number of California's leaders are seeking to build on this foundation by supporting Gov. Jerry Brown's goal to build 12,000 megawatts (MW) of local, distributed energy throughout the state by 2020. That's significant—12,000 MW is the equivalent of 24 coal-fired power plants.
To date, 8 Members of  Congress, 35 Members of the California State Legislature, and 38 local officials from San Jose and Sacramento to Los Angeles and San Diego have signed on to say: "Yes, I endorse Governor Brown's pioneering vision to build 12,000 megawatts of clean energy—enough solar energy to cover a million solar roofs—by 2020. By building solar on houses, apartment buildings, offices, schools, and warehouses across California, we can create green jobs, reduce air pollution, and generate clean energy to power our lives."  (Full list of endorsers below.)
"Solar power is a rare bright spot in our economy, bringing jobs, investment and clean air to California," said Michelle Kinman, clean energy advocate with Environment California. "Turning up the heat and increasing our solar market twelve-fold in the next eight years, as envisioned by Governor Brown, will bring twelve times the economic and environmental benefits to Californians across the state."
The momentum around Gov. Brown's goal comes as California recently celebrated a major clean energy milestone—the installation of more than 1,000 MW of rooftop solar across the state, which is more than in all but five nations in the world. Thanks to innovative and bold policies like the Million Solar Roofs Initiative (SB 1) that are driving market growth and helping create economies of scale, the price of solar power has dropped 25-40 percent in the past five years and there are now more than 3,500 solar companies employing more than 25,000 people throughout the state, more than in any other state in the country. Furthermore, California's market is diversifying with cities like Fresno and Bakersfield installing more solar than San Francisco, and thousands of farms, schools, military bases, businesses and homeowners are going solar throughout the state.
To remain the country's clean energy leader, California policy makers must act now to expand California's solar and clean distributed generation market to 12,000 MW by 2020 and to truly make solar power a mainstream energy resource
Full list of endorsers follows:
U.S. Congress
Congressman Howard Berman - Van Nuys, LA
Congresswoman Judy Chu - Los Angeles
Congressman Bob Filner - San Diego
Congresswoman Janice Hahn - Los Angeles
Congressman Mike Honda - San Jose
Congresswoman Jackie Speier - San Mateo
Congressman Henry Waxman - Los Angeles
Congresswoman Lynn Woolsey - Petaluma
California State Senate
Senator Elaine Alquist - Santa Clara
Senator Christine Kehoe - San Diego
Senator Alan Lowenthal - Long Beach
Senator Fran Pavley - Santa Monica
Senator Michael Rubio - Fresno
Senator Lois Wolk - Davis
Senator Leland Yee - San Francisco
California State Assembly
Assembly Member Tom Ammiano - San Francisco
Assembly Member Luis A. Alejo - Salinas
Assembly Member Michael Allen - Santa Rosa
Assembly Member Toni Atkins - San Diego
Assembly Member Jim Beall - San Jose
Assembly Member Marty Block - Lemon Grove
Assembly Member Steven Bradford - Inglewood
Assembly Member Julia Brownley - Santa Monica
Assembly Member Betsy Butler - El Segundo
Assembly Member Wilmer Amina Carter - Rialto
Assembly Member Roger Dickinson - Sacramento
Assembly Member Mike Eng - Monterey Park
Assembly Member Mike Feuer - Los Angeles
Assembly Member Warren Furutani - Long Beach
Assembly Member Mike Gatto - Burbank
Assembly Member Richard Gordon - Redwood City
Assembly Member Jerry Hill - San Mateo
Assembly Member Jared Huffman - San Rafael
Assembly Member Ricardo Lara - South Gate
Assembly Member Bonnie Lowenthal - Long Beach
Assembly Member Fiona Ma - San Francisco
Assembly Member Henry Perea - Fresno
Assembly Member Anthony Portantino - Pasadena
Assembly Member Nancy Skinner - Berkeley
Assembly Member Jose Solorio - Santa Ana
Assembly Member Bob Wieckowski - Fremont
Assembly Member Das Williams - Santa Barbara
Assembly Member Mariko Yamada - Davis
Local California Leaders
Councilmember Jesse Arreguin - Berkeley
Mayor Tom Bates - Berkeley
Councilmember Laurie Capitelli - Berkeley
Councilmember Susan Wengraf - Berkeley
Councilmember Kriss Worthington - Berkeley
Mayor Michael O'Leary - Culver City
Councilmember John Reed - Fairfax
Councilmember David Weinsoff - Fairfax
Councilmember Tony Cardenas - Los Angeles
Councilmember Eric Garcetti - Los Angeles
City Controller Wendy Greuel - Los Angeles
Councilmember Paul Krekorian - Los Angeles
Councilmember Jan Perry - Los Angeles
Supervisor Zev Yaroslavsky - Los Angeles County
Councilmember Shawn Marshall - Mill Valley
Vice Mayor Michael Kasperzak - Mountain View
Councilmember Rebecca Kaplan - Oakland
Councilmember Pat Kernighan - Oakland
Council President Larry Reid - Oakland
Councilmember Libby Schaaf - Oakland
Mayor Edwin Lee - San Francisco
Councilmember Steve Cohn - Sacramento
Mayor Kevin Johnson - Sacramento
Vice Mayor Bonnie Pannell - Sacramento
Councilmember Jay Schenirer - Sacramento
Mayor Jerry Sanders - San Diego
Councilmember David Alvarez - San Diego
Councilmember Marti Emerald - San Diego
Mayor Chuck Reed - San Jose
Vice Mayor Madison Nguyen - San Jose
Councilmember Kansen Chu - San Jose
Councilmember Rose Herrera - San Jose
Councilmember Ash Karla - San Jose
Mayor Ryan Coonerty - Santa Cruz
Vice Mayor Don Lane - Santa Cruz
Councilmember David Terrazas - Santa Cruz
Mayor Ronald O. Loveridge - Riverside
Mayor Patrick Morris - San Bernardino
For more information, click here.
EcoWatch Daily Newsletter
Related Articles from EcoWatch