This website uses cookies to ensure you get the best experience while browsing it. By clicking 'Got It' you're accepting these terms.
More than 156,000 Citizens Press EPA for Clean Air
Nov. 30, 2011 10:11AM EST
Fracking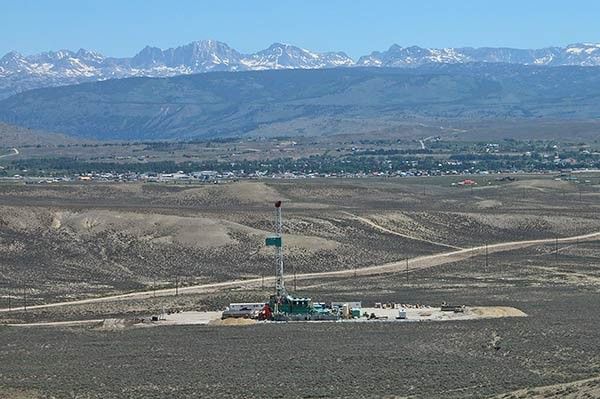 More than 156,000 concerned citizens and 33 environmental and public health groups filed public comments with the U.S. Environmental Protection Agency (EPA) over the past four months, pressing for strong, updated air pollution protections from oil and gas drilling. Environmental groups submitted technical comments to the EPA highlighting the strengths of the agency's proposed rule and explaining how it could be improved. The comment period ends Nov. 30.
"When the air in Wyoming gets smoggier than the air in Los Angeles, something has gone wrong. Thanks to lax air regulations on the oil and gas industry, that's exactly what's happened," said Earthjustice Attorney Robin Cooley. "As demonstrated by the impressive volume of public comments on EPA's proposed protections from oil and gas industry air pollution, the American public is eager to clean our air of lung-burning, cancer-causing pollutants."
The country is in the midst of a gas rush, spurred on by a controversial technology know as hydraulic fracturing or fracking, in which drillers blast millions of gallons of chemically laced water into the ground to crack shale rock and force out gas.
"Over the past several months, thousands of families stood up to the dirty gas industry and asked the EPA to fight for clean air," said Deb Nardone, director of Sierra Club's Natural Gas Reform Campaign. "This industry is growing at an incredible rate and the weak air safeguards now in place do not protect the health of our communities from industry practices like hydraulic fracturing. We urge the agency to adopt these standards without delay and strengthen them to include overlooked pollutants and pollution sources."
Fumes from natural gas and oil wells dump smog-forming pollutants and cancer-causing benzene into the air. In the drilling-rig-studded Upper Green River Basin of Wyoming, levels of pollution-forming ozone reached 123 parts per billion earlier this year—worse than air quality in traffic-intensive Los Angeles.
"Shale gas production has gone from a negligible amount just a few years ago to being almost 30 percent of total U.S. natural gas production, but national clean air standards covering these activities have not been updated since 1985 in one case and 1999 in another. They are limited, inadequate, and out of date, particularly given recent technological advances in this area, said Susanne Brooks, senior economic policy analyst at Environmental Defense Fund. "This poses a serious problem, since exploration and production activities emit numerous hazardous air pollutants and other airborne contaminants that threaten human health and the environment. Communities across the country are paying the price, suffering from air pollution in the absence of protective, comprehensive standards."
David McCabe, atmospheric scientist with Clean Air Task Force, pointed out that while the proposed regulation of several air pollutants will help protect our nation's public health, the regulations to cut smog-forming pollutants need to be tightened further, and the regulations fail to directly regulate the release of methane into the atmosphere. "Natural gas operations emit more methane—a highly potent climate pollutant—than any other industry in the nation," said McCabe. "In our technical comments to EPA we have made a strong case for amending the draft rule to clean up wasteful and dangerous emissions of methane from operations of the oil and gas industries."
The public comment period on a draft rule published in August ended Nov. 30. The agency is under a court order to finalize the rule by April 3, 2012.
Because the agency failed to update air pollution standards for drilling, Earthjustice filed suit on behalf of WildEarth Guardians and the San Juan Citizens Alliance—two American environmental organizations based in the American West.
An abbreviated version of the technical comments can be found by clicking here. A full copy of the technical comments will be available upon request.
For more information, click here.
EcoWatch Daily Newsletter
Smog over Los Angeles. Westend61 / Getty Images
After four decades of improving air quality, the U.S. has started to take a step backwards, as the number of polluted days has ticked upwards over the last two years, the Associated Press reported.
Photobos / iStock / Getty Images
Governors in Vermont and Maine signed bills on Monday that will ban plastic bags in their states next year, The Hill reported.
The Maine ban will go into effect next Earth Day, April 22, 2020. The Vermont ban, which extends beyond plastic bags and is the most comprehensive plastics ban so far, will go into effect in July 2020. The wait time is designed to give businesses time to adjust to the ban.
picture-alliance / AP Images / D. Goldman
By Daniel Moattar
Eastern Kentucky's hills are interrupted by jarring flats of bare rock: the aftermath of mountaintop removal mining, which uses explosives to destroy and harvest coal-rich peaks.
By Molly Taft
Lisa Marshall isn't your typical activist. For one thing, she's not into crowds. "I don't really like rallies," Marshall, a mom of three from upstate New York, said. "They're a little stressful — not my favorite thing."

An oil drilling site in a residential area of Los Angeles, California on July 16, 2014.
Faces of Fracking / Flickr
By Jake Johnson
A comprehensive analysis of nearly 1,500 scientific studies, government reports, and media stories on the consequences of fracking released Wednesday found that the evidence overwhelmingly shows the drilling method poses a profound threat to public health and the climate.

sonsam / iStock / Getty Images
By Grace Francese
A new Environmental Working Group (EWG) study published in Environmental Research found that nitrate, one of the most common contaminants of drinking water, may cause up to 12,594 cases of cancer per year, but that's not its only danger: It can pose unique health risks to children.
Melt water from Everest's Khumbu glacier. Ed Giles / Getty Images
EPA Administrator Andrew Wheeler signs his replacement for the Clean Power Plan. Win McNamee / Getty Images