This website uses cookies to ensure you get the best experience while browsing it. By clicking 'Got It' you're accepting these terms.
More Kids Are Doing Yoga and Using Natural Remedies Like Melatonin and Fish Oil, Report Says
Mar. 02, 2015 01:23PM EST
Health + Wellness
A new government report shows that 1 in 9 children in the U.S. (11.6 percent) are using complimentary therapy to stay healthy, an amount that has not changed in five years.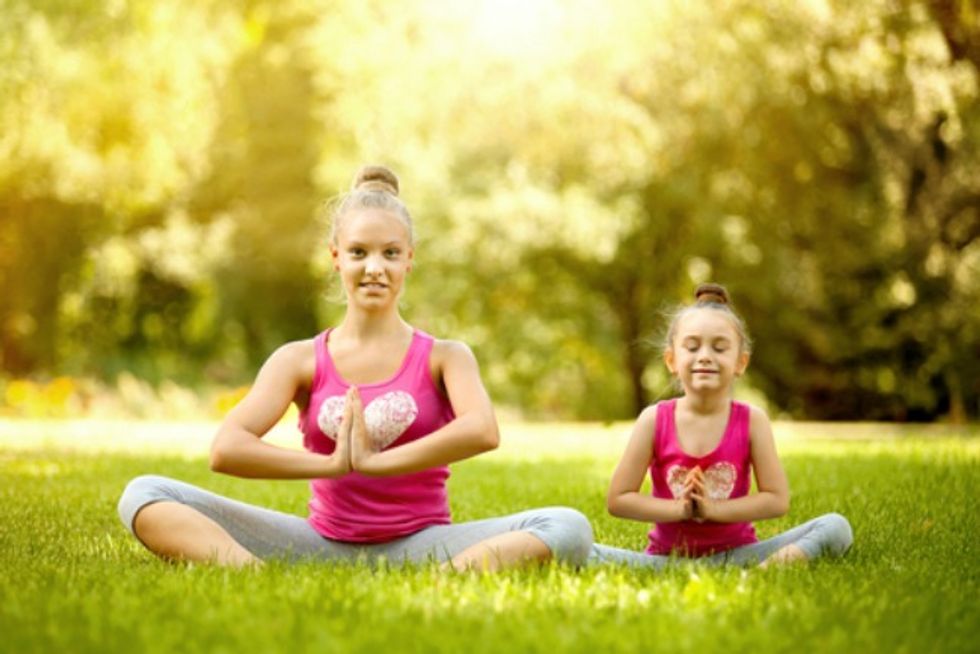 Photo credit: Shutterstock
What has changed since the report was last conducted in 2007: kids are doing a lot more yoga and taking more melatonin, a plant-based sleep aid. Many of the other types of natural healing included in the National Institutes of Health survey—chiropractic care, and use of herbal remedies and supplements—are being used in similar amounts by kids as they were five years ago.
"One of beauties of this survey us that it allows us to make estimates of actual use," said Richard L. Nahin, PhD, MPH, in a media presentation. Dr. Nahin, one of the authors of the report, is the Senior Advisor for Scientific Coordination and Outreach at the National Institutes of Health.
While the report found that children used complementary health approaches about the same amount in 2007 (12 percent) and 2012 (11.6 percent), they used traditional healers less often (down from 1.1 percent in 2007 to 0.1 percent in 2012), and the number of kids doing yoga increased significantly during the same period—up from 2.3 percent in 2007, or 1.3 million kids, to 3.1 percent in 2012, or 1.9 million kids.
Most of those who practiced yoga in 2012—more than 900,000 children—included meditation, deep-breathing exercises or both. However, only one-third of children who practiced yoga had taken a class or received training in the past 12 months. The report also found that girls were more likely to do yoga, tai chi or qi gong in the past 12 months (4.2 percent) compared with boys (1 percent).
Among the other therapies measured, herbal remedies (defined as "nonvitamin, nonmineral dietary supplements"), chiropractic or osteopathic manipulation, and yoga, tai chi or qi gong were most commonly used in 2007 and 2012. In both surveys, these therapies were most frequently used in the last 30 days for back or neck pain, head or chest cold, anxiety or stress, and other musculoskeletal conditions.
The survey results showed changes in the most common natural remedies used, reflecting new trends in the popularity of certain supplements for children. Specifically, echinacea was the most commonly used supplement in 2007, while fish oil became most common in 2012. Also, the use of melatonin in kids skyrocketed by 700 percent in five years, from .1 percent in 2007 to .9 percent in 2012.
Some trends found in the report reflect social and economic disparities among parents giving their children natural therapies. Non-Hispanic white children were more likely than Hispanic and black children, and children with private health insurance more likely than children with public coverage to use the most common therapies.  In 2012, children with parents who had at least a high school diploma were seven times more likely to use any complementary treatments (15 percent) as children whose parents did not have a high school diploma (2.1 percent).
Finally, older children (aged 12–17) were more likely to use complementary therapies (15 percent) compared with younger children (9 percent of those aged 4–11). These trends were seen in both 2007 and 2012.
YOU MAY ALSO LIKE
500 Ways to Make a Yoga Mat Sandwich
10 Healing Herbs and Spices for Optimum Health
EcoWatch Daily Newsletter
The CDC has emphasized that washing hands with soap and water is one of the most effective ways to prevent the spread of COVID-19. Guido Mieth / Moment / Getty Images
The Centers for Disease Control has emphasized that washing hands with soap and water is one of the most effective measures we can take in preventing the spread of COVID-19. However, millions of Americans in some of the most vulnerable communities face the prospect of having their water shut off during the lockdowns, according to The Guardian.
A California newt (Taricha torosa) from Napa County, California, USA. Connor Long /
CC BY-SA 3.0
Aerial photos of the Sierra Nevada — the long mountain range stretching down the spine of California — showed rust-colored swathes following the state's record-breaking five-year drought that ended in 2016. The 100 million dead trees were one of the most visible examples of the ecological toll the drought had wrought.
Now, a few years later, we're starting to learn about how smaller, less noticeable species were affected.
Disinfectants and cleaners claiming to sanitize against the novel coronavirus have started to flood the market.
Natthawat / Moment / Getty Images
Disinfectants and cleaners claiming to sanitize against the novel coronavirus have started to flood the market, raising concerns for the U.S. Environmental Protection Agency (EPA), which threatened legal recourse against retailers selling unregistered products, according to The New York Times.
A customer packs groceries in reusable bags at a NYC supermarket on March 1, 2020. Eduardo Munoz Alvarez/Getty Images
The global coronavirus pandemic has thrown our daily routine into disarray. Billions are housebound, social contact is off-limits and an invisible virus makes up look at the outside world with suspicion. No surprise, then, that sustainability and the climate movement aren't exactly a priority for many these days.
Ingredients are displayed for the Old School Pinto Beans from the Decolonize Your Diet cookbook by Luz Calvo and Catriona Rueda Esquibel. Melissa Renwick / Toronto Star via Getty Images
By Molly Matthews Multedo
Livestock farming contributes to global warming, so eating less meat can be better for the climate.