This website uses cookies to ensure you get the best experience while browsing it. By clicking 'Got It' you're accepting these terms.
More Jobs, Less Pollution Report Shows Benefits of Recycling
Nov. 21, 2011 01:03PM EST
Energy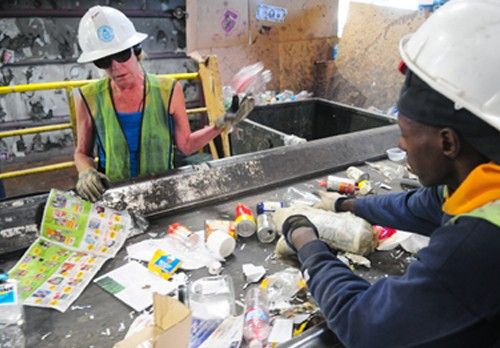 By Ananda Lee Tan
A new report called More Jobs, Less Pollution shows that a national, 75 percent recycling rate would create nearly 1.5 million new jobs while reducing an amount of climate pollution equal to shutting down 72 coal-fired power plants, or taking 50 million cars off the road. This report, produced for Global Alliance for Incinerator Alternatives (GAIA), the Teamsters, Blue Green Alliance, Natural Resources Defense Council and Service Employees International Union, describes the benefits of building a resource recovery economy that creates community jobs with family-supporting wages.
These are jobs we desperately need, and the money to invest in them could easily be redirected from subsidies that are currently being wasted on polluting incinerators and landfills. Simply put, we need to reinvest in recycling, composting, reuse and strategies that move us on the path toward zero waste and climate justice and green jobs.
For a short, informative take on this topic, watch The Story of Broke, which describes how hard-earned taxpayer money props up the "dinosaur economy" where we spend huge amounts of public money to subsidize the biggest polluting corporations in the U.S.
We need to demand that public money supports the future we want to see. Not only does recycling offer a cleaner, safer option for waste than landfilling or incineration, it also takes a lot less energy to manufacture products from recycled material than from newly extracted, material. Reaching a nationwide 75 percent recycling rate would create healthier communities too. Cities like San Francisco, Seattle and Oakland have shown this is achievable, and the state of California has set a statewide recycling goal of 75 percent by 2020.
Burning waste kills jobs, burdens public health and ruins local economies. Cities like Harrisburg, Pa. and Detroit, Mich. are going broke because incinerators are risky investments. Not only are they the most expensive way to make energy—incinerators are the most expensive way to handle waste.
A new GAIA report—Burning Public Money for Dirty Energy—exposes the tax breaks and public money handed to this industry. These subsidies are intended for clean, renewable energy, not a technology that creates more climate and mercury pollution per unit of energy than coal-fired power plants.
And now Congress is poised to make a bad situation worse by gutting the Clean Air Act for some incinerators and cement kilns (HR 2250, HR 2681). Earthjustice estimates the resulting pollution would cause up to 9,000 deaths every year. Congress is also considering a bill (HR 66) to create new tax exemptions for "waste-to-energy" incinerators.
Tell Congress no to bills for dirty energy, and yes to zero waste jobs. Recycling and composting are necessary steps to zero waste and climate justice. We simply need to stop subsidizing polluters, and get busy turning waste into work.
For more information, click here.
EcoWatch Daily Newsletter
Last week, the Peruvian Palm Oil Producers' Association (JUNPALMA) promised to enter into an agreement for sustainable and deforestation-free palm oil production. The promise was secured by the U.S. based National Wildlife Federation (NWF) in collaboration with the local government, growers and the independent conservation organization Sociedad Peruana de Ecodesarrollo.
Pixabay
Leaked documents show that Jair Bolsonaro's government intends to use the Brazilian president's hate speech to isolate minorities living in the Amazon region. The PowerPoint slides, which democraciaAbierta has seen, also reveal plans to implement predatory projects that could have a devastating environmental impact.
XL CATLIN SEAVIEW SURVEY / THE OCEAN AGENCY
Hope may be on the horizon for the world's depleted coral reefs thanks to scientists who successfully reproduced endangered corals in a laboratory setting for the first time, according to Reuters.
Last week we received positive news on the border wall's imminent construction in an Arizona wildlife refuge. The Trump administration delayed construction of the wall through about 60 miles of federal wildlife preserves.
PhotoAlto / Frederic Cirou / Getty Images
Drinking water treated with fluoride during pregnancy may lead to lower IQs in children, a controversial new study has found.
National Institude of Allergy and Infectious Disease
A Greenpeace rally calls for a presidential campaign climate debate on June 12 in Washington, DC. Sarah Silbiger / Getty Images