This website uses cookies to ensure you get the best experience while browsing it. By clicking 'Got It' you're accepting these terms.
More Families Choosing Organic Foods
Nov. 09, 2011 11:53AM EST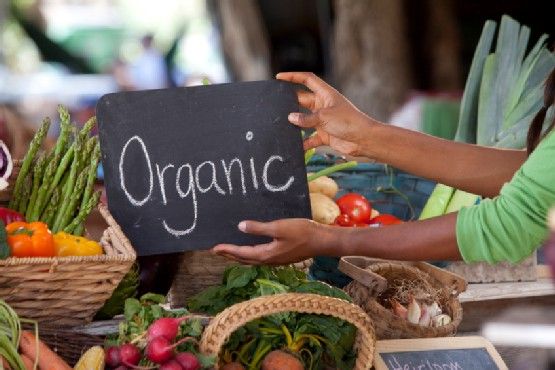 Seventy-eight percent—more U.S. families than ever before—say they are choosing organic foods, according to a study published by the Organic Trade Association (OTA). "In a time when the severity of the economy means making tough choices, it is extremely encouraging to see consumers vote with their values by including quality organic products in their shopping carts," said Christine Bushway, OTA's executive director and CEO. The finding is one of many contained in OTA's newly released 2011 U.S. Families' Organic Attitudes and Beliefs Study. "It's clear that with more than three-quarters of U.S. families choosing organic, this has moved way beyond a niche market," Bushway added.
According to the study, four in ten families indicate they are buying more organic products than they were a year ago. The findings are in line with those in OTA's 2011 Organic Industry Survey, which revealed that the U.S. organic industry grew at a rate of nearly 8 percent in 2010. Fueled by consumer choice and demand, the organic sector is one of the few components of the U.S. economy that continues to add jobs.
Nearly half—48 percent—of parents surveyed revealed that their strongest motivator for buying organic is their belief that organic products "are healthier for me and my children." Other motivators for purchasing organic included concern over the effects of pesticides, hormones and antibiotics on children, and the desire to avoid highly processed or artificial ingredients.
Nearly a decade after the federal rules for organic were implemented, 72 percent of parents are now familiar with the U.S. Department of Agriculture organic seal, up significantly from 65 percent in 2009. However, the study also found that three in ten U.S. families are new entrants to the organic marketplace. This figure is consistent with prior years' findings, and indicates a need for continued outreach and education on the verified benefits offered by organic agriculture and products.
For the study, OTA, in partnership with KIWI Magazine, polled nearly 1,300 U.S. families about their attitudes and behaviors relating to organic foods. The total sample reflects the target population of U.S. households at a confidence interval of +/-3 percent at the 95 percent confidence level. This is the third year the study has been conducted.
The study contains in-depth information about organic consumers' demographics, purchase motivation, understanding of organic, willingness to substitute when organic is not available, and attitudes about Genetically Modified Organisms (GMOs). Also contained in the study is strategic information about organic influencers' communication patterns, online behaviors and much more.
The 2011 U.S. Families' Organic Attitudes and Beliefs Study is available for purchase by visiting OTA's bookstore.
For more information, click here.
—————
The Organic Trade Association (OTA) is the membership-based business association for organic agriculture and products in North America. OTA is the leading voice for the organic trade in the U.S., representing more than 6,500 organic businesses across 49 states. Its members include growers, shippers, processors, certifiers, farmers' associations, distributors, importers, exporters, consultants, retailers and others. OTA's Board of Directors is democratically elected by its members. OTA's mission is to promote and protect the growth of organic trade to benefit the environment, farmers, the public and the economy.
EcoWatch Daily Newsletter
Variety of fermented food korean traditional kimchi cabbage and radish salad. white and red sauerkraut in ceramic plates over grey spotted background. Natasha Breen / REDA&CO / Universal Images Group / Getty Image
Even if you've never taken probiotics, you've probably heard of them.
These supplements provide numerous benefits because they contain live microorganisms, such as bacteria or yeast, which support the healthy bacteria in your gut (1, 2, 3, 4).
Pexels
Singapore will become the first country in the world to place a ban on advertisements for carbonated drinks and juices with high sugar contents, its health ministry announced last week. The law is intended to curb sugar consumption since the country has some of the world's highest diabetes rates per capita, as Reuters reported.
A typical adult takes around 20,000 breaths per day. If you live in a megacity like Beijing, with many of those lungfuls you're likely to inhale a noxious mixture of chemicals and pollutants.
Fred Stone holds his brown swiss cow Lida Rose at his Arundel dairy farm on March 18 after a press conference where he spoke about PFAS chemical contamination in his fields. Gregory Rec / Portland Portland Press Herald via Getty Images
By Susan Cosier
First there was Fred Stone, the third-generation dairy farmer in Maine who discovered that the milk from his cows contained harmful chemicals. Then came Art Schaap, a second-generation dairy farmer in New Mexico, who had to dump 15,000 gallons of contaminated milk a day.
Protesters attend the 32nd annual Fur-Free Friday demonstration on Nov. 23, 2018 in Beverly Hills, California. Ella DeGea / Getty Images
California Governor Gavin Newsom signed into law a bill that that bans the sale and manufacture of fur products in the state. The fur ban, which he signed into law on Saturday, prohibits Californians from selling or making clothing, shoes or handbags with fur starting in 2023, according to the AP.
By Simon Evans
During the three months of July, August and September, renewables generated an estimated total of 29.5 terawatt hours (TWh), compared with just 29.1TWh from fossil fuels, the analysis shows.
A demonstrator waves an Ecuadorian flag during protests against the end of subsidies to gasoline and diesel on Oct. 9 in Quito, Ecuador. Jorge Ivan Castaneira Jaramillo / Getty Images
Protesters block the road outside Mansion House in London during an XR climate change protest. Gareth Fuller / PA Images via Getty Images