This website uses cookies to ensure you get the best experience while browsing it. By clicking 'Got It' you're accepting these terms.
More Families Choosing Organic Foods
Nov. 09, 2011 11:53AM EST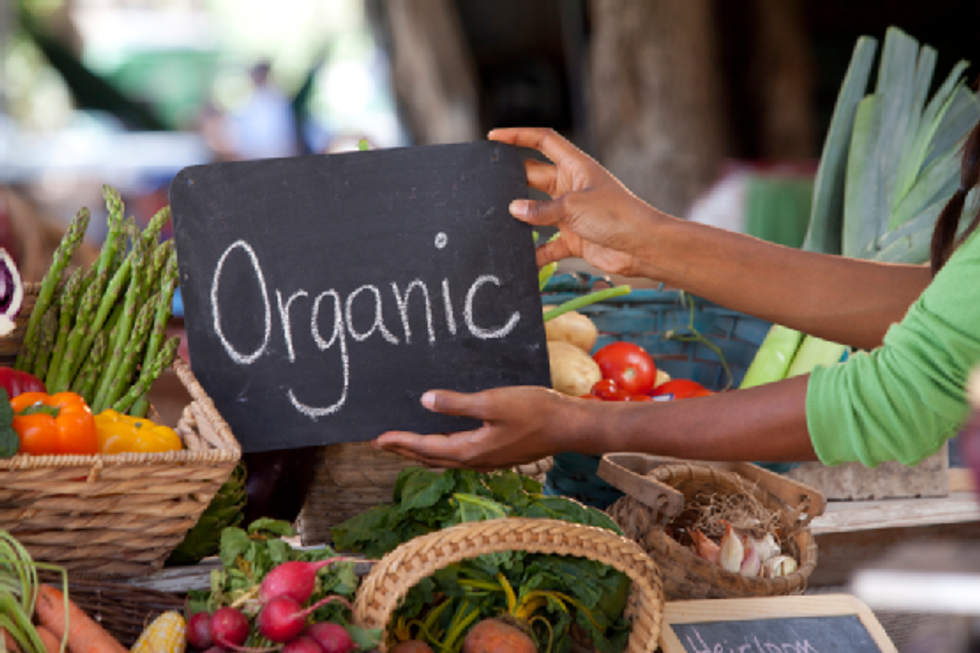 Seventy-eight percent—more U.S. families than ever before—say they are choosing organic foods, according to a study published by the Organic Trade Association (OTA). "In a time when the severity of the economy means making tough choices, it is extremely encouraging to see consumers vote with their values by including quality organic products in their shopping carts," said Christine Bushway, OTA's executive director and CEO. The finding is one of many contained in OTA's newly released 2011 U.S. Families' Organic Attitudes and Beliefs Study. "It's clear that with more than three-quarters of U.S. families choosing organic, this has moved way beyond a niche market," Bushway added.
According to the study, four in ten families indicate they are buying more organic products than they were a year ago. The findings are in line with those in OTA's 2011 Organic Industry Survey, which revealed that the U.S. organic industry grew at a rate of nearly 8 percent in 2010. Fueled by consumer choice and demand, the organic sector is one of the few components of the U.S. economy that continues to add jobs.
Nearly half—48 percent—of parents surveyed revealed that their strongest motivator for buying organic is their belief that organic products "are healthier for me and my children." Other motivators for purchasing organic included concern over the effects of pesticides, hormones and antibiotics on children, and the desire to avoid highly processed or artificial ingredients.
Nearly a decade after the federal rules for organic were implemented, 72 percent of parents are now familiar with the U.S. Department of Agriculture organic seal, up significantly from 65 percent in 2009. However, the study also found that three in ten U.S. families are new entrants to the organic marketplace. This figure is consistent with prior years' findings, and indicates a need for continued outreach and education on the verified benefits offered by organic agriculture and products.
For the study, OTA, in partnership with KIWI Magazine, polled nearly 1,300 U.S. families about their attitudes and behaviors relating to organic foods. The total sample reflects the target population of U.S. households at a confidence interval of +/-3 percent at the 95 percent confidence level. This is the third year the study has been conducted.
The study contains in-depth information about organic consumers' demographics, purchase motivation, understanding of organic, willingness to substitute when organic is not available, and attitudes about Genetically Modified Organisms (GMOs). Also contained in the study is strategic information about organic influencers' communication patterns, online behaviors and much more.
The 2011 U.S. Families' Organic Attitudes and Beliefs Study is available for purchase by visiting OTA's bookstore.
For more information, click here.
—————
The Organic Trade Association (OTA) is the membership-based business association for organic agriculture and products in North America. OTA is the leading voice for the organic trade in the U.S., representing more than 6,500 organic businesses across 49 states. Its members include growers, shippers, processors, certifiers, farmers' associations, distributors, importers, exporters, consultants, retailers and others. OTA's Board of Directors is democratically elected by its members. OTA's mission is to promote and protect the growth of organic trade to benefit the environment, farmers, the public and the economy.
EcoWatch Daily Newsletter
European Commission President Ursula von der Leyen delivers a press statement on the European Green Deal at the EU headquarters in Brussels, Belgium on Dec. 11, 2019. Xinhua / Zheng Huansong via Getty Images
The European Commission introduced a plan to overhaul the bloc's economy to more sustainable, climate-conscious policies and infrastructure, with the goal of being carbon-neutral by 2050, according to CNBC.
Young activists shout slogans on stage after Greta Thunberg (not in the picture) took part in the plenary session during the COP25 Climate Conference on Dec. 11 in Madrid, Spain. Pablo Blazquez Dominguez / Getty Images
By Andrea Germanos
Young activists took over and occupied the main stage at the COP25 climate conference in Madrid, Spain Wednesday and demanded world leaders commit to far more ambitious action to address the ecological emergency.
A NASA image showing the ozone hole at its maximum extent for 2015. NASA Goddard Space Flight Center
The Montreal Protocol, a 1987 international treaty prohibiting the production of chlorofluorocarbons (CFCs) to save the ozone layer, was the first successful multilateral agreement to successfully slow the rate of global warming, according to new research. Now, experts argue that similar measures may lend hope to the climate crisis.
Police in Wales are in the midst of an unusual investigation: the sudden death of more than 200 starlings.
Donald Trump Jr. killed an argali sheep like this one on a hunting trip in Mongolia. powerofforever/ iStock / Getty Images Plus
During a hunting trip in Mongolia this August, Donald Trump Jr. shot and killed an endangered argali sheep, and received a permit only after the fact.