This website uses cookies to ensure you get the best experience while browsing it. By clicking 'Got It' you're accepting these terms.


The best of EcoWatch, right in your inbox. Sign up for our email newsletter!
Montanans Stage Multi-Day Sit-in to Oppose Arch Coal Export Mine
Aug. 09, 2012 10:18AM EST
Energy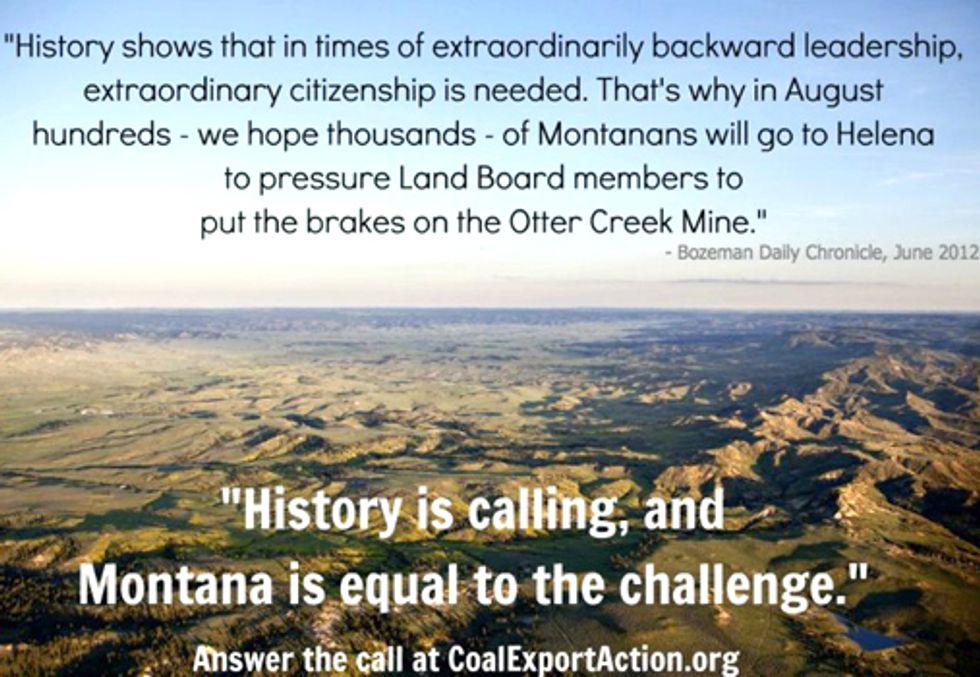 Climate, health and social justice groups are calling for a summer mobilization to protect Montana from coal export mining.
Groups including the Blue Skies Campaign, 350.org and Occupy Missoula invite Montanans to join a multi-day sit-in beginning Aug. 13 at the State Capitol to pressure State Land Board members to reject Arch Coal's Otter Creek export mine.
"We are not going to sacrifice our health, our land and water, our private property and our pride to become a coal colony for Asia," said Lowell Chandler of the Blue Skies Campaign. "It is time to protect the last best place from the horrific effects of coal exports."
With U.S. coal demand declining, companies like Arch Coal are looking to develop new mines in eastern Montana, with an eye toward exporting abroad. In 2010, the State Land Board granted Arch a lease to the Otter Creek coal tracts, but the board still needs to sign off on a mining plan before coal mining can start.
Currently, at least six coal port proposals are being considered in Washington and Oregon, which together would be capable of sending 150 million tons or more annually to Asian markets. In addition to the devastating local impacts of projects such as the proposed Arch Coal mine, new mines will only exacerbate existing coal exports, creating a trail of pollution through the U.S. and overseas. A recent analysis of Appalachian coal mine data shows that coal exports have exploded over the last few years, with some mines exporting 100 percent of their coal abroad.
"Over the last few years, countless Montanans have submitted comments, turned out to hearings and done whatever we could to get the land board to stand up to Big Coal," said Chandler. "Now it's time to take the next step."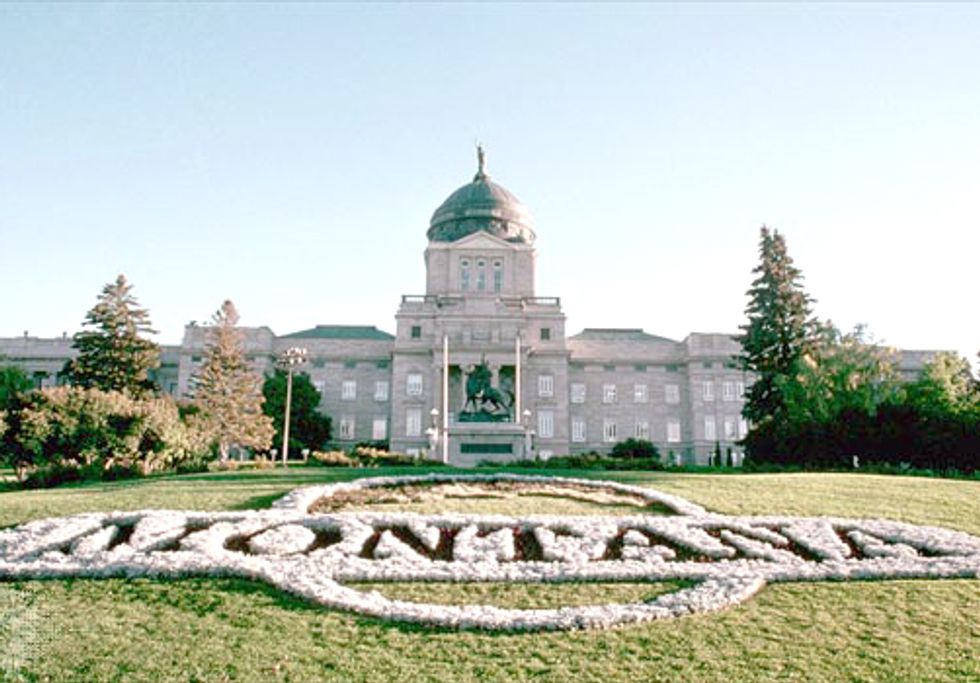 The sit-in, called the Coal Export Action, is supported by the Blue Skies Campaign, Rising Tide, Montana Women For, 350.org and other groups, and was initially supposed to take place around the time Arch was expected to submit its mining application on Aug. 20.
The land board must have got wind of the mass peaceful protests, because on July 30, with only four days' advance notice, the board announced its August meeting was being rescheduled from Aug. 20 to Aug. 3. It looks an awful lot like the board moved its meeting to avoid holding it during the Coal Export Action, when they know their actions related to coal mining will be subject to heightened public scrutiny.
This isn't in keeping with good governance. Montana's state code requires "adequate notice" be given to "assist public participation before a final agency action is taken that is of significant interest to the public." The land board hasn't violated the letter of the law—the code doesn't specify what "adequate notice" means—but rescheduling a meeting date posted months in advance, with only four days' notice, is hardly in keeping with a spirit of encouraging public input.
The Coal Export Action is now more important than ever. When a public process is rigged against the public, we must turn to massive, peaceful protest to get the attention of decision-makers. Fortunately, it's just this type of large-scale direct action that's planned for the Coal Export Action later this month.
In the past, land board members ignored hundreds of Montanans who submitted comments turned out to hearings and signed petitions opposing the Otter Creek Mine. Now they appear to be trying to minimize the opportunity for public input. But starting Aug. 13, our sit-in at the Capitol rotunda, between the offices of land board members Gov. Brian Schweitzer and Secretary of State Linda McCulloch, will make our demand for a clean energy future free of coal impossible to ignore any longer.
Since the land board moved its meeting date to Aug. 3, the Aug. 20 meeting—which would have fallen right at the end of the Coal Export Action—will no longer take place. That won't stop Arch Coal from moving forward with plans to submit its mining application, which it's expected to do late this summer. Once submitted, Arch's application will be reviewed by the Department of Environmental Quality, and then needs a stamp of approval from the land board. The board, currently composed of Gov. Brian Schweitzer, Secretary of State Linda McCulloch, Attorney General Steve Bullock, State Auditor Monica Lindeen and Superintendent of Instruction Denise Juneau, is expected to make its decision later this year, or in early 2013.
This isn't just about coal anymore: it's about holding government bodies accountable when they fail to practice good government. You can help us succeed.
If the mine is approved, coal train traffic through rail line towns will increase severalfold. This has many residents worried.
"Pollutants from coal trains will cause emergency room visits to go up," said Dr. Amy Haynes, a naturopathic physician who has practiced in Missoula for the last 28years. "Everybody who breaths will basically be at risk."
"Think of all the children who live along the rail line," said Becca Titus, a member of Occupy Missoula. "The health of all of them will be affected by this proposal."
Corey Bressler, from the grassroots climate group 350.org, said increased coal mining and burning will also make climate change worse. "A warming, drying climate has already lengthened the western fire season by 78 days," Bressler said. "Dryer, hotter summers will seriously damage Montana's recreational, tourism and agricultural industries."
Groups involved in the Coal Export Action hope hundreds of Montanans will participate in the peaceful sit-in, and that it will be among the largest actions of its kind in recent Montana history. Those interested can sign up and learn more by clicking here.
Visit EcoWatch's COAL page for more related news on this topic.
EcoWatch Daily Newsletter
Pexels
By Danielle Nierenberg and Katherine Walla
As the holiday season ramps up for many across the world, Food Tank is highlighting 15 children's books that will introduce young eaters, growers and innovators to the world of food and agriculture. Authors and organizations are working to show children the importance — and fun — of eating healthy, nutritious and delicious food, growing their own produce, and giving food to others in need.
Pixabay
Purple cabbage, also referred to as red cabbage, belongs to the Brassica genus of plants. This group includes nutrient-dense vegetables, such as broccoli, Brussels sprouts, and kale.
Pexels
By Lauren Wolahan
For the first time ever, the UN is building out a roadmap for curbing carbon pollution from agriculture. To take part in that process, a coalition of U.S. farmers traveled to the UN climate conference in Madrid, Spain this month to make the case for the role that large-scale farming operations, long criticized for their outsized emissions, can play in addressing climate change.
Pexels
In recent years, acai bowls have become one of the most hyped-up health foods on the market.
They're prepared from puréed acai berries — which are fruits grown in Central and South America — and served as a smoothie in a bowl or glass, topped with fruit, nuts, seeds, or granola.
Investing in grid infrastructure would enable utilities to incorporate modern technology, making the grid more resilient and flexible. STRATMAN2 / FLICKR
By Elliott Negin
The Royal Swedish Academy of Sciences' recent decision to award the 2019 Nobel Prize in Chemistry to scientists who developed rechargeable lithium-ion batteries reminded the world just how transformative they have been. Without them, we wouldn't have smartphones or electric cars. But it's their potential to store electricity generated by the sun and the wind at their peak that promises to be even more revolutionary, reducing our dependence on fossil fuels and protecting the planet from the worst consequences of climate change.