Fracking
24 November 2014
'Monster' Fracking Wells Guzzle Water in Drought-Stricken Regions
The fracking industry likes to minimize the sector's bottomless thirst for often-scarce water resources, saying it takes about 2-4 million gallons of water to frack the average well, an amount the American Petroleum Institute describes as "the equivalent of three to six Olympic swimming pools." That's close to the figure cited by the U.S. Environmental Protection Agency (EPA) as well.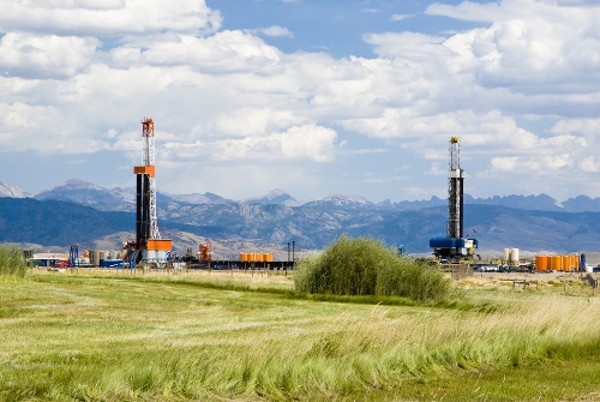 Photo credit: Shutterstock
But a new report released by Environmental Working Group (EWG) located 261 "monster" wells that consumed between 10 and 25 million gallons of water to drill each well. Among the conclusions EWG teased out of data reported by the industry itself and posted at fracfocus.org is that between April 2010 and December 2013, these 261 wells consumed 3.3 billions of water between them, a average of 12.7 million gallons each. And 14 of the wells topped 20 million gallons each.
"It's far more relevant to compare those figures to basic human needs for water, rather than to swimming pools or golf courses," said EWG's report. "The 3.3 billion gallons consumed by the monster wells was almost twice as much water as is needed each year by the people of Atascosa County, Texas, in the heart of the Eagle Ford shale formation, one of the most intensively drilled gas and oil fields in the country."
And proving that everything really is bigger in Texas, that's where most of these monster wells were located, hosting 149 of them. Between them they consumed 1.8 billion gallons of water. The largest was located in Harrison County on the east Texas border, where in March 2013, Sabine Oil & Gas LLC drilled a well using more than 24.8 million gallons of water. Irion County in west central Texas had the most monster wells with 19 averaging water use of 12.9 each. And Texas also had what EWG described as the "dubious distinction" of using more fresh water in fracking, consuming 21 million gallons in 2011 alone.
Pennsylvania had the second largest number of these monster wells with 39 located in that fracking-boom state atop the Marcellus shale formation. It was followed by Colorado (30, including 8 of the 15 biggest water consumers), Oklahoma (24), North Dakota (11), Louisiana and Mississippi (3 each) and Michigan (2).
EWG also found that 2/3rds of the monster wells were in areas suffering from extreme drought, including 137 of the ones in Texas.
"Like almost all of the Lone Star State, Atascosa County, south of San Antonio, is in a severe and prolonged drought," said EWG. "Last year, the state water agency cited oil and gas exploration and production as a factor in the dramatic drop of groundwater levels in the aquifer underlying the Eagle Ford formation."
That's a huge problem for a state with a growing population and a big agriculture industry, including a large, water-intensive cattle-raising sector, resulting in conflicts over water use likely to intensify in the future.
The EWG report cautions that their estimates of fracking water use may be low.
"There is no way of knowing just how much water is being used for fracking, however, because while the controversial well stimulation technique is known to be used in 36 states, only 15 require reporting to FracFocus, and none of the numbers that do get reported are vetted by any kind of regulatory agency or independent authority," it said. "Even the data that does get reported is incomplete. EWG says that for 38 of the 261 monster wells, FracFocus did not even identify such basic information as whether the wells were drilled for oil or natural gas, or what kind of water they used."
 YOU MIGHT ALSO LIKE
Fracking Makes California's Drought Worse
Fracking Bans Pass in Denton, Texas, Two California Counties and One Ohio Town
Groundbreaking Study Shows How Demand for Water Could Impact Fracking Worldwide
www.youtube.com
Volkswagen is bringing back its hippie-approved minivan but with a 21st century upgrade—the new I.D. Buzz is all-electric.
The concept car was first revealed at the Detroit Auto Show in January and now the German automaker is officially putting its reinvigorated Microbus into production.
Keep reading...
Show less
I have asked repeatedly to have my short interview clip removed from this film. The director refuses. He believes his film is fair and balanced. I do not.

I am often interviewed (see media) and hardly ever quoted incorrectly or out of context. This film is one of those rare exceptions.
Keep reading...
Show less
Top of JPMorgan Chase Tower, Dallas, Texas. Joe Mabel / Wikimedia
Keep reading...
Show less
Cupping symptoms associated with dicamba damage on a cucumber plant. University of Arkansas.
Arkansas farmers filed a class-action lawsuit last week against Monsanto and German chemical company BASF, alleging that the companies' dicamba-based herbicides caused damage to their properties.
The plaintiffs claim that Monsanto and BASF implemented and controlled the dicamba crop system, releasing seed technology without a corresponding, safe and approved herbicide.
Keep reading...
Show less
Cup and bubblegum corals found in Northeast U.S. Canyons, the Atlantic's first marine monument. NOAA
Interior Sec. Ryan Zinke, who recently recommended a reduction in the size of the 1.35 million acre Bears Ears National Monument to President Trump, is advocating for more drilling and mining on public lands and waters.
The former Montana Rep. told Reuters that the development of America's protected federal lands could help the country become a "dominant" global energy force.
Keep reading...
Show less
Gage Skidmore / Flickr (CC BY-SA 2.0)
Dozens of scientists on the U.S. Environmental Protection Agency's (EPA) Board of Scientific Counselors and board subcommittees have been informed that they will not be renewed for their roles advising the agency, the Washington Post reported.
Keep reading...
Show less
www.youtube.com
Worried about the future of the Great Barrier Reef? If so, you're not alone.
Many publications have already written obituaries for the reef, despite the fact that it is not completely dead. Thanks to this video via Vox for sounding the alarm on this critical issue, before it's too late.
Keep reading...
Show less
Mike Mozart
By Olga V. Naidenko, Ph.D.
In a landmark rule with global repercussions, California state scientists are preparing to issue the world's first health guideline for Monsanto's glyphosate herbicide based on its cancer risk. The state's proposed safe level is more than 100 times lower than the U.S. Environmental Protection Agency's (EPA) legal allowance for the average-sized American.
Keep reading...
Show less
www.youtube.com
By Bob Henson
A high risk of life-threatening flooding continues on Wednesday over parts of the central Gulf Coast as Tropical Storm Cindy lumbers toward shore. The greatest flood threat will be across low-lying areas of far southern Mississippi and Alabama, according to the NWS/NOAA Weather Prediction Center. A second area with a moderate flood risk lies across far southeast Texas and southwest Louisiana.
Keep reading...
Show less