This website uses cookies to ensure you get the best experience while browsing it. By clicking 'Got It' you're accepting these terms.
'Monster' Fracking Wells Guzzle Water in Drought-Stricken Regions
Nov. 24, 2014 01:35PM EST
Fracking
The fracking industry likes to minimize the sector's bottomless thirst for often-scarce water resources, saying it takes about 2-4 million gallons of water to frack the average well, an amount the American Petroleum Institute describes as "the equivalent of three to six Olympic swimming pools." That's close to the figure cited by the U.S. Environmental Protection Agency (EPA) as well.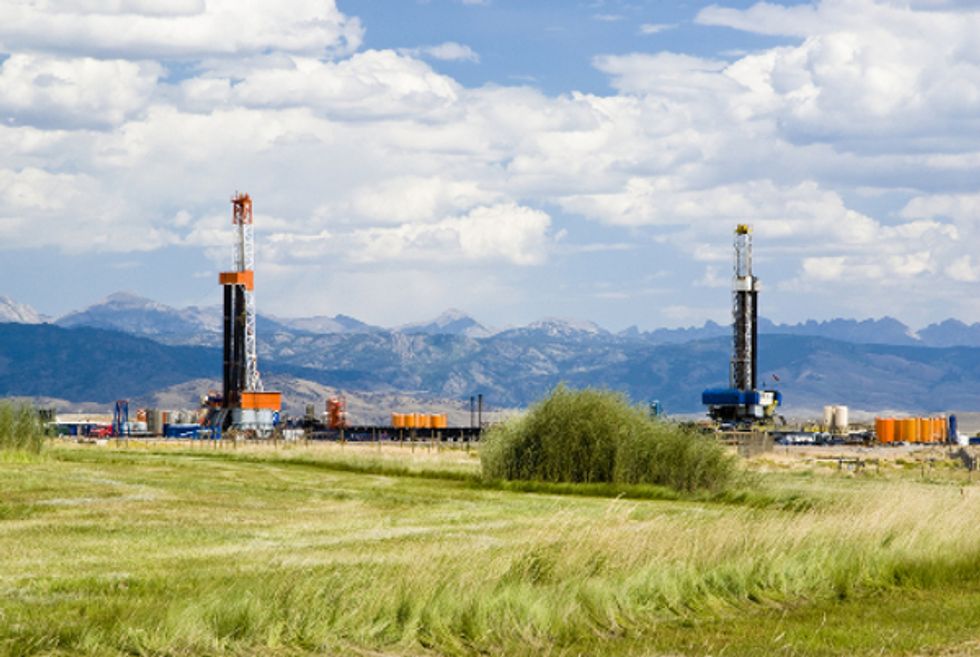 Photo credit: Shutterstock
But a new report released by Environmental Working Group (EWG) located 261 "monster" wells that consumed between 10 and 25 million gallons of water to drill each well. Among the conclusions EWG teased out of data reported by the industry itself and posted at fracfocus.org is that between April 2010 and December 2013, these 261 wells consumed 3.3 billions of water between them, a average of 12.7 million gallons each. And 14 of the wells topped 20 million gallons each.
"It's far more relevant to compare those figures to basic human needs for water, rather than to swimming pools or golf courses," said EWG's report. "The 3.3 billion gallons consumed by the monster wells was almost twice as much water as is needed each year by the people of Atascosa County, Texas, in the heart of the Eagle Ford shale formation, one of the most intensively drilled gas and oil fields in the country."
And proving that everything really is bigger in Texas, that's where most of these monster wells were located, hosting 149 of them. Between them they consumed 1.8 billion gallons of water. The largest was located in Harrison County on the east Texas border, where in March 2013, Sabine Oil & Gas LLC drilled a well using more than 24.8 million gallons of water. Irion County in west central Texas had the most monster wells with 19 averaging water use of 12.9 each. And Texas also had what EWG described as the "dubious distinction" of using more fresh water in fracking, consuming 21 million gallons in 2011 alone.
Pennsylvania had the second largest number of these monster wells with 39 located in that fracking-boom state atop the Marcellus shale formation. It was followed by Colorado (30, including 8 of the 15 biggest water consumers), Oklahoma (24), North Dakota (11), Louisiana and Mississippi (3 each) and Michigan (2).
EWG also found that 2/3rds of the monster wells were in areas suffering from extreme drought, including 137 of the ones in Texas.
"Like almost all of the Lone Star State, Atascosa County, south of San Antonio, is in a severe and prolonged drought," said EWG. "Last year, the state water agency cited oil and gas exploration and production as a factor in the dramatic drop of groundwater levels in the aquifer underlying the Eagle Ford formation."
That's a huge problem for a state with a growing population and a big agriculture industry, including a large, water-intensive cattle-raising sector, resulting in conflicts over water use likely to intensify in the future.
The EWG report cautions that their estimates of fracking water use may be low.
"There is no way of knowing just how much water is being used for fracking, however, because while the controversial well stimulation technique is known to be used in 36 states, only 15 require reporting to FracFocus, and none of the numbers that do get reported are vetted by any kind of regulatory agency or independent authority," it said. "Even the data that does get reported is incomplete. EWG says that for 38 of the 261 monster wells, FracFocus did not even identify such basic information as whether the wells were drilled for oil or natural gas, or what kind of water they used."
 YOU MIGHT ALSO LIKE
Fracking Makes California's Drought Worse
Fracking Bans Pass in Denton, Texas, Two California Counties and One Ohio Town
Groundbreaking Study Shows How Demand for Water Could Impact Fracking Worldwide
EcoWatch Daily Newsletter
Doctors report that only 1 in 4 children are getting the recommended 60 minutes of physical activity per day. Ronnie Kaufman / DigitalVision / Getty Images
By Dan Gray
Pediatricians are being urged to start writing "exercise prescriptions" for the children they see in their office.
A First Nations protester walks in front of a train blockade in Tyendinaga, near Belleville, Ontario, Canada on Feb. 21, 2020. LARS HAGBERG / AFP via Getty Images
An indigenous rail blockade that snarled train travel in Canada for more than two weeks came to an end Monday when police moved in to clear protesters acting in solidarity with another indigenous community in British Columbia (B.C.), which is fighting to keep a natural gas pipeline off its land.
A rainbow snake, a rare reptile spotted in a Florida county for the first time in more than 50 years, seen here on July 5, 2013.
Kevin Enge / FWC Fish and Wildlife Research Institute / Flickr
A Florida hiker recently stumbled across a slithering surprise — a rare snake that hadn't been spotted in the area for more than 50 years.
We need our government to do everything it can to stop PFAS contamination and exposure from wreaking havoc in communities across the country. LuAnn Hun /
Unsplash
By Genna Reed
The EPA announced last week that it is issuing a preliminary regulatory determination for public comment to set an enforceable drinking water standard to two of the most common and well-studied PFAS, PFOA and PFOS.
This decision is based on three criteria:
PFOA and PFOS have an adverse effect on public health
PFOA and PFOS occur in drinking water often enough and at levels of public health concern;
regulation of PFOA and PFOS is a meaningful opportunity for reducing the health risk to those served by public water systems.
Charging EVs in Stockholm: But where does a dead battery go? Ranjithsiji / Wikimedia Commons
By Kieran Cooke
Driving an electric-powered vehicle (EV) rather than one reliant on fossil fuels is a key way to tackle climate change and improve air quality — but it does leave the old batteries behind as a nasty residue.